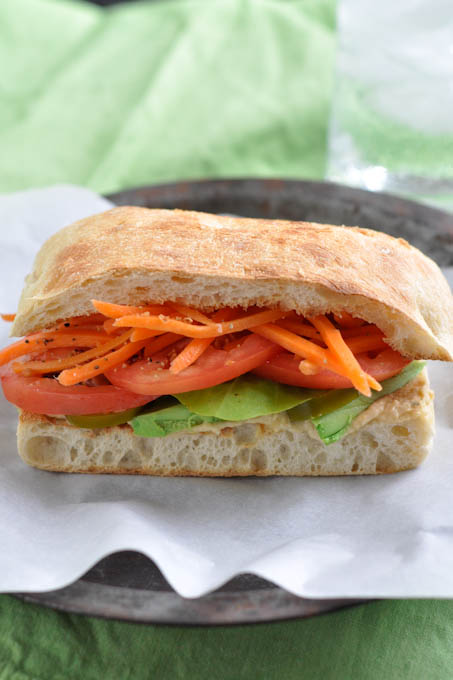 Meet my new favorite sandwich- it's not just vegetarian, it's vegan and it's delicious. I am on day 4 of my week long adventure eating vegan. Occasionally (and I mean occasionally) I like to try out a different diet (or rather way of eating) just to get a better understanding of what my clients on restrictive diets go through. This week I am excluding all animal products, including meats, diary, eggs, honey (although my husband argued that this is from an insect and shouldn't count) and any grains made with these ingredients. Since I am only doing this for a week, it hasn't been bad at all. I did have to pick out a different bread that didn't have milk in it, the rest was pretty easy. I've been a soy milk drinker for since college so that wasn't a big deal. I haven't bothered buying any soy cheese or other dairy alternatives, but I haven't missed them much. If I were doing this longer I would definitely stock up on soy yogurt, coconut milk, etc. I do miss chocolate, but I can deal for a week.
I tell you, once you try a vegan diet you realize how liberal a vegetarian diet is (one that just excludes meat/fish/poultry/seafood but includes dairy and eggs). It's not like I miss eggs, it's just hard excluding every single thing made with eggs. You'd be surprised how many products you wouldn't expect that are made with milk and/or eggs! Places I didn't expect to find eggs/dairy: several of the whole grain breads, all the Morning Star Vegetarian products, certain crackers, etc. It definitely took me longer to shop this week, but it was good practice to remind myself of what products have what ingredients in them. The snacks I've had to omit this week are my Greek yogurt and/or my baked products made with eggs/dairy. Not too difficult, however knowing that it's only for a week makes me happy. I wanted to dig into the rotisserie chicken in the fridge last night, but had to restrain myself.
So I have a few vegetarian sandwiches to share and I will start with the easiest one! Even if I wasn't doing the vegan thing this week, this is something I'd eat all the time. I honestly get sick of lunch meat anyway. I do love chicken salad and green salads, but I crave this one much more. This sandwich takes minutes to throw together. Take some fresh ciabatta bread (or some fresh crusty wheat bread would be yummy), drizzle on some olive oil, layer on some hummus, avocado, pickled jalapenos, baby romaine, sliced tomatoes and shredded carrots. You'd be surprised at how much flavor marries together between the hummus, oil, avocado, jalapenos and juice of the tomato slices. I am sure a slice of cheese would be yummy too- something like havarti or feta. If you absolutely don't want to use jalapenos, try subbing some olive spread or chopped Mediterranean olives. I use the hot jalapenos which have a little kick but not much. Go with mild if you prefer.
If your bread is really thick I suggest removing a little like I did on the top slice of this sandwich. I just took a knife and hollowed out the bread a little so that it was so much bread. It allows for the filling to really stand out.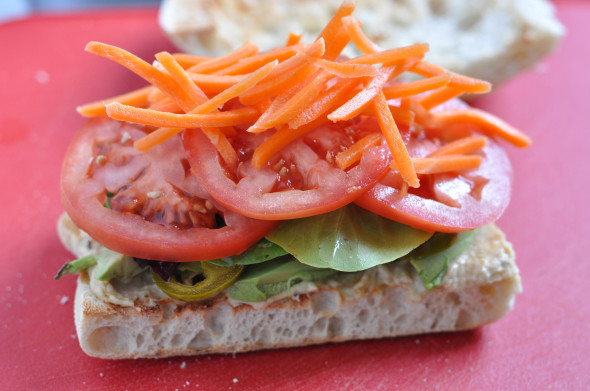 I realize this is super simple and not some innovative recipe, but it's delicious. You will definitely wonder why you haven't been eating these all along.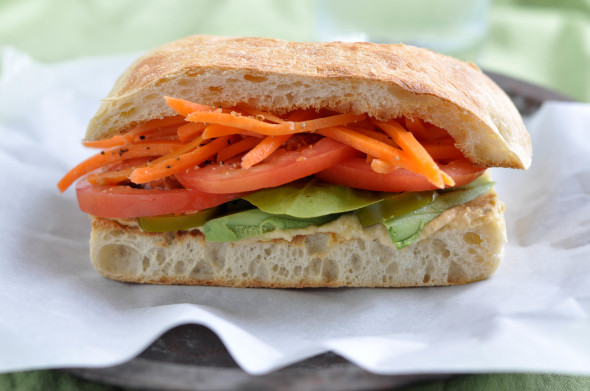 I am not including measurements, just layer it on as desired and enjoy your vegan sandwich. Perfect to serve at a luncheon option in addition to a meat sandwich.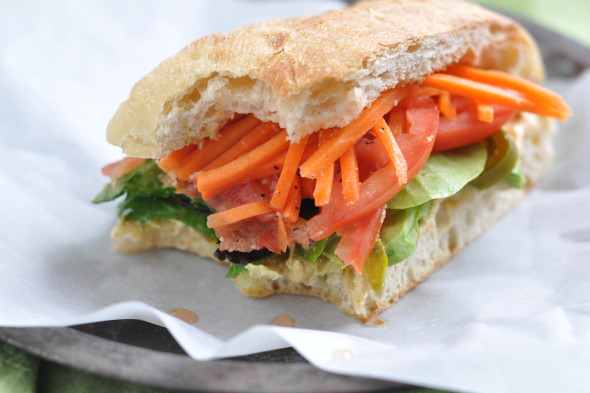 [print_this]
Hummus & Avocado Veggie Sandwich
INGREDIENTS:
Ciabatta bread (see cook's note)
Extra Virgin Olive oil
Hummus
Avocado, cut into slices
Pickled Hot Jalapeno slices
Baby Romaine lettuce leaves
Sliced tomato
Shredded carrots
Freshly ground black pepper
DIRECTIONS:
1. Toast slice of ciabatta bread. Once toasted, drizzle bread lightly with extra virgin olive oil. Spread a layer of hummus on the bottom slice of bread (about 2 Tablespoons per sandwich), add sliced avocado (about 1/4 avocado per sandwich), top with jalapenos, sliced tomatoes, baby romaine and shredded carrots. Sprinkle with fresh coarse black pepper.
COOK'S NOTES: I prefer Sabra brand of hummus when not making my own. To save time and add crunch, I buy the pre-shredded bag of carrots. Once you slice bread in half and before toasting, remove some of the inside dough on the thicker side so that there isn't too much bread. This will allow for the flavor of the filling to really stand out.
Recipe from Nutritious Eats
www.nutritiouseats.com
[/print_this]
Have you ever followed a vegan diet? Did you find it easy or difficult?