Juicy and flavorful, this simple chicken can be the base for a variety of meal options. Perfect for a busy weeknight meal!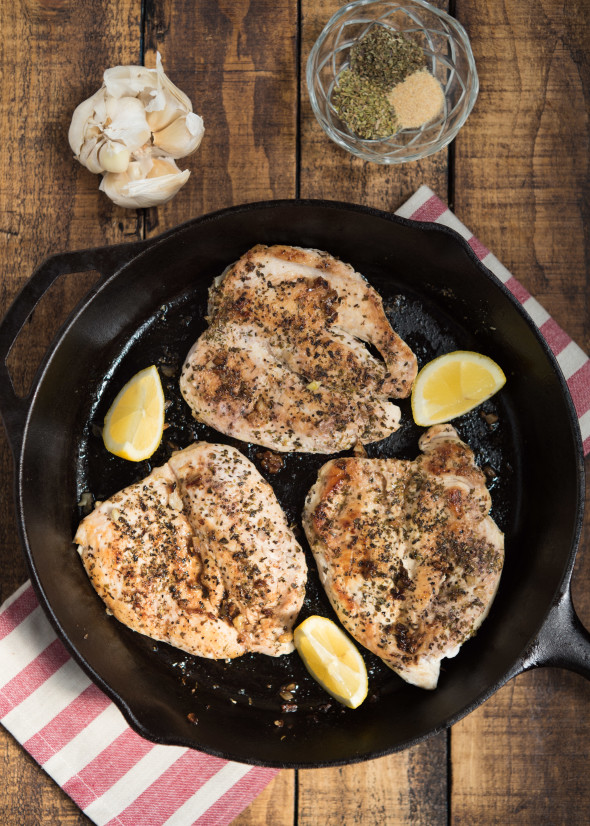 Hello friends, my first weight loss course is underway and I am loving connecting with ladies who want to  make changes to their diet. It's been so fun to help them. The next course is already set for January 4th so keep that in mind if you are in need of losing 5 +pounds and need some accountability. You can visit my coaching page here.
Ok, so things have calmed down a bit here. Soccer season is coming to an end, the big birthday party for my boys is done and I have my parents coming to help me out next week as the hubby has some long work days ahead. It feels good to start feeling a little more in control. I even paid someone to clean my house last week! Such a treat as housecleaning isn't my favorite activity.
But even with things calming down a tiny bit, I have never had such little time to make dinner as I have in the past year or two. I blame having a fourth child, but you can pick anything you'd like to blame. 😉
So I just wanted to share my super simple go-to chicken when I have no time to be creative, which like I mentioned seems to be quite often lately. It's also part of my meal prep chicken when I am able to do some work ahead of time.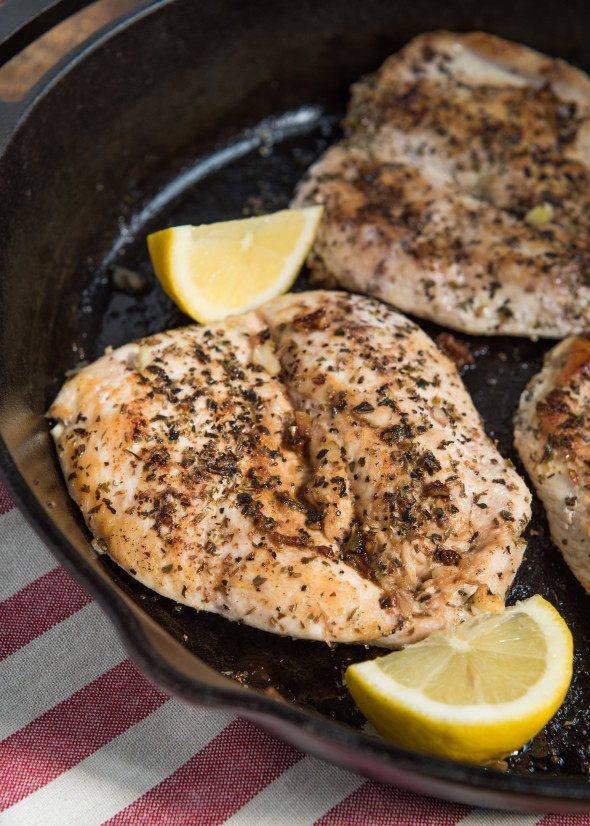 I butterfly the chicken (make a lengthwise cut from the thickest part of the chicken to the within 1/2 inch of the opposite side) because I like a thinner piece and it takes less time to cook. If you are already working with a fairly thin chicken breast, you don't need to slice them like that.
This is why I love it- it has flavor! I like food with flavor. Once you have it done you can do a variety of things with it:
-Eat it as is with a side of whole grain quinoa or a rice blend and veggies
-Slice it up and add it to a salad
-Cut it in slices and stuff it in a pita or tortilla, top with some salad, greens, veggies like onion and tomato, hummus and lemon juice (and feta is good too)
-Make a mediterranean pizza- sauce, cheese, this chicken in bite sized pieces, sun dried tomatoes or fresh ones, fresh basil
-Add it to some stewed white beans and tomatoes with extra garlic and olive oil
So there are lots of options to keep this a staple dinner option week after week. I typically use less seasoning on the kid's piece of chicken, but as you can see, I like mine covered in the herbs and garlic. Let me know if you make it!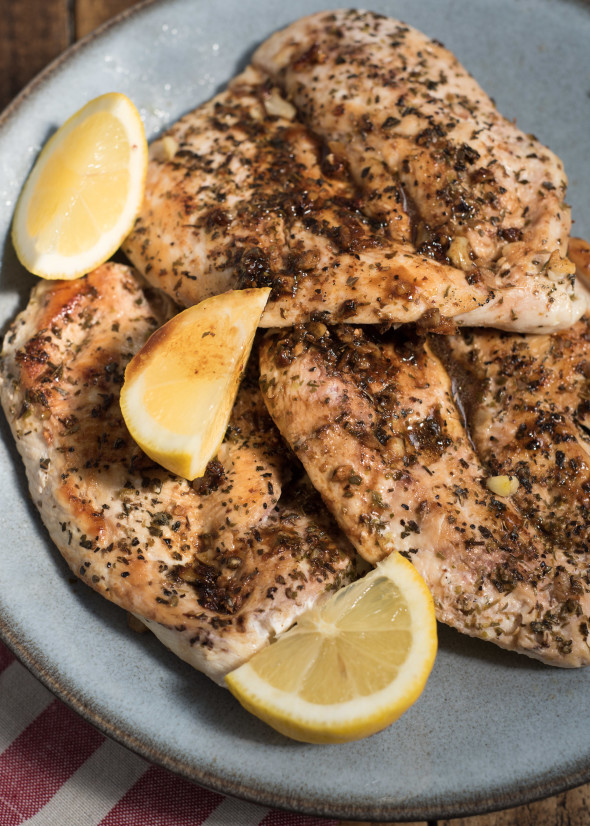 What's your go-to chicken dish?
Garlic Italian Chicken Breast
quick and easy these Italian seasoned chicken breasts are perfect for busy weeknight cooking and can be transformed into pitas, sandwiches, salads, pizza and more.
Author:
Melanie F. | Nutritious Eats
Ingredients
1 tablespoon olive oil
1¾ lb chicken breast (3 breasts, butterflied)
salt
pepper
scant ½ teaspoon garlic powder
1 heaping teaspoon dried basil
1 heaping teaspoon dried oregano
2 large garlic cloves, minced
lemons for serving (optional)
Instructions
In a large cast iron skillet, heat 1 tablespoon olive oil over medium heat. Season chicken breasts lightly with salt and pepper. Sprinkle a heaping ½ teaspoon of dried basil and heaping ½ teaspoon of oregano over chicken breasts. Sprinkle garlic powder on top, ~1/4 teaspoon per side. Place in skillet seasoned side down and season other side with equal amounts of salt, pepper, basil, oregano and garlic powder. After chicken has cooke for ~5 minutes, add minced garlic, flip chicken over and cook an additional 5-8 minutes, depending on thickness of breasts, until chicken is cooked through and golden brown. Remove to a plate, Scrap up browned bits of garlic out of the pan, add to chicken along with any juices.
Notes
I typically just eyeball the spices- shake it on until it looks nicely covered. Feel free to do the same. It makes for an even easier weeknight meal when no measuring spoons are involved.
Butterfly chicken = make a lengthwise cut from the thickest part of the chicken to the within ½ inch of the opposite side