Kale and Tuna Salad, a healthy, Paleo-friendly, grain-free salad perfect for weekday lunches. 
As I sit here waiting for my Stitch Fix to arrive, yes I am still doing that, but haven't photographed the last 10 or so boxes because I got lazy, I try to decide whether that or this kale and tuna salad is the highlight of my day.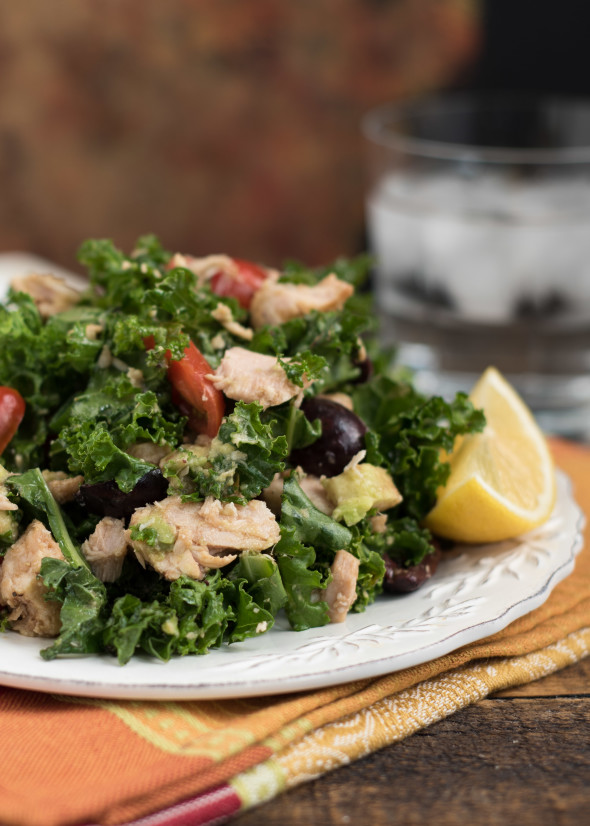 I have had two cans of tuna sitting on the counter all week. I knew I wanted to use them, but didn't want your usual tuna salad. Finally the 20 pound bag of kale spoke to me and asked me to marry them into one dish. I LOVE the way it turned out. I thankfully had leftover mint from the lettuce wraps and it was just enough to give this salad a special flavor pop. Unfortunately you can't see it as it blends in with the dark green kale, but it's presence is definitely there. And you can't skip it because it makes this super yummy.
Canned tuna is a great affordable and convenient option for getting in those Omega 3 fatty acids and protein. And don't get me started with my love for kale. People thought it was a trend, but I don't think it's going anywhere. It's such a fabulous green and love that it's so easy to find now, especially in those giant bags which makes it perfect to use for salad or to sauté or toss into soup or eggs, etc. It's packed with Vitamin A and K, C, antioxidants, fiber and calcium and sorts of fabulousness. I loooooove it, in case you couldn't tell.
I make this salad just about every week, but I think this kale and tuna salad has made it's into the new rotation. It would also be great with quinoa had I not run out, but would need a little more dressing.
Anyway, I finally broke in my new planner! Woo hoo…only half way through the first month, not too bad. I can't wait to tell you all about my new year goals! Next time perhaps? I have to go wrestle a little one to bed and try on the fix that just arrived! Yes literally while typing this.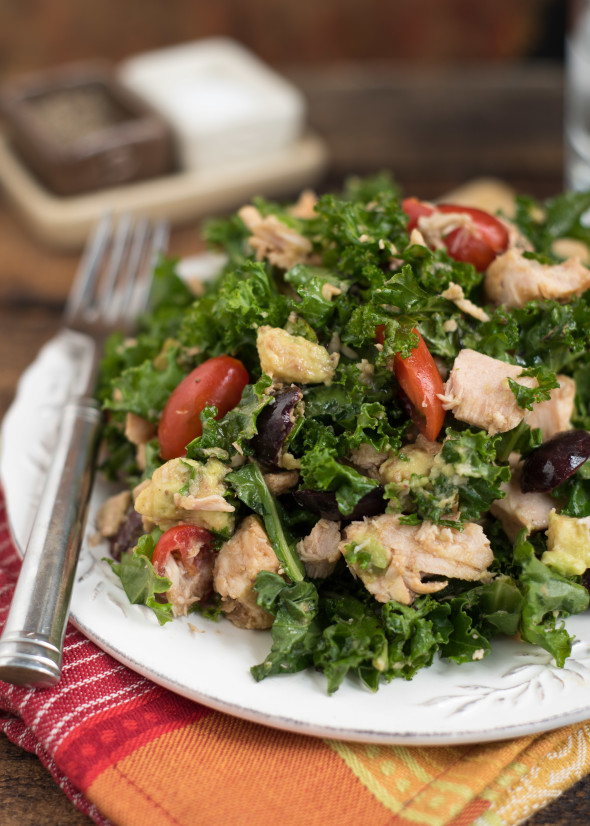 Have a fabulous weekend and let me know if you need any help with your new year's goals if they pertain to your diet, nutrition, exercise, etc. Cheers friends!

Kale and Tuna Salad with Avocado and Mint
Author:
Melanie F. | Nutritious Eats
Ingredients
4 packed cups of chopped kale
2 5-ounce cans tuna packed in water, drained
½ cup halved cherry tomatoes
¼ cup chopped or sliced kalamata olives
¼ cup fresh mint, chopped
2 green onions sliced
1 large or 2 small avocados, diced
For the dressing:
1 tablespoon lemon juice
1 tablespoon balsamic vinegar
2 tablespoons olive oil
1 small garlic clove minced
⅛ teaspoon salt
⅛ teaspoon pepper
Instructions
In a small bowl whisk together the dressing ingredients. Set aside. In a large bowl combine kale through avocado and gently toss. Pour dressing over salad and toss again. Best if let sit for a few hours or even overnight to soften kale a bit.