Kale and Quinoa Salad with a honey-balsamic dressing is a great make-ahead dish to enjoy throughout the week.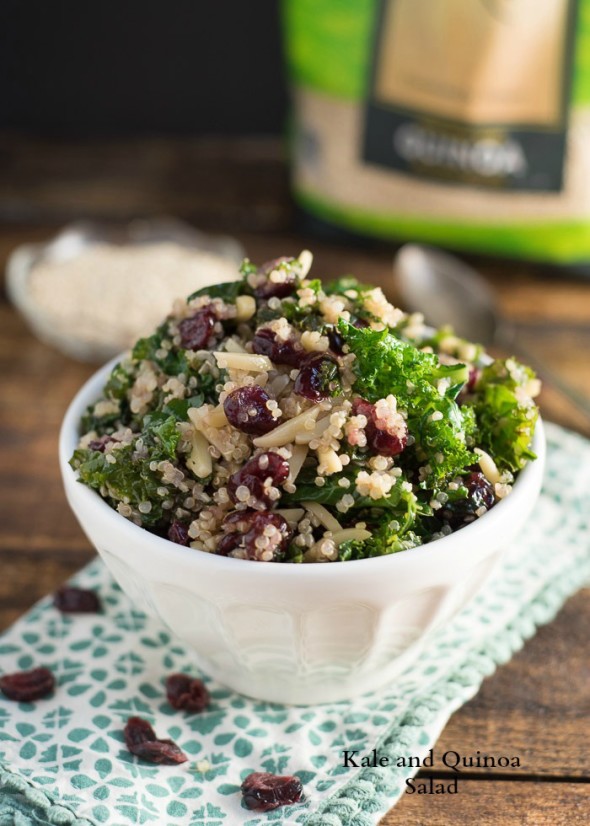 Hi friends, how was your Halloween?! I don't share many family pics, since this is a food blog and all, but I can't resist but share my cute bunch. I love seeing their costumes come together after weeks of deciding. My 3 year old ended up changing into his Ninja costume last minute, in a typical 3 year old fashion.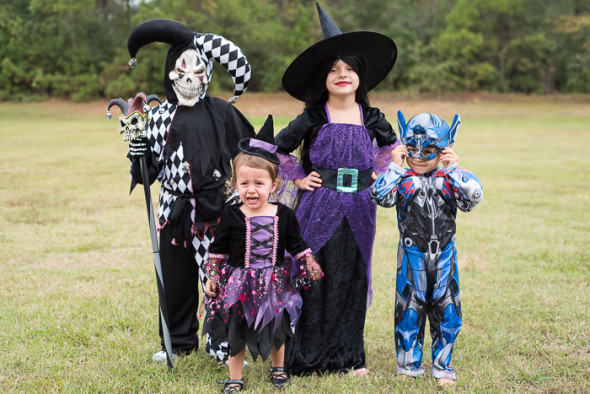 The town we lived in switched trick-or-treating to Friday night which ended up working out just fine since because we had nonstop rain, flash food and tornado warnings for most of the morning/day on Saturday. Overall it was a great evening with neighbors!
So since the hubby is working, my parents came to help out. They spoil me with loads of food from Costco and homemade dishes they brought from home, and they've been cooking too which is always a treat.
My mom made this kale quinoa salad that we all enjoyed (even my 1 year old) so I had her write up the recipe and here it is!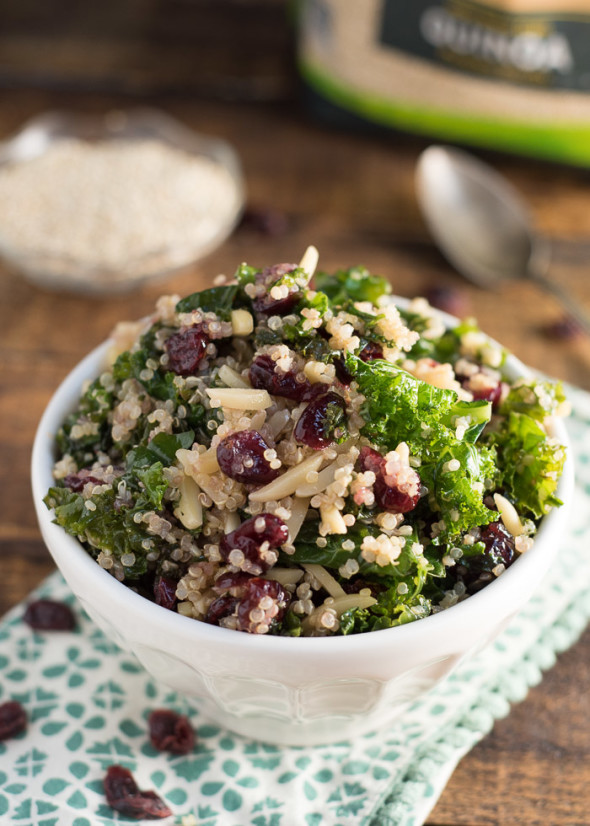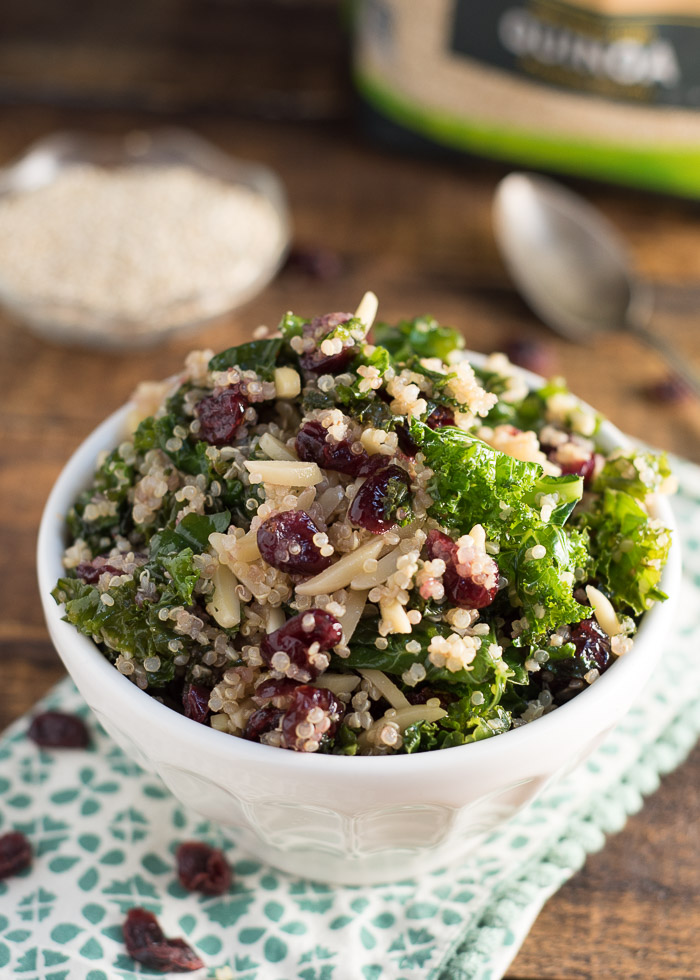 I love love having salads like this on hand because then you can create such a nice meal from them. For example, we had this and a tabouli salad my dad made…paired with a little cheese which made a delicious lunch.
This reminds me of a salad you'd find in the Whole Foods salad bar and a good salad bar is one of my favorite things.
Want to create your own salad bar salad? Just prepare one or two cold salads like this- maybe a grain and veggie or a bean salad, this one is delicious. Then do some additional meal prep such as cutting veggies, boiling some eggs, cutting some tofu.
When you're ready to eat (or pack it up for lunch), you can assemble a big bed of greens, with whatever veggies you prepared, top it with some protein- like canned tuna or grilled chicken and/or the hardboiled egg, some hummus or avocado, olives. You get the point. Delicious, healthy and you won't get tired of eating salad this way!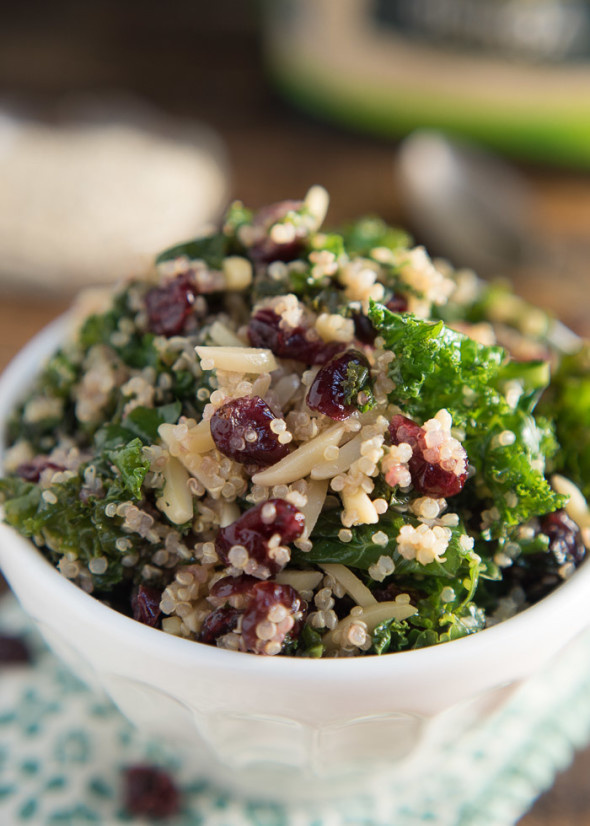 Salads are welcome this time of year due to all the treats, so if you aren't currently getting those veggies in, make sure you are having them- at least 3-4 servings a day. A big salad like I described would probably get you 3 servings easily!
Kale and Quinoa Salad
a super simple kale and quinoa salad to pack for lunches throughout the week
Author:
Melanie F. | Nutritious Eats
Ingredients
~3 cups cooked quinoa
~10 cups chopped raw kale, stems removed
1 cup dried cranberries
¾ cup slivered almonds
For the dressing:
3 tablespoons balsamic vinegar
¼ cup apple cider vinegar
¼ cup extra virgin olive oil
1 heaping tablespoon of honey
½ teaspoon salt
Instructions
Mix quinoa, kale, cranberries and almonds in a large bowl. In a separate bowl or jar whisk together dressing ingredients until well combined (make sure honey doesn't stick to the bottom), then pour over quinoa mixture. Taste and adjust for seasoning. Add more salad ingredients if too heavily dressed, add a little more honey if too tart.
Notes
The amounts of kale and quinoa can be adjusted up or down. I have done 2½ to 3½ cups of quinoa and 8-10 of kale and it works either way, it will just be a little heavier on the dressing with the lesser amounts.

Just as a reference, 1 cup uncooked quinoa makes ~ 3½ cups cooked.