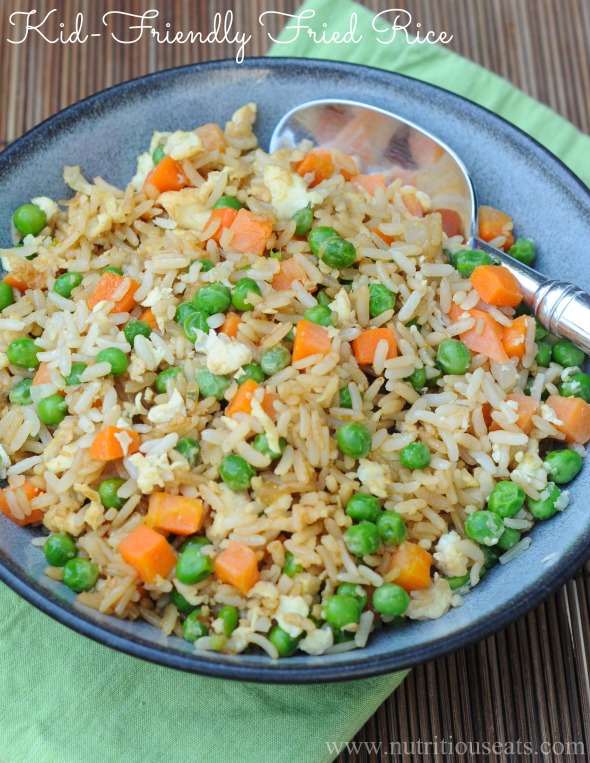 I would normally say I prefer pasta over rice, but lately I have been cooking a ton of rice lately. When I was a kid I loved eating plain white rice with butter. However, I wanted to cook something a little more special than buttered white rice for our Friday night grilled salmon dinner.
Now Chinese food is definitely not a favorite for my kids, but I had this idea that they would love a basic version of fried rice because they love scrambled eggs and they like peas and carrots. If I were making this for me, I would've used sesame oil and a lot more ginger and garlic but I had my kids in mind and really wanted them to like it.
One way I knew I could get them to try the rice was if I got them involved in cooking it. My son was too tired to help, ha, but wanted to watch. My daughter on the other hand was excited to help, as usual. When I told her what ingredients we'd be using, she exclaimed​ "I am going to eat that for dinner!" Okay, off to a good start.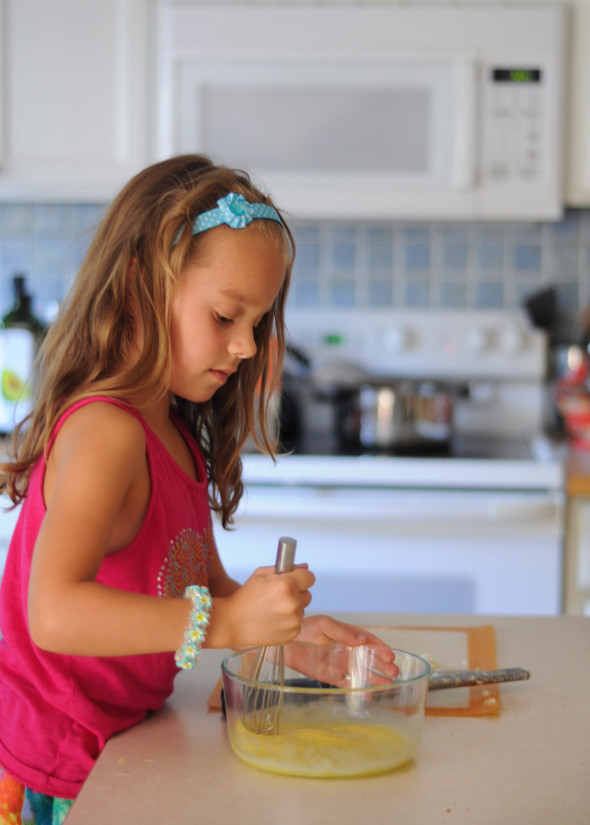 My son supervised and argued that he didn't like soy sauce and that we shouldn't use it at all. I told him we'd add the soy sauce slowly and I would let him decide when to stop adding it. Thankfully he liked that idea, not only that…he thought the rice was good! He liked it with 1 Tablespoon of soy sauce so I stopped there, removed half the rice to serving bowl and added another tablespoon for the adult portion.
This one….very proud of the final dish.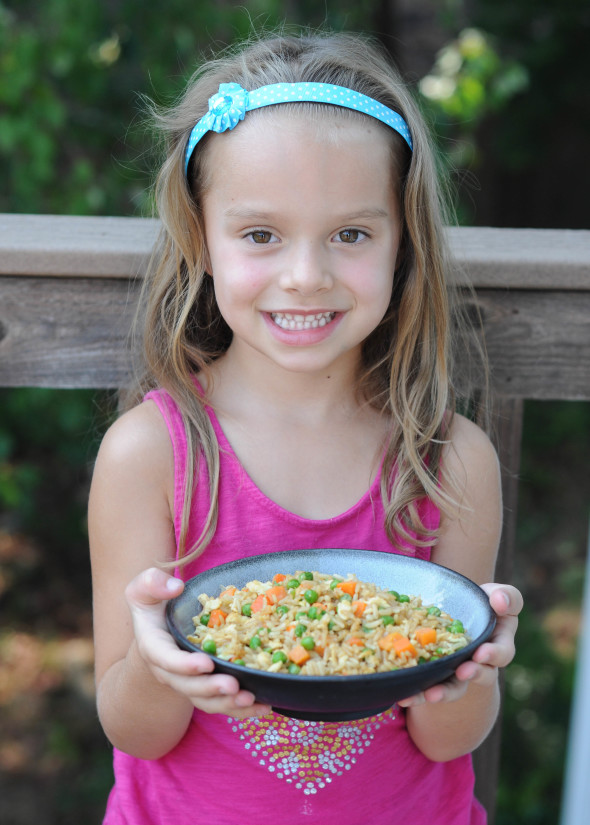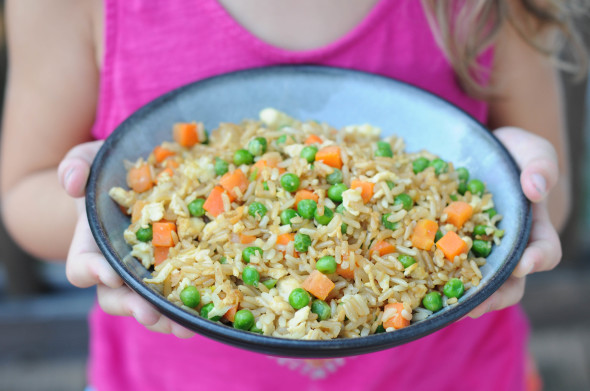 I was so happy to see them enjoy a dish that I envisioned and that they helped cook. It never ceases to amaze me when you give kids a little say in their food, they're actually more open to trying things.
This would be the perfect type of recipe to enter in the Ben's Beginners Cooking contest! If you and your kids like to cook, YOU should enter the Ben's Beginners Contest by creating a short video featuring a recipe that uses a rice product. Easy and fun! I have to mention the grand prize is $15,000 for your family and $30,000 cafeteria makeover for your school. What an incredible prize!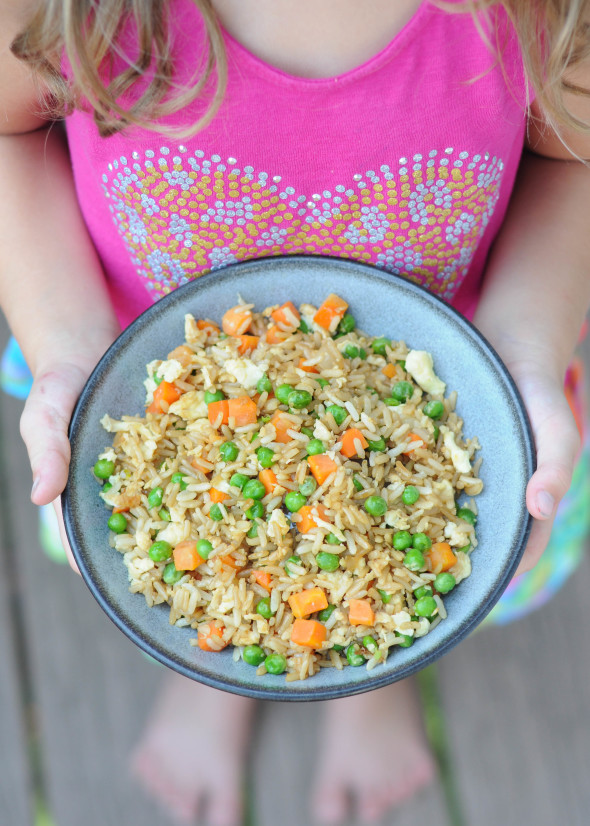 One more thing that I loved about this dish, it's so easy! In fact I made some for a late breakfast the next morning because we had some extra plain rice and it takes no time to throw this together.
It's great for leftovers too!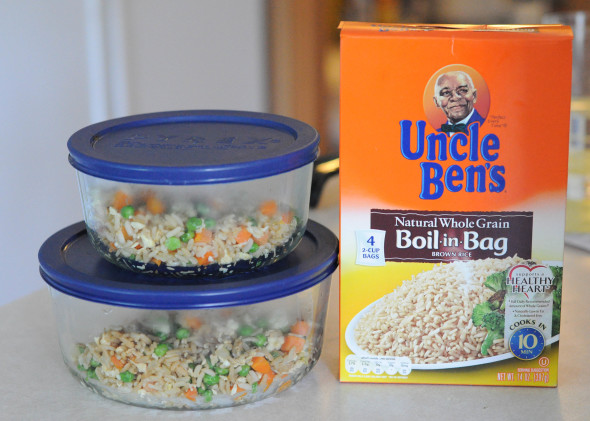 Hope you and your little ones enjoy it as much as we did!
Kid-Friendly Fried Rice
Ingredients
2 Tablespoons oil (I used avocado oil since it's neutral tasting)
2 cups cooked brown rice (leftover is great)
½ teaspoon fresh minced ginger
1 garlic clove minced
¼ cup diced onion
1½ cup frozen peas and carrots
2 eggs, beaten
soy sauce to taste (1-3 Tablespoons to taste, use gluten free soy sauce if on gluten free diet)
Instructions
In a large non stick skillet, heat oil. Add minced garlic, ginger and onions. Cook for 1-2 minute, add frozen peas and carrots, cook 2 minutes. Move to one side of the skillet, add eggs and scramble on other side of the skillet. Add rice and cook for another 2 minutes or thoroughly heated. Add soy sauce and stir. Serve warm.
Notes
My kids don't like a strong soy sauce flavor so they had me stop at 1 Tablespoon. I removed half of the rice at point and add a little more to the adults half.
Cooking with your children makes for a great beginning! Visit
www.unclebens.com and click on The Ben's Beginners™ Cooking Contest page to learn more!
This is a sponsored conversation written by me on behalf of Uncle Ben's. The opinions and text are all mine.