Summer is coming to an end. I know many of your kids have already started back, but we are a little on the late side here starting the end of next week. I was thinking the start of school year felt similar to the start of the calendar year and you know how everyone sets goals and resolutions that time of year. I've been eating too many treats over the summer with my kids and want to jump start some motivation as we get back to a crazy activity-filled schedule. I have a soon-to-be kindergardener, a preschooler and a 9 month old and we will be starting the kid's activities soon too including dance, gymnastics and soccer. Things will be busy.
In addition to having to be even more organized in the kitchen, I know the rain will start up soon and I will need an extra push to get outside to exercise. All of this made me think of creating a mini challenge for the month of September. Why wait for January to set health and fitness goals? I thought of some mini goals that can be accomplished each day  so that we can focus on being healthy instead of putting our needs on the back burner. Each day we'll focus on a new goal (diet, fitness or mental health related). I will be tackling each one in order (days 1-30) but feel free to print this off and accomplish them in any order you want. Just make sure to cross off each day's goal. By the end of the 30 days we will know that everyday we did something to be a little bit healthier.
Some of these things might seem challenging (like going vegan) but remember it's just for a day! You can totally do this!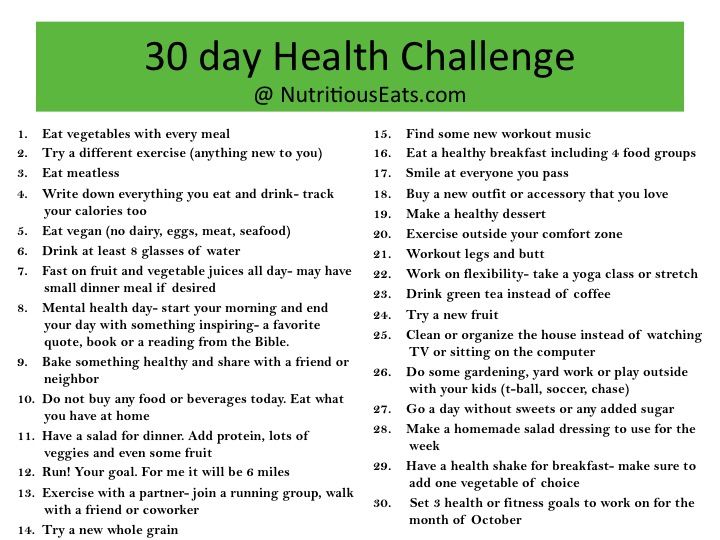 With the plan to start Sept. 1st, we have about a week for everyone to get this printed off and posted to your refrigerator or work office. Hope you have fun with this. You might even like some of these changes that you decide to try them out more than once. Of course you can always complete the challenge again the following month too!
So are you in?!  Make sure to pin the challenge or share it so others can join us! Cheers to your health!
P.S. You can print off the challenge by using the "print friendly" button below. Also if you'd like to share your progress with me each day you can join me on Instagram, Nutritious Eats' Facebook page or Twitter. If you aren't connected with me, just click on those cute round buttons up on the top of my blog!
I love hearing from you! Please leave a comment, ask a question or just say hi. And if you've enjoyed this post, please pin, share, tweet or stumble away so that others can enjoy eating healthy with us! Thanks for reading!