Hope you all had a great weekend! We've got fish on the brain over here. I was finally able to find wild salmon at one of the grocery stores in small town, Missouri. Very excited. Then onto excitement number 2, this weekend marks the first weekend the hubby caught and brought home rainbow trout! Four of them! Fishing is his new hobby as of a few weeks ago and since there is a beautiful huge river and creek on post, practically in our backyard, it is his new obsession. I am totally fine with it as long as he catches me some fish!  This place is a dream for a guy- woods, hunting, fishing, canoeing, all within minutes from our house. Now he never wants to leave Missouri. I, on the other hand, have a little bit harder time entertaining the two little ones while battling the summer heat being a preggo lady. My go-to activity when I am bored at home is cooking- whether it's something new for breakfast, a snack or dinner….it keeps me busy and feeling productive during the long summer days.
I have lots of yummy recipes to share with you and I wasn't sure what I should start with! You may have seen salmon on my meal plan the last couple weeks. We try to have salmon once a week and my favorite non-recipe is what I am going to share with you today….but of course I created a recipe just for you! The flavors are simple, clean and not overpowering. It also takes a few minutes to prepare. Love salmon night. I love being able to use the dill from our garden to make this, but mostly I love it because it takes minutes to make.
I have talked about the benefits of salmon here, but let's talk about farmed raised vs wild for a minute. Wild salmon is preferable to farmed raised salmon because it's lower in mercury, PCB levels and other contaminants. Farmed raised salmon also have a higher fat content (about 20% more) than wild because they are jam packed in bins with other fishies and can't swim around as much. The wild can swim free, therefore are more active than their "couch potato" farmed friends. The weight gain from additional fat also results in higher levels of PCBs and other contaminants in the farmed salmon.
Wild salmon have that beautiful red color to them which comes from being in the wild and eating a more nutritious diet. Farmed raised salmon who do not have much color can be given artificial coloring to make them look more pink. So sad. Especially when you can't find wild salmon! The good news is they are both high in Omega 3 fatty acids, however farmed raised provides a less usable beneficial Omega 3s than wild salmon. There are several other reasons why you should choose wild salmon over farmed raised. For me, it's only been a question on whether I can find the wild salmon.
So back to this recipe, you can pair it with anything from a pasta or rice side dish, to potato wedges, to tons of veggies. I am currently in an obsession of serving it with this orzo side dish which I will post next so you can make the combo too. Very yummy with all the lemony flavors going on. Hope you are surviving (and ENJOYING!) this summer unlike grumpy me. Here is the salmon and then on to my meal plan for the week.
Very simple ingredients involved. I use this blackened seasoning so look for something similar. It has paprika, onion powder, garlic powder and other spices.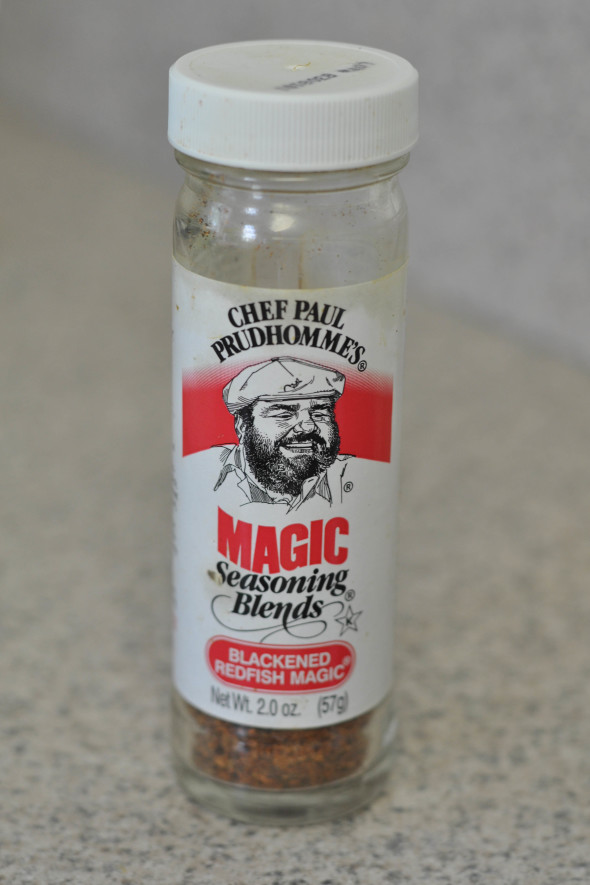 A little spices, fresh dill, tiny bit of butter, layered with lemons.
You'd be surprised with the richness a half of tablespoon of butter brings to the salmon, but if you need to sub olive oil that is ok too.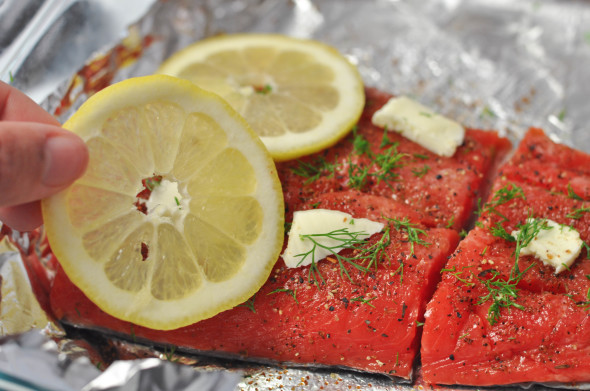 A drizzle of olive oil before baking will help keep it moist.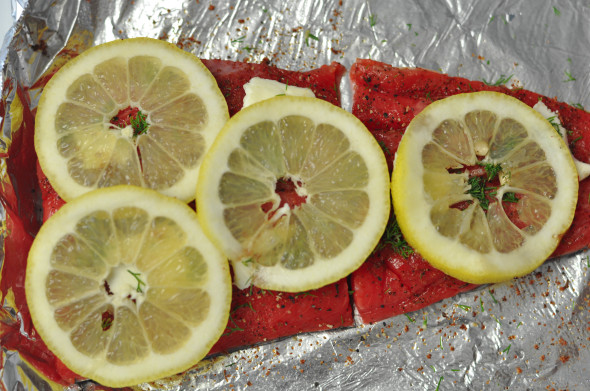 As you are eating it, just scrape off some of the lemon which is cooked nicely and eat it with each bite. Mmmm.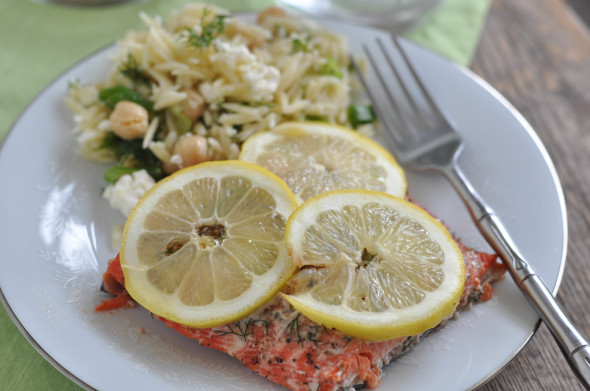 [print_this]
Lemon Dill Salmon
A simple week night salmon made with lemon, fresh dill and spices, can be prepared in just minutes.
1 to 1.25 lb Salmon, preferably wild
1/2 teaspoon blackened seasoning
2 lemons, 1 cut into thin slices
1 Tablespoon fresh dill, chopped
1. Preheat oven to 350 degrees. Line a baking pan with foil coated with cooking spray.
2. Place salmon skin side down, sprinkle with salt, pepper, blackened seasoning. Sprinkle chopped dill on top. Squeeze with the juice of 1 small lemon or 1/2 of a large.
3. Cut butter into thin slivers and place on salmon. Top with thin slices of lemon. Drizzle with a little olive oil.
4. Bake for 15-20 minutes depending on thickness of fish. Serves 2-3.
Recipe from Nutritious Eats
[/print_this]
And onto Meal Planning Monday!!! If you are new here, you can read more about Meal Planning here, here and here.
Menu for the Week of July 9th
Sunday
Fresh out of the Big Piney River- Rainbow Trout Stuffed with Mushrooms, Onion and Bacon; Potato Wedges, Green Salad
Monday
"Cold Dinner": Chicken Salad, Hummus, Pita Chips or Rice Crackers, Raw Veggie Assortment, Fruit Salad
Tuesday
Shrimp Cobb Salad with Cilantro Lime Vinaigrette, Probably Pasta and Veggies for Kids
Wednesday
Breakfast Burritos, Guacamole, Greens with Golden Raisins
Thursday
Falafel, Tzatziki, Pita, Tabouli Salad
Friday
Chicken with Capers and Sweet Cherry Peppers, Rice, Green Bean Almondine (didn't have this last week afterall)
What are you having this week friends?