Make one or several bowls of these loaded vanilla overnight oats and have a healthy hearty breakfast waiting for you!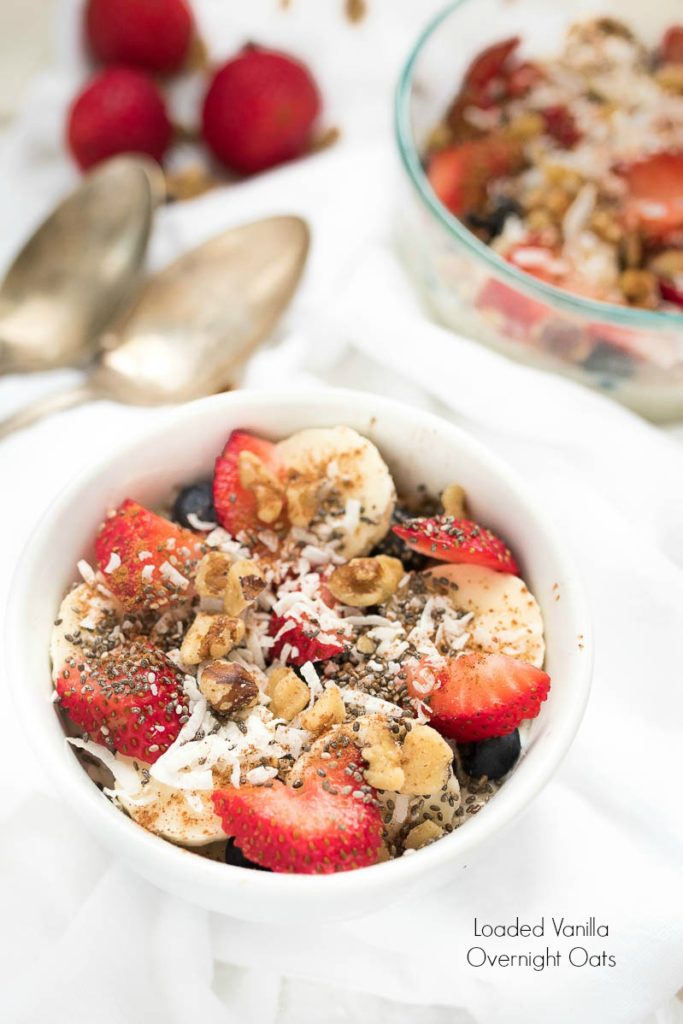 Overnight oats are such old news, but I love them and figured it was time to share my everyday version of overnight oats in case there are some of you that haven't tried them yet.
I think growing up my breakfasts could be summed up with one word….. "cereal". Who is with me? It's hard to beat breakfast in 1 minute, am I right? This is the next best thing for something quick.
My husband can eat oatmeal year round, but I can not. I just can't do so much warm in the summer. I love my morning hot coffee, but that's where it stops. So half of the year, or more since we are in a warmer climate again, I really don't want warm oatmeal.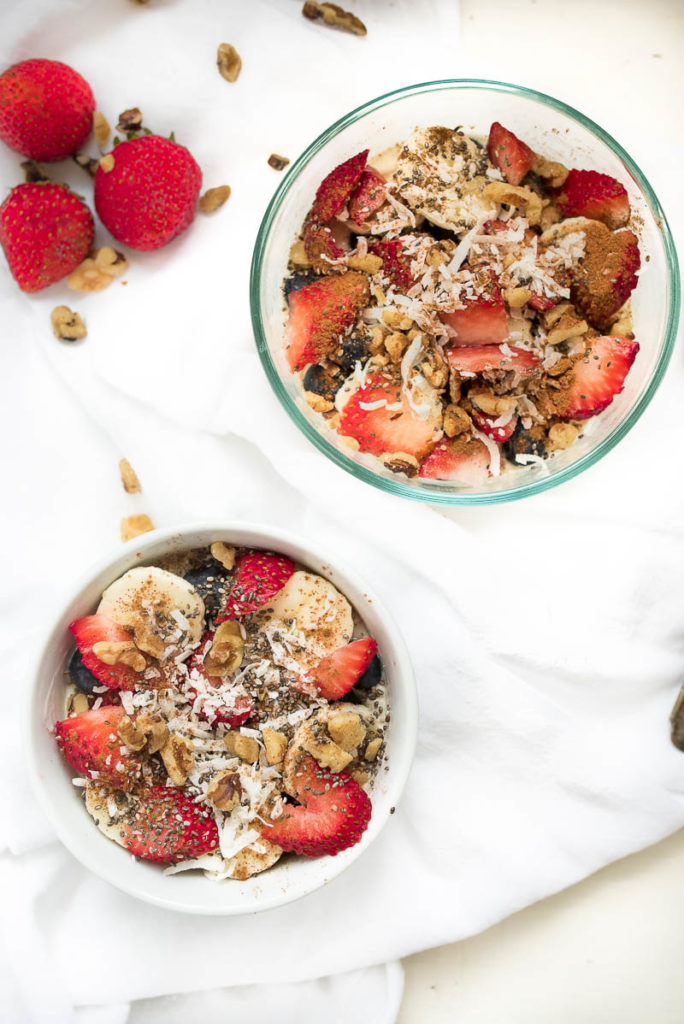 Cold oats on the other hand? Bring it on! I love it simple just like this and if you are skeptical, the worse thing that can happen is that you don't like it and you waste a serving of oatmeal. It's okay though, worth the try I think!
I find that having breakfast ready upon waking is such a great way to start the day. When I am hungry, I usually put myself last while I attend to feeding the kids, but if I have something simple like this ready then it makes it so much easier to put me first. It takes all of a few minutes to eat and then I am energized and ready to start the day.
I also love that you can prepare one or several bowls depending on how many days you'd like it. I typically do two bowls at at time.
What's so great about this dish? You are getting a good serving of calcium and protein with the milk (non-dairy OR dairy) and Greek yogurt, some high fiber whole grain oats and fresh fruit full of antioxidants and fiber. Overall, this is a nutritious and substantial breakfast that is easy to customize.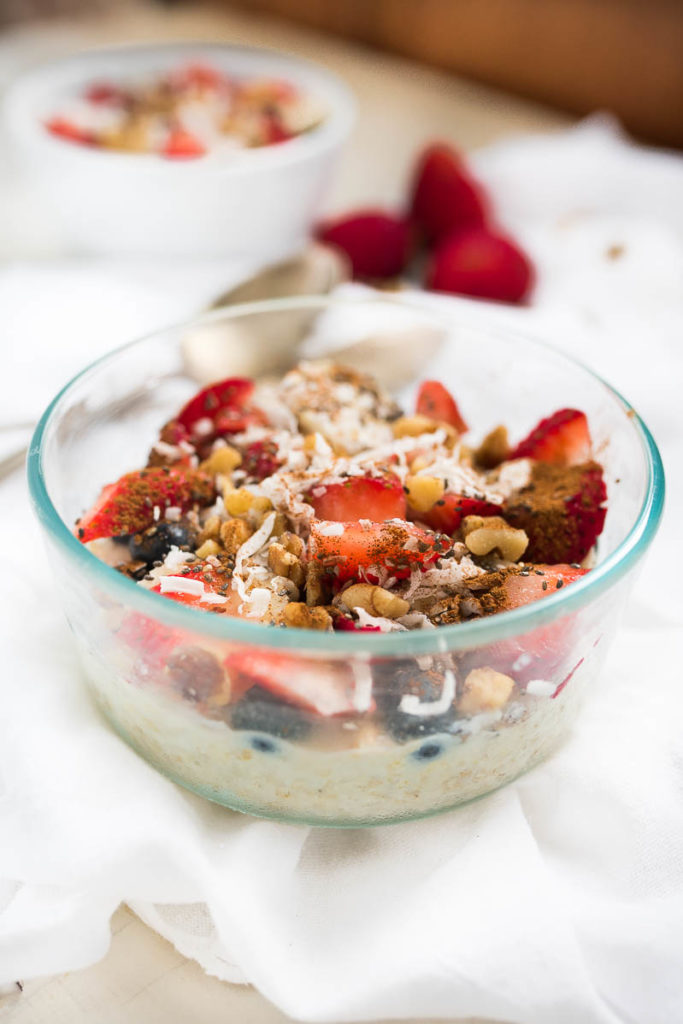 My basic version is just with the fresh fruit topping, but sometimes I want more to it and then I add the nuts, coconut and Chia seeds. I love a ton of cinnamon on it, but do what works for you! If you use plain yogurt or plain milk you might want to add a drizzle of honey or agave to your oats. I find there is just enough sweetness from the soy milk I use + the vanilla yogurt so there is no need to add any extra sugar.
Are you an overnight lover?
Loaded Vanilla Overnight Oats
Make one or several bowls of these loaded vanilla overnight oats and have a healthy hearty breakfast waiting for you!
Author:
Melanie F. | Nutritious Eats
Ingredients
⅓ cup rolled or quick cooking oats (make sure labeled gluten free if needed)
⅓ cup original or vanilla non-dairy milk (I use soy)
⅓ cup vanilla Greek yogurt
⅓ banana
⅓ cup blueberries
⅓ cup strawberries
1 teaspoon Chia seeds
1 tablespoon unsweetened coconut
1 tablespoon chopped walnuts
⅛ teaspoon cinnamon
Instructions
In a small bowl, stir together oats, milk and yogurt. Top with fruit, chia seeds, coconut, cinnamon and nuts if using. Cover with plastic wrap, place in the refrigerator overnight and enjoy in the morning!