Hi friends. Just popping in for a quick visit to share this fabulous salad inspired by Starbucks. That's right, you heard me….a salad inspired by Starbucks!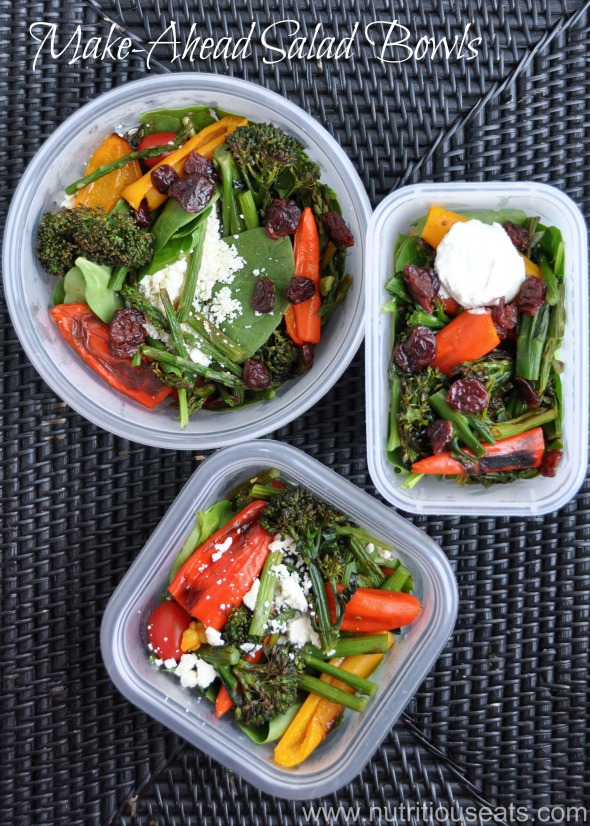 I was in there this week with about 25 minutes to spare before picking up my daughter from preschool. I had our sitter watching the other kids so I thought why not actually go into a Starbucks (rather than use the drive-thru), sit down and enjoy some time to myself. Now I am pretty frugal when it comes to buying lunch out. I have a hard time justifying spending money on food that I usually have at home, but I was curious…and hungry so I I splurged on a salad that I never knew Starbucks even offered.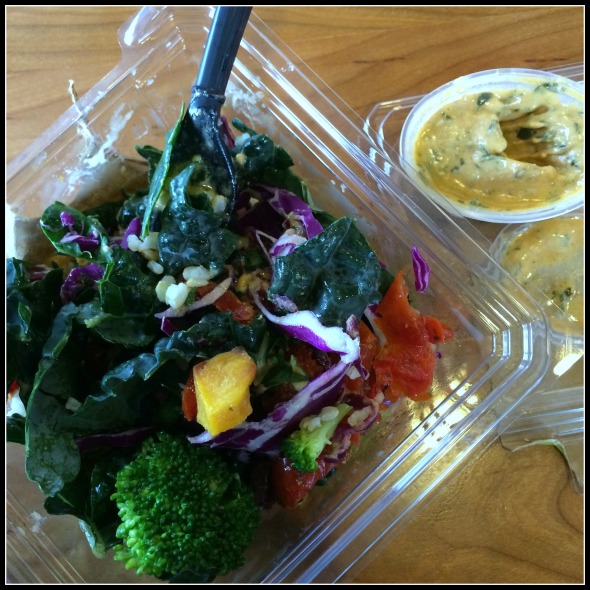 The kale, hearty vegetables and brown rice bowl with the lemon tahini dressing called out to me. Healthy, vegetarian and full of nutrition, I'll take it! It was great….in a simple sort of way. What I mean is that it wasn't anything that I couldn't do myself, but for a chain coffee shop I was impressed. It got me thinking, I really should make some lunch salads ahead of time because the last thing I have time for in the middle of the day (in between feeding kids and picking up others) is to assemble a nice salad.
So the next day when I had an hour to spare I put out some tupperware, cooked some brown rice, roasted a tray of veggies and got assembling. Brown rice, fresh spinach, cherry tomatoes, cheese (feta and goat cheese), roasted peppers, asparagus and broccolini. Done. I planned on eating one with my leftover cherry balsamic vinaigrette and one with the fresh salsa I buy from Trader Joe's. Of course you could use any dressing you like or just a basic oil & vinegar and/or lemon juice.
The result? Awesome! It was so nice to have such a satisfying healthy lunch ready to go. The key for me was making them ahead of time. I didn't have to think about what I should eat, I just knew that something healthy was waiting for me. The amount of ingredients I used was enough for 3 meals, but you could certainly do more. Just make sure to hold off on dressing your salad bowls until you are ready to eat. This will ensure the veggies stay nice and fresh for days.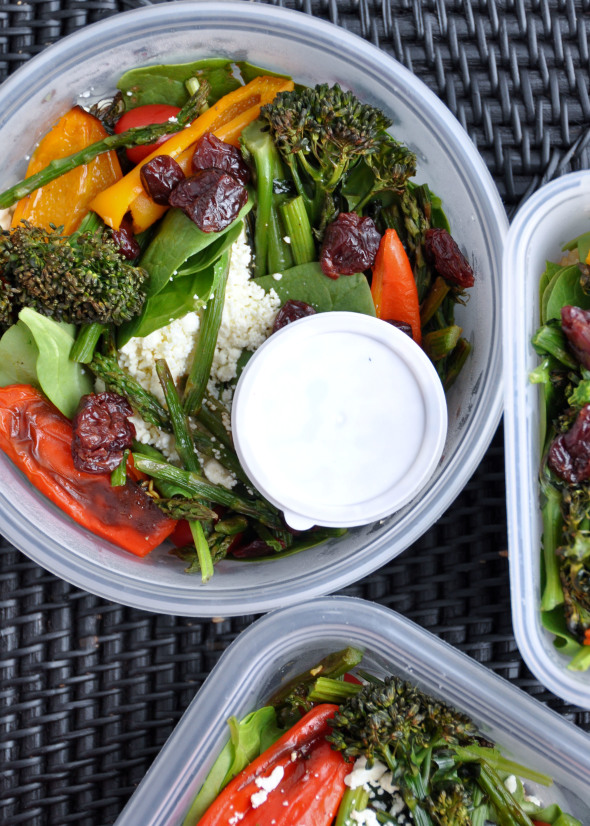 Here are the rough measurements and ingredients I used for this particular salad. Of course there are a million options depending on what is in your fridge! I eat at home because I am a stay-at-home mom but you could easily pack this for lunch with your dressing or salsa on the side in a little tupperware (I found my mini containers at the dollar store).
Have fun with this and planning makes for healthy eating! Enjoy!

Make-Ahead Salad Bowls
Ingredients
Ingredients per bowl:
¾ cup cooked brown rice
2 cups raw baby spinach leaves
¼ cup cherry tomatoes
¼ cup feta cheese (or 1 ounce goat cheese or other cheese of choice)
1 cup roasted vegetables (asparagus, bell peppers, broccolini)
1 Tablespoon dried cherries
Dressing of choice or fresh salsa and lime juice
Instructions
To roast vegetables: place veggies on a cookie sheet, drizzle with olive oil, salt and pepper and roast for 20 minutes at 400 degrees, half way through cooking time add a clove of minced garlic to the pan and stir veggies. After you remove them from the oven squeeze ½ of a cut lemon over the veggies. Let cool before assembling salad bowls.
In a glass or plastic tupperware bowl assemble salad: brown rice, spinach or kale, cherry tomatoes, roasted vegetables, cheese and dried fruit (if using). When ready to eat serve with dressing of choice.
Notes
Other add-in suggestions: sunflower seeds, nuts, chopped hard boiled egg, tuna, chicken or steak, beans, hearts of palm, canned artichoke hearts, avocado, a variety of vegetables.
Questions: Have you ever tried a Starbucks salad? Do you pack your lunch? What's your favorite meal to-go?