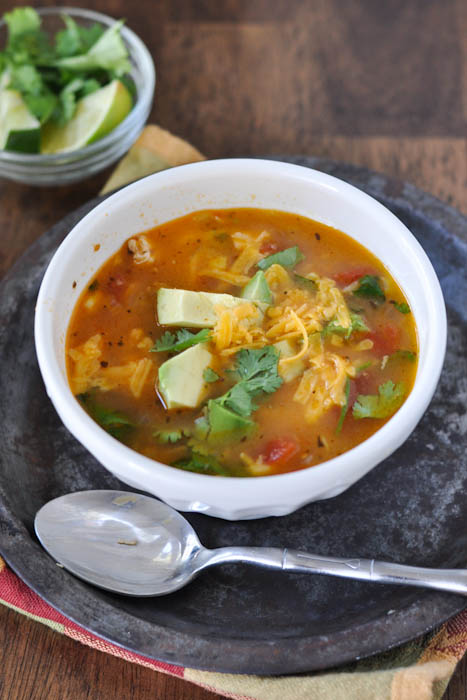 I have about 4 different versions of tortilla soup that I make and this is the go-to quick version. My mom actually came up with it. This is how it evolved. When we were home visited in March she decided to make tortilla soup for dinner. She was out running errands late in the afternoon and called me and said "can you get the soup started? Just throw some onion and garlic in the pot to saute…….and if you want you can add the canned tomatoes. Oh and then just throw in the shredded chicken in the fridge and the broth. I'll be home in about 15 minutes to finish it". "Ok" I said.
Well she came home, added some fresh corn off the cob, crushed in some tortilla chips and was done….and it was delicious. So if you go back and pay attention to the conversation, I really made the soup and she just finished it. Sheesh, she got off lucky I thought. 🙂
To make this go even faster, get the chicken shredded ahead of time; whether you buy a rotisserie chicken or throw some in your slow cooker, this is an easy do-ahead step.
Most tortilla soups are made with corn tortillas, but the crushed tortilla chips worked great as a quick substitute to thicken up the soup and season it. This version is just as flavorful as a more complex recipe! Of course you know tortilla soup is all about the toppings- lime, avocado, cilantro, shredded cheddar and sour cream.
You can have this hot, yummy soup on the table in under 30 minutes with minimal prep work- so easy!
I use the organic chicken broth since it's not only organic, but lower in sodium. If you are watching you're sodium intake you can always add some water to the soup to dilute it or in place of some of the broth. Homemade soup is so much healthier than the canned kind. Anyone can pull this one off!
Hope you're having some fall-like temperatures and make this soon!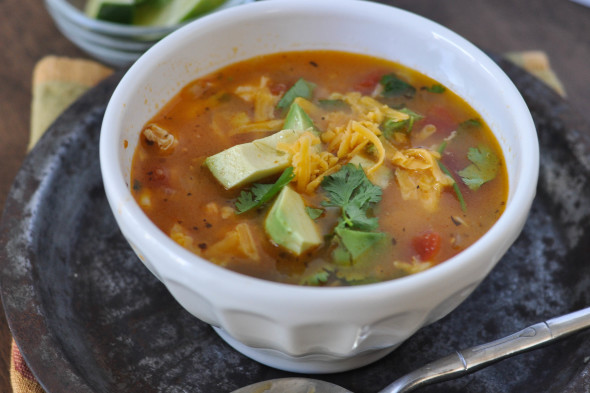 Mom's Simple Chicken Tortilla Soup
this simple Chicken Tortilla Soup can be ready in under 30 minutes, and will become a family a favorite!
Ingredients
2 teaspoons olive oil
1 small onion, diced
2 cloves garlic, minced
1 (14.5 ounce) can crushed tomatoes with their juices (you can use plain or the seasoned kind with green chili or even basil, oregano, garlic)
2 cups shredded chicken (Rotisserie works great)
4 cups (1 quart) organic chicken broth
1 cup corn, fresh or frozen
2 handfuls tortilla chips (about 2 cups), crushed with hands (or ~4 corn tortillas)
Black pepper to taste
Toppings: chopped cilantro, avocado slices, lime wedges, shredded cheddar cheese and reduced-fat sour cream.
Instructions
In a medium-sized soup pot, saute the onion and garlic in the olive oil over medium heat, about 5 minutes.
Stir in the tomatoes, chicken and chicken broth and bring to a boil. Then reduce heat to simmer, add the corn and simmer about 5 minutes. Add the crushed tortilla chips and continue to simmer additional 5 minutes until thickened a bit.
Season with a pinch of black pepper. Serve or continue to simmer on low until ready to serve. Squeeze each bowl with one lime wedge and other toppings.
Notes
Due to the salt in the broth and chips, the soup doesn't need any extra. If you use corn tortillas instead you might want to add a pinch.