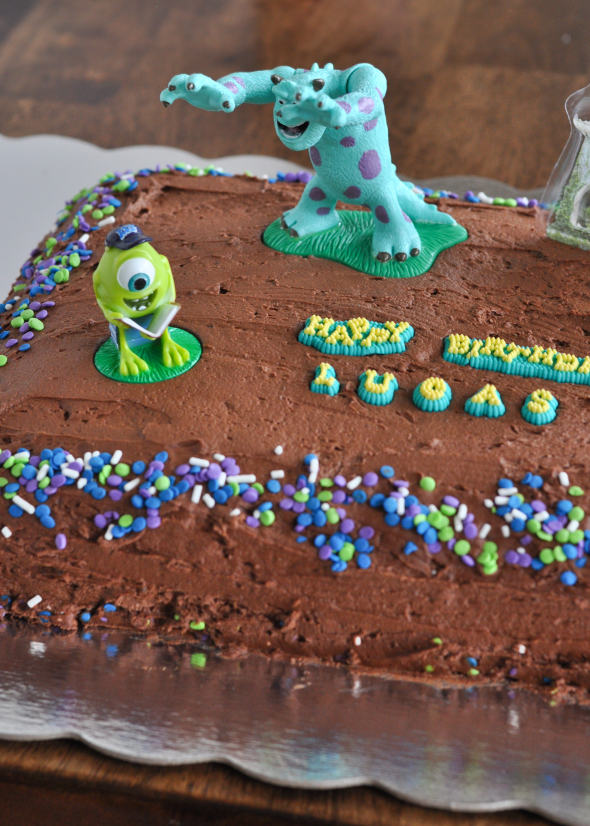 Ahh, I can finally take a deep breath. My oldest turned 7 this weekend and we celebrated with a party for his school friends. I tend to get a little anxious up about things like birthday parties. I enjoy the planning but the actual execution stresses me out. This year since Daddy wasn't going to be around I wanted to keep it simple. Let me first start by saying that being almost 7 months pregnant and lugging around a crying almost 2 year old (yes he cried the entire party) while trying to set up for a party is NEVER simple. Although I didn't need to plan any extravagant games or things like that it was just a group effort to get the food and decorations set up and I couldn't have done it without the help of friends. So very grateful.
My son chose our local gymnastics gym for the location of his Monsters University birthday party. It's perfect because it's simply an hour of play time in the gym with free play on all the equipment (trampoline, foam pit, climbing robe, floor, etc) and then a quick half hour in the party area for cake and presents. I figured I could pull off making some homemade treats and goodie bags and it wouldn't be too difficult.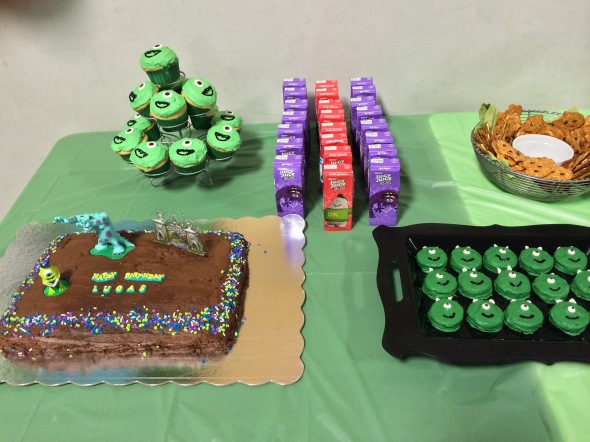 I am by no means a party planner but this theme is too cute not to share. My son chose Monsters University which meant I had to look high and low for MU decor. There was nothing in the stores so I searched online and easily found a variety of decorations- table clothes, plates and napkins, etc. The table clothes where the actual kids sat were adorable (I didn't get a good shot of those). All can be found at any online party store. I chose Party City.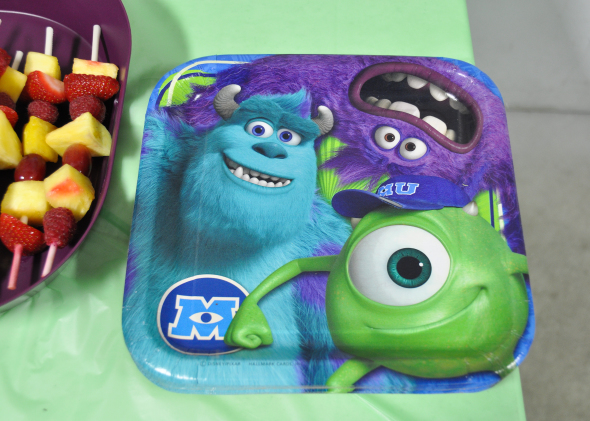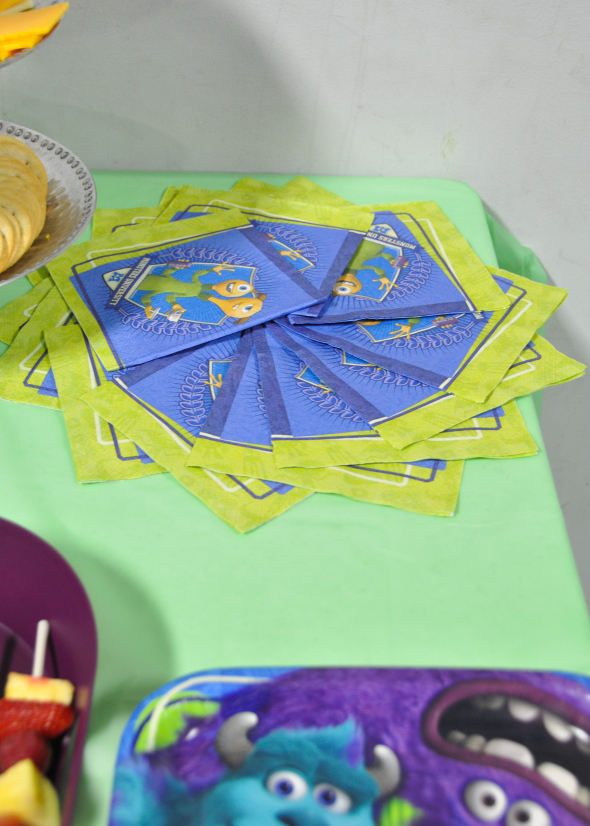 I was hoping for a bare wall in the gym but no luck. We had to make due working around the plaques and bulletin boards. My friend made this cute name sign for the birthday boy using cardstock. Love!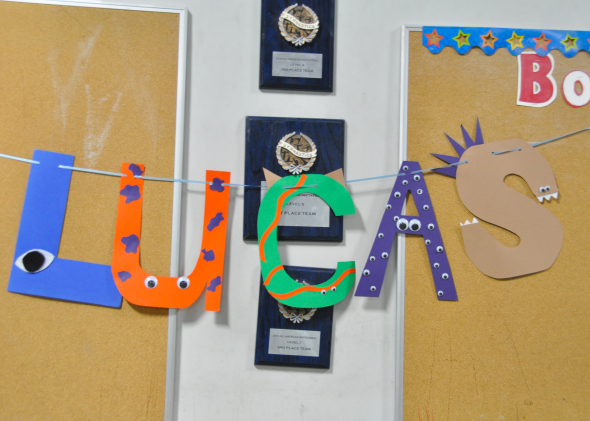 My tradition is that I always make the kids' birthday cakes homemade. I refuse to spend all that money on overpriced fancy fondant cakes that rarely taste good in my opinion. I find that if you know a good basic cake recipe you can make it look pretty decent with some sprinkles and finding the right cake toppers. This is the chocolate cake recipe I used because it is awesome and my son loves chocolate, like his mama.
In this case, I found these adorable Monsters University cake toppers (also online) which I knew would be perfect. I thought the sprinkles matched nicely so I just did a simple border on the cake. Then to make life even easier, I used the sugar letter blocks for the name instead of my sloppy handwriting. I think it turned out great!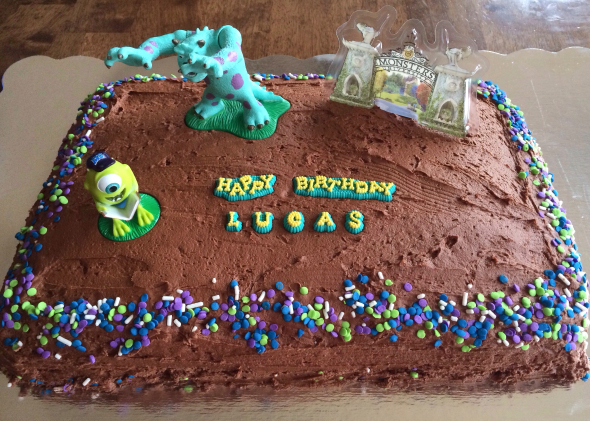 I also wanted to have a vanilla option and since we had a good number of kids didn't know if the cake would be enough. I saw the big eyeballs at Safeway and thought they would make the perfect Mike Wakowski cupcakes. I could've researched more on how to make these look like him, but after all the baking, frosting making and cleaning I was pretty exhausted. I colored the buttercream frosting green. I put the candy eye (Wilton brand) on and attempted a mouth. Good enough!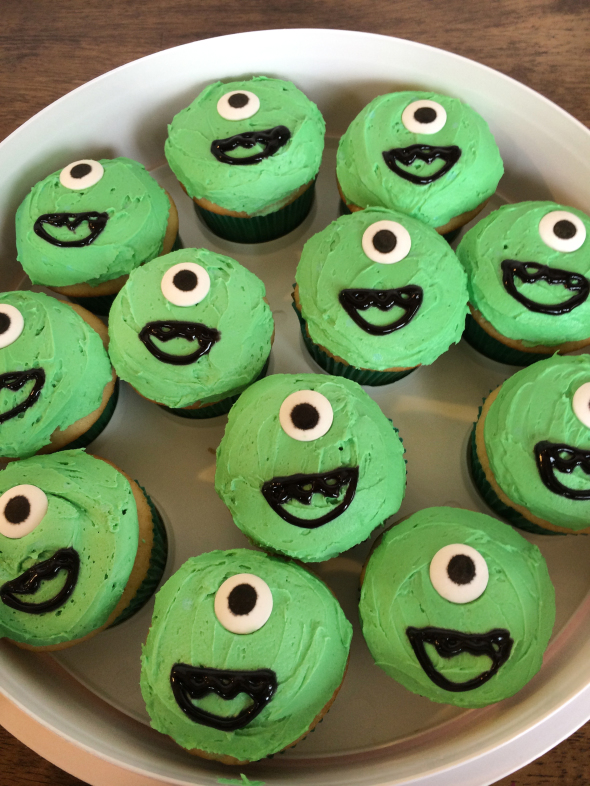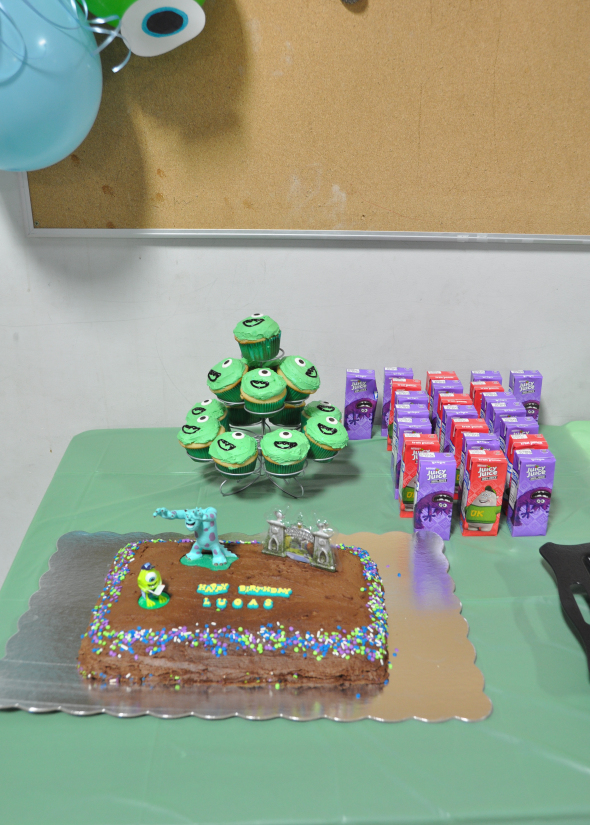 I also wanted to make a Oreo dipped cookie so used green candy melts, dipped my Oreos in there and used the smaller version of the candy eyes (Wilton brand) and a small tube of black gel icing for the mouth. I cut small triangles out of marshmallows and stuck them right onto the cookie (which had already hardened at that point). The marshmallow is sticky enough so that you don't need any additional icing as glue.
Just an fyi if you attempt this, I originally wanted to make them on sticks (aka cookie pops) but my stick was a little too fat and the cookie just fell apart as soon I tried to dip it. I think if you find a thin enough stick, you could just open up the oreos and use some frosting to glue the stick in there, close up the cookie and proceed with the dipping. I was perfectly ok with just a tray of them though.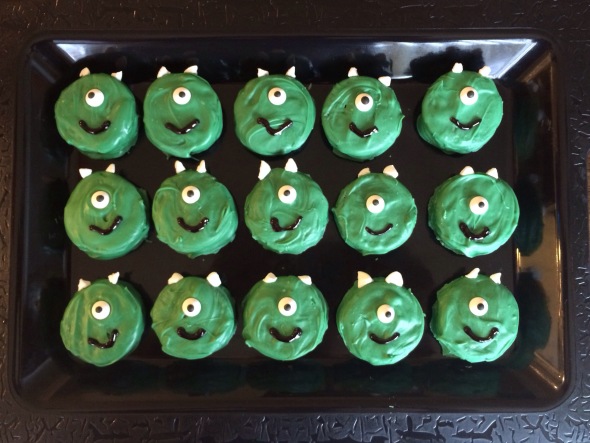 For snacks I kept it simple knowing the time of the party and the fact that we had a short 30 minutes in the party room- cheese, crackers, fruit kabobs, hummus and veggies would be plenty to balance out the sugar.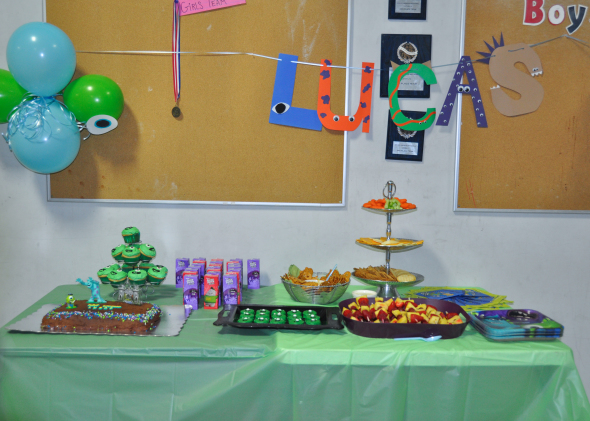 Last but not least the gift bags! I lucked out with the goodies I found for these Monster bags at Target.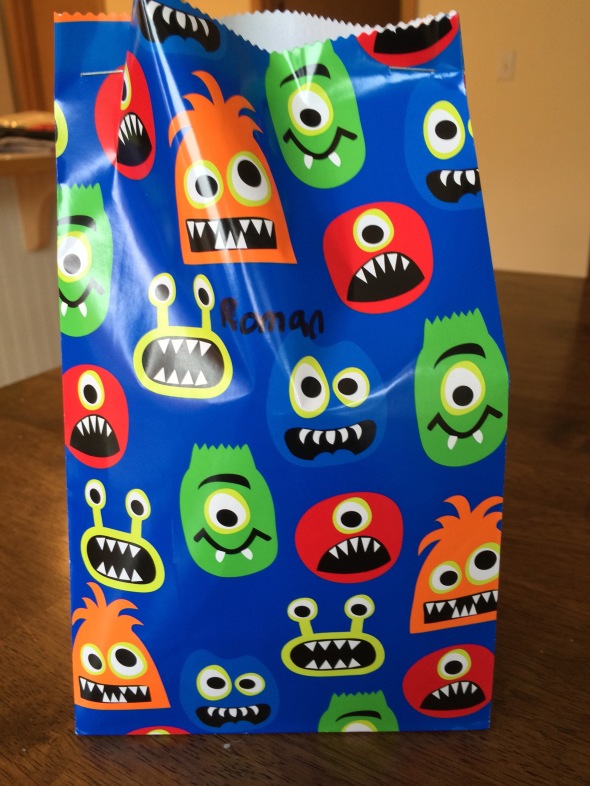 And what was even luckier was when I was grocery shopping at Safeway and stumbled on exactly the right amount of these adorable Monsters University reusable cups.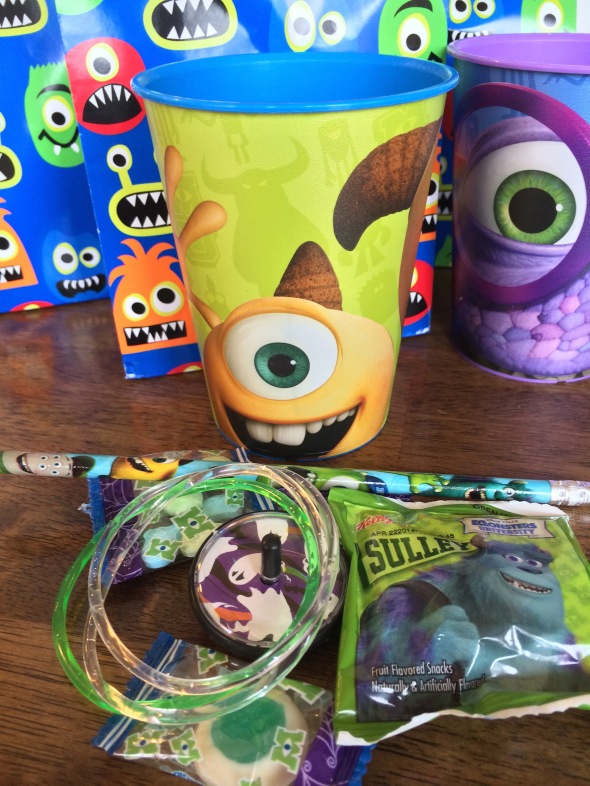 I also found fruit snacks in the MU theme, along with pencils which I ordered with the other decorations online. Last but not least a trip to the dollar store resulted in some Monsters University candy (how lucky was I?)- lollipops, gummy eyes and little monster sweet tarts. I also picked up some plastic bracelets for the girls and spinners for the boys.
Oh and we can't forget about ol' Mike Wazowksi which I used as a present to my son. As one of his gifts I made him a MU gift bag with the Monsters Inc. movie (since Monsters University hasn't been released yet), a personalized Monsters University t-shirt I found on Etsy and this adorable plush Mike Wazowski. I couldn't resist the Mike and thought he would be fun to bring the party for decoration too.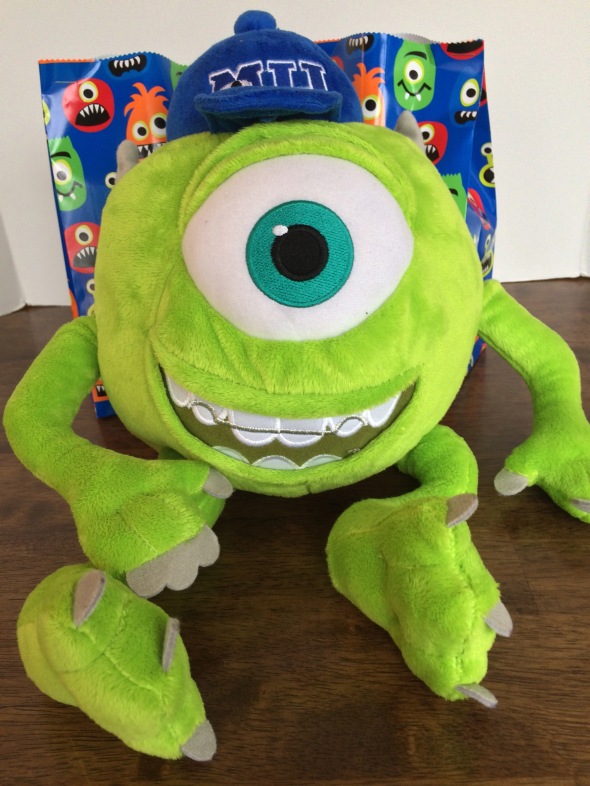 So that is it, if you are looking for a fun and easy party theme consider the Monsters Inc friends. They are a fun bunch!
Here is the cute lil' birthday boy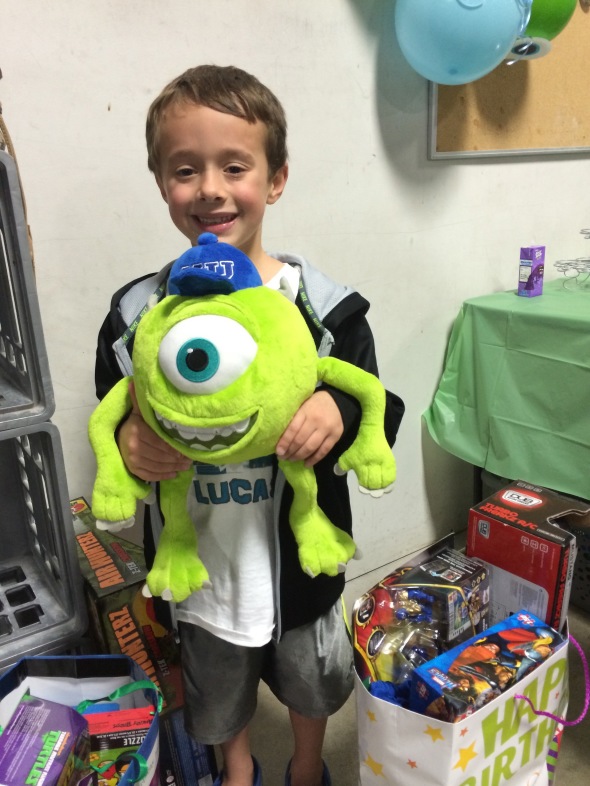 We made it home with just the right amount of leftover cake- enough for one more serving sometime this week. Yum! Now onto planning birthdays for kids 2 and 3 which are coming up in a couple weeks! Eek!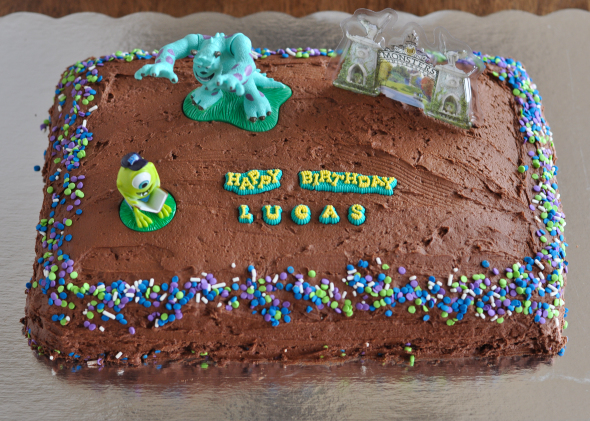 Questions: have you had a favorite kid's birthday theme? Did  you do anything fun this weekend?