So I have a funny story. My mother-in-law is a member of the Blue Star Mother's Group, an organization for mothers of men and women serving or who have served in the Armed Forces. She is very active and it seems like a great organization. Several of the women in the group send my husband cards for no reason other than to say hi, thank-you, or to offer support. One of the moms sent a card about a week and a half ago. I was reading it aloud to Toby and she wrote a little note about how great military spouses are (which was very sweet) and also congratulating us on our upcoming anniversary. WHAT? "Oh my gosh, it's almost our anniversary!!" we both exclaimed. We were laughing that SHE reminded US of our upcoming 8th wedding anniversary. Between Toby's master program coming to an end plus the upcoming move, our minds have been full to the brim! I seriously don't think we would've remembered! So we are hoping to get out to a nice dinner at the end of the week to celebrate.
So back to food and meal planning. We have so many mexican staples in our house on a regular basis- beans, guacamole, tortillas, salsa, tacos, quesadillas, you'd think we were a hispanic family. My go-to quesadillas make an appearance almost more than sandwiches do.
So remember how I was saying I was obsessed with something using my cilantro-jalapeno hummus? It's so simple I don't know why I haven't thought of it sooner. It's a hummus quesadilla and it doesn't get any easier: stuff your hummus of choice into a corn or flour tortilla, add a little shredded cheese and grill on both sides until crisp and cheese is melted. I made them to accompany our Greek salads the other night. It was the perfect thing and using our favorite store-bought corn tortillas from La Tortilla Factory made it even better. I know it's not the prettiest of food to photograph, but you've got to try this version of a quesadilla.
To make these vegan, just add a little of your favorite soy cheese. I know what you're thinking, you thought I strongly disliked soy cheese, right? Well I do, but this was one instance where I really didn't mind it (of course I prefer real cheese better). The hummus flavor dominates and the soy cheese can add a gooey goodness factor.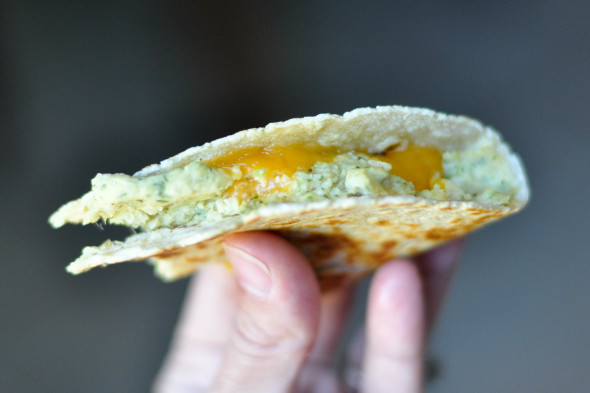 now onto meal planning for the week. I was hoping to get some new recipe from my readers and facebook fans. I'd love for you to share a vegetarian or vegan recipe with ME (in the comments section or on my facebook wall). I know you guys have some tasty, healthy recipes too!
Menu for the Week of April 16th
Sunday
Spring Penne Pasta (with asparagus, artichokes, cherry tomatoes and grilled chicken)
Monday
Tofu Scramble Tacos, Fruit, Salad
Tuesday
Leftovers or Quesadillas- soccer night
Wednesday
Breakfast Sausage Casserole, Sauteed Tomatoes with Herbs, Fruit Salad
Thursday
Leftovers
Friday
Anniversary Dinner Out
Saturday
Homemade Deep Dish Chicago-Style Spinach Pizza

Question: Do you have a good vegetarian or vegan meal to share with me? Link to it in comments or facebook! Do you have a meal plan for this week? Have you ever forgotten your anniversary?! Ha!