This Post is Sponsored by FitFluential on behalf of NOW Foods.
Hello friends! Now that I am home and settled after a week vacation in San Antonio visiting my parents and a quick trip to the NOW Foods Headquarters in Bloomingdale, Ilinois (a suburb of Chicago) I am SO excited to share my trip with you!
If you aren't familiar with NOW, they are a natural food products company with an amazing catalog of over 1,400 products including supplements, food and personal care (think essential oils, lotions, skin care, etc.) and pet supplements. Although my own kitchen was stocked with a couple of their products and I knew they fell in line with my beliefs, I was still eager to learn more.
On a side note let me tell you something, I have avoided blogging related trips in the past because leaving 4 kids behind isn't easy. I finally feel like they were at the right age and I am so glad I did it! It felt amazing to get on a plane and do things that make me happy and I had a feeling visiting this company would be worth it. I realized taking a few days here and there for professional growth is not being a negligent mom so if you are in the same boat I just wanted to encourage you to let go too.
So back to the trip, I was invited along with some other FitFluential Ambassadors to attend this amazing event; it was a jam packed 2 days from the moment I arrived in Chicago, to our stay at the peaceful Hilton Indian Lake in Bloomingdale. We were treated like stars, from the amazing loot of free goodies that they stocked in our rooms (don't miss entering the giveaway where one lucky reader will win the exact same stuff!!) to the amazing 3-course dinner Friday night when we got a chance to get to know each other and the management team from NOW Foods and let me say the entire trip was incredible.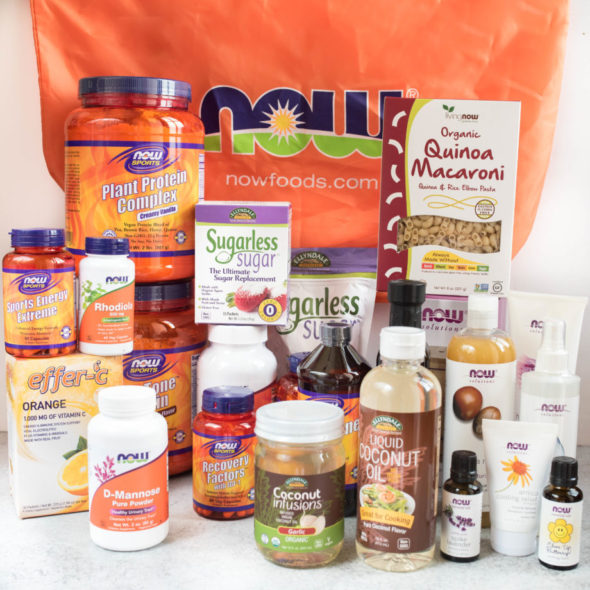 During our dinner which was delicious by the way (goat cheese salad, pan seared salmon and gluten free brownie for the win!) the CEO, Jim Emme, briefly introduced us to the family owned company that was started in 1968.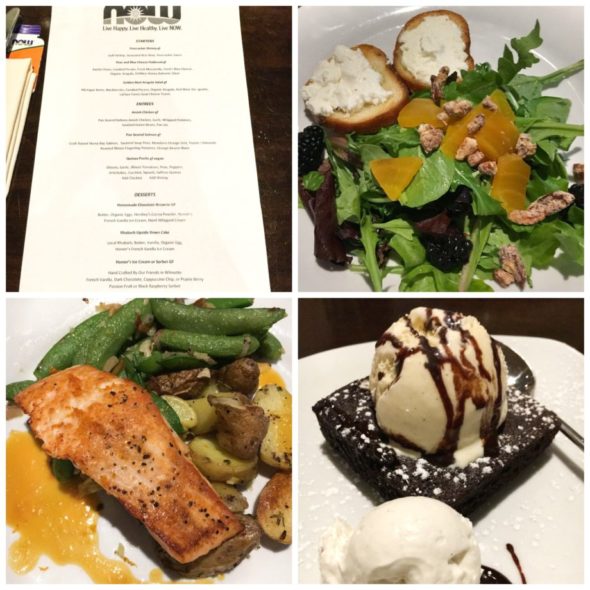 Their mission is so inspiring- to offer health food and nutritional supplements of the highest quality at prices that are fair and affordable to all that seek them. They truly want to empower people to lead healthier lives and even though they have grown considerably over the past four decades and are now one of the top-selling brands in health food stores, they have maintained an honest and trustworthy family owned business, while still providing the highest quality natural products at the best possible price.
Day 2 started bright and early with a 6am trip to Lifetime Fitness for a group exercise class.I am not gonna lie, as a mom of 4, I am getting kids ready for school around that time, not sweating it up so I just not used to exercising right after waking (I am more of an 9am exerciser, ha). You know what I am used to at that hour? Coffee. That I didn't have, ha.
Thankfully I survived the class which was a high intensity interval training (HIIT), death by squats (my quads were burning within 5 minutes) which was followed by much needed yoga to unwind and stretch. I am not sure that I will ever be a room with such fit people so it was definitely a fun experience! As soon as we hopped on the bus we were provided with banana blueberry coconut milk smoothie made with one of the NOW foods protein powders. A few sips is all I needed to wake up as we headed back to eat breakfast, shower and get ready for the day.

After we got dressed we checked out and headed to the NOW plant for our tour of the facility. We all got a big kick out of the required attire, hairnets, googles and lab coats.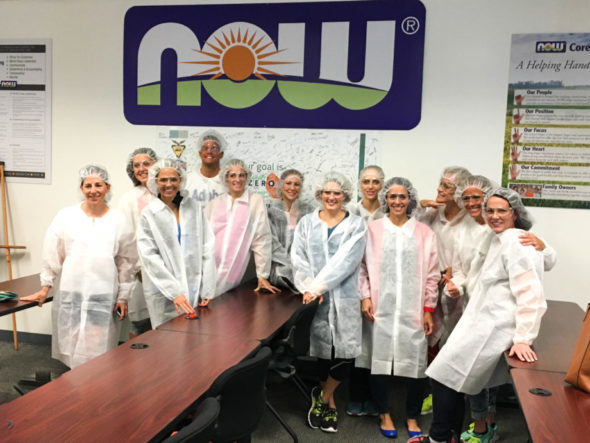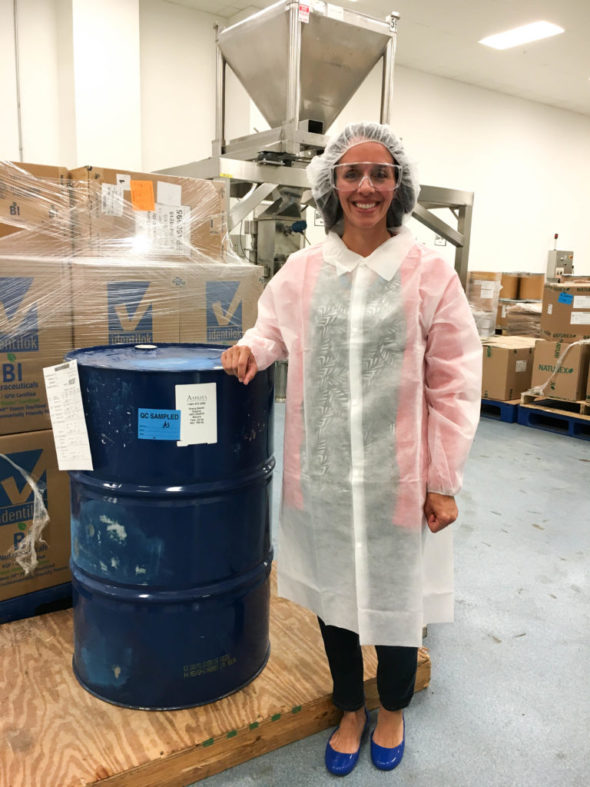 It was truly amazing to see everything that goes into supplement making and I think it gave us all a whole new appreciation for the company. I could see with my own eyes, the very thing they told us… that the quality, safety and efficacy of the products are their top priorities.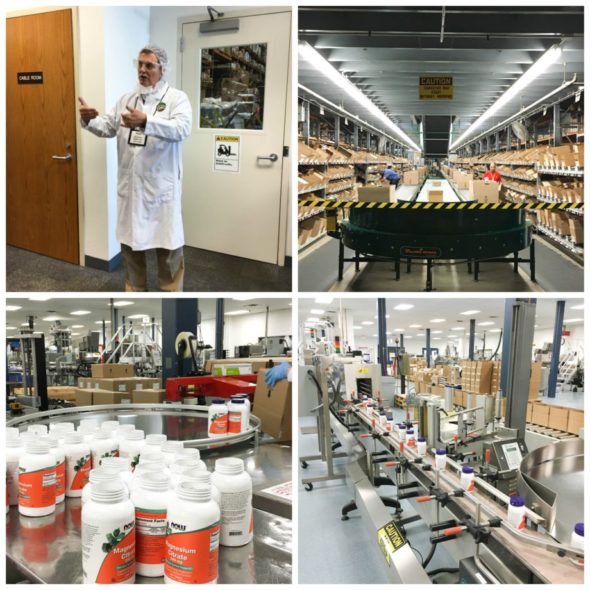 After the plant tour we headed to the NOW Foods corporate office where we had an amazing (like I want to eat it again right this minute) lunch catered by Whole Foods while we listened to Wendy Bazilian, Registered Dietitian extraordinaire, talk about sports nutrition and the research behind diet and performance in athletes. If you weren't aware (I wasn't) NOW Foods offer an impressive sports nutrition line which has received many accolades!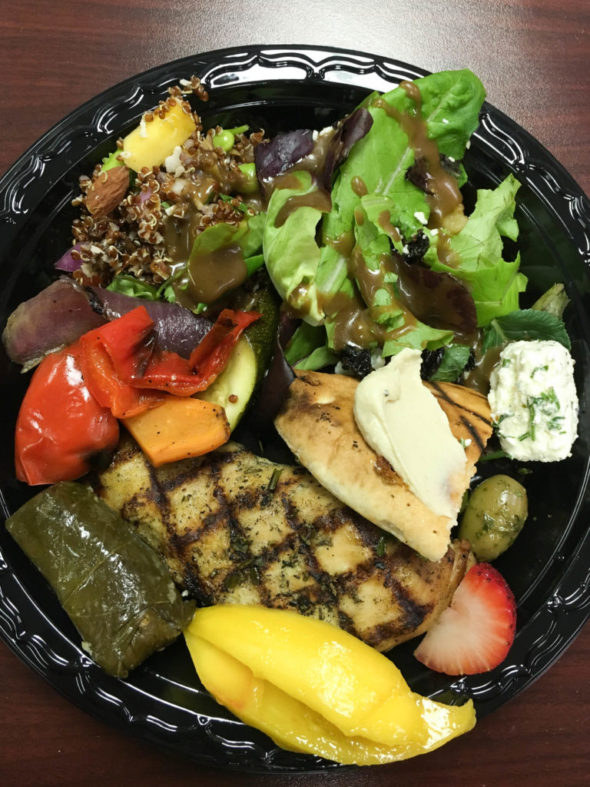 Next up on the agenda was a little DIY time making tea bag bath soaks with the NOW essential oils (grab the recipe below) and made a disinfectant spray.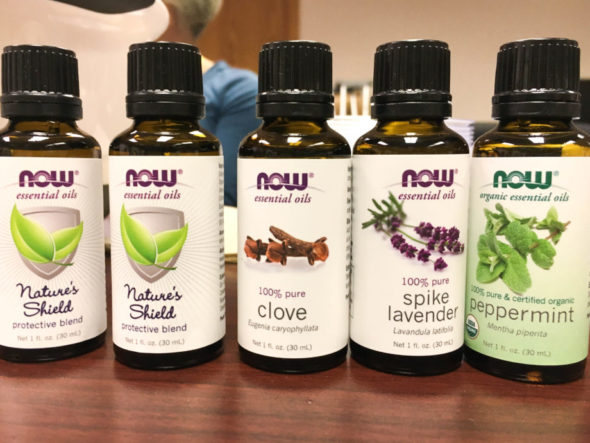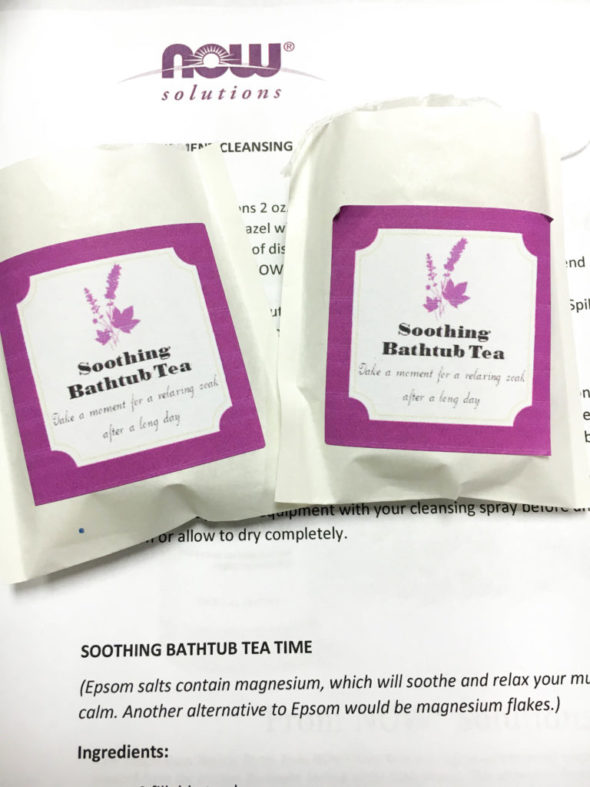 After that, we met with the NOW Foods Chef Suzy Singh who impressed us all. It was fun to find out she was season 2 Finalist on Fox's "MasterChef"!  who told us more about the Ellyndale line of food products and a little bit about what they've been cooking up in the kitchen. And speaking of kitchen, it was a beauty. I could definitely spend my days there cooking!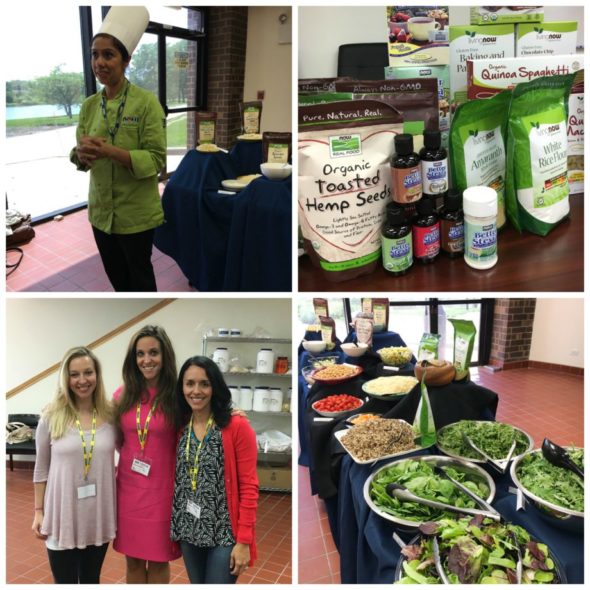 We had fun doing some oil testing which was quite comical. Think wine tasting with a little more slurp. I am confident I didn't do it properly, but I could taste each oil and fell in love with a few (macadamia nut oil, almond oil and butter infused coconut oil were amongst my favorites).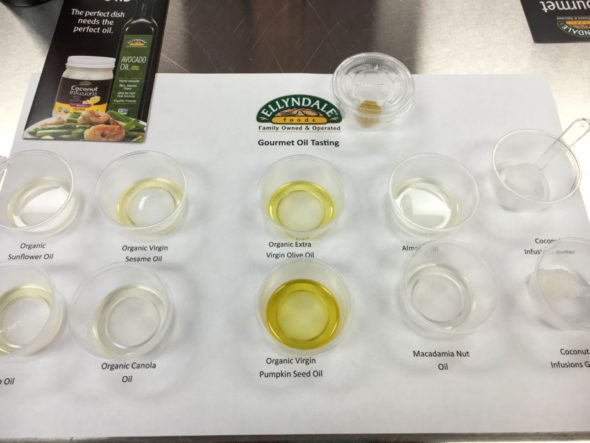 That butter flavored coconut oil is a dream. I literally can't stop thinking about it.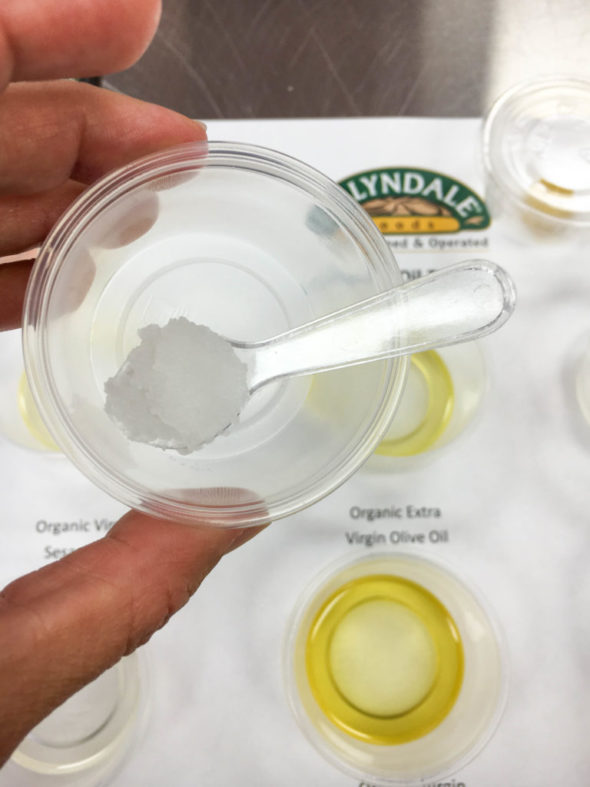 After our time in the kitchen, we made a sample size homemade dressing using one of our favorite oils to enjoy with a salad to-go! I didn't want to leave, but it was already time to catch flights home.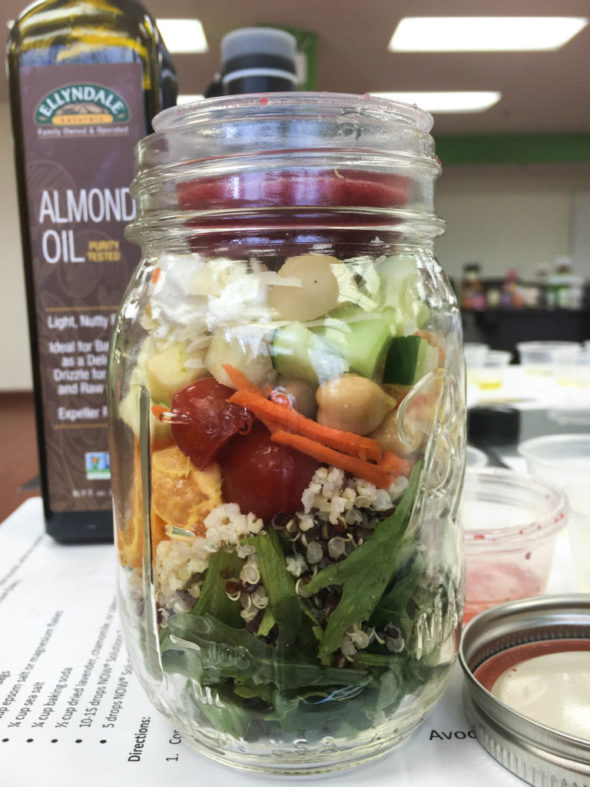 I can't tell you enough how meaningful this trip was to me, but these are some of the things that impressed me most:
Committed to quality. They spend more on Quality Control and Quality Assurance than on sales and marketing combined! Now I know first hand now based on trying a variety of things and seeing going on the tour of the plant, that their products are of the highest quality. I was blown away that they keep samples of all their supplements for 6 years in case any issues arise.
Commitment to science and testing. Science geeks would rejoice upon seeing the many in-house laboratories in the NOW plant. Wow! I was blown away even though it was all over my head. Not only do they test all ingredients going into the products, but they test during the process and after the finished product. I read that in a single month of production they can perform upwards of 16,000 individual tests on their ingredients and products.
Quality Ingredients at affordable prices. This company has been around for awhile so they have a lot of experience in sourcing quality ingredients. I was so impressed with their down to earth attitudes and mission of providing products that are genuine and pure.
Great tasting products. Well I wouldn't be this far in the post if I didn't love their products. We tried some gourmet cooking oils from their new line Ellyndale which are all top notch and if you win the giveaway you will get to try their yummy pumpkin seed oil. However, one of the most memorable products for me was their butter flavored coconut oil. MIND BLOWN. It was so good and is the perfect thing to drizzle on popcorn or do some vegan baking. I have also heard that their gluten free pasta is the best out there and is corn free (great for those of you with corn sensitivities).
Natural products. NOW Foods uses organic ingredients as often as possible and avoid the use of genetically modified ingredients when ever possible. 100% of NOW's family of food brans are non-GMO; and 88% of NOW's supplements are non-GMO Assured. Read more about their non-GMO commitment here.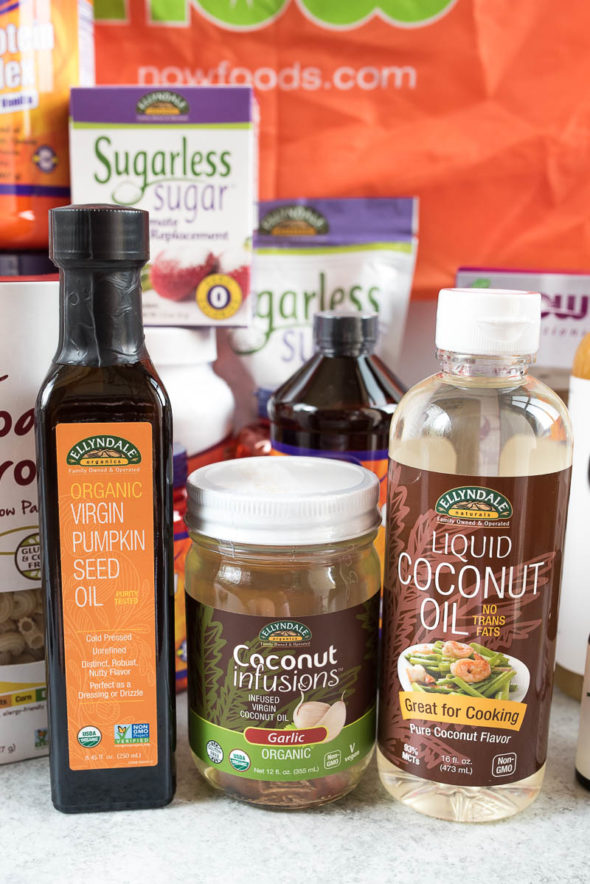 I would've loved to stay longer because this family-owned company really wowed me. What an honest, charming and amazing team!
Don't miss the #NOWGetFit Twitter Party Thursday 6/16 9pm EST w me @NowFoods and @FitFluential
AND enter to win this amazing giveaway of NOW products– the same two bags full of items that they gave all of us. It's a huge value, let me tell you. US entries only please. Enter via the Rafflecopter below.
Follow NOW Foods on their social media channels, such a great company to support.
Twitter: @NOWFoods
Facebook: NOWFoodsOfficial
Instagram:@NOWFoodsOfficial
DIY Soothing Bath Tea Bags
Author:
Melanie F. | Nutritious Eats
Ingredients
6 fillable tea bags
¾ cup Epsom Salt
¼ cup Sea Salt
¼ cup Baking Soda
½ cup Dried Lavender, Chamomile, or calendula flowers
10-15 drops NOW Solutions Spike Lavender essential oil
5 drops NOW Solutions Peppermint Essential Oil
Instructions
Combine all dry ingredients in bowl together and mix well. Add in essential oil drops and mix well.
Use a teaspoon to fill each tea bag with combined ingredients and tie bag shut.
To use: run a bath, and drop a couple tea bags into the water for the duration of the bath. When you are finished, you can discard the tea bag.
This post is sponsored by FitFluential on behalf of NOW Foods.