One Sheet Pan Asian Salmon and Veggies is for the healthy conscious salmon lover that wants an easy, tasty and healthy meal.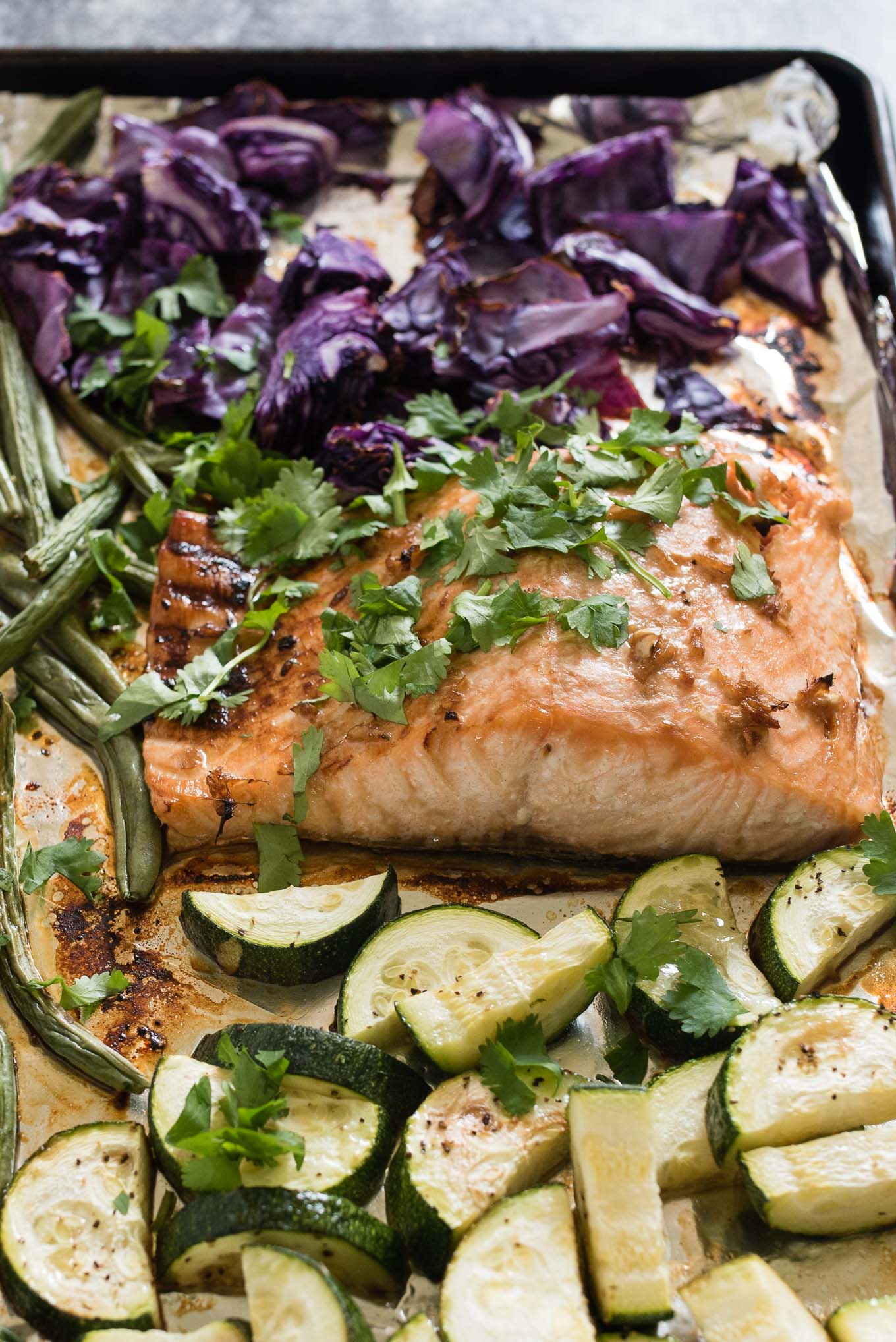 One Sheet Pan Asian Salmon and Veggies is for those nights when you want a home cooked meal, but don't want to stand over the stove top.
It's Recipe Redux time and we're making sheet pan meals- my favorite theme!
Raise your hand if you love sheet pan meals as much as I do? Throw everything on a pan and stick it in the oven. Easy peasy.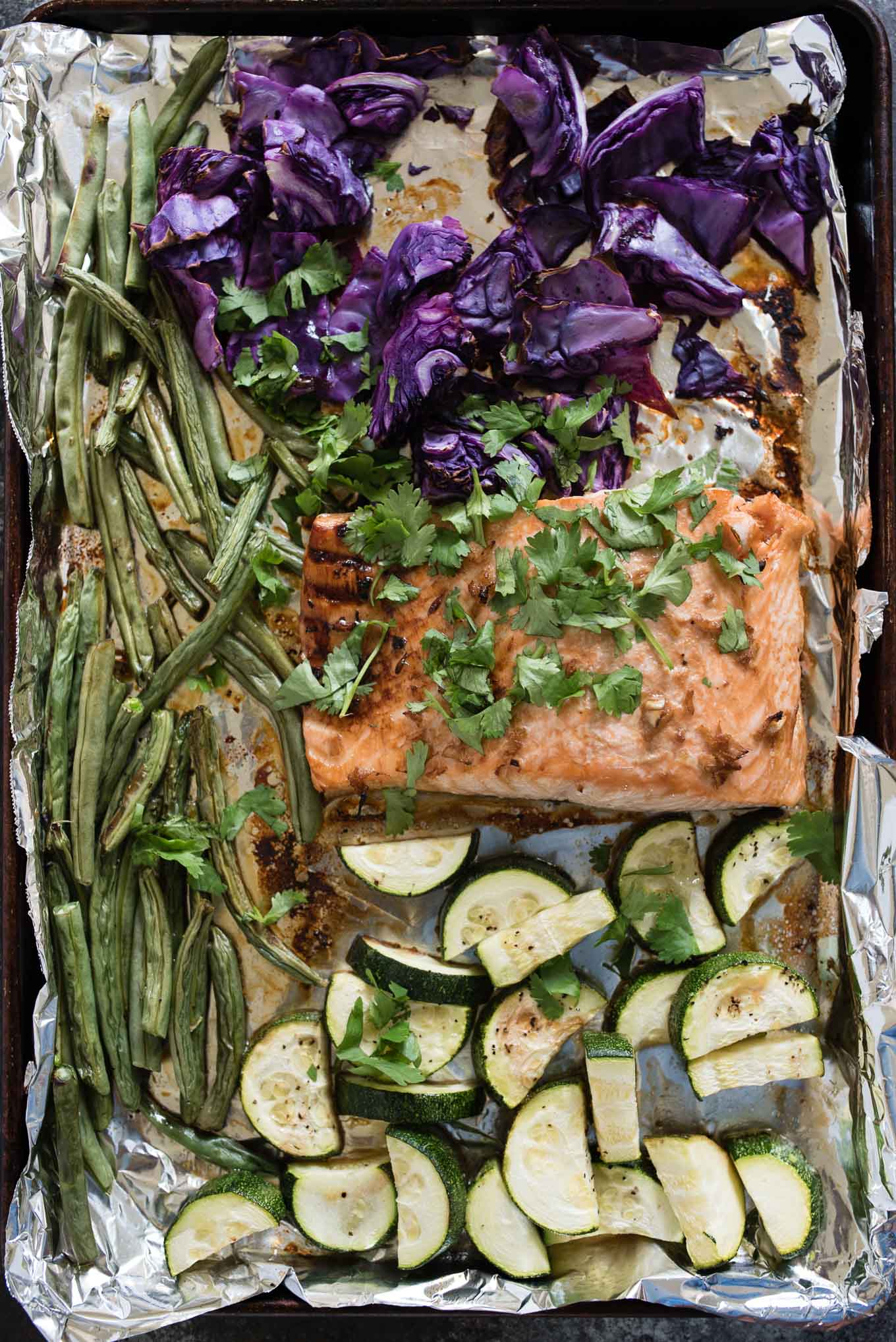 I have been on a major salmon kick. I always pick up one piece during my weekly shopping and I find the organic to have the best not super fishy flavor that I prefer.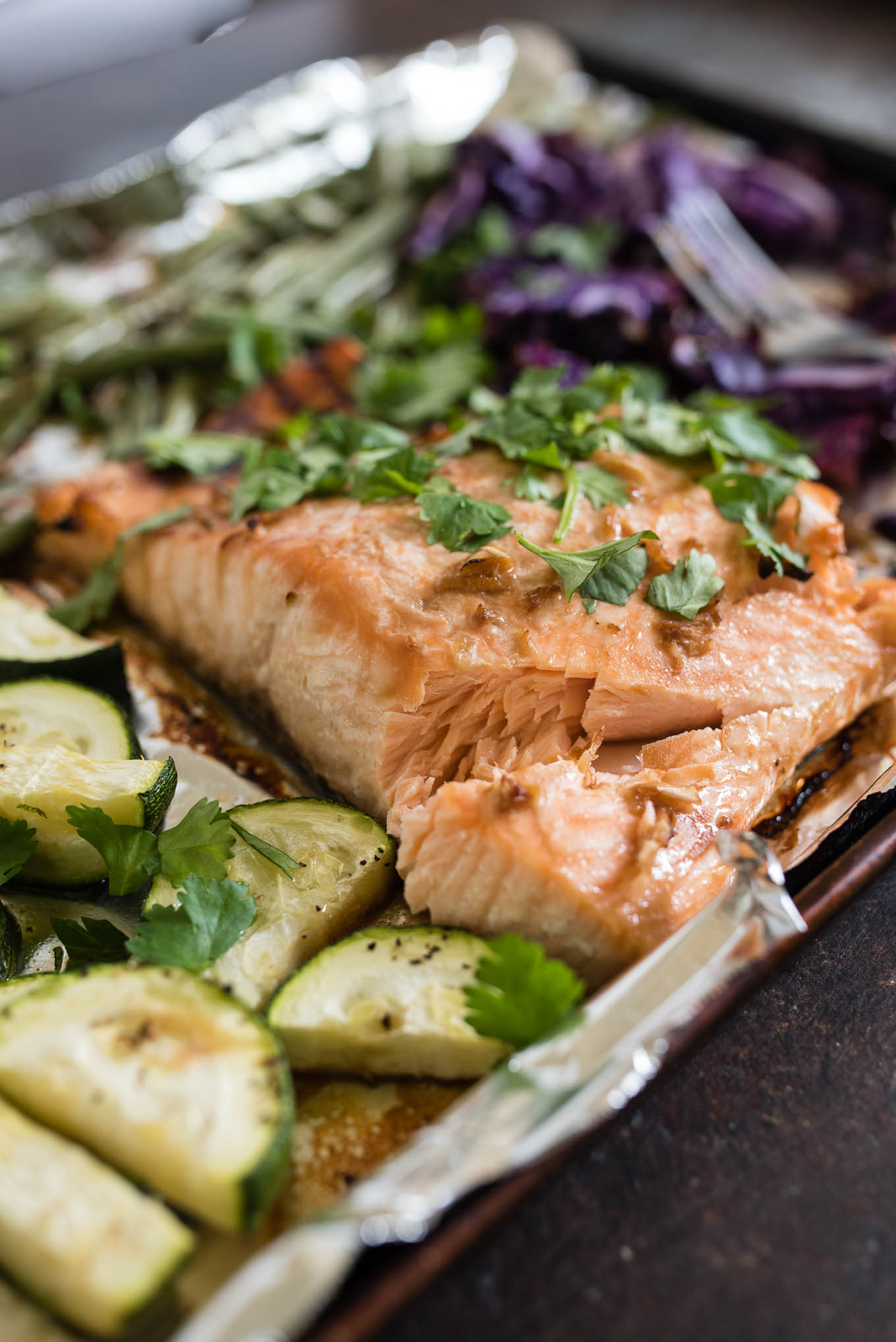 The marinade is super simple and to make it easy I just pour it over the salmon before I start chopping the veggies. Feeling like this might not be enough for dinner?
Simply cook up a side of grains if you need some carbs- pasta, rice, quinoa would all go great with this.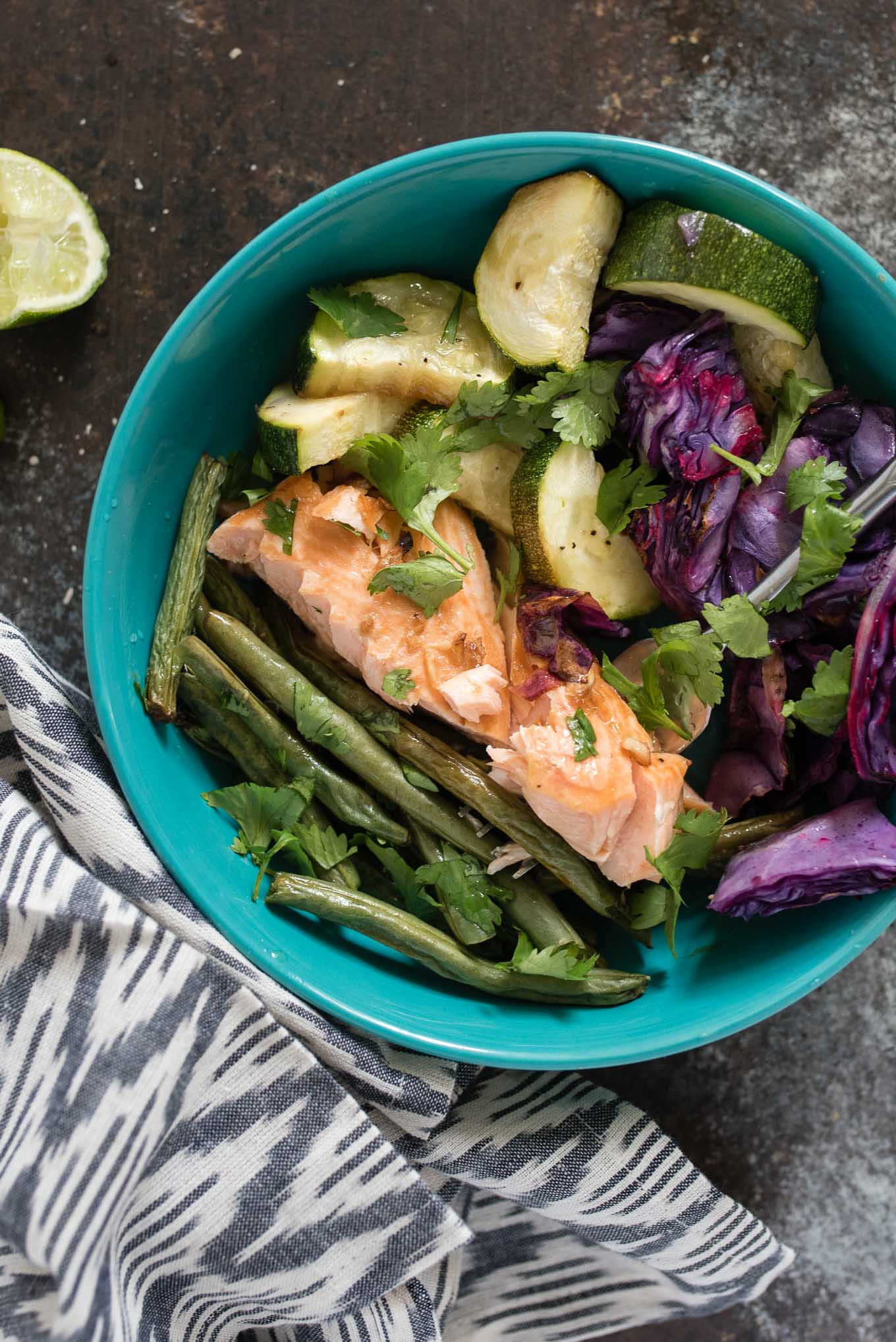 Salmon is super healthy, packed full of healthy fat, protein, B vitamins, potassium and more. And I probably don't have to remind you of the wonderful benefits of eating daily vegetables, from the fiber to the vitamins and the fact that they are cancer-fighting low calorie foods, but let's just say most Americans are not meeting their daily goal.
When this sheet pan is done cooking, just top it with lots of fresh cilantro. Mmmm, one of my favorite herbs.
Check out some of the other sheet pan recipes below!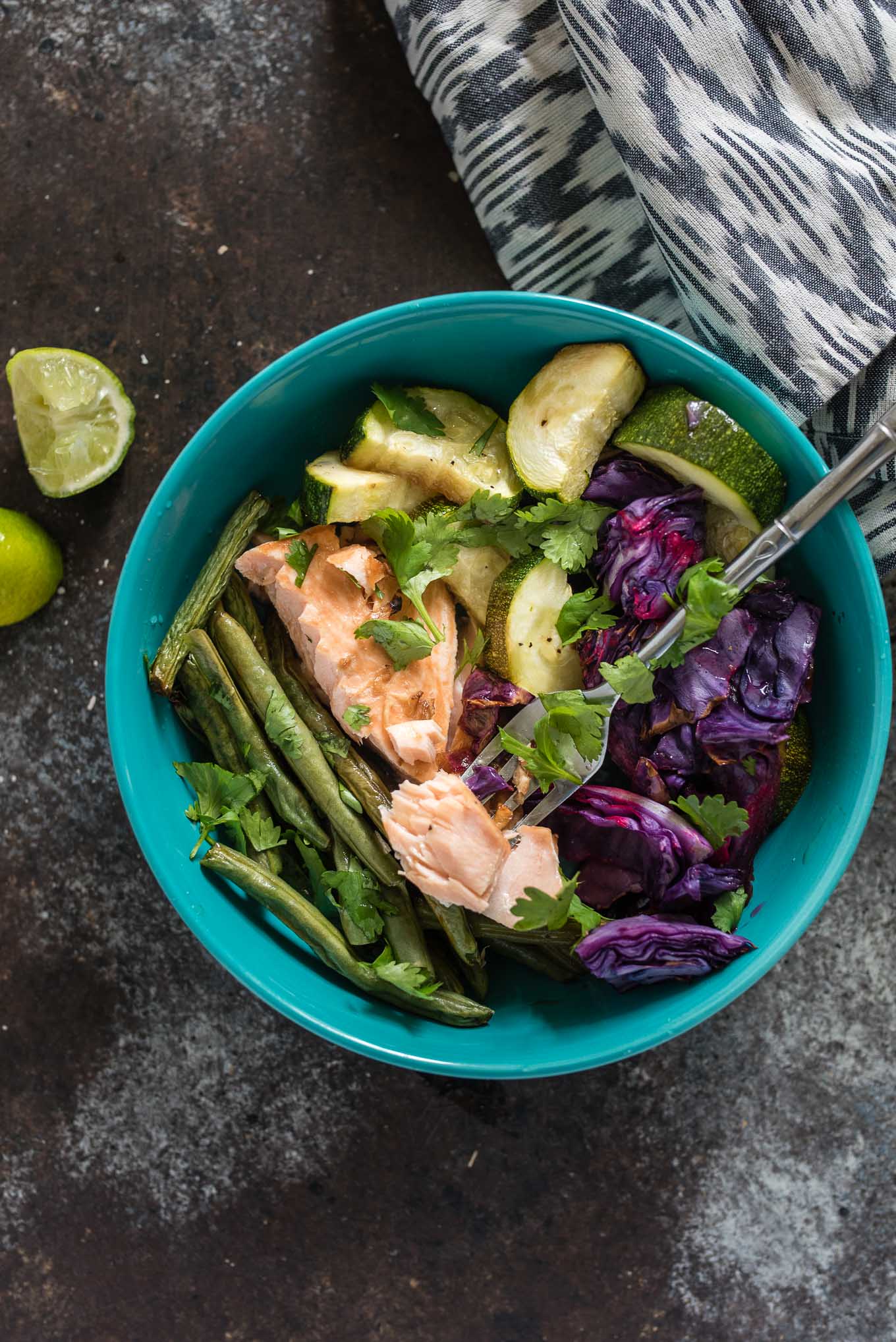 Sheet Pan Asian Salmon
Author:
Melanie F. | Nutritious Eats
Ingredients
1 lb salmon
8 ounces green beans, cut
¼ of red cabbage, cut into chunks
1 large zucchini, cut into chunks
1 tablespoon olive oil
salt and pepper
Marinade:
2 tablespoons soy sauce
1 tablespoon agave, brown sugar or honey
1 tablespoon rice wine vinegar
1 tablespoon sesame oil
½ tablespoon minced ginger
1 clove garlic, minced
1½ tablespoon lime juice
Instructions
Preheat oven to 400 degrees. Mix all marinade ingredients in a small bowl. Marinate salmon while your prepping the vegetables (longer if you have time). Line a baking tray with foil. Place veggies along the sides and salmon in the middle. Drizzle veggies with the olive oil and a pinch of salt and pepper. Pour remaining marinade over fish and veggies.
Bake for ~14 minutes (for a 2 inch thick piece of salmon), then turn oven to broil for 2-4 minutes.