Easy homemade Coconut Almond Butter Cups are better than any store bought candy- Paleo, Gluten Free and Vegan Options!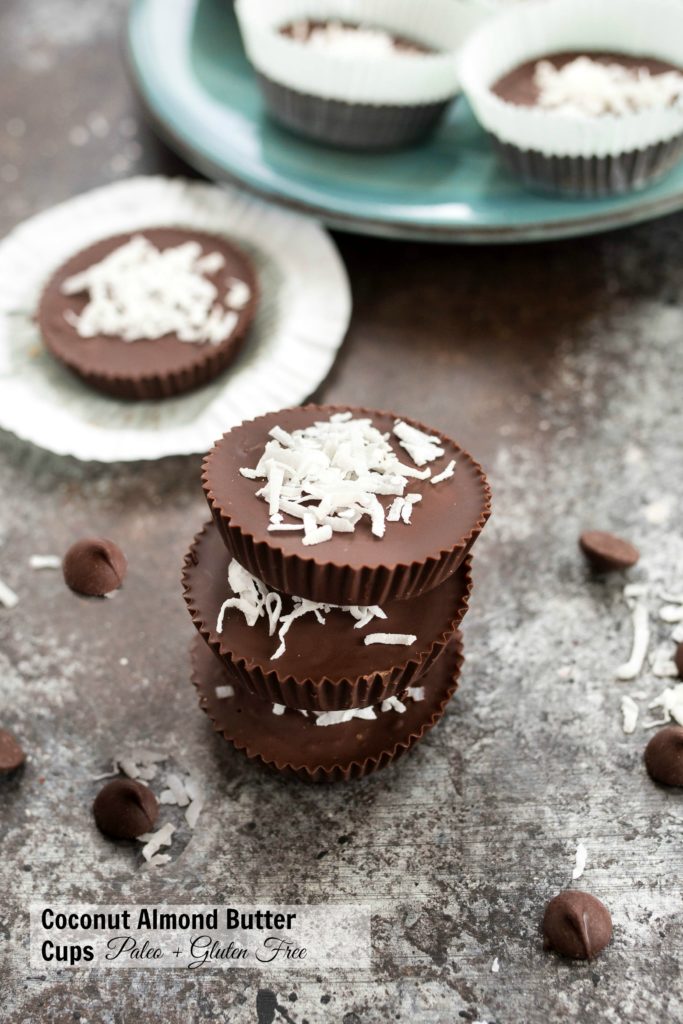 Hope you are all enjoying summer. I have to admit it's been a little crazier than I remembered. Little people sure are high maintenance! I think I hear my door open and close a couple hundred times a day- in, out, to the neighbors and back. They always seem to be looking for something, which takes up about 50% of my free time.
I have laid low on treats lately, but boy have I have had a craving for chocolate the past couple days. And when that happens, I listen to my body! It was time for a homemade treat. I am not sure there is much better than nuts and chocolate so that is what I had to have.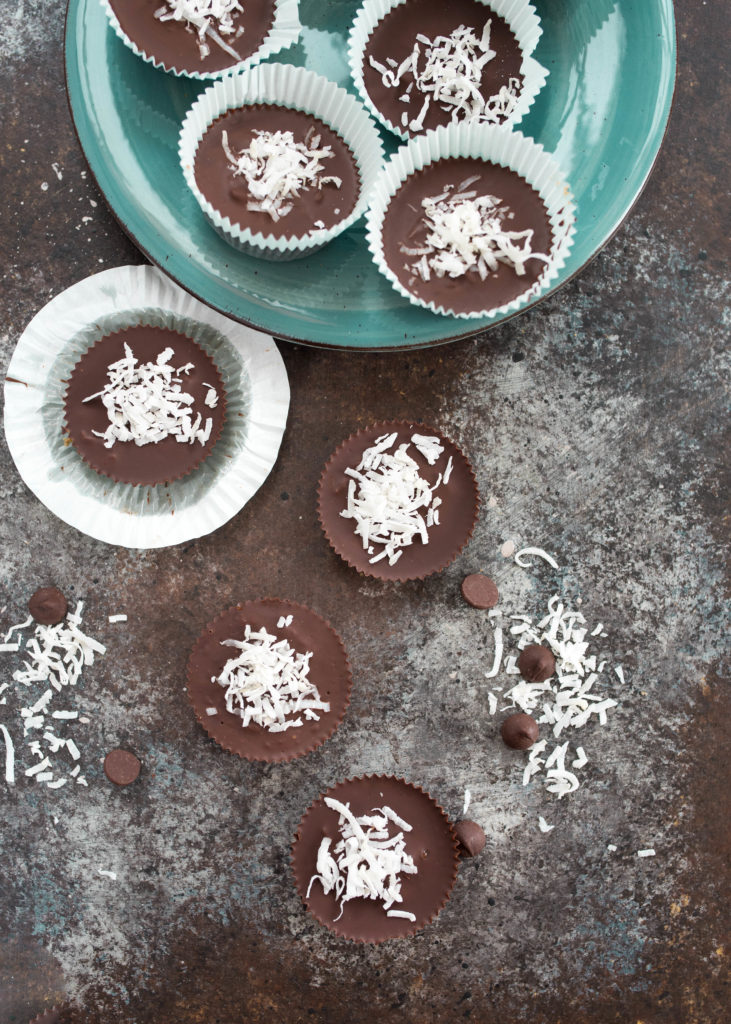 I think my kids were thinking the same thing too, because last night as we started a movie, they went rummaging through the pantry looking for any old Easter candy they could find. Ha!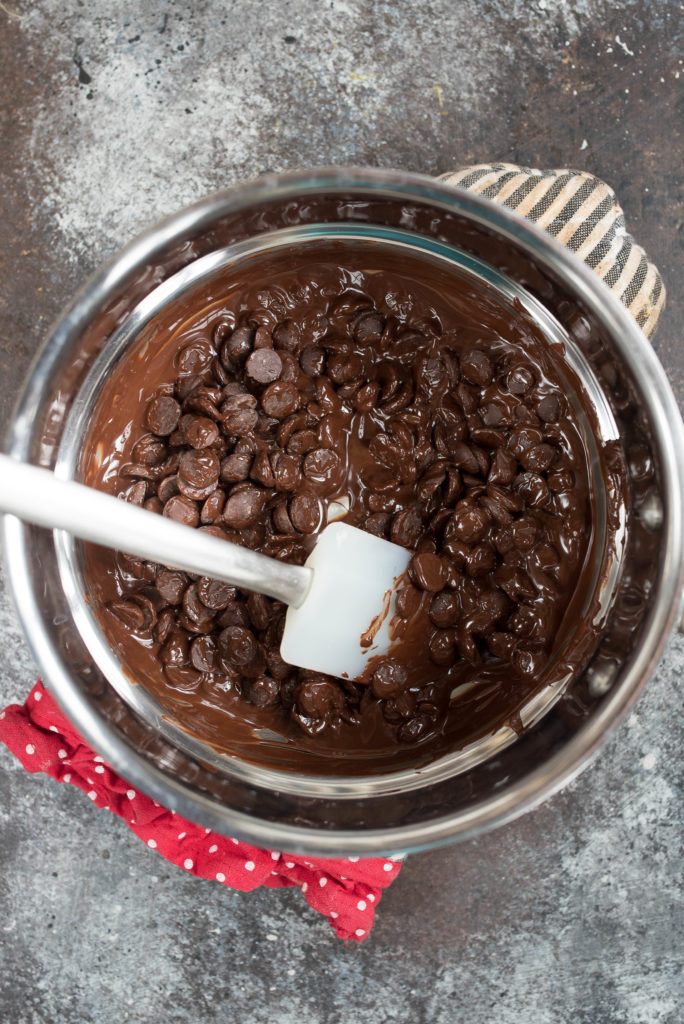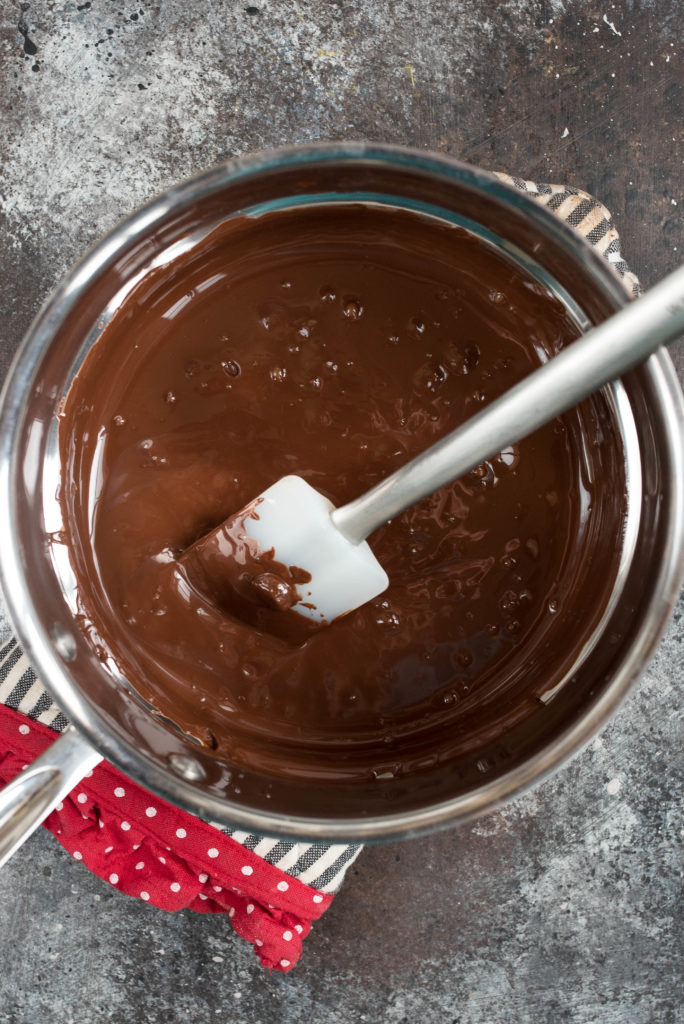 I fell in love with coconut nut butters when we lived in Hawaii. This filling does not an overpowering coconut flavor, but I think is a yummy addition. I don't have to tell you these would be equally as delicious with peanut butter. I mean, hello homemade Reese's.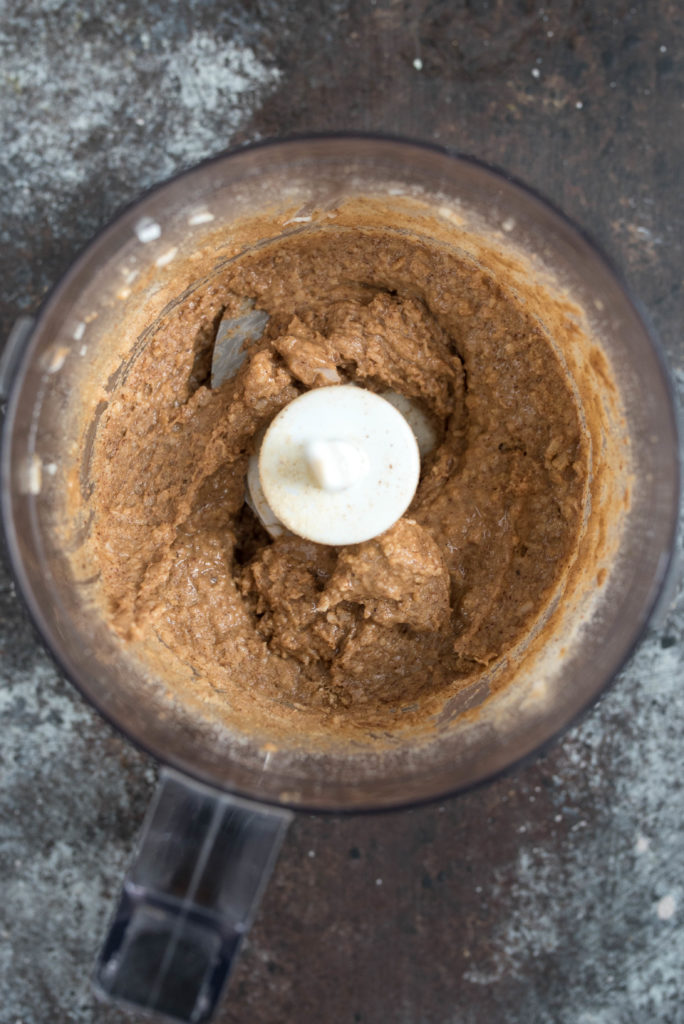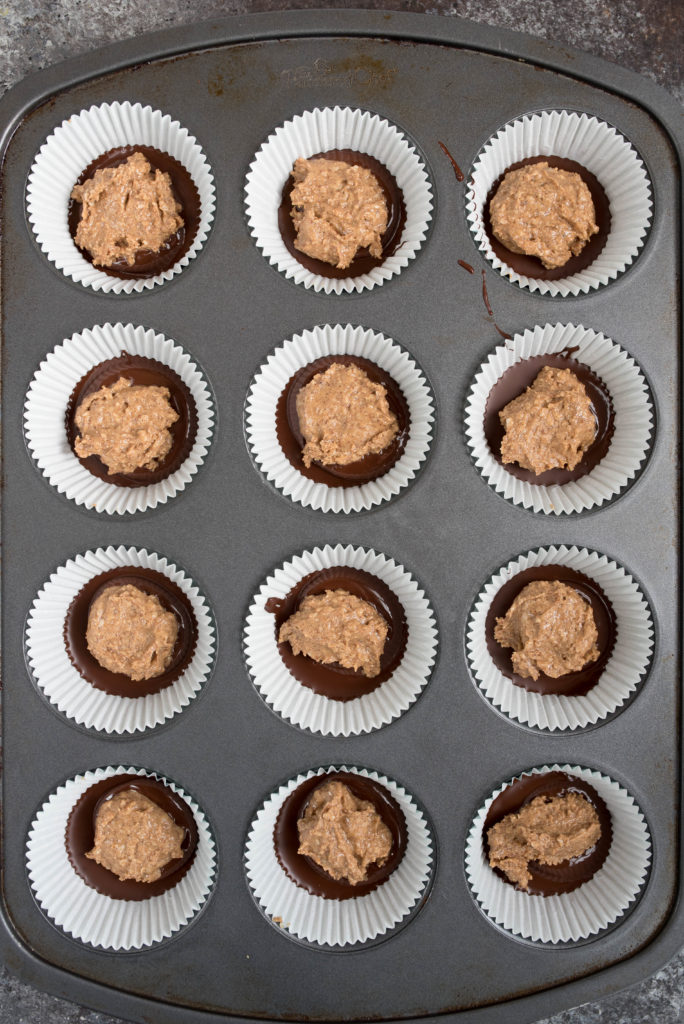 Speaking of, I have seen lots of remakes of peanut butter cups using powdered sugar mixed with the peanut butter. These are definitely a healthier version and are plenty sweet without all that powdered sugar!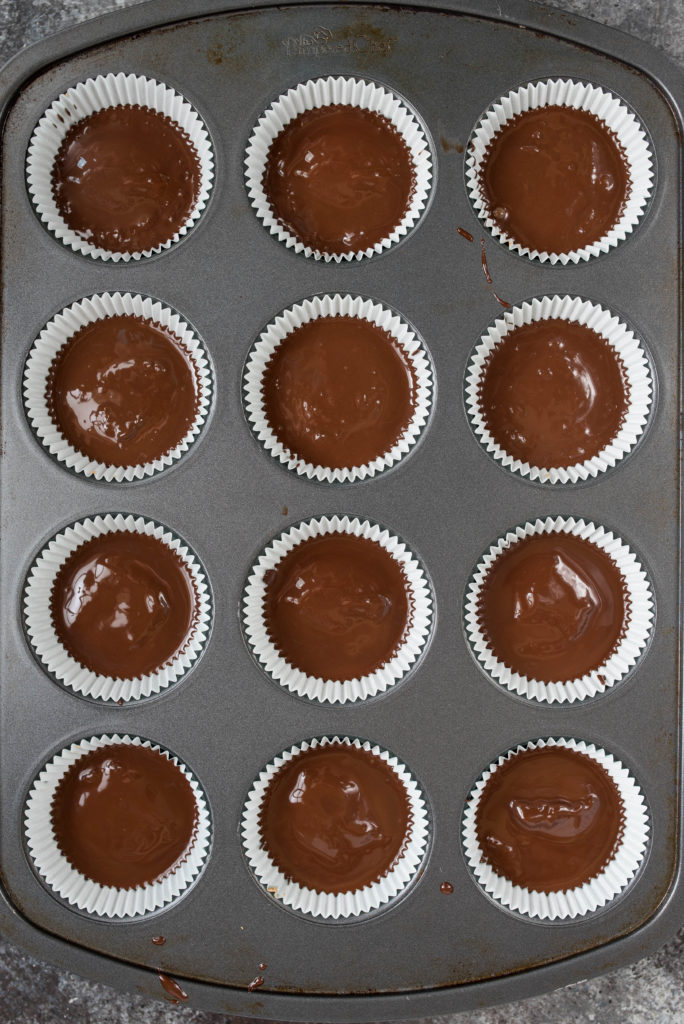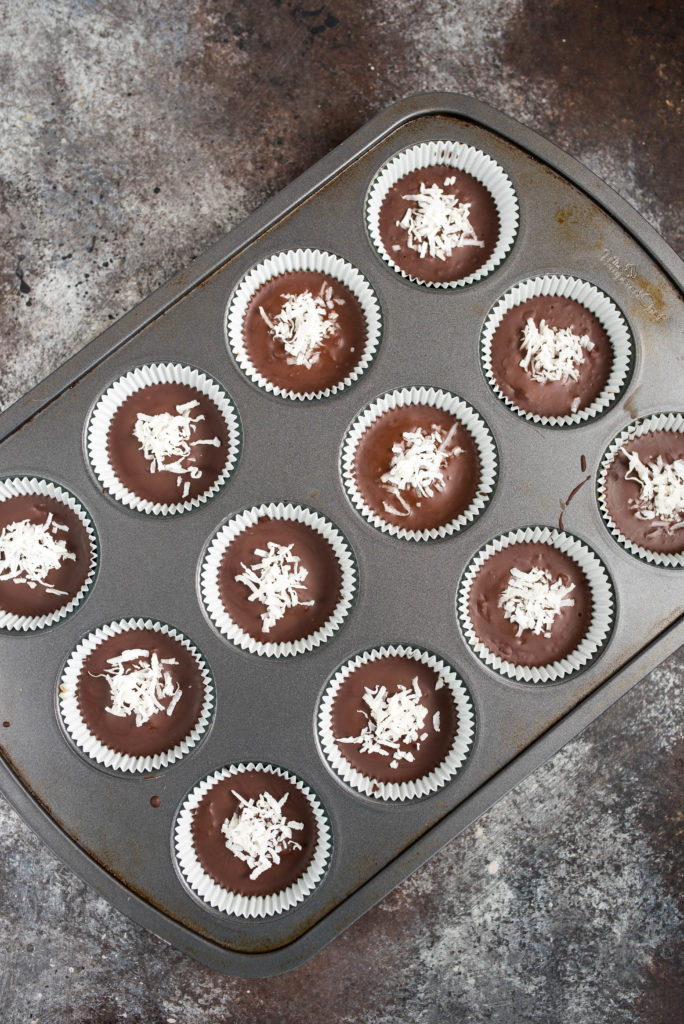 These can fit into a variety of diets- Paleo, Vegan and Gluten free! But of course they are still a treat so enjoy in moderation. If you have the mini muffin cups you can make them in the smaller size!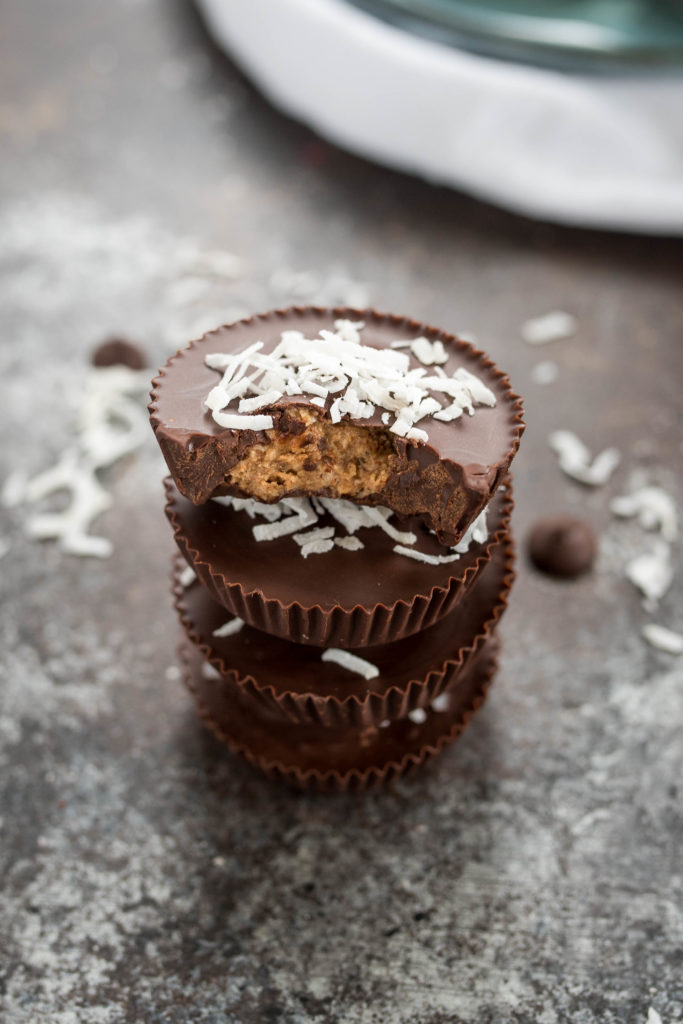 Coconut Almond Butter Cups
Author:
Melanie F. | Nutritious Eats
Ingredients
14 ounces (20 ounces if you want to make 18 cups) bittersweet or dark chocolate (dairy-free chips such as Enjoy Life Paleo or Vegan)
¾ cup natural almond butter
1 tablespoon coconut oil
1 tablespoon honey (agave if vegan)
1 tablespoon coconut flour
½ cup shredded unsweetened coconut, plus more for the top
Instructions
In a double broiler over low heat, melt the chocolate chips. If you don't have a double broiler you can use the microwave but this is a trickier method as the chocolate is more likely to seize.
Line a muffin tin with paper liners. Once chocolate is melted, take a teaspoon full and place in the bottom of each cup. Make sure you can't see any of the liner. Place in the freezer for 5 minutes while you make the filling.
In a small food processor or blender, mix tougher almond butter, honey, coconut flour, shredded coconut. Mix together until combined. Remove muffin tray from freezer and scoop a heaping teaspoonful of almond butter onto each muffin cup. Be careful not to agitate the chocolate as it's setting. Take a knife or spoon and careful smooth out a little. Divide remaining melted chocolate on top of each muffin cup, about 1-2 teaspoons per cup. Once covered, tap muffin tray onto counter a few times to make sure the filling settles. Place in the refrigerator for 10 minutes. Remove and sprinkle with ½ teaspoon of shredded coconut per cup (optional). Place back into the fridge until set, about 1 hour. Once the chocolate has set you can store the treats in an air-tight container at room temperature or in the refrigerator.
Notes
14 ounces of chocolate makes 12 almond butter cups and 20 ounces will make 18 cups. There is enough filling for 18. If you don't make that many, you can use the leftover almond butter mixture in your oatmeal or spread on fruit.