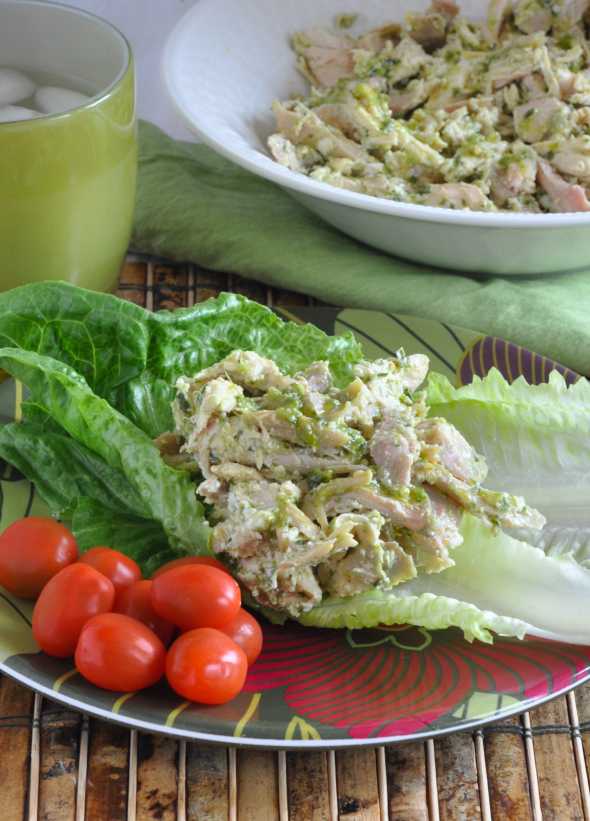 Chicken salad is so personal- everyone makes their own favorite version. I have never loved a heavy-mayo based chicken salad until I had one at a wedding shower a long, long ago- it was made with fresh tarragon, celery and some other basic ingredients. Even though I have come around to mayo-based chicken salads (although I am still super picky about which ones I'll eat) I have been obsessed with this version lately, pesto chicken salad.
It's such a nice change from your typical chicken salad and if you are using homemade pesto, it's even better. The great part about chicken salad recipes is you can adapt them so easily- want less of a pesto flavor? Just increase the amount of Greek yogurt or sour cream used. It doesn't call for mayo at all, but you could certainly add a little if you prefer.
I've only met one store-bought pesto that I love and it's from Coscto. It has no preservatives and tastes just like homemade (basically because it isn't full of junk!). If you don't have a Costco membership, find someone that does and have them pick this up for you! So good.
Luckily my kids love it too and we'll put it on just about anything.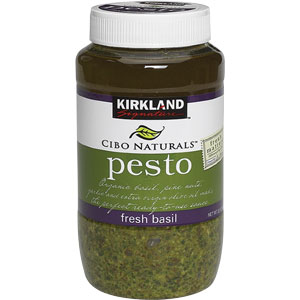 Now that I've got more than one basil plants planted, I hope to start making my own again soon.
I love eating chicken salad wrapped in lettuce leaves but this is great with crackers, on bread or on top a big ol' salad.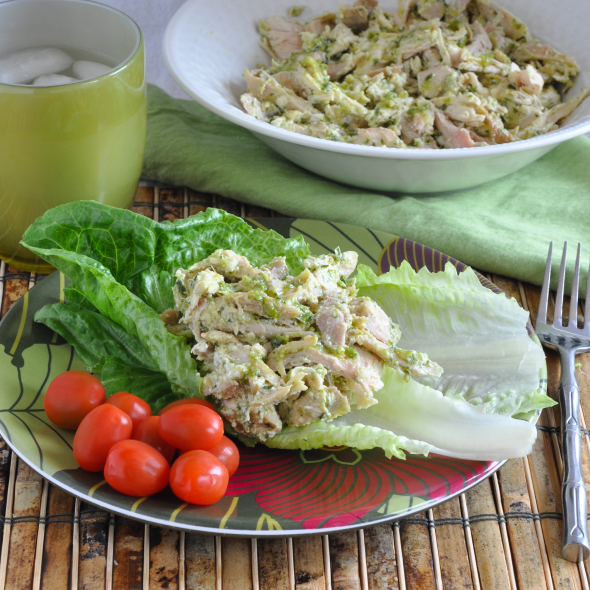 so that's all I've got for today- just an easy recipe for the middle of the week! Enjoy!
Pesto Chicken Salad
Ingredients
4 cups shredded chicken
⅓ cup pesto
1½ Tablespoons Greek yogurt or sour cream
2 teaspoons lemon juice
fresh chopped basil (optional)
Instructions
Combine all ingredients in a medium size bowl and stir until well combined. Serve over a bed of greens, in pieces of romaine or in a sandwich.
Notes
Feel free to substitute mayo for a dairy free option.
Question: Are you a chicken salad fan? What are your favorite additions to chicken salad?