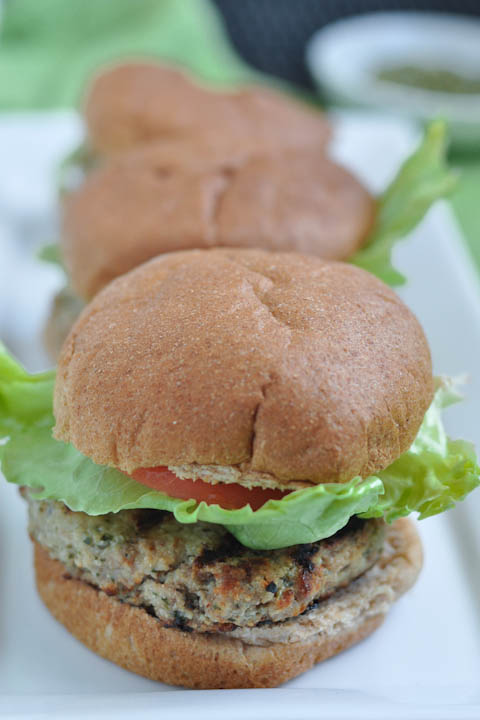 If you think that turkey burgers are dry and have no flavor, I am here to prove you wrong. I know I've mentioned that I steer more towards turkey/fish/chicken over beef, so I am no stranger to a turkey burger. I love adding in different ingredients and textures to make the burger more flavorful and moist. This one fit in perfectly to my meal plan last week because I knew I'd have left over pesto from my pesto pasta salad. The freshly grated parmesan really adds a delicious flavor and even my husband who loves a good beef burger said this was one of his favorites!
From a nutritional stand point, ground turkey can be just as high in fat as ground sirloin depending on if it's made with more dark meat than white meat. There are now several options when choosing your ground turkey- extra lean (99/1), lean (97/3), 90/10, 85/15. The numbers refer to the percent of lean meat to the percent of fat. The higher the second number, the more fat it has. I always choose the "lean" because it has more flavor than the "extra lean" and isn't as dry. Just make sure you're reading your labels well!
I made these when my mother-in-law was here and she loved them too. They would be great eaten plain if you are following a low-carb diet or rolled into meat balls instead of burger patties.
On to Meal Planning Monday! Don't be a stranger folks- I love to hear what you're having even if it's just a few days. I love planning and just so you know I rarely stick to my plan 100% (maybe 75%) but I always have enough options which makes my life easier. I usually end up with more leftovers and/or throw in one easy night and end up carrying over one of the ideas to the next week. I also love referring to my plan at some point during the day to see what we're having which takes the brainwork out of menu planning during the week. 
This week I feel like light meals- salads, sandwiches and not much that involves turning on the oven. Like most of the US, we've been experiencing a heat wave so we're keeping it simple. I do plan on trying some new salad dressings and homemade bread without a bread machine. If you are looking for something to make, try the pesto parmesan turkey burgers. Most importantly, have fun in the kitchen!
Menu for the Week of July 24th
Sunday
Out to dinner (since we ate at home all weekend)
Monday
Cold Dinner: Chicken Salad, Hummus, Mixed Greens, Pita (basically clean the fridge)
Tuesday
Chicken Taco Salad (kids can eat with tortillas)
Wednesday
Tomato, Basil, Mozzarella Sandwiches, Fruit Salad
Thursday
Shrimp Caesar Salad, Chicken Nuggets for kids (trying a new recipe), Homemade bread
Friday
?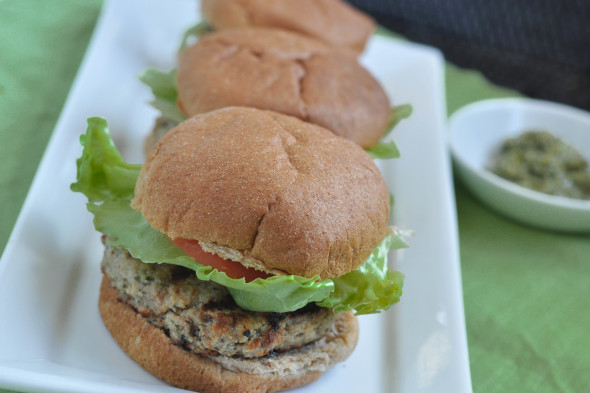 [print_this]
Pesto Parmesan Turkey Burgers
INGREDIENTS:
1 lb lean ground turkey
2 heaping Tablespoons low-fat mayonnaise
1/4 heaping cup prepared pesto
1/2 cup freshly grated parmesan (good quality like Parmigiano-Reggiano)
1/4 cup breadcrumbs
1/2 teaspoon garlic powder
Olive oil
Whole Wheat Buns
Toppings (optional): Lettuce, Tomato Slices, Pesto mayo (mix a little light mayo and pesto together in a small bowl)
DIRECTIONS:
1. Mix all ingredients in a large bowl. Form into four equal patties. Drizzle a little olive oil in a non-stick skillet over medium-high heat, add burgers and cook 8-9 minutes, flipping once half way through. These are also great on the grill for about 4 minutes per side on medium high heat. Serve with lettuce, tomato and pesto mayo if desired. Yield: 4 burgers.
Recipe modified from Elle's Kitchen
[/print_this]