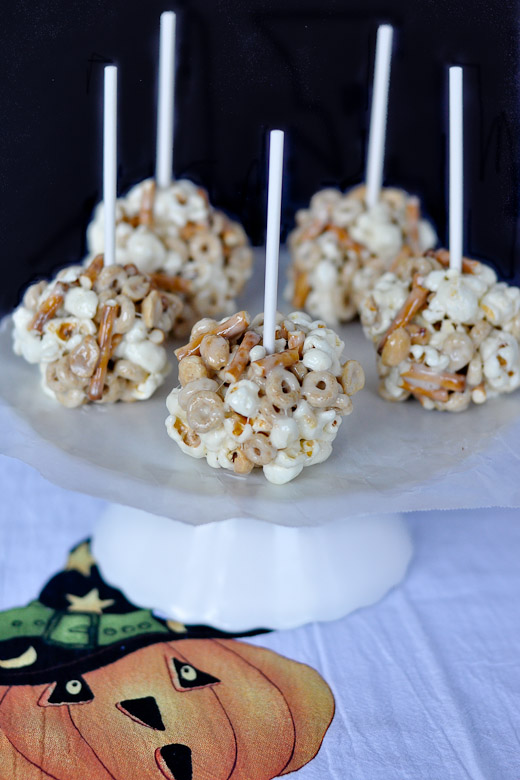 Happy October everyone! I can't believe it is already time to get out my Halloween decorations. I absolutely LOVE this time of the year and am always shocked at how fast it flies by. When October hits, I immediately think of treats for Halloween, Thanksgiving and Christmas! I love baking in the fall and winter. Speaking of treats, did you grow up eating popcorn balls this time of year? Or did you ever get them in your Halloween treat basket? They are something that I have always seen in magazines but have just never made.
This differs from most traditional popcorn ball recipes in that it uses marshmallows instead of corn syrup. It's basically like a rice krispie treat without the rice krispies and slightly healthier. This one has popcorn, cheerios, pretzels and peanuts! I love the salty sweet combo.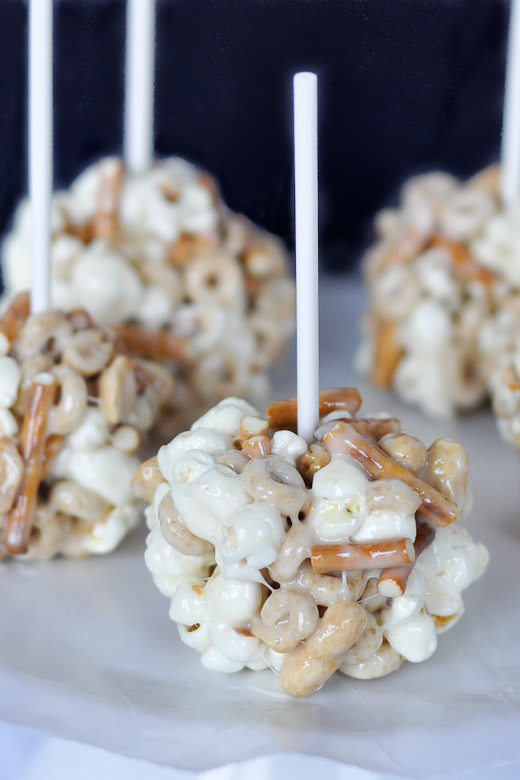 This version is much more appealing to me with the addition of cereal and nuts but feel free to add in whatever you like- a different kind of cereal, dried fruit, different types nuts or cereal…as long as you keep the measurements around the same.
It took a little tweaking of the original recipe for me to get it just right. The original calls for popcorn made from kernals on the stovetop but I found when I did it this way the popcorn ball was too hard. I was worried about the kids choking. The microwave popcorn worked much better and made the treat easier for the kids to eat. I also started off with the original amount of marshmallows but I found it to be too dry so I increased it by 1/2 cup.
This is the perfect treat to make ahead of time for a Halloween party and you can customize it based on your likes. Enjoy- it's an easy and fun recipe!
Later this week I have a workout to share. I am all about balancing treats with exercise!
Halloween Popcorn Balls
Author:
Melanie F. | Nutritious Eats
Ingredients
3 cups popcorn
1 cup honey nut cheerios
1 ounce pretzel sticks, broken into small pieces (~53 sticks per package)
¼ cup lightly salted peanuts
2¾ cup miniature marshmallows
2 Tablespoons butter
Instructions
In a medium size bowl, mix popcorn, cereal, pretzels and peanuts. Set aside.
In a medium saucepan melt butter and marshmallows, stirring constantly until mixture is completely smooth. Remove from heat, stir in popcorn mixture. Let cool for a couple minutes.
Spray hands with cooking spray so that mixture doesn't stick too much. Working quickly form 3 inch balls with your hands. Stick in popsicle or lollipop stick (optional) and set aside to firm up. Store in an airtight container or bag individually. Yield: 10 popcorn balls.
Notes
Recipe adapted from Cooking Light
Question: Have you made popcorn balls? Did you grow up eating them? Do you love this time of year too?
Don't want to miss a post? Make sure to sign up to receive emails from Nutritious Eats. I love hearing from you! Please leave a comment, ask a question or just say hi. And if you've enjoyed this post, please pin, share, tweet or stumble away so that others can enjoy eating healthy with us! Thanks for reading!