Congratulations to the winner of the Suja Juice giveaway Becca F. You have been emailed and have 48 hours to claim your prize. Thanks to all who entered!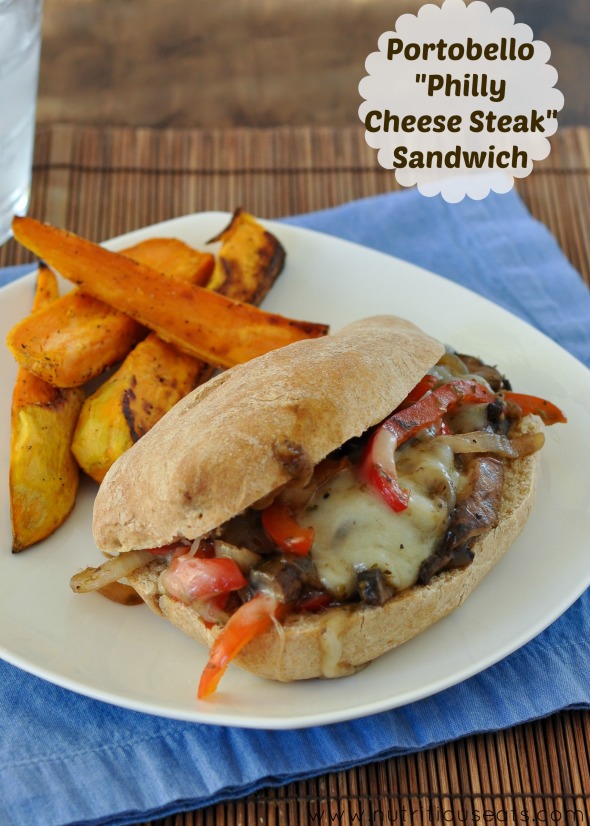 Do you keep a list of things you want to cook? I suppose that is what people use Pinterest for these days, among other things, but I am a little old fashion. I just keep a list in my planner or maybe if I am feeling high tech in the notes section of my iphone. Fancy, I know!
I have had a portobello "cheese steak" on the list for some time now because I adore anything with portobellos, but it wasn't until an old high school friend emailed me a similar recipe she tried that pushed me to finally cross it off the list. I'll have to admit I've never had a true cheese steak because I don't really eat beef. What does that mean you might wonder? Well, I've had a hamburger or a bite of steak on occasion (like probably less than 5 times a year), but other than that beef doesn't do much for me.
I loved this sandwich so much so that I bought more ingredients to make it again this weekend. SO easy, filling and flavorful, My kind of vegetarian eating. I made enough for two big sandwiches but one had one sandwich for lunch and ate the filling for dinner plain with my leftover sweet potatoes. It would be great on pasta too. If you are watching your carbs, you could also do an open-faced sandwich.
I wanted to make sure I didn't ruin the sandwich with store bought bread so my plan was either to stop by a bakery or make some homemade rolls.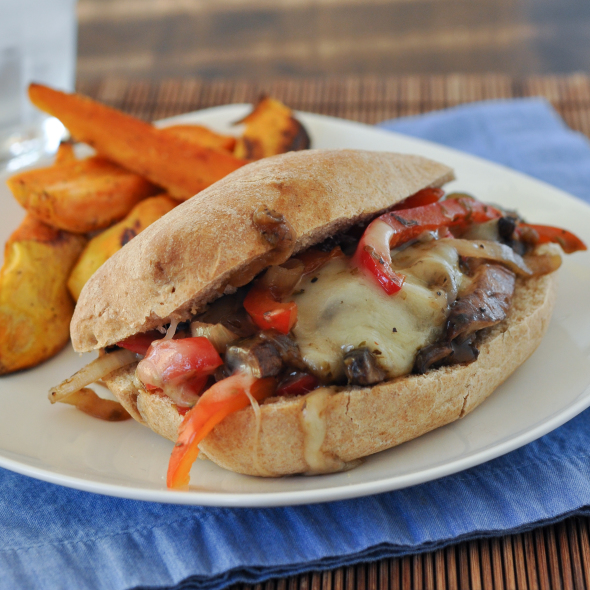 I can make a roast chicken with my eyes closed, I can whip up a decent cupcake or quick-bread, but yeast bread and I don't always get along. I almost ALWAYS have to make a recipe twice.
I know bread dough temperamental- the humidity, the temperature inside the house, how you handle it, the temperature of the water you proof the yeast in, etc. can all affect the outcome. I keep saying I should just get a bread machine but I am kind of determined to get it right by hand, you know? So sure enough I had to try two different recipes before being satisfied. I wouldn't say the bread was perfect- maybe a little too dense, but it was pretty good considering I don't get a chance to make homemade bread very often. I scooped out a little of the filling and toasted it and I think it definitely made the sandwich extra special. I am pretty picky about store-bought bread, rolls, buns, etc.
I made the hoagie rolls a couple nights prior to making the sandwich so the sandwich definitely came together quickly. Perfect for a weeknight meal! I will post the bread recipe after making them one more time because I  need to find my notes as I tend to eye-ball ingredients.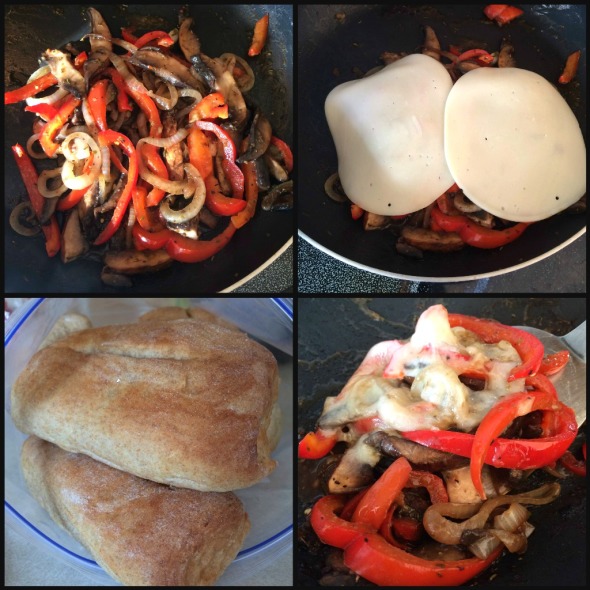 On another note, I am 33 weeks along in the pregnancy! I can't believe the craziness that the next 7 weeks will bring. I've got my birthday and my daughter's birthday in December, oh and we can't forget about Thanksgiving and Christmas. I just pray that I don't go into labor too early because I need my parents to get here in time for delivery. It all makes me a little nervous but I will continue trucking along, hoping everything works itself out!
Happy friday everyone!
P.S. Whether you love beef or not, you should put this on your meal plan. Vegetables rock!
Portobello "Philly Cheesesteak" Sandwich
Ingredients
2 teaspoons olive oil
4 large portobello caps (12 ounces), mushrooms wiped clean, gills and stem removed, sliced
1 medium onion sliced
1 large red bell pepper
2 heaping teaspoons dried oregano
¼ teaspoon black pepper
a few shakes of red pepper flakes
1 heaping Tablespoon soy sauce
1 Tablespoon flour
¼ cup vegetable broth
4 ounces provolone cheese
4 Whole Wheat Hoagie Rolls
Instructions
In a large non-stick skillet, heat oil. Add onions, cook for ~2 minutes. Add mushrooms and bell pepper, stir in oregano and pepper and cook for ~7 minutes or until softened.
Turn heat to low, sprinkle on flour, add vegetable broth and soy sauce and bring to a simmer. Remove from heat.
Add provolone slices on top of vegetable mixture until melted. Divide veggie mixture evenly into toasted hoagie rolls or buns of choice.
Notes
Recipe adapted from Eating Well
Questions: Are you a cheese steak fan? Ever make your own sandwich rolls?