A twist on a classic favorite, this lasagna uses a milk based sauce with pumpkin to make it a unique Holiday dish.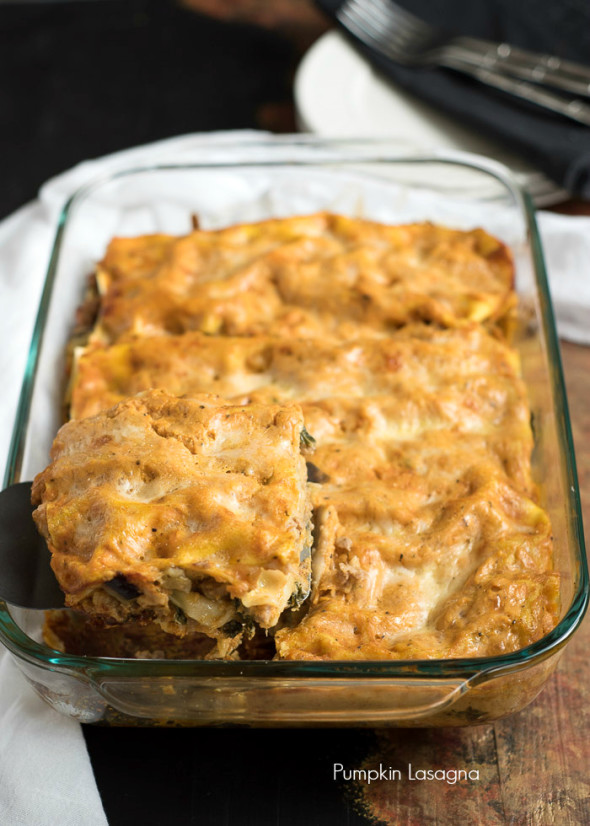 Disclosure: I was asked to participate in the #PastaFits campaign as a member of the Healthy Aperture Blogger Network. I was compensated for my time.
You guys- Thanksgiving is coming so soon. It seems when you write a food blog, everything revolves around each approaching Holiday. It's a challenge to fit in all the foods you want to have during this magical time of year.
Lasagna is one of my favorite comfort dishes. Hot, hearty, cheesy and satisfying. I just love it. It's not something I make often, but around the Holidays and during the cooler months I crave it.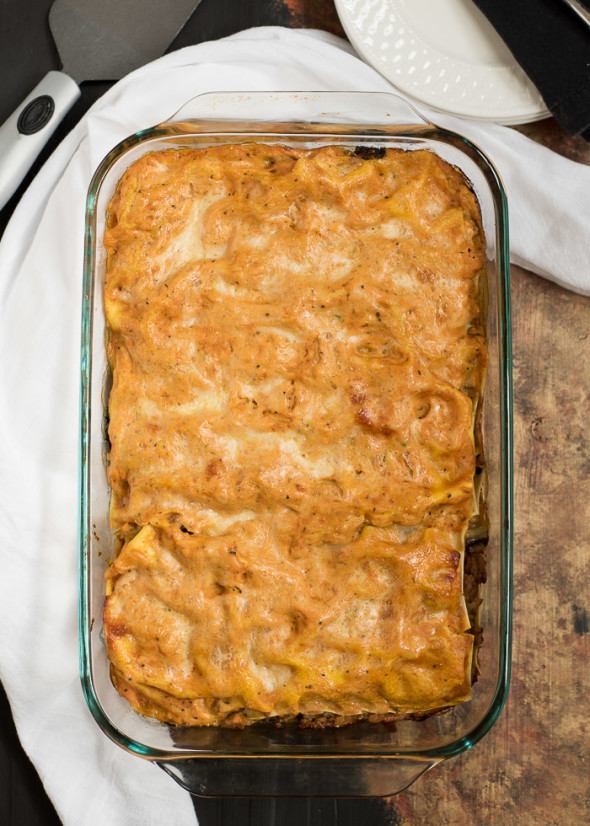 So because I wanted to do something a little different than your traditional red sauce lasagna, I am sharing a pumpkin lasagna that uses ground turkey sausage, lots of veggies and less cheese than your typical lasagna. We all know October and November are all things pumpkin!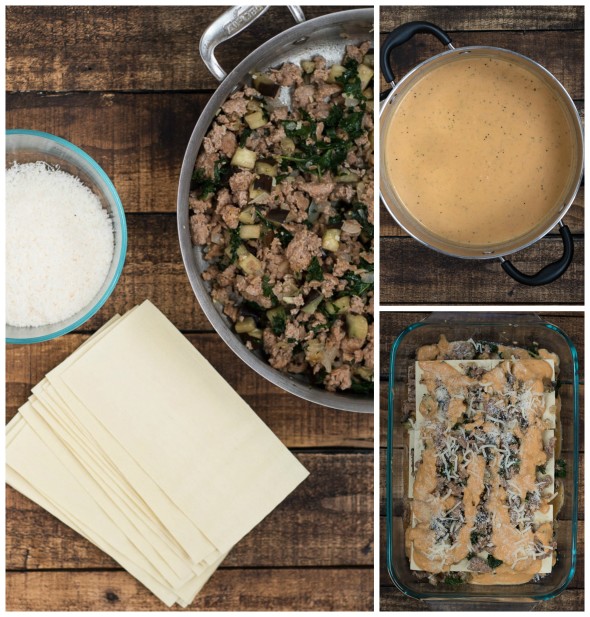 I've been making this version for years now, however for some reason I limit it to special occasions. I guess sometimes you just want to keep those dishes special by only bringing them out once in a while. Does anyone else do that?
Since there are so many different days we celebrate the holidays, it's fun to do something outside of the "roast turkey and mashed potato" box and this recipe is perfect. Serve it with some fall-inspired roasted vegetables and a good glass of wine, and you are all set. The sauce has a light pumpkin flavor and the filling, although not very photogenic, is delicious- sausage, kale, eggplant, onion and garlic.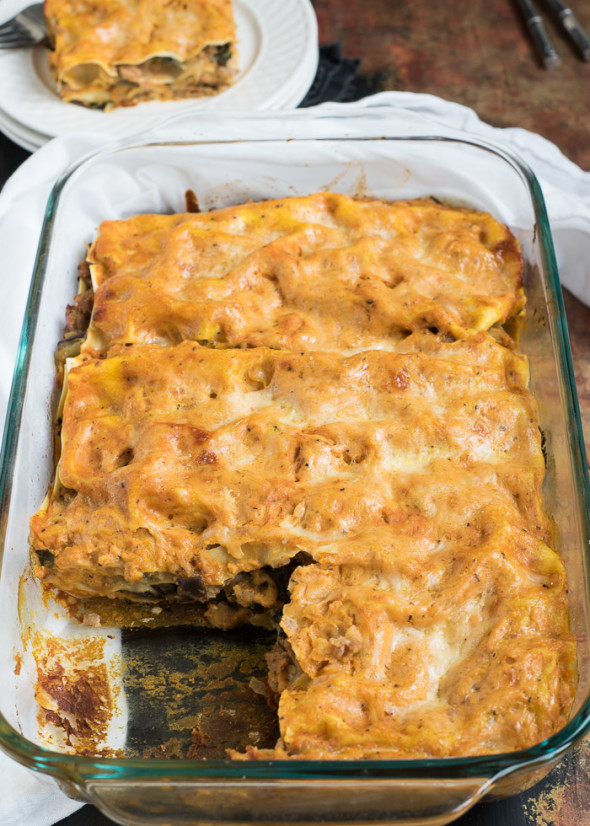 As I've mentioned before, pasta can definitely fit into a healthy lifestyle. Pasta which provides you with complex carbohydrates offers you important fuel for your brain and muscles. That is why marathon runners are so fond of the pre-race pasta meal. The complex carbohydrates provide energy that will sustain you and provide vitamins such as iron, folate and B Vitamins.
Pasta is such a convenient and great pantry staple. There are a ton of things you can do with it and when you pair it with other lean meats, dairy and veggies, you make a complete meal. All you need is an extra cooked vegetable or green salad and you are all set!
When I make lasagna, I am fan of using the no boil noodles for even more convenience. This truly is pretty simple dish to prepare!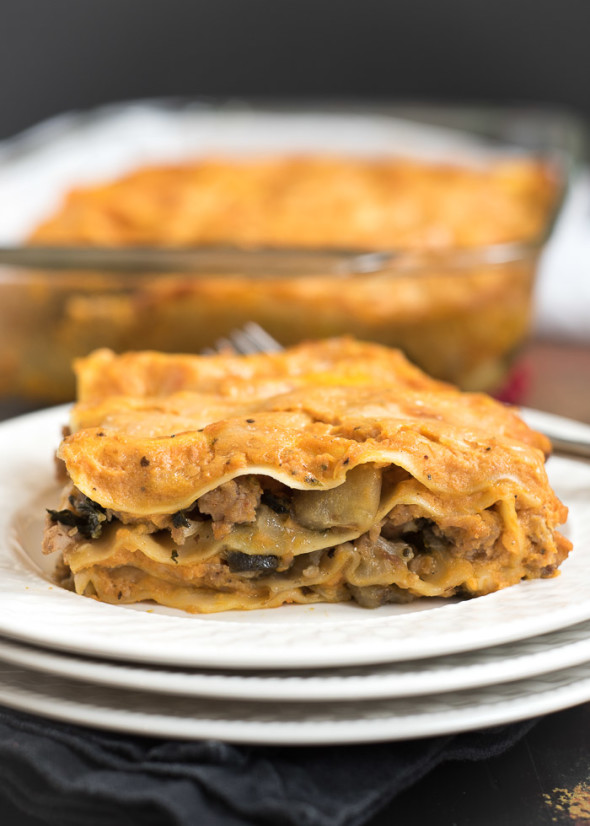 Visit the Pasta Fit website for more great pasta dishes or follow them on Twitter and Facebook!
Pumpkin Lasagna
a twist on a favorite classic, this milk based pumpkin sauce makes this a unique holiday dish!
Author:
Melanie F. | Nutritious Eats
Ingredients
12 no-boil lasagna noodles
1½ tablespoons olive oil
1.25 lb Sweet Italian turkey sausage
4 cups diced eggplant (~1/2 of an eggplant)
4 cups chopped kale
1 onion, diced
3 cloves garlic, minced
1 teaspoon dried sage, divided
1¼+ cup grated Parmigiano-Reggiano
1 cup shredded mozzarella
3 tablespoons butter
3 tablespoons flour
4 cups low fat milk
1 can (15 ounces) pumpkin puree
½ teaspoon salt
½ teaspoon pepper
pinch of nutmeg
Instructions
Preheat oven to 375 degrees. In a large skillet, heat 1 tablespoon of olive oil. Add turkey sausage and using a wooden spoon break it up as it cooks, ~8 minutes. Transfer cooked sausage to a bowl. Place pan back on the heat, add another ½ tablespoon olive oil, then add chopped onion, eggplant, kale and garlic. Cook for ~7-8 minutes, stirring occasionally. Add sausage back into the pan. Season lightly with a pinch of salt, pepper and ½ teaspoon dried sage. Set aside.
In a large pot over medium heat, melt butter, then sprinkle flour on top and whisk together. Slowly add milk, stirring constantly until little bubbles form and mixture thickens (this will take about 4-5 minutes after those little bubbles form). Add puree pumpkin to the milk mixture and whisk well until combined. Add ½ teaspoon salt, ½ teaspoon pepper, pinch of nutmeg and ½ teaspoon dried sage.
To assemble, use a 13x9 lasagna pan, mix the two cheeses together in a small bowl. Spread ~1 cup of pumpkin sauce on the bottom. Add 3 no-boil lasagna noodles. Top with 1½ to 2 cups of meat/veggie mixture, then ~1 to 1½ cup of sauce and a handful of the cheese. Repeat layers 2 times, ending with a layer of the lasagna noodles, topped with the remaining sauce and the remaining cheese. Cover with tented foil and bake for 45 minutes. Remove foil and bake for an additional 10 minutes. Serve with additional grated Parmigiano-Reggiano before serving.
Notes
Assembling lasagna always confuses me. To recap, you will use the veggie/sausage mixture in the 3 layers so you mentally need to divide that into 3 portions, the sauce you will use 5 times- on the bottom, in the 3 layers and on top of the 4th layer of noodles. I mentally divide the cheese into four portions since you'll use it in the 3 layers and then the top (which is the 4th layer of noodles). Hope that helps you divide your ingredients.