It's Earth Day and what better day to introduce you to two new products I've recently tried from CalNaturale: protein shakes and wine. What do protein shakes and wine have to do with Earth Day you might ask? Well their super cool packaging offers consumers an eco-friendly option. For example, the Tetra Pak carton the wine comes in has half the carbon footprint of bottled wine. The company's mission is "to improve the health and wellness of consumers by creating the best-tasting, nourishing and convenient foods at a great value, without compromising on quality or the environment". Sounds perfect to me!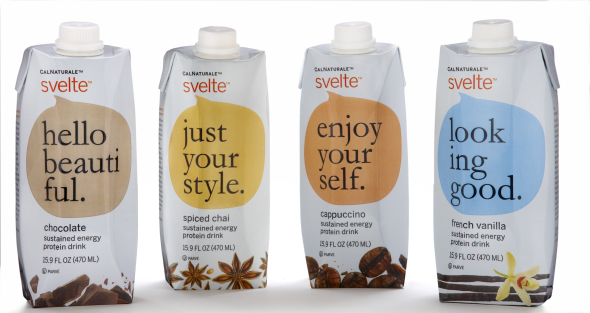 I have been enjoying the shakes after some of my longer runs, because the easiest and quickest way for me to refuel after running is with a protein shake. When I have time I like to make them in the blender, but let's be honest, what mother of 3 young kids has extra time? Grabbing these ready-to-go shakes has been a real treat. I grab them on the way to pick up my son from preschool, post workout and shower. I drank most of them straight out of the package, but the french vanilla went into my fruit smoothie! I even tried using some of the leftover as a "creamer" to my coffee. Yum.
More about the Svelte drinks:
Made with organic and all-natural ingredients
Developed with a unique blend of organic complex carbohydrates, including rice syrup solids and inulin which help keep you full longer
Offers 16 g of protein from fresh organic soymilk and provides a good source of fiber in each serving
Low-gylcemic, non-dairy, cholesterol-free and certified gluten-free, featuring a fresh organic soy milk base and sweetened using Stevia
Certified kosher by Orthodox Union (Circle U)
Packaged in convenient, re-closable and eco-friendly Tetra Paks
Available in four naturally delicious flavors include Chocolate, French Vanilla, Cappuccino and Spiced Chai. Each 15.9 ounce container is value-priced at $2.99
Prefect for on-the-go meals, snacking, incorporating into smoothie recipes and enjoying as delicious & nutritious coffee creamer
And here is the wine I tried
I have a glass of wine several nights out of the week so I like something affordable and something that tastes good. CalNaturale's wine fit the bill and I was very impressed that they are the first and only California wines made from certified organically-grown grapes, that is without the use of pesticides and synthetic fertilizers. Although I usually prefer white wine over red, I really liked their red best….and how cool is it that it comes in a box? I know you're all thinking back to the days that you or your parents drank Franzia wine, right? Well this brand is not only convenient, both wines have been awarded many medals and the packaging uses half the energy of traditional glass bottles in productions and transportation. I'll drink to that!
What are you doing to celebrate Earth Day? We have recently explained the purpose of recycling to our kids and they enjoy carrying out any recyclable containers, such as these by CalNaturale, to our bin outside. I am always pleased to receive products from companies who are concerned with the environment.
CalNatural Shakes can be purchased in stores across the US and online and to find CalNaturale wine retailers near you visit their website CalNaturale.
So the movers start packing us in 9 days! I still have quite a few pantry items I need to use up. Do you plan your meals each week? I swear by it. Even if I skip a day, rearrange things or end up with more leftovers, it totally keeps me on track and organized. Join me won't you?!
Menu for the Week of April 22nd
Sunday
Turkey Tacos, Leftover Black Beans, Broccoli, Carrots & Sugar Snap Peas
Monday
Sausage and Egg Breakfast Casserole (got bumped from last week when the boys got sick)
Tuesday
Leftovers, add any canned fruit to use up
Wednesday
Scallops & Shrimp Scampi with Linquini, Salad
Thursday
Grilled Chicken & Sausage, Roasted Veggie Dip, Couscous
Friday
Leftovers
Saturday
Burgers (not sure what kind), Sweet Potato Fries, Cilantro-Lime Slaw
Question: What are you doing to celebrate Earth Day? What are you planning for meals this week?
Disclaimer: Formula PR company sent me these products to review free of charge. The opinions, as always, are my own.