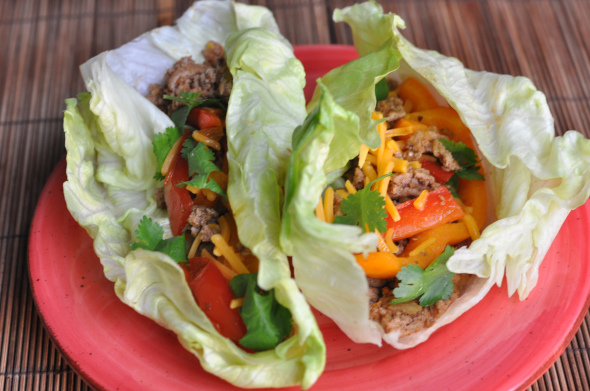 A lot of you are probably familiar with lettuces wraps from P.F. Changs. They used to be one of our favorite appetizers to order from that restaurant and since I haven't been there in over a year and a half, I thought it would be fun to make my own lettuce wraps, Mexican style. Yes, that means these taste nothing like Changs, but they are still delicious (and healthier!).
The truth of the matter, I was shopping for our simple dinner of ground turkey tacos, saw the iceburg lettuce in the store and thought it would be a fun substitute for tortillas! I sauteed the ground turkey meat using taco seasoning or you could use a combination of chili powder, cumin, garlic powder, salt and pepper. Then I topped it with the sauteed bell peppers, cilantro and cheese and enjoyed a simple, tasty, low calorie, gluten-free meal.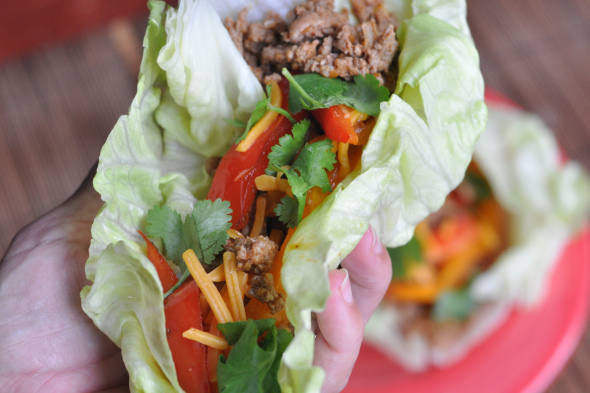 Add it to your weeknight rotation- you can have a few corn or whole wheat tortillas on hand for those that want them. My husband and I had one with a tortilla and one with the lettuce wrap and they were both delicious. This is a great meal for those who are watching their carbohydrate intake and even if you're not, it's a fun spin on the usual taco. You could add a side of beans to this meal, but it was pretty filling with just the tacos. Don't forget the hot sauce! Tapatio is the perfect kind to add a little kick without making the taco too soggy. LOVE this hot sauce. It is now favored over Cholula for me. Try it!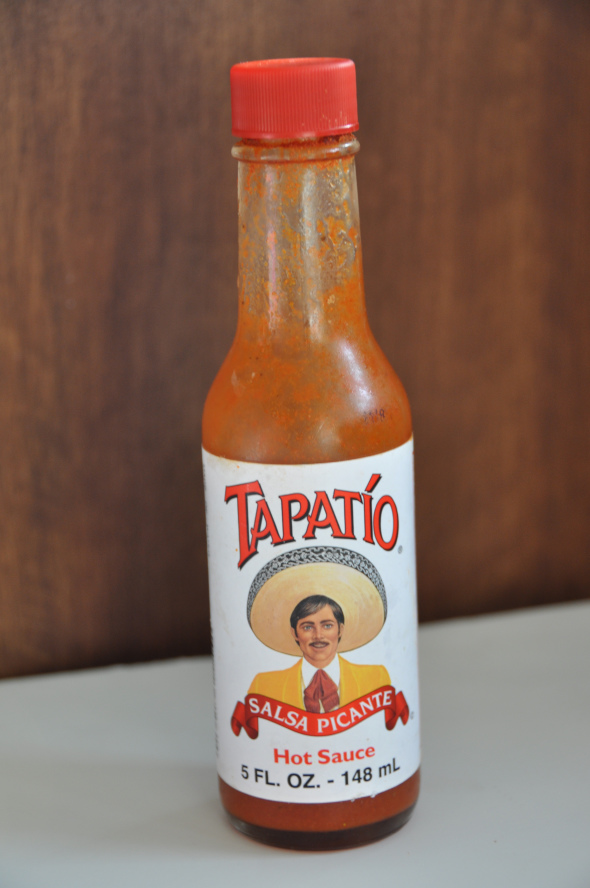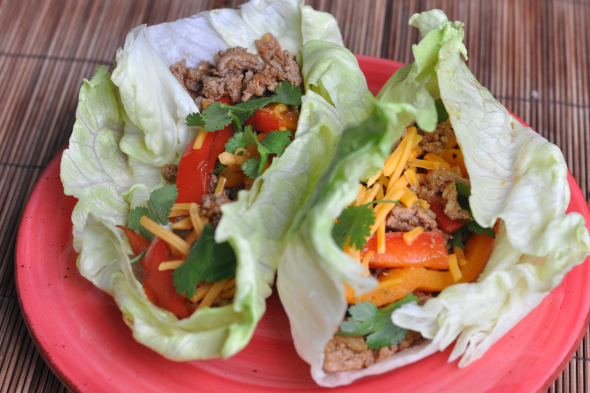 Turkey Lettuce Wrap Tacos
Author:
Melanie F. | Nutritious Eats
Ingredients
2 teaspoons olive oil
1 lb lean ground turkey
1 small onion, diced
½ package taco seasoning or use this combo to make your own (1½ teaspoon chili powder, ¾ teaspoon cumin, ¼ teaspoon garlic powder, ¼ teaspoon dried oregano, salt to taste)
2 bell peppers (red, orange or green), sliced
1 head iceburg lettuce, washed, dried and separated into leaves
Optional toppings: shredded cheddar cheese, cilantro, salsa
For the sauteed bell peppers:
couple shakes of the following spices: cumin, garlic powder, dried oregano, soy sauce, salt, pepper
Instructions
Heat drizzle of olive oil (~1 teaspoon) in large skillet over medium-high heat. Saute onions for about 4-5 minutes. Add ground turkey and break up with a wooden spoon. Brown meat in the skillet (drain liquid if there is excess). Add taco seasoning (or spices) and ⅓ cup water. Bring to a boil, then turn heat down and simmer for additional 5 minutes. If the turkey starts to dry out, you can add a little more water.
While turkey is simmering, heat a second small skillet with 1 teaspoon olive oil. Add bell peppers, a splash of soy sauce, couple shakes of cumin, dried oregano and garlic powder, pinch of salt and pepper. Saute on medium-high heat until slightly softened, about 5 minutes.
To assemble place ~1/3 cup ground turkey into lettuce wrap. Top with ¼ cup bell pepper, 1-2 Tablespoons of shredded cheddar, cilantro and salsa. Eat like a taco!
Notes
The reason behind only using half of the taco seasoning pack is due to the high sodium content. You can easily achieve the same flavor using the separate spices, plus adding your own salt to the dish. Sometimes I add extra chili and garlic powder after using just half the package. Taste the meat once it's fully cooked to see if it has enough seasoning and add more to your liking.