Did you know it's brussels sprouts not brussel sprouts? Never mind.
I wanted to provide a side option other than famous (or shall I say infamous) green bean casserole. My family has mixed reviews on the green bean casserole. Some need it at the table and more than half wouldn't miss it at all.
I am in between. I only like it with fresh green beans, but would be ok if I didn't have it. So I tried roasting some brussels sprouts, then tossed them with a warm vinaigrette, tart apples and crisp bacon. Overall, I think it was a success. Now I know that I would love to see roasted brussels at the table for a change.
Here is what I did. Quartered about a pound of brussels, tossed with olive oil, salt and pepper and roasted in the oven. This makes a perfectly delicious side for any day of the week if you don't want to continue with the recipe. If you are a brussels sprouts skeptic, fear not, they are so good roasted.
Before going in the oven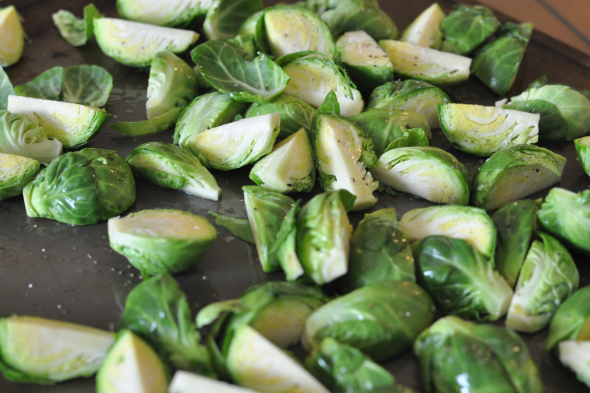 Meanwhile cook up some bacon. Nice and crispy. Note: I did not make any extra for me to eat. Patting myself on the back.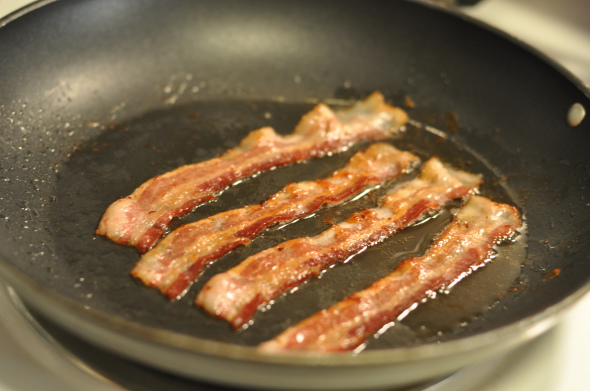 Crumble your slices and set aside. I only cut up the good meat and toss out the fatty ends.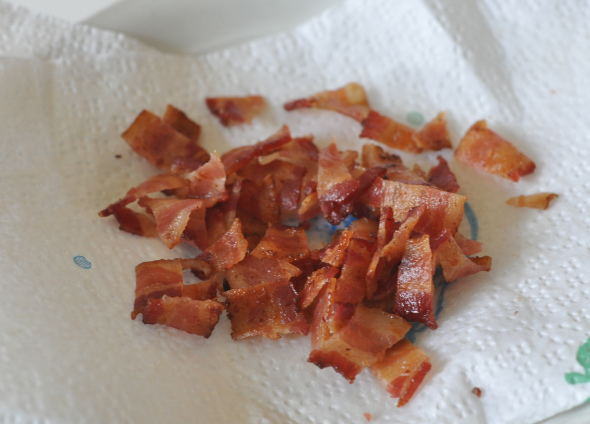 Then cut your apple into chunks. I cut it into slices, then took my knife and cut a stack of slices into four sections.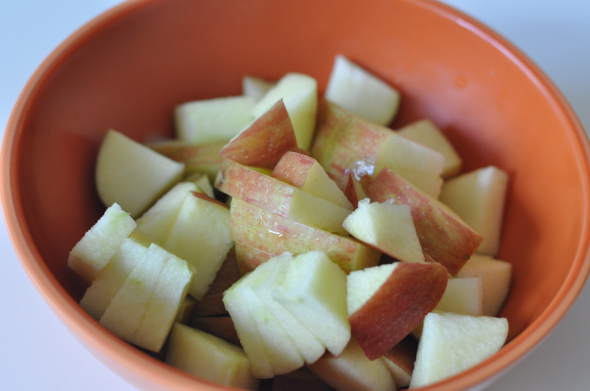 After the bacon is done, dump the grease and add a touch of oil, garlic, mustard, lemon juice, vinegar and whisk together.
When the brussels come out, you'll toss them with the dressing. Let that cool for a few minutes, then add in the apples; Right before serving, mix in the crisp bacon.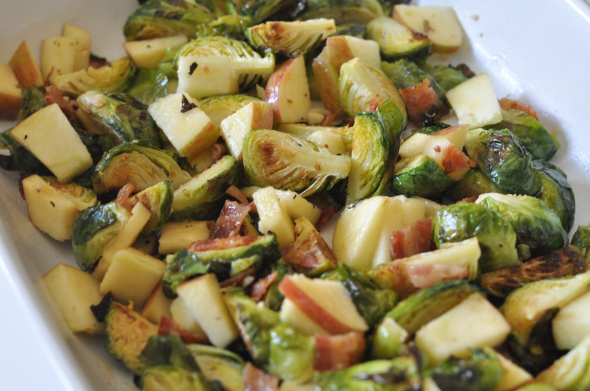 I am loving this leftovers! If you are not up for changing things up this week, try it for Christmas dinner!
Roasted Brussels Sprouts with Apple and Bacon
Recipe from Nutritious Eats
INGREDIENTS:
1 to 1.25 pound brussels sprouts, trimmed and quartered
4 slices center cut bacon
1 apple, braeburn or empire
1 garlic clove
~2 1/2 Tablespoons olive oil
3 Tablespoons lemon juice, divided
3 teaspoons dijon mustard
3 Tablespoons red wine vinegar
Salt and pepper
DIRECTIONS:
1. Preheat oven to 375 degrees. Toss quartered brussels sprouts with ~2  Tablespoons of olive oil, salt and pepper to taste. Bake for 20 minutes until brown and crisp-tender.
2. While brussels are cooking, core and chop apple, place in a bowl and toss with 1 Tablespoon of lemon juice. Cover and set in fridge. Cook bacon on medium heat until done. Set aside on paper towel lined plate. Crumble when cool.
3. Dump bacon grease and add 2 teaspoons olive oil to pan still on medium heat, add garlic and cook for one minute. Mix in mustard, 2 Tablespoons lemon juice, vinegar and whisk together.
4. Remove brussels from oven and toss with dressing. Let cool for about 5 minutes. Stir in apples.
5. Toss with crisp bacon when ready to serve. Yield: 6 Servings.
NOTE: If you add the bacon in right away with the dressing, it will get soggy. If you are taking this dish to someone else's house, you can prepare everything as directed, but hold off on adding the bacon. Pack bacon in small dish or wrap in foil. Toss in right before serving.
Nutritious Eats benefits: fiber, Vitamin A, Vitamin C, Vitamin K, antioxidants