Goodbye September, let the craziness begins! October officially marks the start of the fun, albeit insanely busy time of year- not only is there excitement from the Holidays but my 3 kids have upcoming birthdays- one in October, one in November, one in December along with my birthday, and then baby #4 is due the very beginning of January. This time of year always flies by so I enjoyed one of the last few weekends where we really had nothing to do.
I got home from church yesterday and wanted something warm to fill my tummy. We've had nonstop rain all weekend and I just felt like cozying up to a bowl of soup. Just at the same time I opened my refrigerator and saw a container of plum tomatoes from Costco staring at me. I wanted roasted tomato soup.
I knew I could make this happen in less than an hour and half the time was spent just waiting for the tomatoes to roast.
I just cut my tomatoes in half lengthwise, peeled some garlic, seasoned the whole tray and popped them into the oven until soft, juicy and lightly browned.
Remember that eating tomato products with a little oil helps the lycopene (the powerful antioxidant that can help protect against degenerative diseases) to be more readily absorbed by the body…so don't omit it!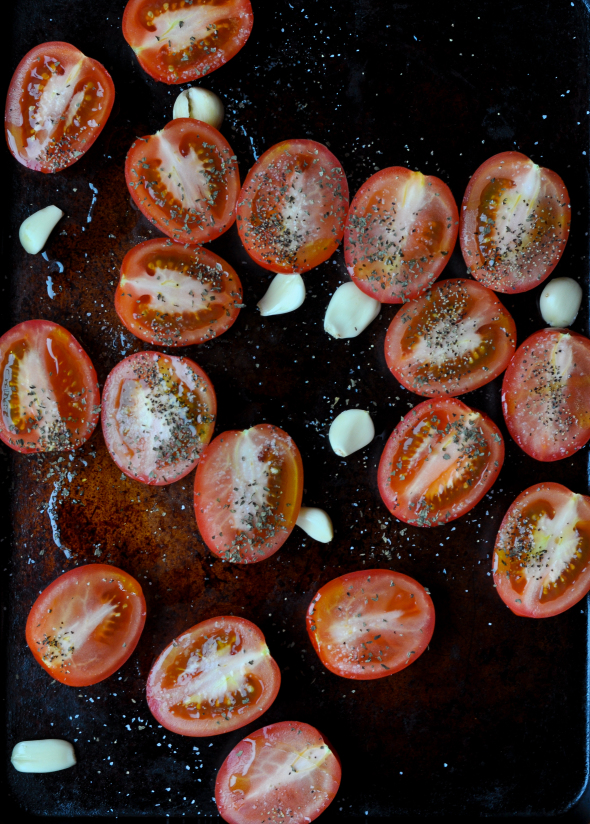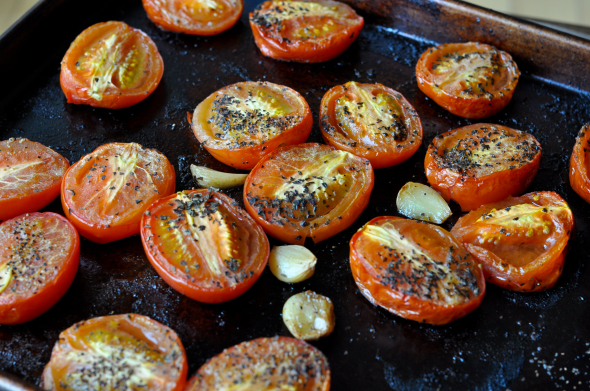 You'll know the tomatoes are done when they're nice and soft and their skins start to fall off.
Peeling should be easy at that point. I started off with tongs but realized I liked using many hands better….always the best tool!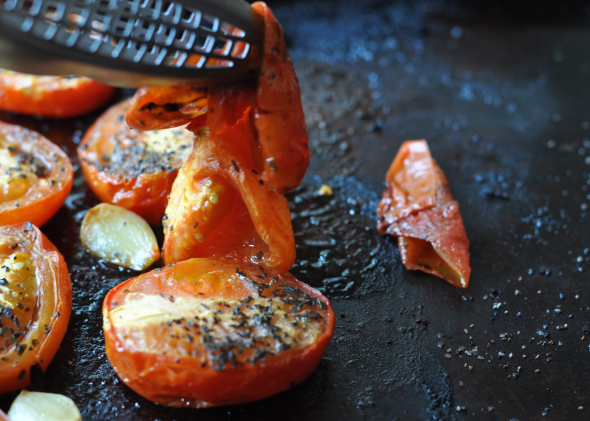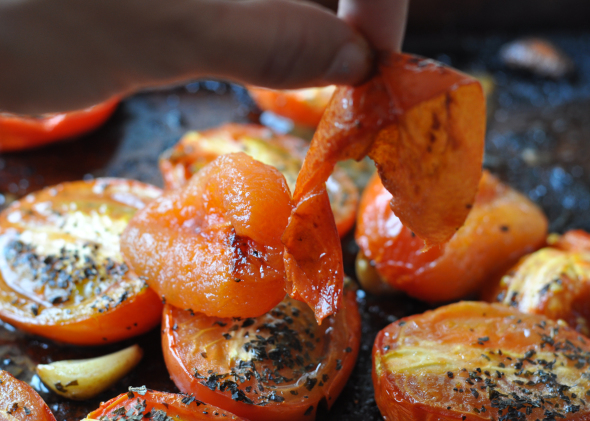 Make sure to pour all those juices into the pot, along with the peeled tomatoes and garlic..tons of concentrated flavor there.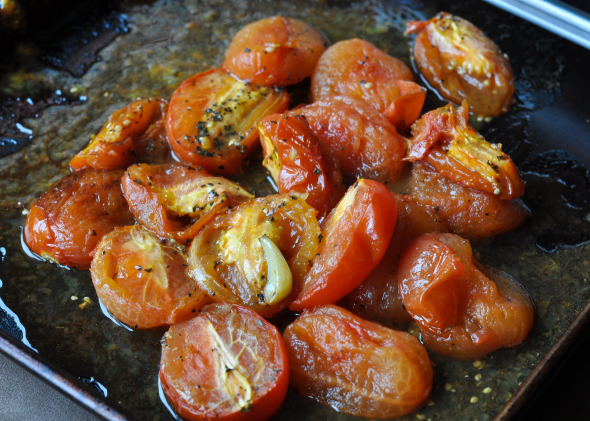 After I peeled off the skins, I simmered the tomatoes with some vegetable broth and tomato paste. I added a touch of sugar and balsamic for flavor and to round out the acidity in the tomatoes.
I considered adding coconut milk at this point but wanted to taste the flavor of pure roasted tomatoes so I pureed the mixture in the blender and did taste test one. I could definitely tell these tomatoes were roasted as they had a much sweeter flavor than using canned tomatoes. There was a nice black pepper taste but there was something lacking.
I looked out to my patio and saw the basil plants getting some nice watering by mother-nature. I added a handful of basil leaves to the blender and blended away. Much better. So simple and tasty.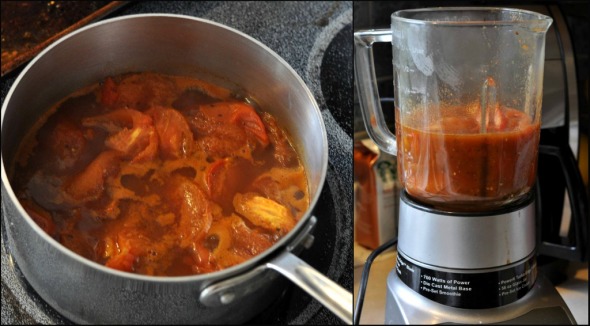 I am sure there are a ton of versions of tomato soup but I loved the simplicity of this one and the freshness from fresh versus canned tomatoes.
Now that my belly is warm I can work on some meal planning, laundry and house cleaning (yipee!). I also have some serious TV to catch up on. Did I tell you I bought the Apple TV and got a subscription to Hulu and Netflix? I started watching Downton Abbey which was recommended by several people and I am coming up on the end of season 1 and think it's ok so far. I assume it will get better? Anyone know?
That's all for now- have a great week!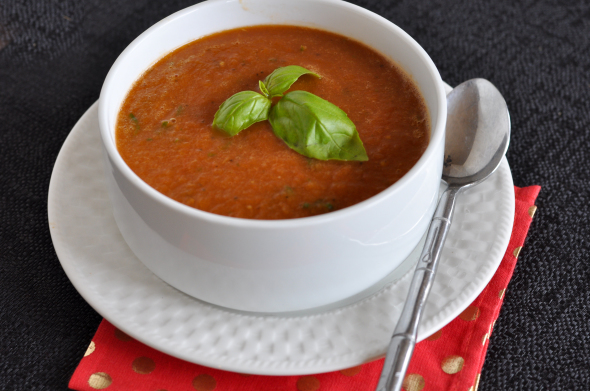 Roasted Tomato Soup with Basil
Ingredients
2 lbs plum tomatoes, cut in half lengthwise
8 cloves of garlic peeled
1 Tablespoon olive oil
½ teaspoon dried basil
½ teaspoon black pepper
½ teaspoon salt
2 cups vegetable stock
2 Tablespoons tomato paste
2 teaspoons sugar
1 teaspoon balsamic vinegar
¼ cup packed fresh basil leaves
Instructions
Heat oven to 375 degrees. Place tomatoes, cut side up on a baking sheet or roasting pan. Add whole garlic cloves, season with salt, pepper, dried basil and olive oil. Toss with hands to combine.
Roast for 30-35 minutes or until tomatoes are soft, lightly browned on the bottom and skins are starting to peel off.
Remove from oven and peel off skins using tongs or your fingers (once tomatoes have cooled a bit). Discard peels and any burnt pieces of garlic.
Meanwhile heat vegetable stock to a boil in a medium size pot, add peeled tomatoes, garlic and all the juices and tomato paste; stir well.
Reduce heat, add sugar and balsamic vinegar and simmer for 10 minutes.
Place tomato mixture into a blender, with cap removed to allow for steam to escape. Add fresh basil leaves and blend on medium until smooth.
Pour soup back into pot and keep on warm until ready to serve.
If you don't have fresh tomatoes on hand, try this recipe for Creamy Tomato Soup – it's delicious and so simple too.
I thought this soup looked interesting too, Coconut Curry Chicken Soup, and it got very high reviews (photo courtesy of Cooking Light, click HERE for recipe). Only problem is my kids wouldn't eat it, but I can tell I would like it! Need to add it to the "to make" list.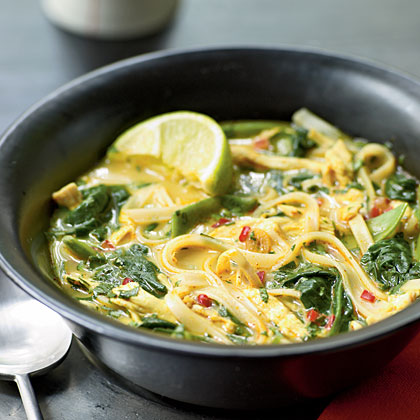 There is still time to enter my food goodie bag giveaway- go check it out HERE!
Questions: Have you ever roasted tomatoes? Is it cold where you are? What did you do this weekend?