All you need is fresh fruit and an oven with a low setting to make this simple homemade dried fruit.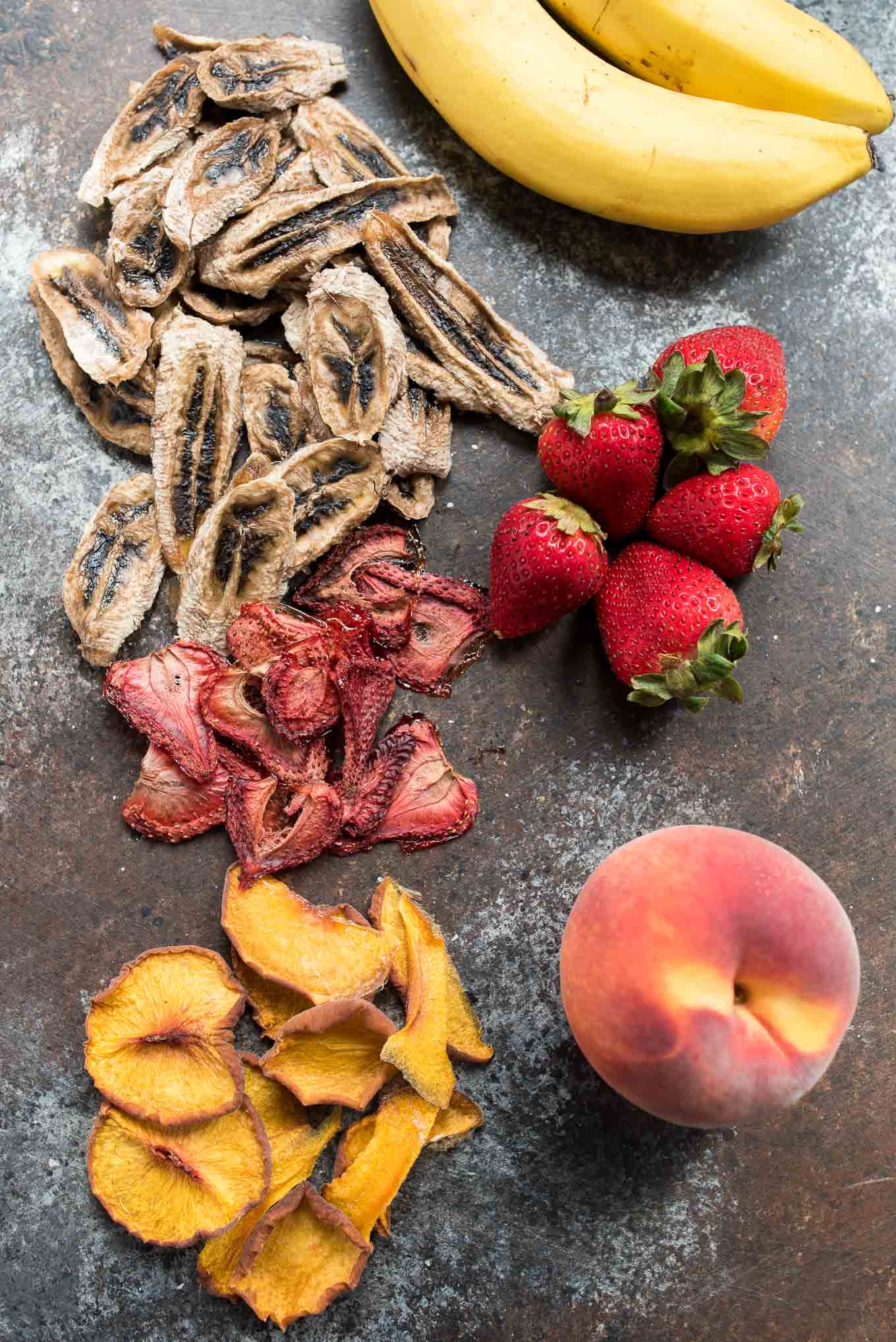 Hello friends! If you are a food blogger reading this I wanted to quickly tell you about Indulge Food Conference that will be held in Austin, TX in April of 2017. I attended the one in Portland 2 years ago and I had the best time. I already signed up and I am leaving you with my affiliate referral link if you are interested.
I think it's a great price and sounds like there will be a heavy focus on video this year which is exactly what I need. Plus, a special addition trip to Magnolia Market and Bakery (of the Chip and Joanna Gaines' family) in Waco! That is an extra fee, but I am super pumped about it. Please join me and sign up HERE!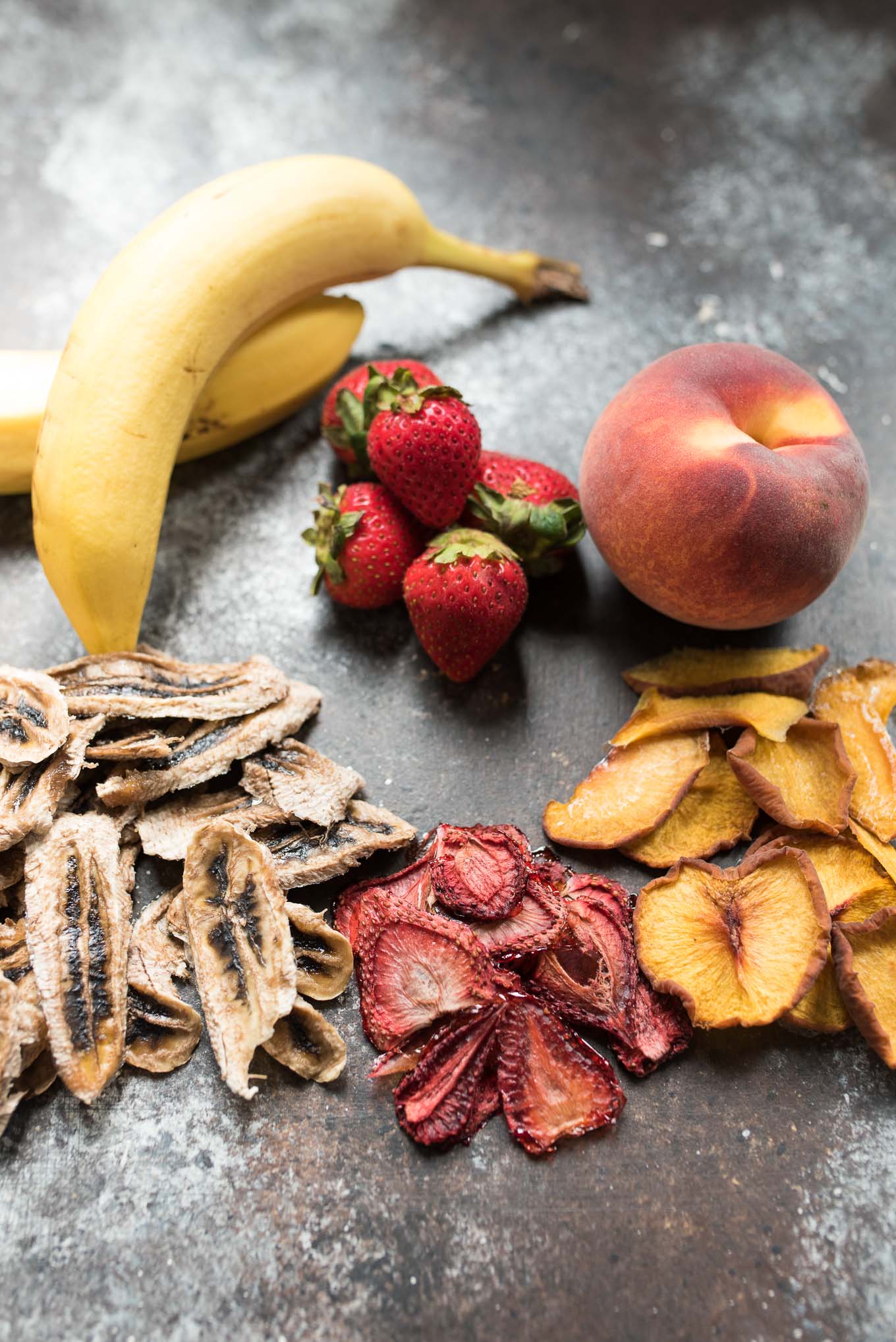 Moving on to this simple homemade dried fruit….I have always heard you can make it without a dehydrator so I did a simple test. I sliced up a peach, some strawberries and a few bananas and set the oven it's lowest setting (which is 170 degrees F for our oven). I baked it on that low setting for about 6-7 hours. Then I actually turned off the oven overnight and left it in there because I wasn't ready to deal with it yet and still needed to photograph it.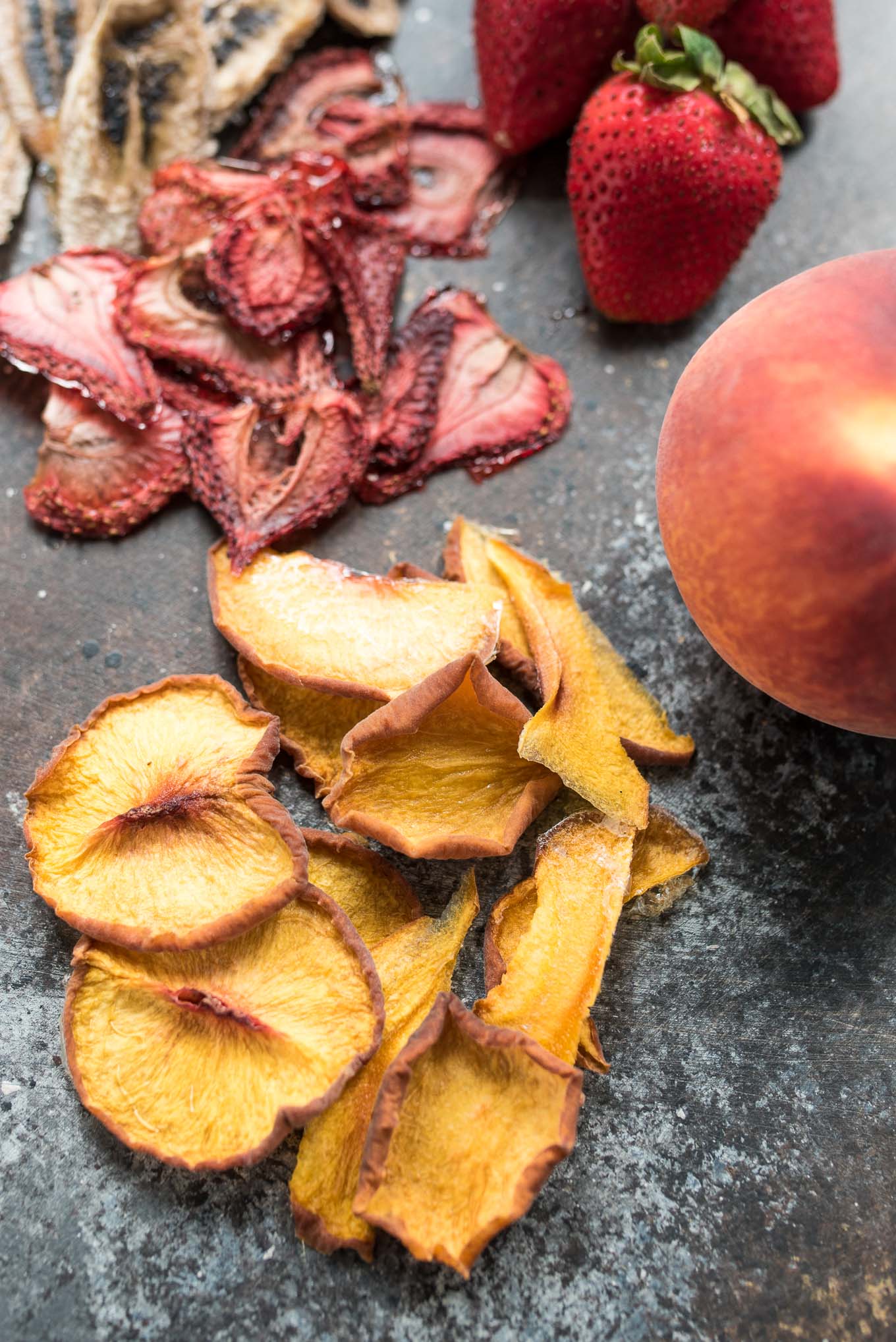 I learned that the silpat liner works beautifully in preventing sticking and the banana will definitely go on that next time…or at the least some parchment paper.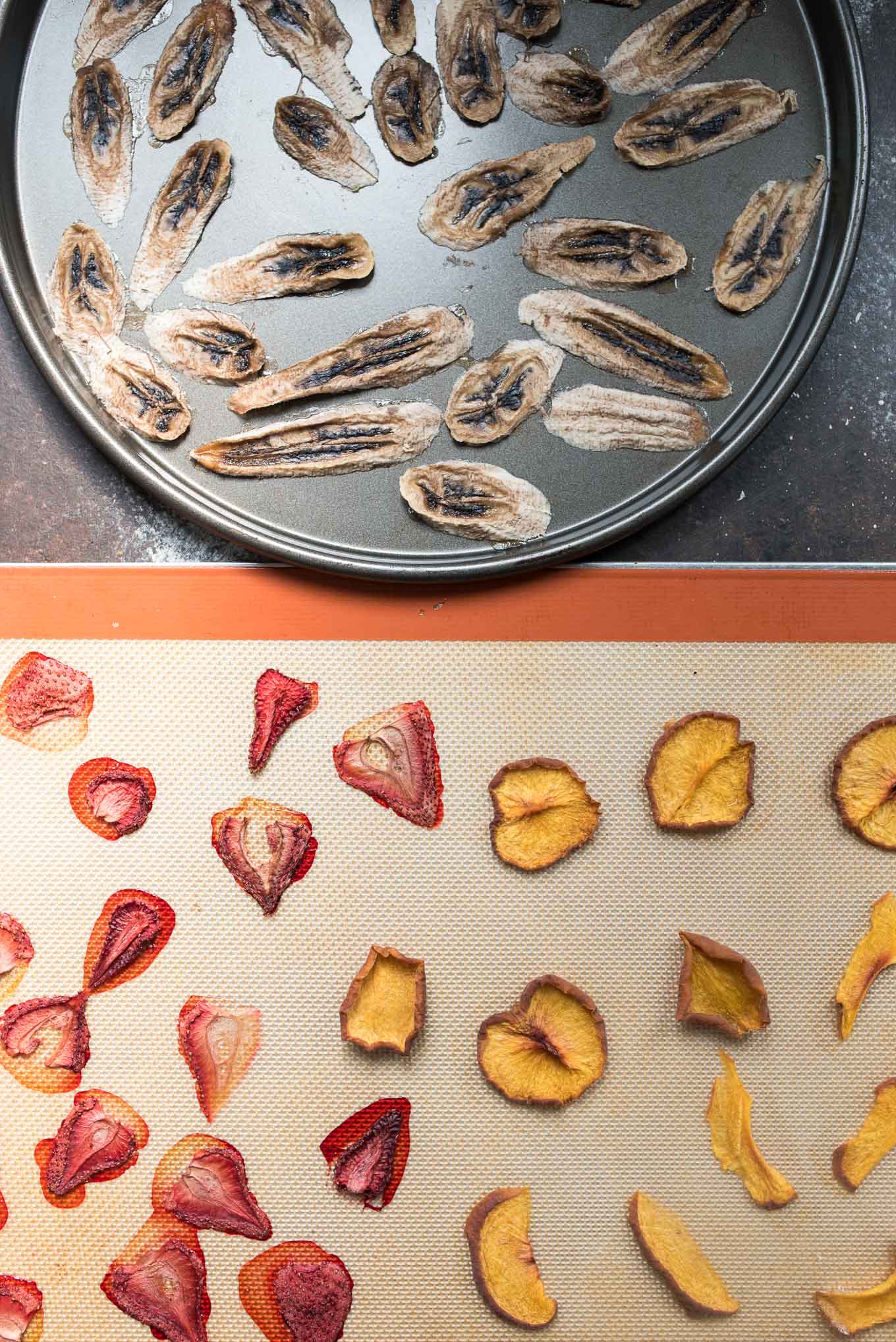 The result? Perfectly yummy, sweet and chewy dried fruit! You want the slices to be substantial enough so that they don't melt away. Some of my strawberries were walking a fine line between too thin, but they still tasted delicious!
The real question I've asked myself is do I recommend you doing this? While I think it was a totally fun experiment, I did use quite a bit of fresh fruit just to produce this small amount. So would I rather you just eat the fresh fruit, water and all and have a nice satisfied belly or would I rather you dehydrate it? It's a no-brainer, the former. With that being said, I think there is a place for this non-recipe recipe.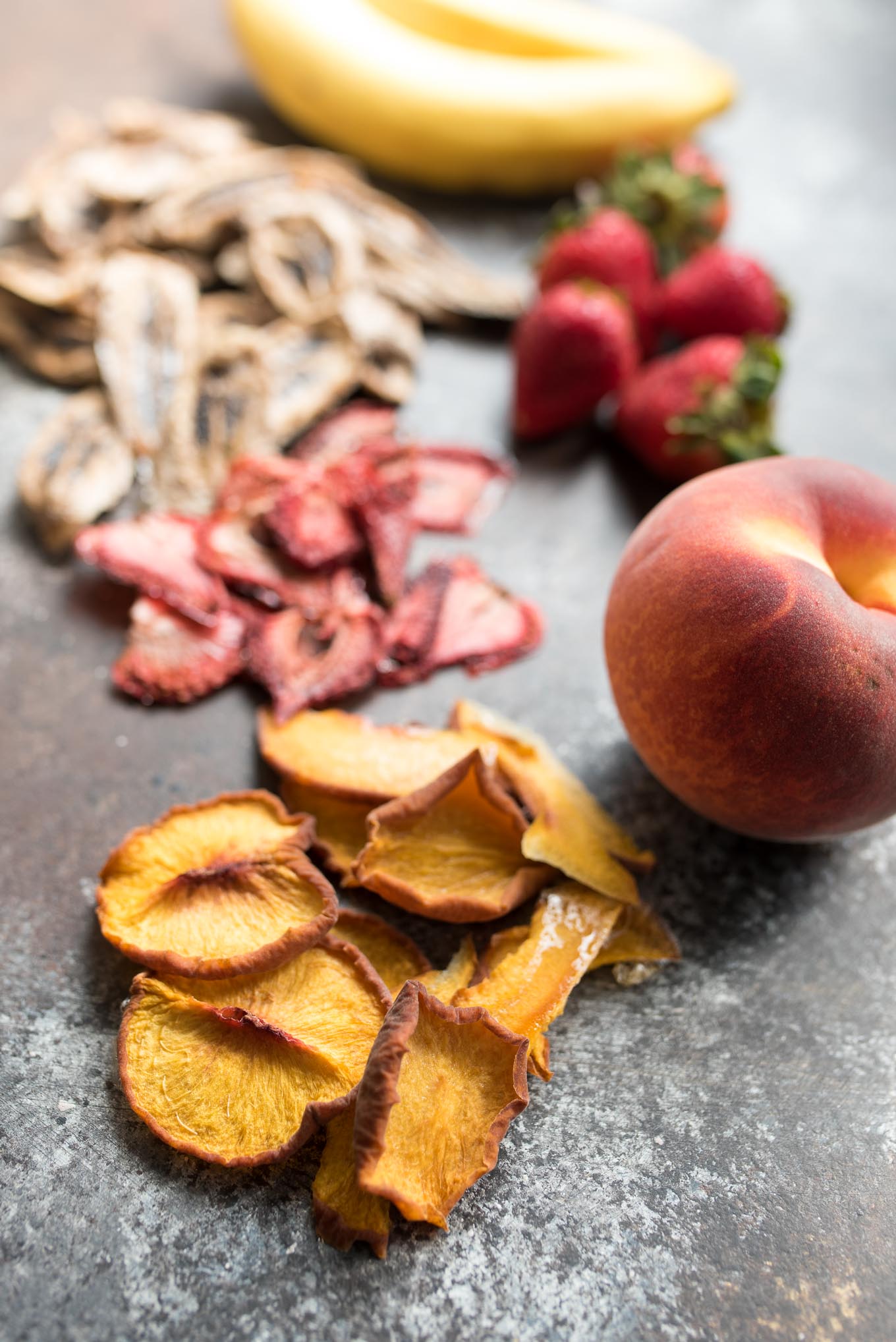 Benefits of Making and Eating Homemade Dried Fruit
No sugar added. You'd be surprised at how many companies add table sugar to their fruit. It is naturally sweet enough and is nice that you can make it your own with no additional sugar.
Great for hiking or camping when you are limited on space and can't take the volume that fresh fruit takes up.
It's a fun experiment for the kids. The house smells yummy and they can watch the process of fruit going from fresh to dried.
It's a satisfying candy-like snack. Try a few pieces paired with some nuts.
A great way to use up an excess of fresh fruit that would otherwise go bad and get tossed out.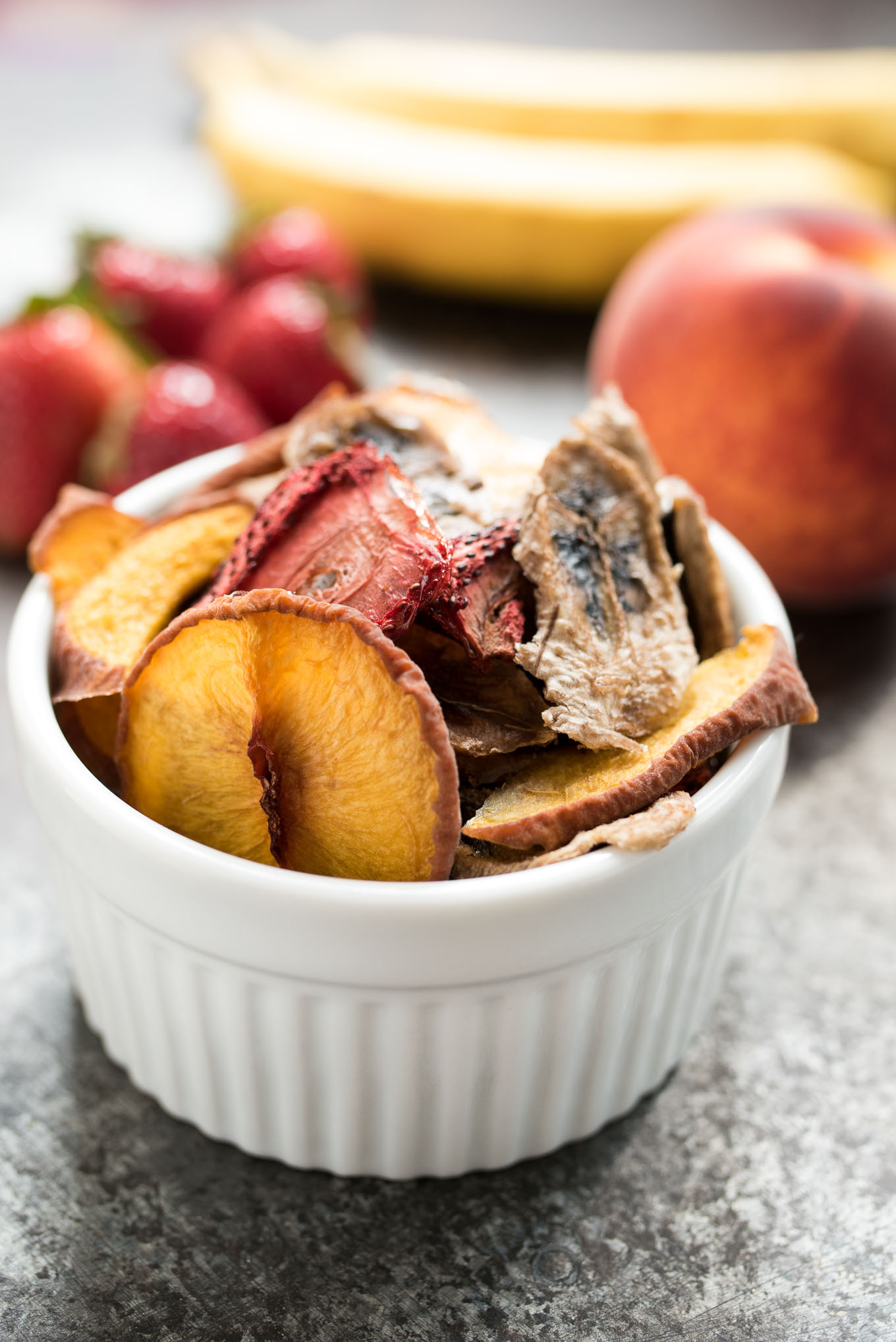 My favorite was the peach, then strawberry, then banana. My hubby loved the banana, but he is a banana aficionado so that was not a surprise. Next I will try some other dried fruit and report back.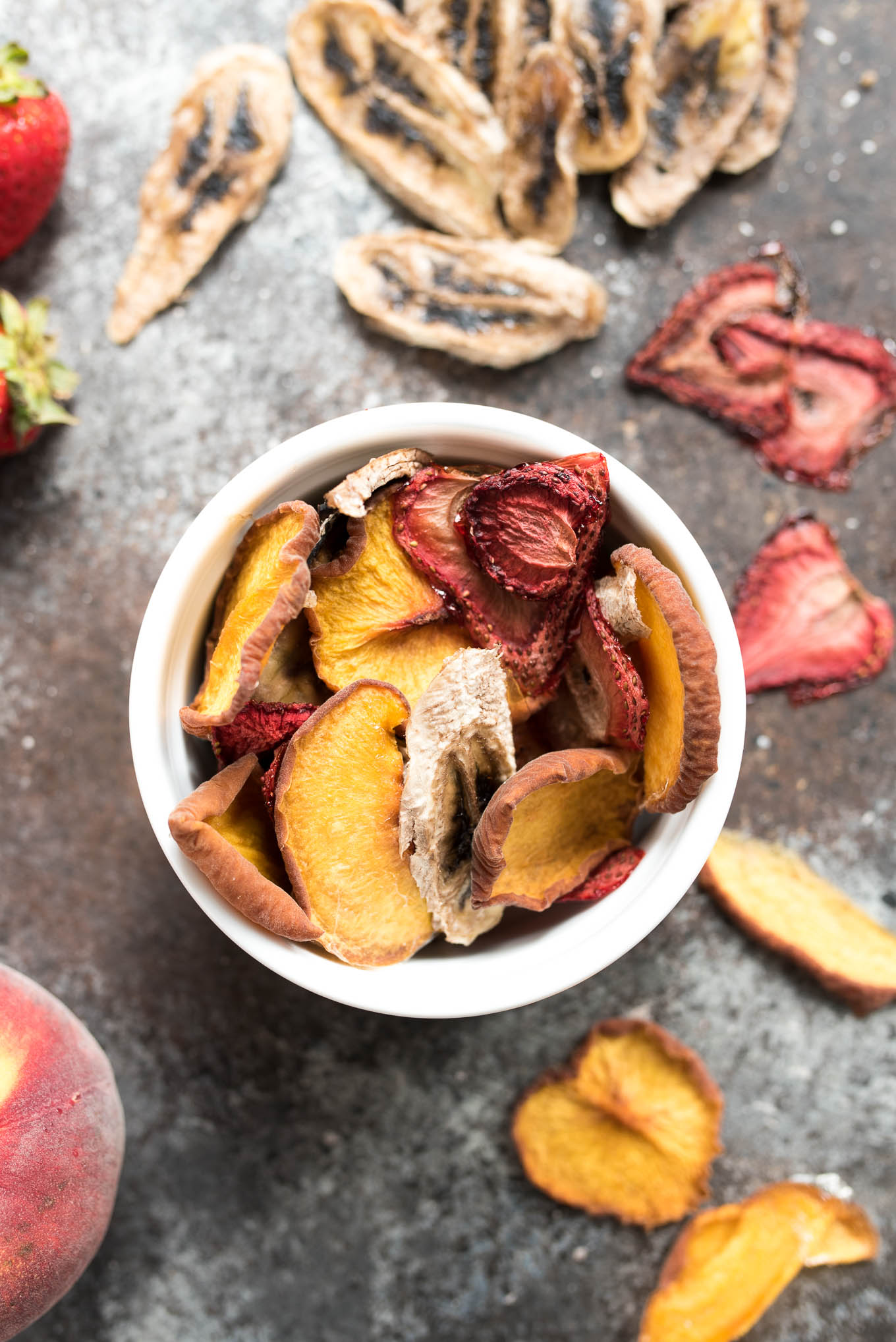 The Simplest Homemade Dried Fruit
this no added sugar homemade dried fruit doesn't get any easier to make and it's fun to eat!
Author:
Melanie F. | Nutritious Eats
Ingredients
peaches, cut into slices, big circles preferred
bananas, cut into slices at a diagonal
strawberries, cut into slices lengthwise
Instructions
Heat oven to ~170 degrees. Place slices of fruit on a parchment or silpat lined baking sheet. Bake on low for 6-7 hours. If fruit does not feel ready, turn off oven and leave it in there overnight. Store in a zip lock bag, tupperware or other sealed container.
Notes
Make as much or as little as you want. Just keep in mind the fruit will shrink down considerable. For example, as shown in these photos, 5 whole pieces of fruit resulted in about 1½ cup dried fruit. If your fruit does't feel dehydrated enough after 6 hours, just leave it in longer or turn off oven and leave the pans in overnight.