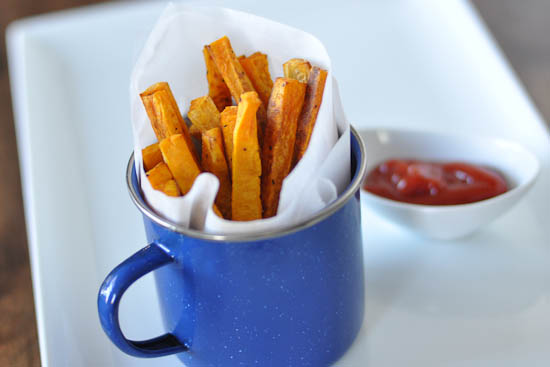 So in my attempt to stock the kitchen full of produce to make my vegan meals last week….I over-bought. Trouble with fresh produce- it doesn't last that long! So each night I'd have to decide which had to go next (by the looks of it's ripeness). I had great intentions for my butternut squash- soup, chili, but then I was worried it was going to go bad so I wanted the quickest, easiest thing to do with it. Fries!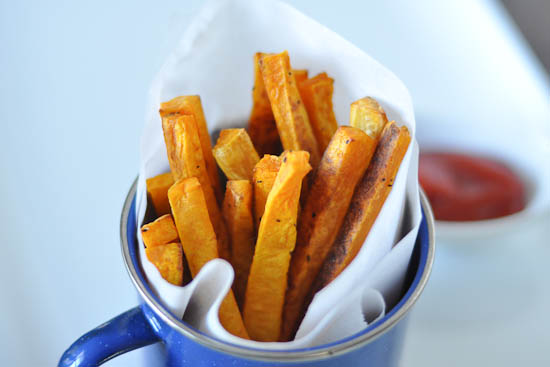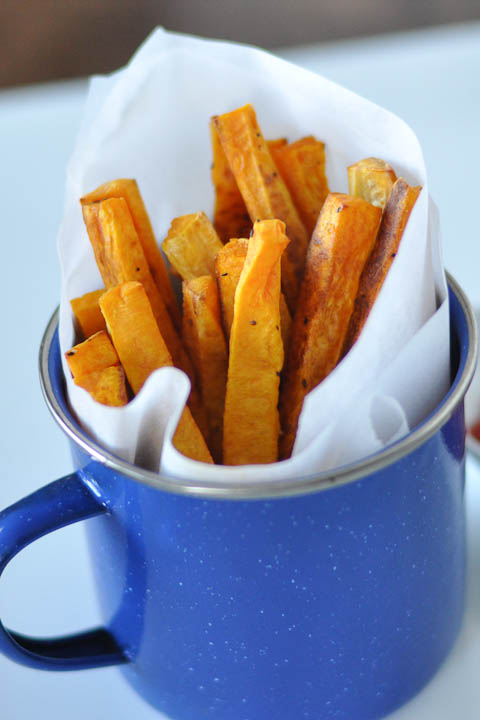 Everyone has had sweet potato fries these days, but have you had butternut squash fries?! Well they taste almost the same, just a little less sweet. I did them simply with olive oil, salt and pepper. You could definitely jazz them up with cajun seasoning, herbs or other spices. The best part…..my kids liked them! They do not like sweet potato fries (because of the unusual sweet flavor) but these were a step closer to regular fries.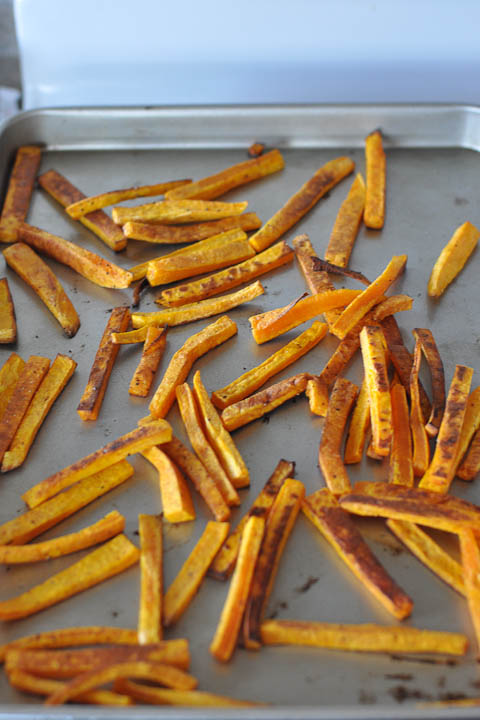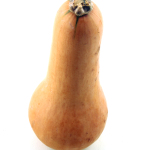 This veggie (scientifically a fruit) is super nutritious. Butternut squash is loaded in Vitamin A, Vitamin C and fiber.  It's also a good source of potassium and is low in calories (about 40 calories per 1/2 cup) and lower in carbs than regular potato. Using this instead of regular potatoes really helps boost the nutrition in your "fries" and is a great side for those watching their carbohydrate intakes, like diabetics. It's not quite as low in carbohydrates as other vegetables, as it's considered a "starchy vegetable" which is why it's a perfect sub for other carbohydrate-rich sides (like pasta, rice, potato, bread).
To prepare the fries, you just cut off the "neck", peel the skin with a vegetable peeler and cut into desired size slices. You can save the round bottom half for something else (it does contain seeds in the center like a cantaloupe and will last in your fridge, wrapped in plastic wrap, for about 4 to 5 days). When left whole, the thick skin of the squash actually gives it quite a long storage life but I didn't want to take any chances.
I've always LOVED french fries. How about you?!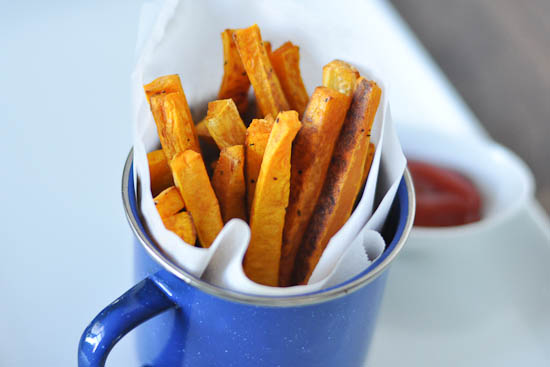 [print_this]
Butternut Squash Fries
INGREDIENTS:
1 butternut squash (around 3 pounds)
1 Tablespoon olive oil
Salt & pepper
DIRECTIONS:
1. Preheat oven to 425 degrees. Cut the neck off the squash and reserve the round end for another time. Peel skin off the neck with a vegetable peeler.
2. Cut squash in half crosswise. Then cut each half into slices lengthwise. Cut those slices lengthwise into desired size of fries. Continue with other half. Place all fries onto a cookie sheet and drizzle with olive oil. Use your hands to toss and coat each fry in oil. Season with salt and pepper. Bake for 30 to 35 minutes, turning once half way through. Fries will be crispy and lightly brown on outside, soft on the inside.
[/print_this]