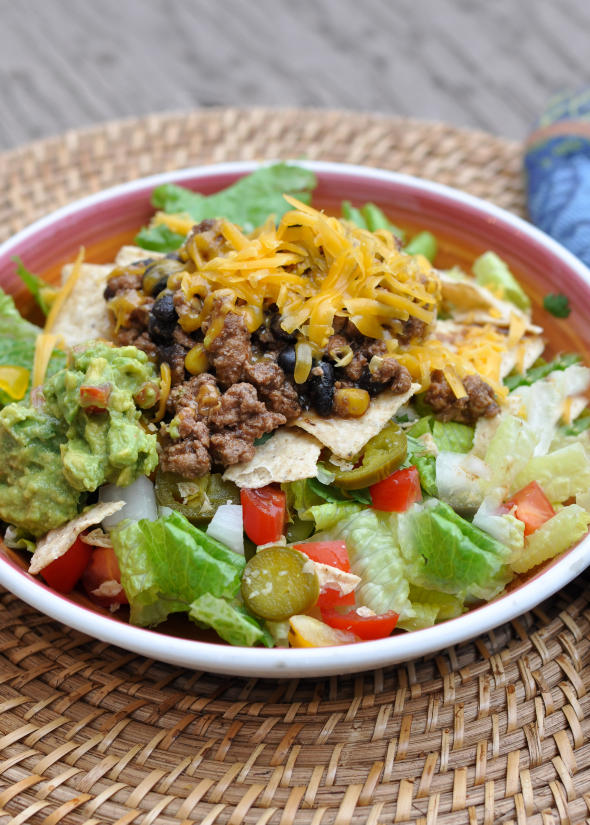 I have never been a big slow cooker user, but over the last year have realized just how handy they can be. Now that our schedule has us away from home 4 evenings of the week, I am on a mission to collect good slow cooker recipes because I will have to start prepping dinner in the morning if we want to eat at a normal hour.
I stocked up on my proteins at Costco but soon realized I have only tried chicken of vegetable dishes in the slow cooker. I wanted to have taco salads the other night so I thought it would be a good experiment to try simmering turkey taco meat in the slow cooker.
The filling turned out great and was easy to prepare early in the day. If you have beef lovers they will never know this isn't beef, especially since the black beans darken the mixture a little and add some more depth to the turkey.
My kids don't love vegetables mixed in their food  (what is that all about anyway?) so I knew to limit the corn I added. All in all, it was a perfect make-ahead meal that is very versatile. It is great reheated for leftovers too!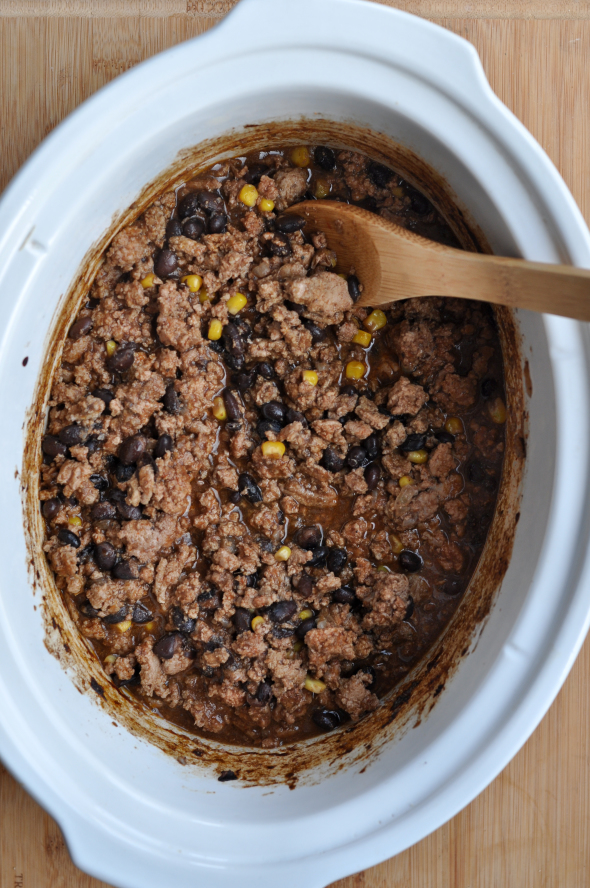 In addition to prepping the meat, I went ahead and cleaned and chopped the vegetables for the salads in advance: lettuce, tomatoes, bell pepper, onions, cilantro, guacamole, etc. It was worth it come dinnertime when all I had to do was assemble the salads.
The salad is dressed simply with fresh lime juice; feel free to add some olive oil or other dressing if you prefer. I knew with the guacamole, salsa and turkey/bean mixture there would be plenty of flavor! So good!!
This same meat mixture can be eaten in tacos, burritos, on nachos, over rice or another grain. Lots of options!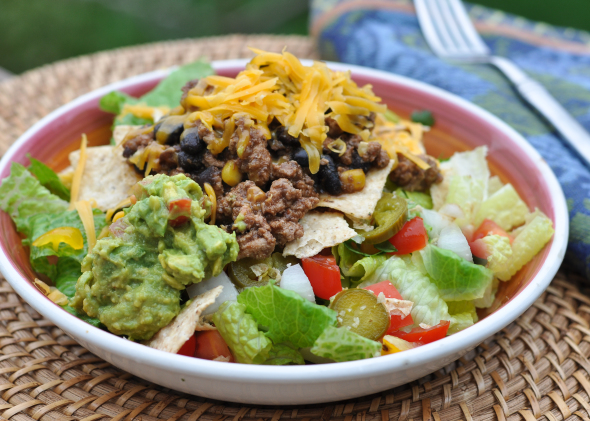 I found the next three slow cooker recipes online from Cooking Light which I might try next.
I love that the soup is literally has you dumping everything into the pot. I think I can adapt this one to my kid's likings.
this looks healthy and a great way to get in those veggies….
my kids love pesto so hoping they won't miss the meat in this one…..
So I'd love to hear it, tell me YOUR favorite slow cooker recipe.

Slow Cooker Turkey Taco Meat (and Taco Salad Recipe)
Ingredients
1 lb ground lean turkey
½ onion diced
½ teaspoon salt
1 Tablespoon chili powder
½ teaspoon cumin
¼ teaspoon garlic powder
¼ teaspoon black pepper
1½ cups black beans (or 1 (14 ounce) can drained)
½ cup frozen corn
1 (8 ounce) can tomato sauce with green chilies (I used Rotel brand)
For taco salad (use any or all of the following in desired amounts)
Romaine
Onion, diced
Tomatoes, diced
Bell peppers, diced
Cilantro, roughly chopped
Pickled jalapenos
Limes for dressing
Guacamole
Shredded cheddar cheese
Salsa
Sour cream
Tortilla Chips
Instructions
Heat a non-stick skillet on medium heat. Add a drizzle of olive oil or cooking spray, add diced onions and saute for a couple minutes. Add ground turkey and break up with a wooden spoon, add salt, chili powder, cumin, garlic powder and black pepper and cook for about 5-6 minutes or until turkey is has started to brown (it's ok if still a little pink).
Transfer to crock pot, add beans, corn and tomato sauce and stir to combine. Place lid on crock pot and cook on low for 5-6 hours. Use mixture for taco salad, nachos or tacos.
For taco salad, place chopped romaine, onions, diced tomatoes, diced bell peppers, chopped cilantro in a bowl and dress with fresh lime juice (and a drizzle of olive oil if desired). Add some tortilla chips on top of salad, spoon taco meat over chips, garnish with cheddar cheese, salsa, guacamole.