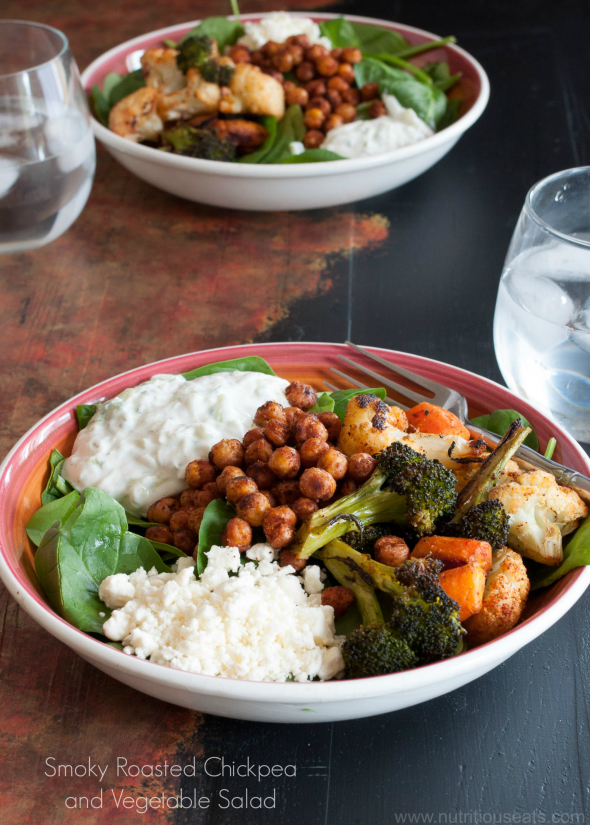 Hi friends, It's recipe redux day! This month's theme is bringing smoky/spicy flavors into our dishes.
"The New Year is heating up with smoke and spiciness. From boldly flavored smoked salts to actual smoking techniques, subtly smoked food is on-trend. The same can be said for spice as we savor heat from harissa, sriracha and smoked paprika. Show us the healthy dish you're heating up with smoke and/or spiciness."
I originally wanted to share a smoked chicken recipe that my hubby does in the smoker. It's my favorite BBQ chicken recipe. We just put a spice rub on and in the smoker it goes, but we didn't get a chance to do make it. One of these days I will get the recipe up, although I am not sure how many of you are interested in smoking meats.
Instead I made a hearty vegetarian salad loading with smoky, spicy flavors. When I think of smokey spices I immediately think of smoked paprika and chili powder. Those are some of the flavors that inspired this salad. Ok, here we go!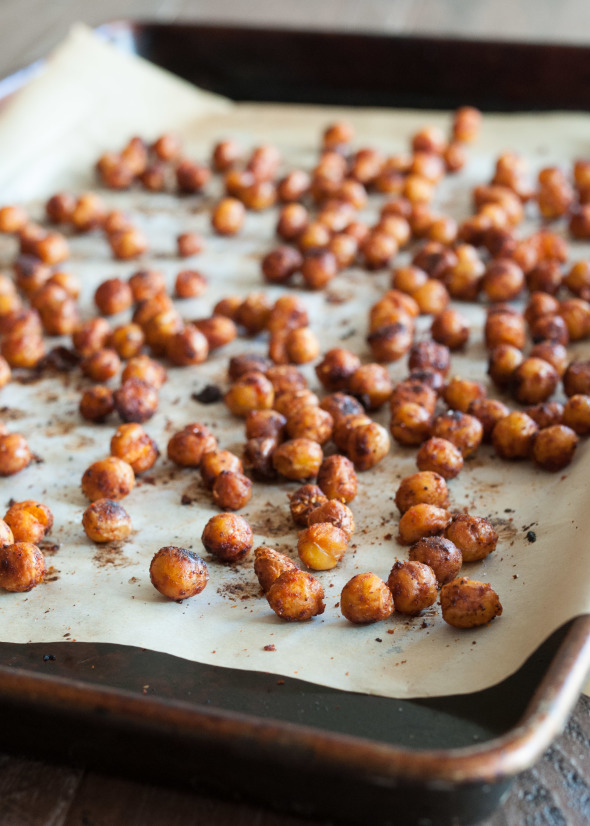 Roasted chickpeas. Have you tried them? They are kind of old news, but they are a fun and easy salad topper or high fiber snack! Just open a can of garbanzo beans, toss them in some oil and spices and roast until crunchy. They still have a little bite to them which makes them so yummy.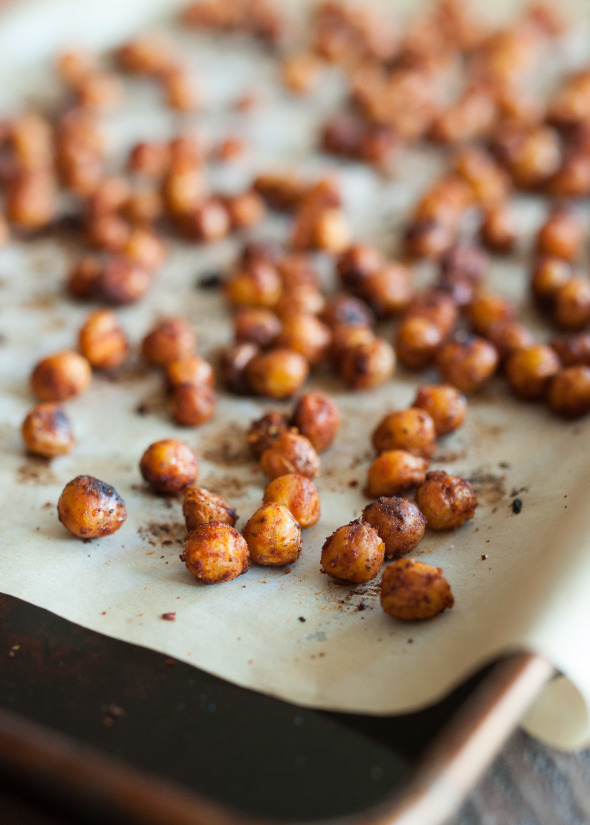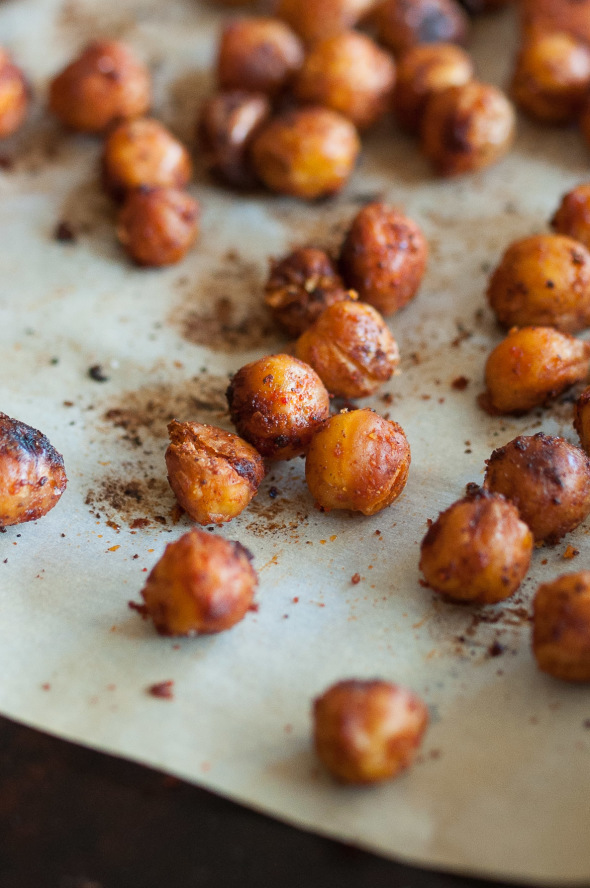 Since you've got the oven on you are going to want to roast your veggies! Broccoli, carrots and cauliflower are some of my favorites roasted, plus they are veggies that I almost always have on hand. I used the same spices as in the chickpeas = smoked paprika, chili powder and cayenne. Let me tell you something. I rarely add spices to my roasted vegetables, but these were SO GOOD.
Last thing you need to make, the tzatziki sauce which is going to act as your dressing. Don't you just love to say "tzatziki"? No? Ok, we can still be friends. Moving on. I immediately thought of this as a dressing when I opened the chickpeas because of falafel (chickpea patties). It just goes together, ya know?
This is a super healthy alternative to regular dressing which is high in fat and often high in sugar (and if store bought, high in a bunch of processed junk). The great thing is that the dressing can be make ahead of time. It will last you a few days so get that out of the way. Then the rest is just assembly!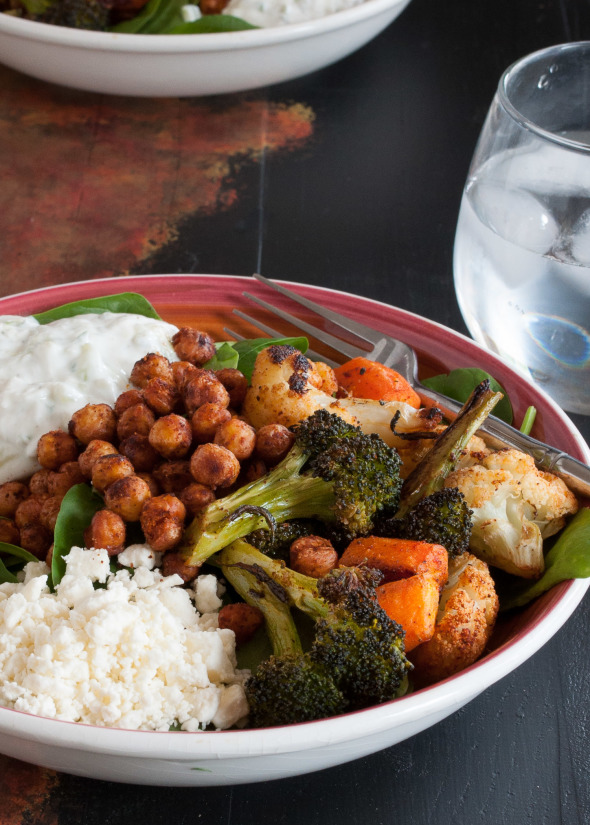 Spinach = a delicious healthy bed of antioxidants, fiber, Vitamin A, C and K.
The dressing= protein from the Greek yogurt, Vitamin C from the lemon juice, and tons of benefits from the garlic including anti-bacterial and and immune-system boosting properties
The roasted veg = fiber, antioxidants, Vit A, C, Folate
The chickpeas= more fiber and protein
The feta = pure yumminess and high in calcium
Ok so there you have it. This is a super healthy, filling, smokey and FLAVORFUL salad.
Smoky Roasted Chickpea and Vegetable Salad with Tzatziki Dressing
Author:
Melanie F. | Nutritious Eats
Ingredients
For the chickpeas:
1 can organic low sodium chickpeas (aka garbanzo beans), rinsed, drained and dried with a clean towel
1 Tablespoon olive oil
1 teaspoon smoked paprika
½ teaspoon chili powder
⅛ teaspoon cayenne pepper
¼ teaspoon salt
For the roasted vegetables:
~6 cups broccoli florets, cauliflower florets and carrot chunks
1½ Tablespoons olive oil
½ teaspoon smoked paprika
¼ teaspoon chili powder
⅛ teaspoon cayenne
salt and pepper
For the Tzatziki dressing:
1 cup plain Greek yogurt
½ English cucumber, shredded
1 garlic clove grated
1 Tablespoon fresh lemon juice
¼ teaspoon salt
¼ teaspoon dried dill
pinch of black pepper
For the salad assembly (amounts listed per salad):
Baby Spinach (about 2-3 cups per salad)
¼ cup feta crumbles
⅓ cup roasted chickpeas
1 cup roasted vegetables
Fresh lemon wedges
¼ cup Tzatziki dressing
Instructions
To make roasted chickpeas, preheat oven to 400 degrees. Line a cookie sheet with parchment paper. Mix spices together in a small bowl. Toss dried chickpeas with olive oil and spice mixture. Roast for 25-30 minutes, half way through using a spatula to move chickpeas around. Add a pinch more salt if needed. Let cool before enjoying.
On anther baking sheet, toss vegetables with olive oil and spices (smoked paprika, chili powder, cayenne, salt and pepper). Roast for ~25 minutes or until browned.
To make dressing, grate cucumber with a large grater. Add to a bowl. Sprinkle with ¼ teaspoon salt. Let it sit while you work on the dressing. Add yogurt to another bowl, stir in lemon juice, dill, grated garlic, pinch of black pepper. Drain cucumber, pressing down to make sure liquid is squeezed out. Add cucumber to the yogurt mixture, stir well and taste to adjust seasoning (it might need a pinch more salt or lemon juice) and store in the refrigerator (flavor gets better with time, but you can use immediately).
To assemble salad, place spinach leaves in a bowl. Squeeze with fresh lemon juice. Top with 1 cup of roasted vegetables, ⅓ cup of roasted chickpeas, ¼ cup feta, a big scoop of Tzatziki dressing (a heaping ¼ cup). Devour!
Notes
Because some of you will be using higher sodium canned beans, start of with ¼ teaspoon and add more at the end if needed.