I wanted to get one more recipe posted before Super Bowl Sunday. These sliders are fantastic. Flavorful, moist and a little different. I made them the same day that I made the black bean dip so I had the leftover chipotles in adobe sauce. I was inspired by the flavor profile of the black dip so I used cumin, chili powder and chipotles again and the two dishes compliment each other really well. The wheat germ adds a nuttiness plus gives you a boost of Vitamin E and Folic Acid.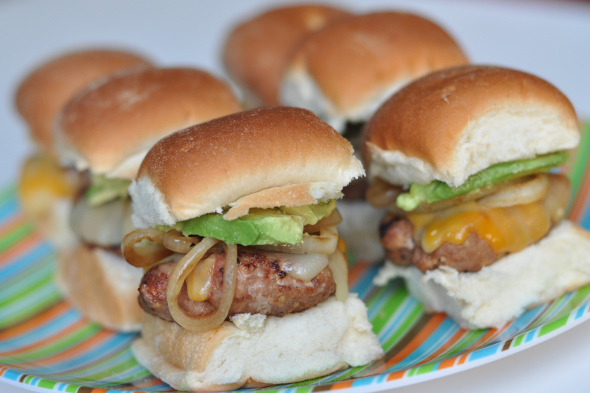 I like using lean ground turkey because it's lower in saturated fat than beef and is a great source of protein. Plus it has a nice mild flavor good for different add-ins and toppings. I love a good turkey burger on the grill, but since it is likely freezing cold where you are I don't expect that to happen…and I definitely won't rub it in that we were in the pool & grilling outside this week, but I can say that I will be in your wet, snowy shoes next year! Feel better now? Nevertheless, keep these burgers in your file for spring time grilling, otherwise you can just cook them on an indoor grill plan or skillet.
Of course I'd rather have these on whole wheat dinner rolls, but whole wheat bread products are hard to come by in Hawaii. They just seem to prefer white bread here. I felt guilty for an instant than quickly got over it after I tasted these fresh rolls from our local Love's bakery. See what you can find, but obviously the whole wheat rolls will be a healthier choice. Also, don't rule out this recipe if you are gluten-sensitive. Just serve the burger on a bed of lettuce or other gluten-free bread and sub ground oats for the wheat germ. You might be wondering what you'll use a big jar of wheat germ for anyway, but there are many options- sprinkle in your cereal/oatmeal, add to your homemade granola, add into baked goods. It is an excellent source of Vitamin E, Folic Acid and a good source of protein and and fiber.
These sliders are perfect party food because of their size, but you could certainly make 4 or 5 regular sized burgers instead. I am filing this with my week-night favorites!!! Enjoy and happy football watching!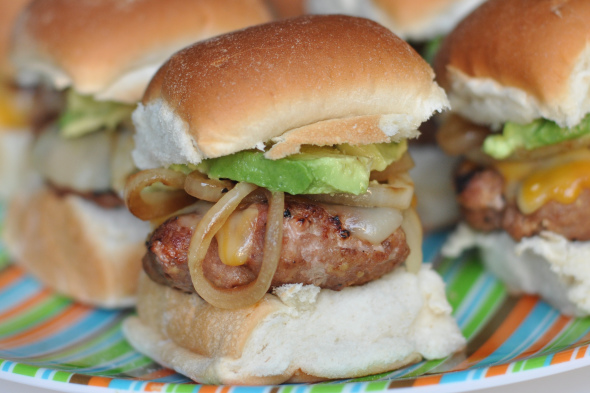 Southwestern Turkey Burger Sliders with Chipotle Ketchup
INGREDIENTS:
1 1/4 pound lean ground turkey
1/2 teaspoon cumin
1/2 teaspoon chili powder
1/4 teaspoon ground black pepper
3/4 teaspoon salt
1/4 cup wheat germ
1 Tablespoon grated onion, using the microplane (cut the rest of the onion into slices used for the grilled onions)
1/2 teaspoon chipotle in adobe sauce (from the can) or can use 1 chipotle pepper chopped if you like more heat
5 slices cheese pepper jack cheese (I used colby jack for the kids, cheddar would be great too)
10 Dinner rolls
1 large avocado, cut into slices
1 lime, cut into wedges
Grilled onions: cut 1 onion into rings. Heat small skillet on medium-high heat. Drizzle 1-2 teaspoons of olive oil into pan, add onions and cook for 5-8 minutes or until soften and starting to brown. Season with salt and pepper.  Set aside.
DIRECTIONS:
1. Follow directions above to make grilled onions.
2. Mix ground turkey and the next 7 ingredients (through chipotle pepper). Form into 10 small burgers. Grill outside on BBQ grill or inside on stovetop on medium high heat- 3 minutes per side or until cooked through. Place 1/2 slice of cheese over burgers during last 30 seconds.
3. Place burger onto dinner roll, top with grilled onions and sliced avocado. Drizzle avocado with a squirt of lime.
4. Serve with chipotle ketchup (1/2 cup ketchup mixed with 1 teaspoon chipotle in adobe sauce)
Yields: 10 mini burgers
Nutritious Eats: protein, Vitamin E, Vitamin C, Flavonoids, potassium, folic acid
Have a great weekend everyone!