This quick fix Spicy Thai Basil Chicken over Jasmine Rice can be ready in under 20 minutes and will satisfy your craving for Thai food!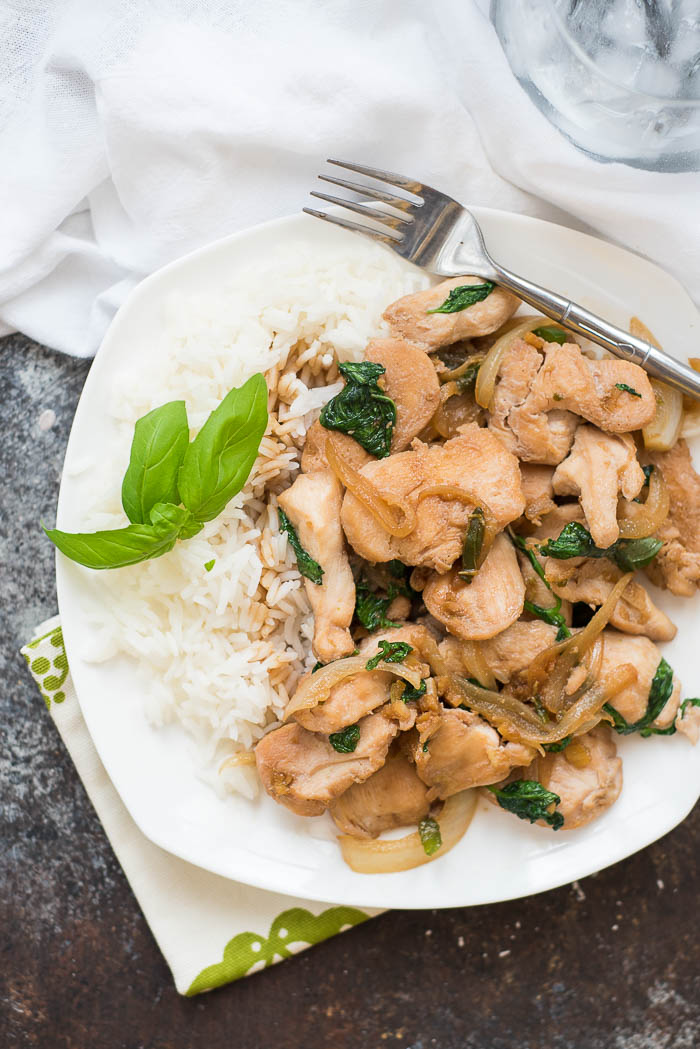 Do you love Asian flavors but are intimidated by them at home? I know the feeling! Every time I eat delicious Thai food I long to make it at home, but feel like I would never due justice to the amazing cuisine. I've always assumed the ingredient list would be too long and too time intensive.
However, when I walked through the produce aisle I saw a small basil plant (because I killed mine, shocker) and I immediately started craving Thai chicken and basil. I knew I could make something that tasted like Thai Basil Chicken without it being too complicated. All you need is 20 minutes….tops!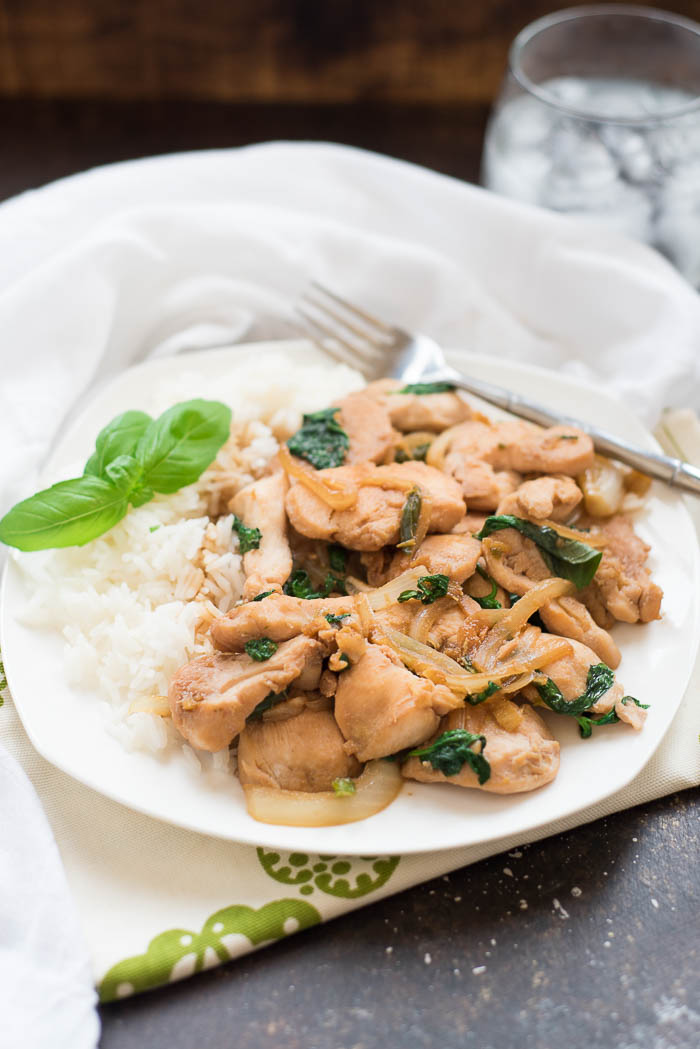 Since I am not an expert in Asian food, I just stuck with some of the basic flavors that you'll find- chili, fish sauce is the authentic Thai condiment. This really satisfied my craving and it was super simple and quick only using ingredients I had on hand.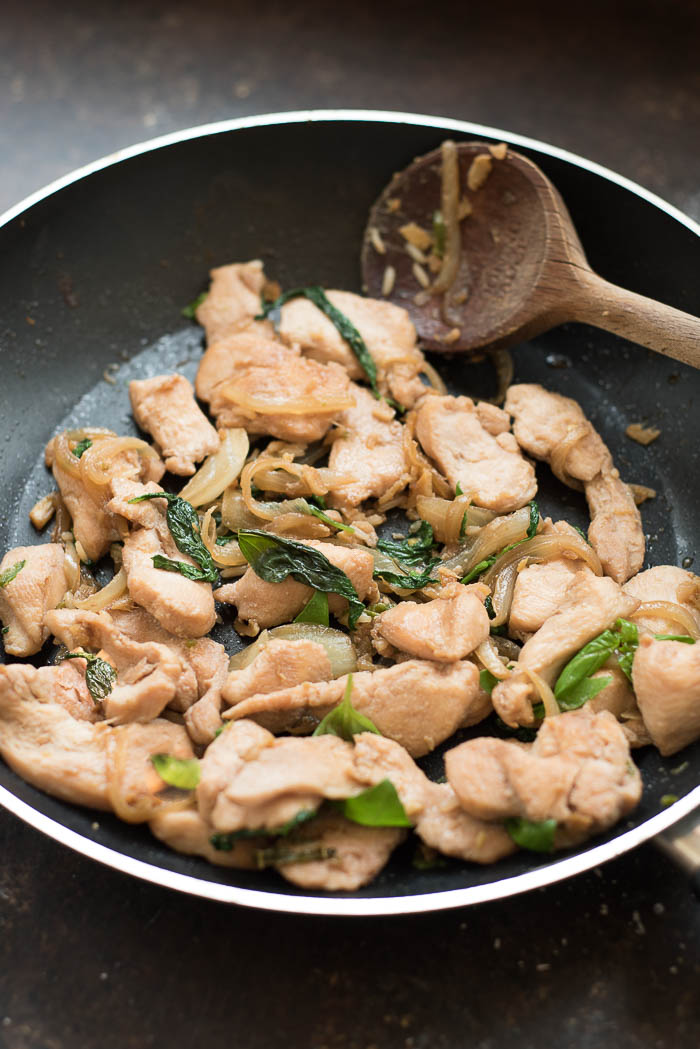 I wanted to keep the sodium as low as possible, which was challenging because fish sauce and soy sauce are both extremely high in sodium. Therefore, this dish doesn't have much of a sauce, yet it's still very flavorful.
A few words of wisdom, don't marinate this very long or it will only taste saltier and make sure to use the lower sodium soy sauce. Also, if you have a medical condition in which you must adhere to a low sodium diet, I do not recommend Asian cuisine or make sure to only have a very small portion and supplement your plate with some steamed veggies. Unfortunately the typical Asian ingredients are too high in sodium so when you see all of that delicious sauce, chances are it's loaded with salt.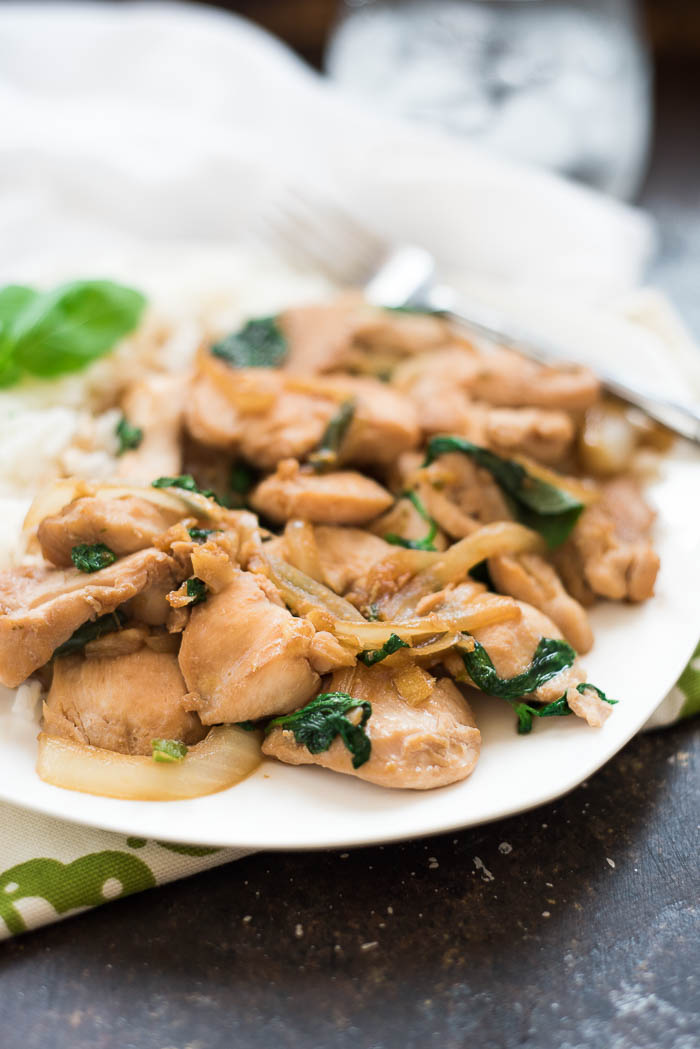 I know 2 cups of basil seems like a lot, but it wilts down. If you can get your hands on Thai basil, even better! So tell me…do you cook Asian food at home? What's your specialty?
Spicy Basil Chicken Over Jasmine Rice
Author:
Melanie F. | Nutritious Eats
Ingredients
1 pound chicken, cut into thin stripes
3 cloves garlic, thinly sliced
½ to 1 jalapeño or serrano pepper
½ tablespoon fish sauce
2 tablespoons lower sodium soy sauce (use gluten free if needed)
pinch of sugar
1½ teaspoon sesame oil
½ small onion, thinly sliced vertically
1 tablespoon minced fresh ginger
2-3 tablespoons water
2 cups Thai basil leaves (can sub with regular basil)
Instructions
In a large zip lock bag add chicken, garlic, jalapeño, fish sauce, soy sauce and pinch of sugar. Seal closed and let marinate for ~10-15 minutes while you prepare the rest of the dish. Cook some Jasmine rice according to package instructions.
Heat a wok or nonstick skillet over medium high heat. Add sesame oil. Add onions, ginger, then add the entire contents of the bag including the liquid. Stir fry for ~8 minutes or until chicken is cooked through. Add water, stir, remove from heat. Serve immediately with rice.
Notes
Omit the pepper if you don't like spicy.