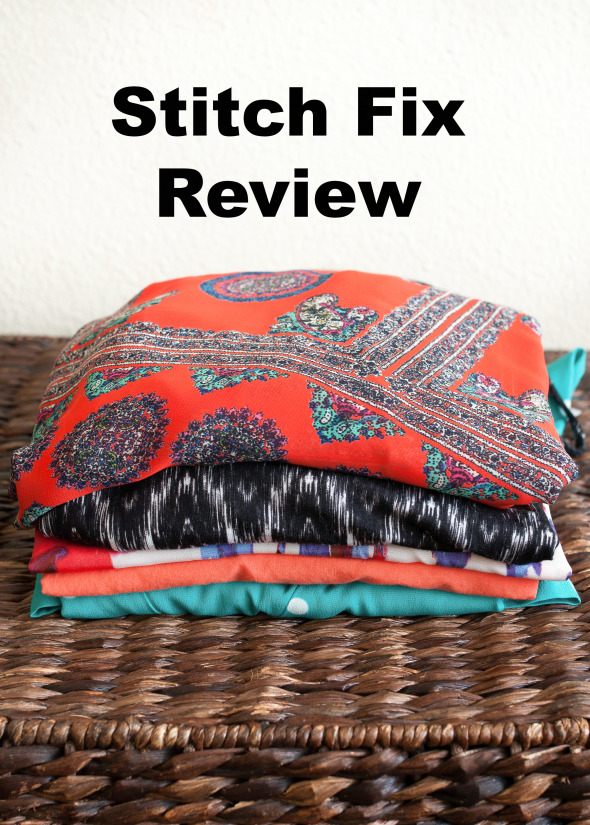 Hello friends! Today I am sharing  another Stitch Fix Review. I have been getting boxes every month and am finally caught up on sharing. Here is the one I received the beginning of this month.
And if you need the lowdown on Stitch Fix here it is: Stitch Fix is subscription box service where a personal stylist hand picks 5 items for you based on your style profile- check it out HERE. You get to try the clothes on in the comfort of your own home, without having to shop, order or think about it. Then you decide whether you want to purchase any of the items sent. You pay a $20 styling fee for the service, but it it applied to your purchase. If you don't like anything, you send the clothes back in the prepaid shipping bag they include, but you will lose that styling fee. There is no commitment so you can try it once or whenever you need some new clothes or you set up recurring boxes like I've done.
Ok, let's get to my box!
Brixon Ivy Priya Abstract Floral Print Knit Back Tank
I loved this top from the moment I saw it. The pattern and colors were exactly what I was hoping for. The fit was fine, a little loose, but cute on. The only negative for me is that the front was a thin polyester and the shirt was dry clean only. And what I want you to realize is that I am the world's worst clothes washer. I get dirty often due to my little kids and the frequent cooking I do. Unfortunately when it comes time to wash, I never remember to sort through my stuff and it all gets dumped in the washer and inevitably makes it way accidentally to the dryer (even though I try to air dry all my nice clothes). I realize some people have fancy washing machines that can handle delicate washing dry cleaning only stuff, but we have an ancient machine that only has owe working setting. My stylist, whom I LOVE, recommended pairing this with my Mystree jacket from a previous fix. She was right on. How cute does this look? I will probably regret it, but I reluctantly I sent this one back.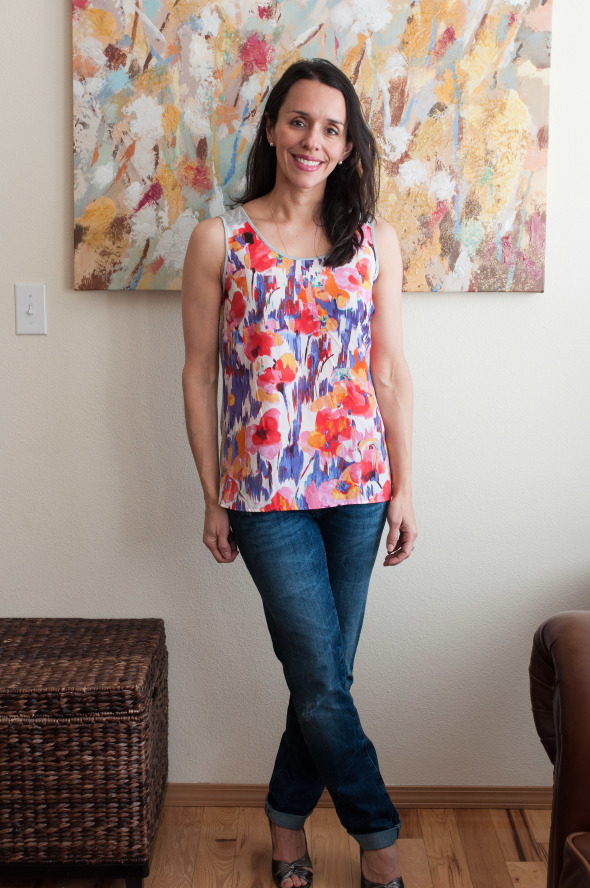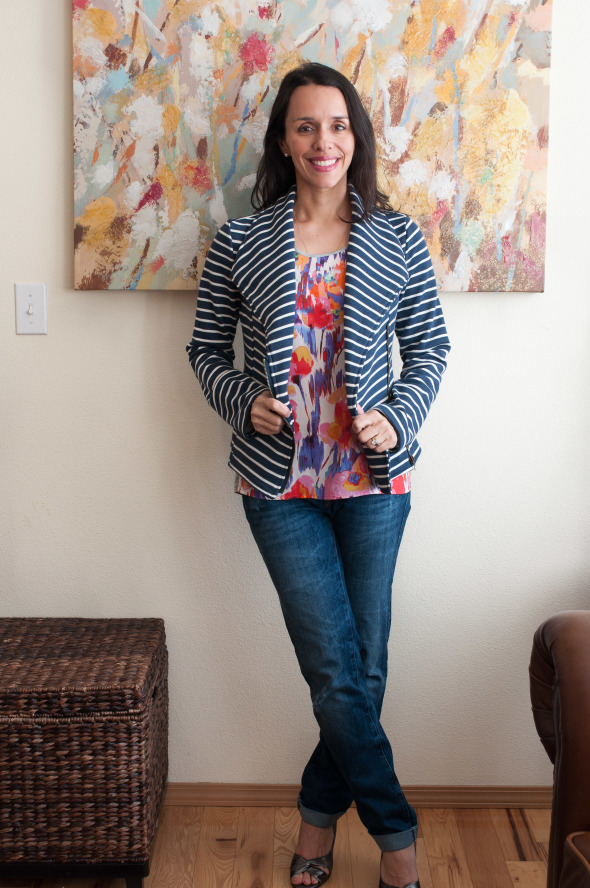 Status: Returned
Skies are Blue Medan Scalloped Crochet Top
I loved the looks of this out of the box- the fun coral/orange color and the crochet detail. Unfortunately it was huge. It doesn't huge in this first pic, but if I put my arms out if just looked so baggy. I think it fit more like a medium, not an extra small! It also looked adorable under the Mystree striped jacket. Sad that it didn't work out but my stylist was right on by sending this.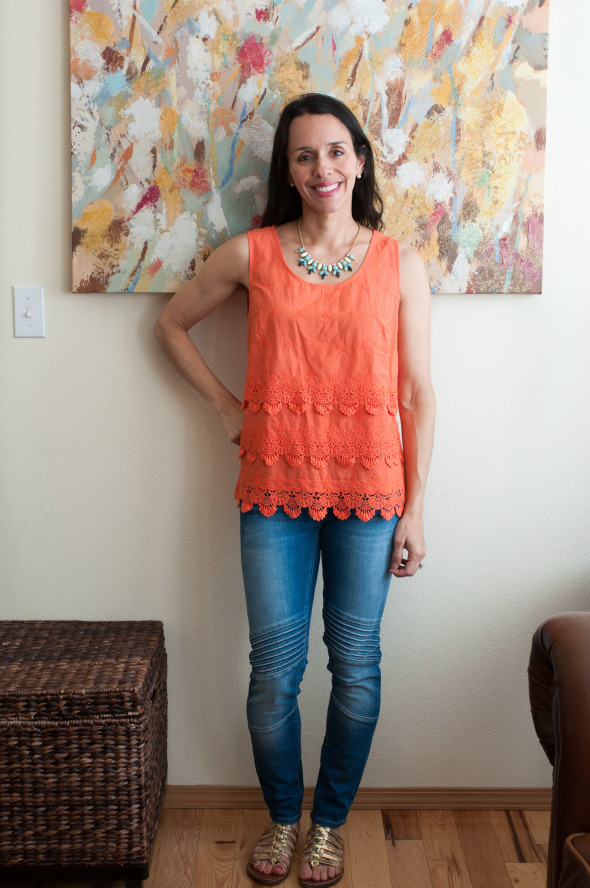 See! Just too wide.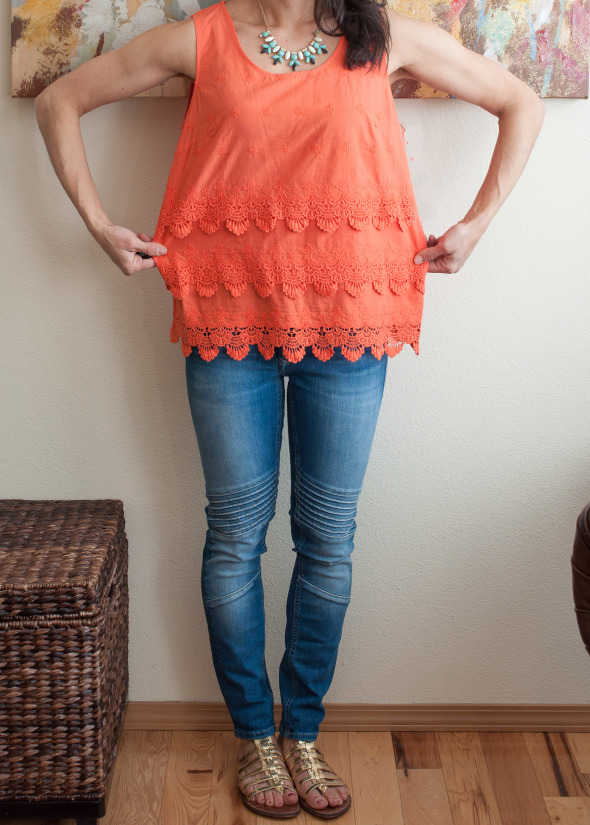 I could be pregnant wearing it!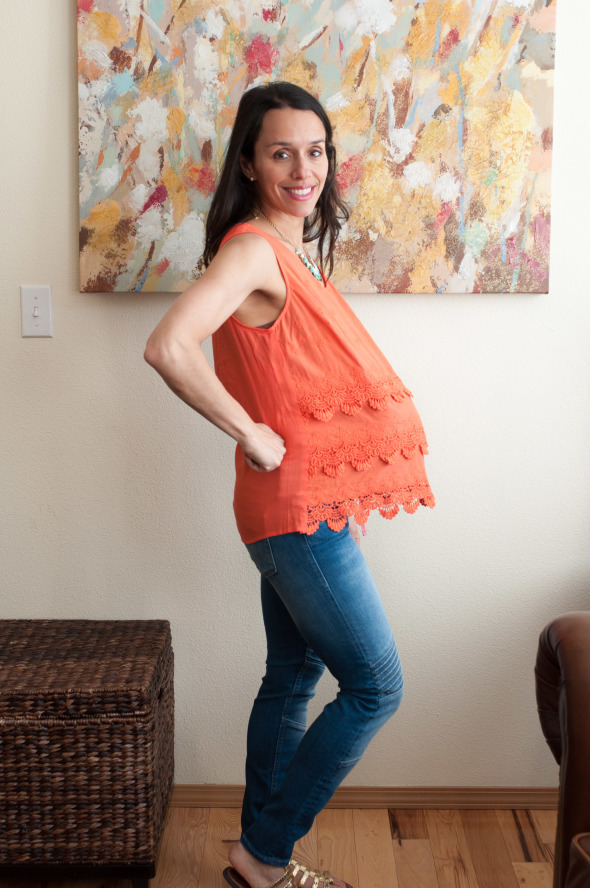 But also so cute with this jacket! Darn… if only it had a better shape to it.
Now I am regretting it. Wonder if it comes in XXS? I promise I am not that small, it's just a wide shirt.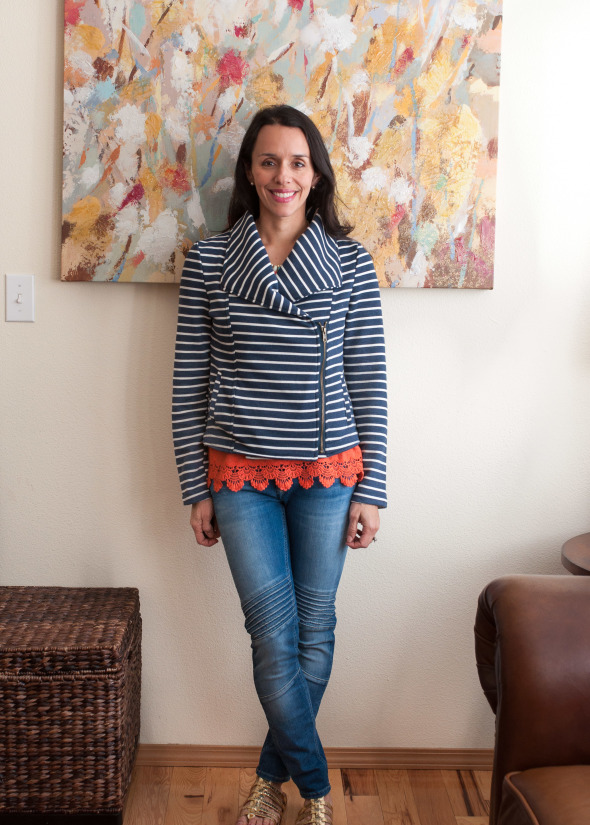 Status: Returned
Papermoon Mauna Kimono
Again, this color and pattern totally intrigued me upon opening the box. So pretty I thought! My stylist suggested pairing it with jeans and a tee. It really is a fun piece, unfortunately the fit was just a little too big and I felt like it wasn't something that I would probably grab for very often. I am trying to only keep things I will wear a ton.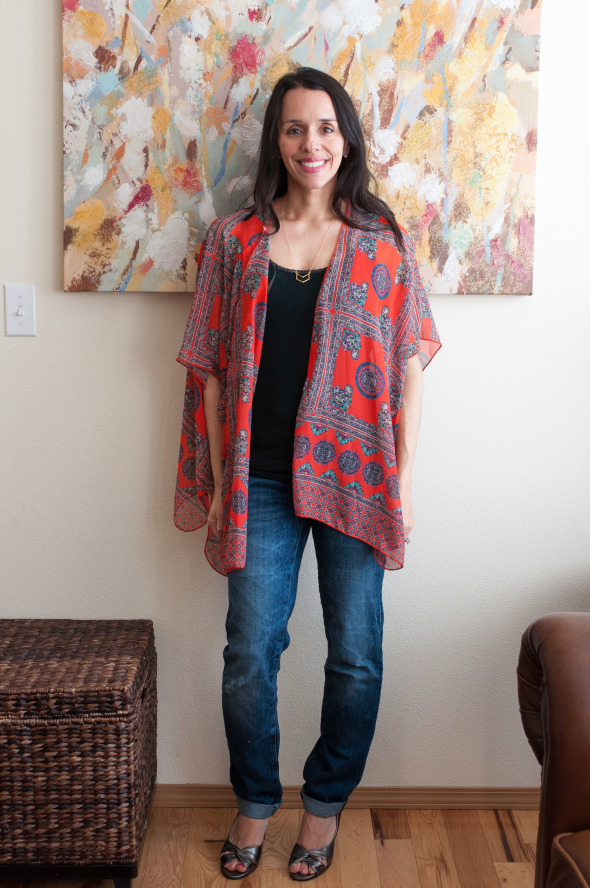 I tried belting it, but it looks like I have no waist. Maybe I should've buckled up tighter?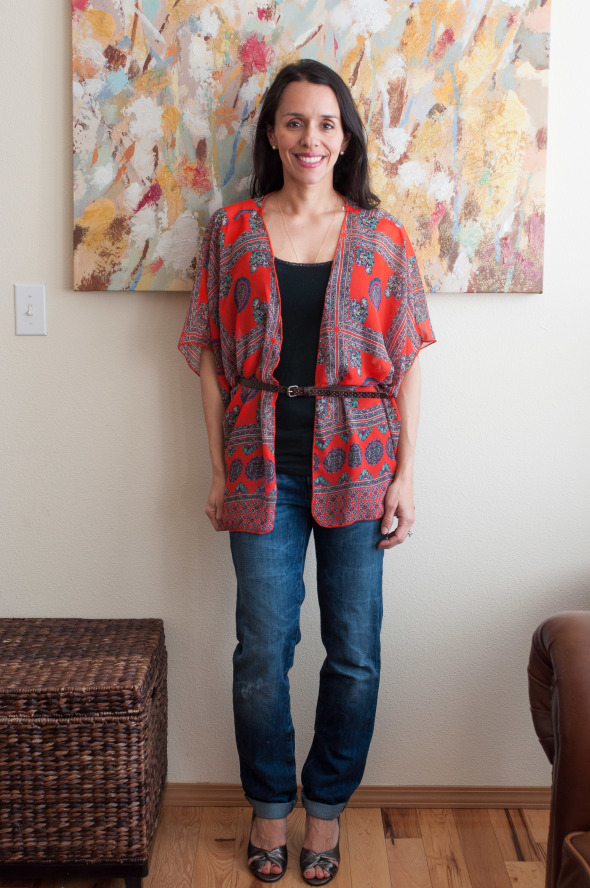 Status: Returned
Yumi Stelle Polka Dot Dress
Ok ready for a good laugh? I feel ridiculous in this dress. And to my stylist who might be reading this, don't feel bad! I do love polka dots and the color is fun, but I just felt like I was trying on my 6 year old's dress. And I know I didn't do any justice to this dress by my lack of styling, but the baby was sleeping in our room so I couldn't go fishing for accessories. Apart from the fact that I felt like a little girl, the dress was too retro for me and the fit was too small and material 100% polyester which I don't love.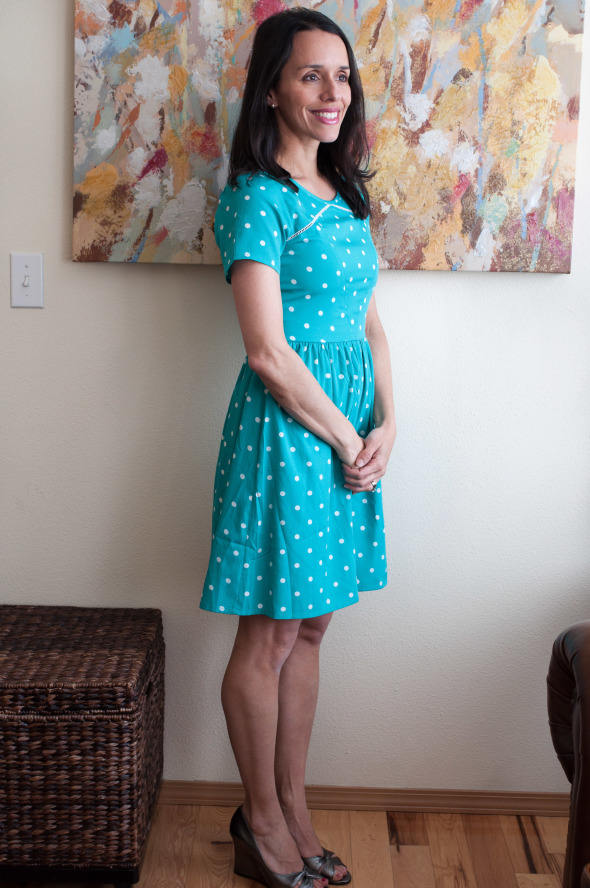 Status: Returned
Papermoon Waters Maxi Dress
I pinned this one to my Pinterest board, which my stylist looks at- how cool! I totally forget I even pinned it so was pleasantly surprised to see it. I asked for a Maxi dress and preferably one that wasn't crazy long. This one was actually borderline short, at 5'3" if it shrinks any I might be worried and I'll have to wear flats with it instead of wedges, but I love the fit and I actually don't own any long black dresses. Another bonus, it's super comfy.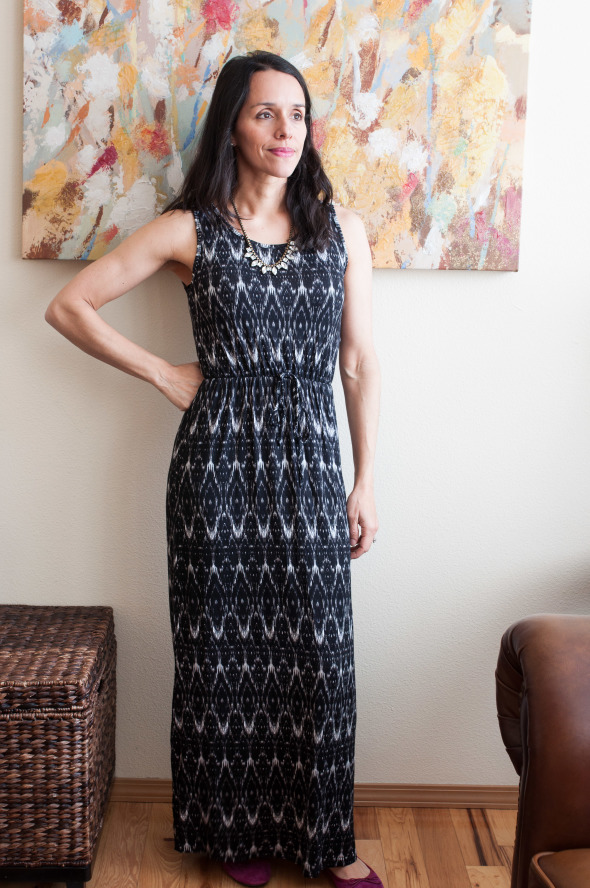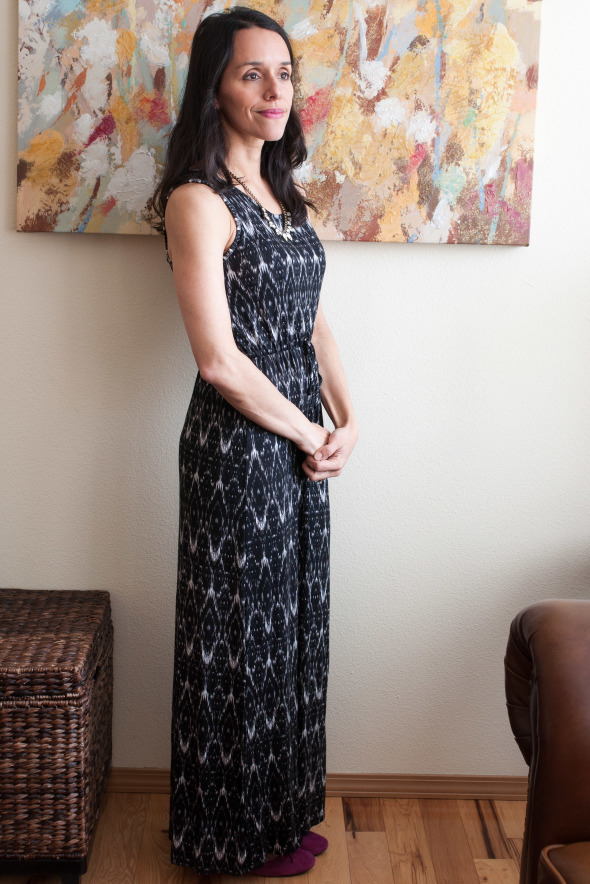 Status: Kept
so that is 1/5 for this box which is totally fine! I really wanted a maxi dress so was glad that is the one piece that worked out.
Mother's day is coming up friends, now is the time to treat yourself if you haven't already tried Stitch Fix! As always, I look forward to my next box!
Disclaimer: This is not a sponsored post, I simply love the service. This post does include affiliate links so if you subscribe under my link I get a referral credit! Same amount as you would if you pass along your referral link.