Today I made stuffed mushrooms for no good reason at all. This dish is perfect as an appetizer for all of the Holiday parties we have planned over the next couple months (ok I don't actually have any planned, but I am sure you do). So when you volunteer to bring a dish, bring these. They are easy to make, taste delicious and are "fancy".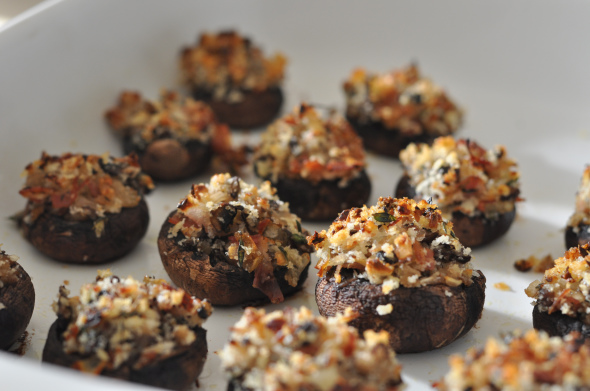 I love making appetizers using vegetables (ignore the fact that mushrooms are actually fungi…..we still treat them like veggies). Vegetables just aren't as popular as the meats and cheese, crackers and spreads, but we can all use the extra help getting our vegetable servings in over the Holidays.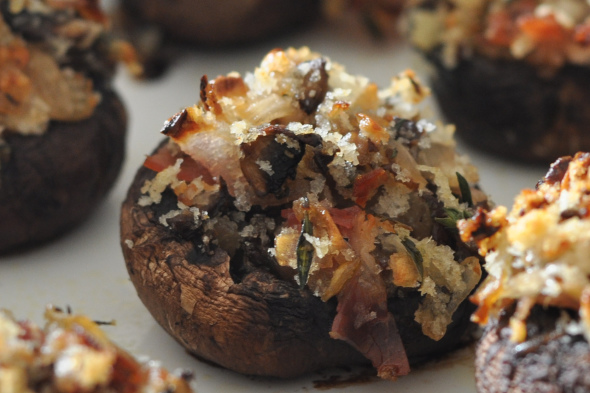 Some people think mushrooms don't have much nutritional value…since they fall into that "white" category I think people think they are void of nutrition. On the contrary, they contain a powerful antioxidant that has been studied and proven to have an anti-cancer effect. They are low in fat, cholesterol and carbohydrates and are a very good source of minerals such as selenium, Phosphorus, Potassium, Copper and B vitamins (riboflavin, niacin and Pantothenic Acid).
Another benefit of having mushrooms as the appetizer, like most veggies they are super low in calories. Each mushroom has about 5 calories (without the filling). Not a bad base! Since you can only fit about 1-2 teaspoons of filling in each mushroom, plus the drizzle of olive oil, the calories on this appetizer are not too bad!
Here is how to make them:
Dice up your pancetta, shallots and thyme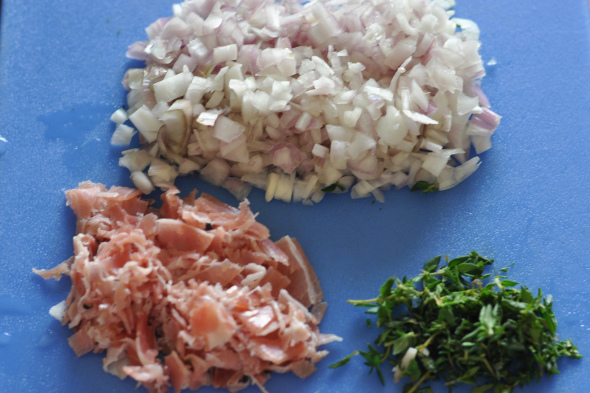 then clean your mushrooms. Mushrooms are very porous so don't drench them in water to clean them, otherwise they will absorb too much liquid and get soggy. Instead just take a damp kitchen towel or paper towel and clean each individual mushroom. Cut the very bottom of the stem and throw it out. Remove the remaining stem put into a pile to dice.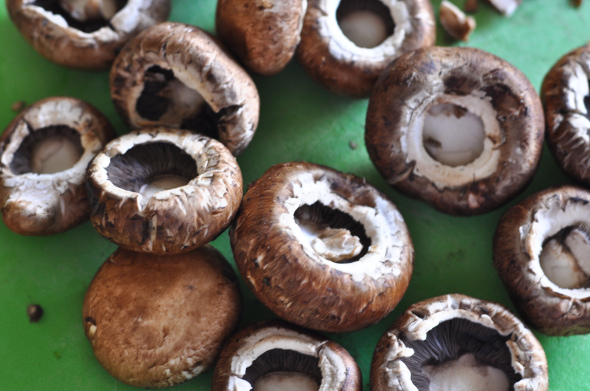 Diced stems, plus a few of the whole mushrooms diced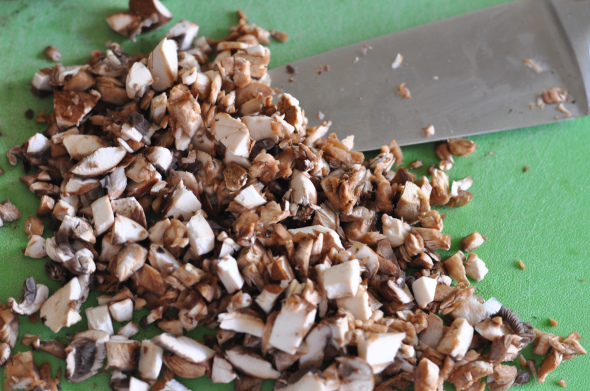 Saute the shallots, thyme and pancetta with the mushroom stems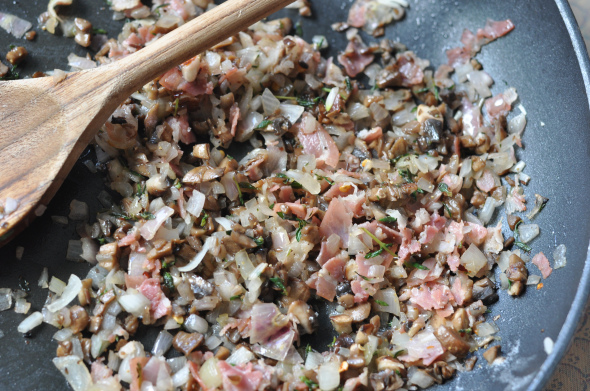 You will add this yummy mixture to the panko and parmesan cheese
Then you'll stuff them, drizzle with olive oil and bake them!
Before going in the oven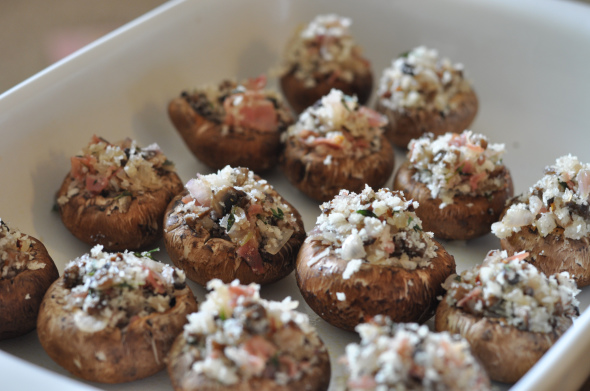 Right after they come out of the oven……so good!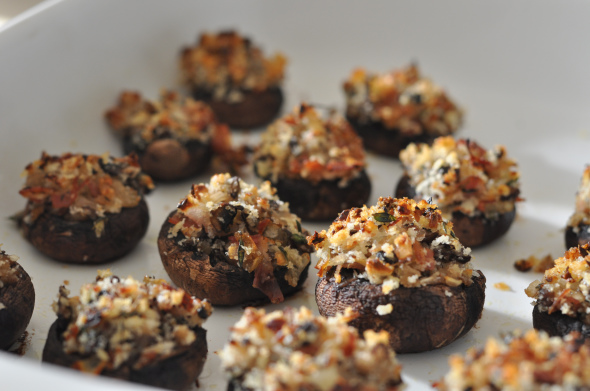 I did have an original recipe but this is what I did different: added less butter, less oil, less salt (they had you salting around every step and it just wasn't necessary). I also changed the breadcrumbs to panko and the sage to thyme. I had the sage on hand, it just wasn't speaking to me. The thyme was definitely speaking to me. Feel free to omit the pancetta if you want to make them vegetarian.
Here is the printable recipe with a few more details on how to make these. I only made half of this recipe since it was just for my family and another couple.
And I have a secret….you don't have to go to a party to make these! Sometimes a fun appetizer is what we need to spice up a simple dinner.
Recipe adapted from Fine Cooking
INGREDIENTS
1 1/2 lb cremini mushrooms (~ 35 mushrooms)
4 shallots, diced
6 slices or 1 1/2 ounce of pancetta, diced
1 1/2 Tablespoons thyme, chopped
2/3 cup panko bread crumbs
1/4 cup grated Parmigiano-Reggiano
1 1/2 Tablespoons butter
1/2 teaspoon salt
2 Tablespoons extra-virgin olive oil for drizzling
DIRECTIONS
1. Heat oven to 425 degrees. Prepare a baking dish by spraying it with cooking spray.
2. Dice up the shallots, pancetta and thyme
3. Clean mushrooms using a damp cloth; cut off the very bottom off of stem and discard. Remove the mushroom stems, dice them up along with four of the cleaned mushrooms.
4. Heat a skillet to medium high heat, add 1 1/2 Tablespoon butter. Add pancetta and cook for 2 minutes or so. Add shallots and thyme. Cook for additional 4 minutes. Add diced mushroom stems, 1/2 teaspoon of salt and continue to cook for a few minutes until tender.
5. Transfer the the mushroom mixture to a large mixing bowl and add the panko bread crumbs and parmesan cheese.
6. Stuff the mushrooms with approximately 2 teaspoons of filling. Use the spoon to fill the cavity then use your fingers to pack it in and spoon another mound of filling on top. Place mushrooms in prepared baking dish.
7. Drizzle with olive oil and bake at 425 degrees for ~ 20 to 25 minutes or until breadcrumbs are golden and mushrooms are tender. Serve warm. Yields approximately 30 hors d'oeuvres.
My oven runs very hot so I had to turn it down to 400 the last few minutes. Make sure to check before the 20 minute mark so they don't burn!
NOTE: The mushrooms can be stuffed and refrigerated a day ahead.  Let them come to room temperature before baking and hold off on drizzling with the oil until ready to bake.
Do you have a favorite Holiday appetizer that you'd like to lighten up?