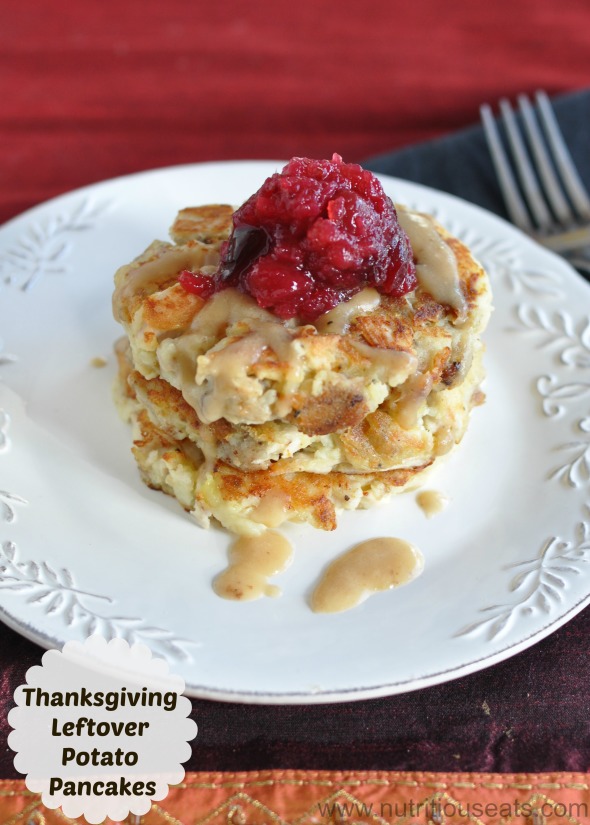 Hi friends! Just stopping by quickly to wish you all a Happy Thanksgiving! I hope you have a relaxing long weekend (hopefully most of you don't have to work) and eat lots of yummy food. I also wanted to share a recipe that you can use with your leftovers on Friday. Great for breakfast, lunch or dinner- Thanksgiving Leftover Potato Pancakes!
I was lucky to have my mom visit from Texas last week for a quick visit. I wasn't sure if the kids and I would have plans for Thanksgiving (turns out we do), but she offered to help me cook Thanksgiving dinner. We figured if we stuck to the basics it wouldn't be too difficult. It was so fun to enjoy Thanksgiving with mom and the kids and be able to stock the freezer with some leftovers. Before I did that though I had to try something. I saw this somewhere, I can't for the life of me find the actual recipe I saw, but it was something along the lines of this- I remember that it was all equal parts and that there was an egg involved. I also remember it being a short ingredient list so I think it's pretty close.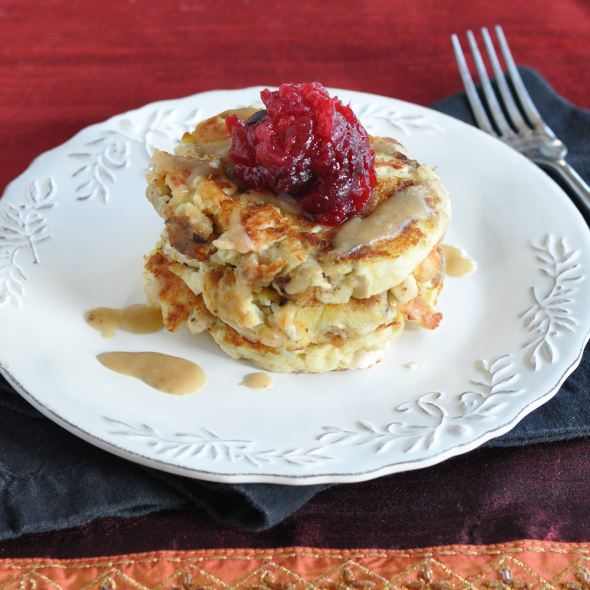 Basically you take 1 cup turkey, 1 cup stuffing and 1 cup mashed potatoes, mix it all together and form a patty. Cook it up on the griddle like a pancake and there you have it!
I love this for so many reasons. It can be done with any 3 leftover sides really so your patties will be a little different than mine. I am thinking it would be awesome with leftover mashed sweet potatoes. Of course if you don't eat turkey you could leave that out and throw in one of the vegetable sides, but you probably need to keep around some sort of mashed potato in the mixture to help it stick together and the stuffing also is a good binder.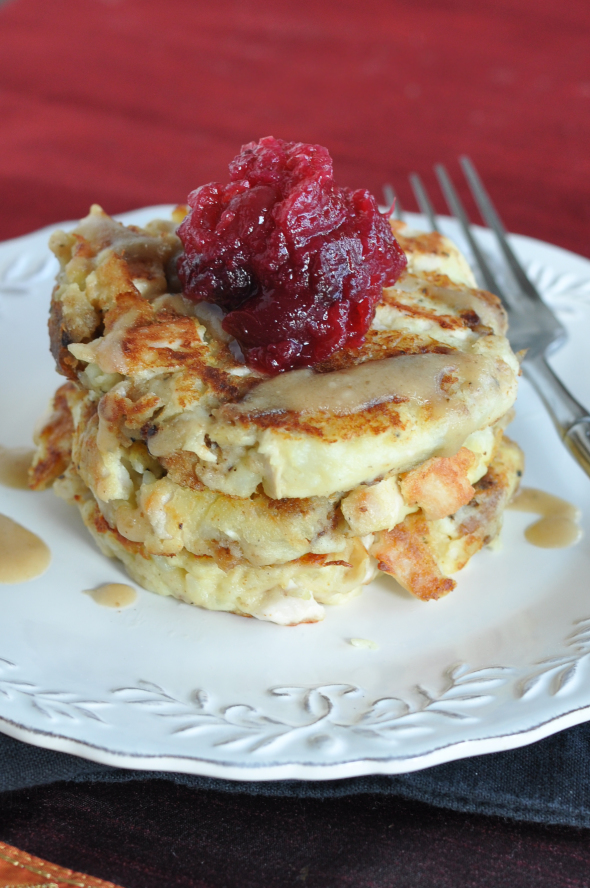 It basically tasted like Thanksgiving dinner all rolled up into one bite.
I ate it with leftover fresh cranberry sauce and a little warmed gravy. I am thinking the sweet potato version would be good with a little pure maple syrup- sweet n savory. That's it- let me know if you try it!
Enjoy and Happy Thanksgiving! P.S. I will be taking Friday off from blogging but I'll see you back here on Monday!
Thanksgiving Leftover Potato Pancakes
Ingredients
1 cup diced turkey
1 cup stuffing
1 cup mashed potatoes (or sweet potatoes)
1 egg, lightly beaten
black pepper
2 Tablespoons oil of choice (I used half olive oil, half coconut oil)
Instructions
In a medium size bowl, combine diced turkey, stuffing and mashed potatoes. Stir in 1 beaten egg, and a pinch of black pepper. Stir well to combine. In a large skillet, heat 1 Tablespoon of oil on medium heat. Using a ½ cup measuring cup, scoop out some of the mixture and drop into the skillet, using the back of the measuring cup or your hands to gently press it down into a circle.
Cook 3 patties at a time for ~3 minutes or until golden brown on the underside, flip and cook an additional ~3 minutes. Repeat with remaining oil and patties. Serve with warmed gravy or leftover cranberry sauce.
Notes
This recipe was intended for Thanksgiving leftovers but could do anytime of the year with roast chicken.
Questions: How do you enjoy your Thanksgiving leftovers? What are you Thanksgiving plans? Are you shopping Black Friday?!