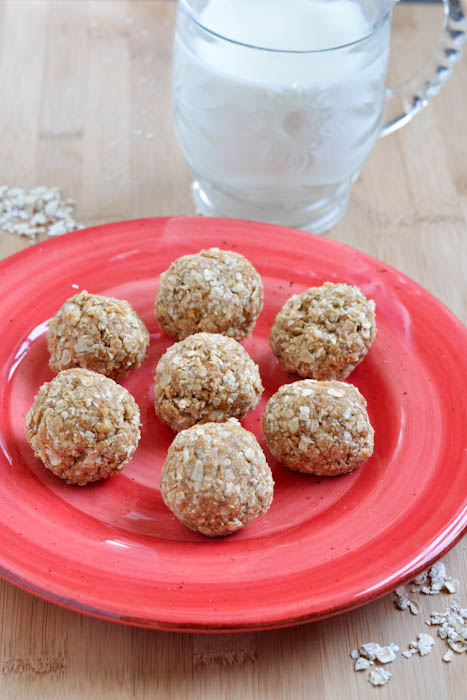 When I followed the vegan diet for a week I was craving sweets in a bad way. I mean, I am pregnant and I need chocolate. However, I was good and avoided pretty much anything sweet until day 6 when I couldn't take it anymore. I stared into our pantry hoping that something animal-free would jump out at me for dessert.  I came up with these treats and I'm hooked….and they aren't really that sweet with the only added sweetener being 1/4 cup syrup per batch, you can definitely feel good about eating these or giving them to your kids as snacks.
5 simple ingredients including some vegan basics- oatmeal and peanut butter. I will be making these on a weekly basis for a healthy treat for me and the kids…oh and of course my peanut butter-loving husband. LOVE them. Surprisingly one treat is very satisfying. Especially with a cup of soy milk. Yum.
There is another treat I make similar to these (more of a dessert though) that uses rolled oats, however the quick cooking oats work best with this one. They combine well with the peanut butter creating a "peanut butter cookie" flavor. Best part- NO BAKING required!!
Enjoy these simple oatmeal peanut butter balls for a quick satisfying snack!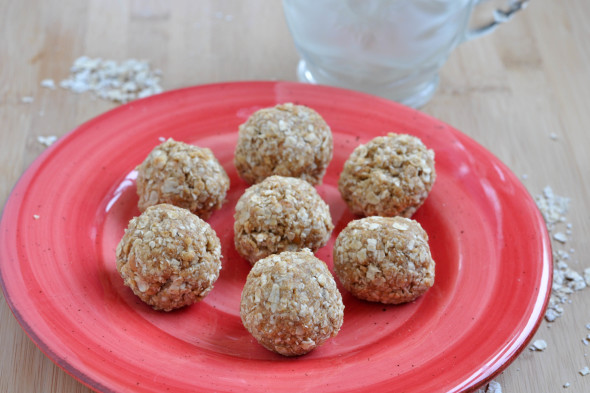 Oatmeal Peanut Butter Balls
Ingredients
⅔ cup peanut butter (I use ⅓ cup creamy and ⅓ cup chunky)
1 cup quick cooking oats, uncooked
¼ cup pure maple syrup
2 full graham crackers, finely crushed
½ teaspoon vanilla extract
Instructions
Combine all ingredients in a medium sized bowl. Stir well with a spoon. Once mixture starts coming together, use your hands to work the mixture until it's all combined (it helps to spray hands with cooking spray first because it is sticky).
Divide peanut butter mixture with your hands into four equal sections (you will make 3 balls out of each section). Spoon out a heaping Tablespoon and roll in hands to form a 1½" ball (use more cooking spray on hands if mixture is too sticky). Place all peanut butter balls on a plate, cover and refrigerate for a couple hours. Store in refrigerator.
Notes
Feel free to cut recipe in half if you just want a few in the house. It doesn't really matter whether you use creamy or chunky pb, but if I had to pick one, I do think the chunky gives it a better texture.
Question: Do you have a favorite no-bake treat?