A healthy make-over of a favorite classic, you can enjoy this Vegan Pasta Alfredo guilt free!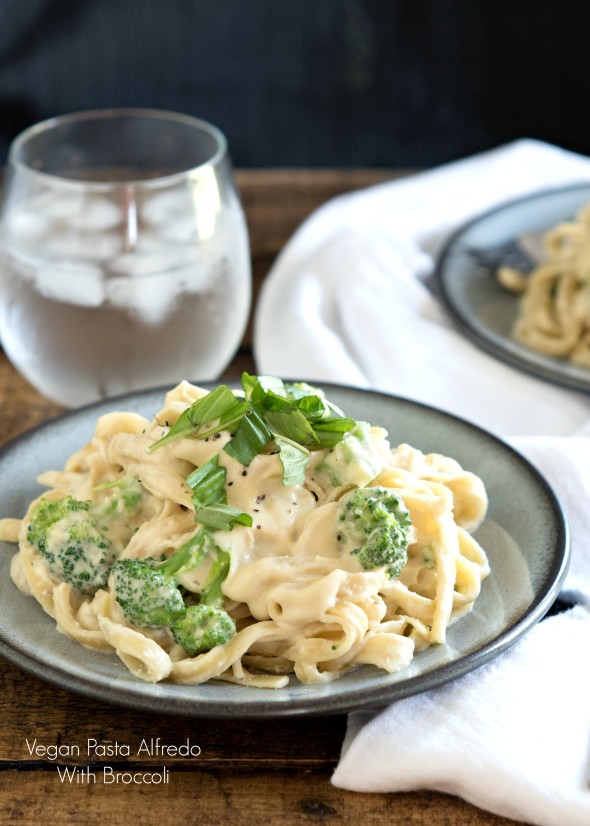 Disclosure: I was asked to participate in the #PastaFits campaign as a member of the Healthy Aperture Blogger Network. I was compensated for my time.
Did you hear, it's National Pasta Month!! Don't shy away from one of America's favorite foods. It can be the perfect foundation for a nutritious and satisfying meal if you pair it with other nutrient-dense foods.
One of my very favorite pasta dishes is Fettuccine Alfredo, but we all know what a calorie and fat bomb it is when it's prepared the original way.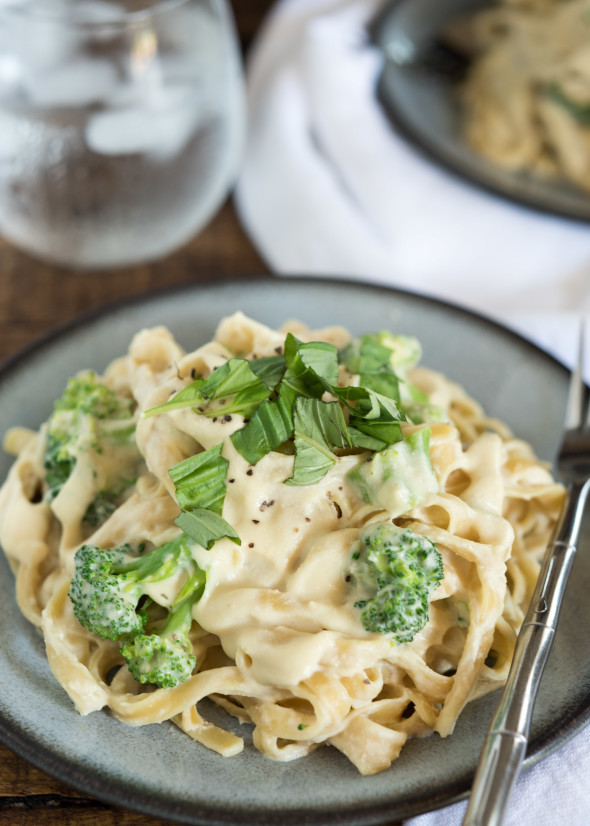 When I was younger and could withstand the extra calories, I would make sure I or someone else at the dinner table ordered the alfredo if we were dining out. Cheese, butter, cream…what's not to like? Then I reached an age where I knew there were better choices I could be making.
Now when I eat pasta, I pair it with fiber-filled beans or veggies, heart healthy fish and oils, lean meats or antioxidant-rich tomato sauce. It's a part of our dinner rotation because it provides us with sustained energy, the crucial fuel for our brain and muscles. However, I am a little more choosey about what I pair it.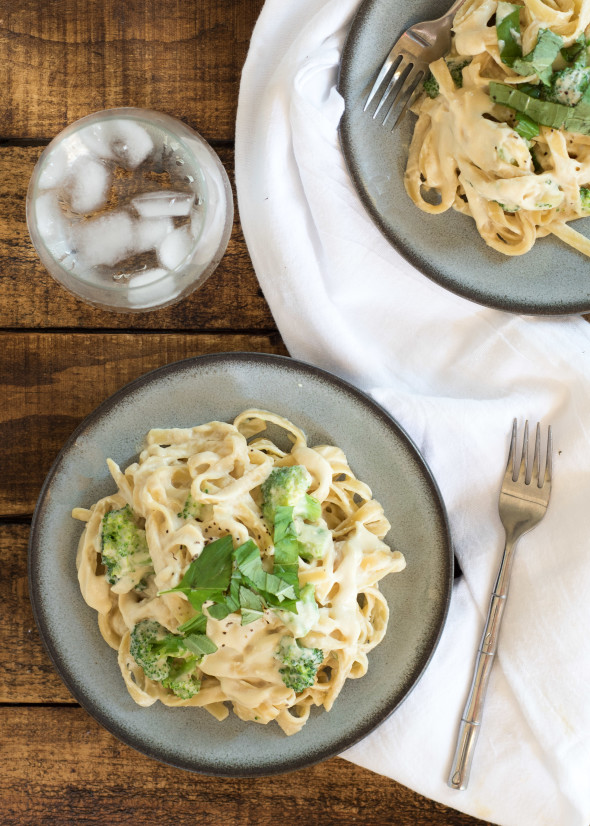 I made several lightened up Alfredo sauce dishes, but I wanted to create something for the vegan or dairy-free folks out there. I adore cheese, but if I couldn't eat it I would definitely try my best to find a substitute. Last time I experimented with cashews and pasta it was a huge success. Ever since then I've wanted to make a vegan pasta alfredo sauce, but I'll be honest, it took a few tries until the sauce came together properly.
I knew I wanted to combine those two staple vegan ingredients, cashews and cauliflower, but it was all about finding the right balance. Truth be told, it's hard to replicate a cheese sauce without using cheese. I added nutritional yeast which has a cheese-like flavor, but overall this sauce has a flavor of it's own.
It definitely mimics the flavor and mouthfeel of alfredo. Seriously, the amazing texture of this sauce will have you in disbelief that it came from a a vegetable like cauliflower. And another cool thing is that it comes together in no time- basically you can get the sauce done by the time it takes you to boil and cook the pasta. Plus there is no dealing with flour or creating a roux. It's basically a foolproof sauce.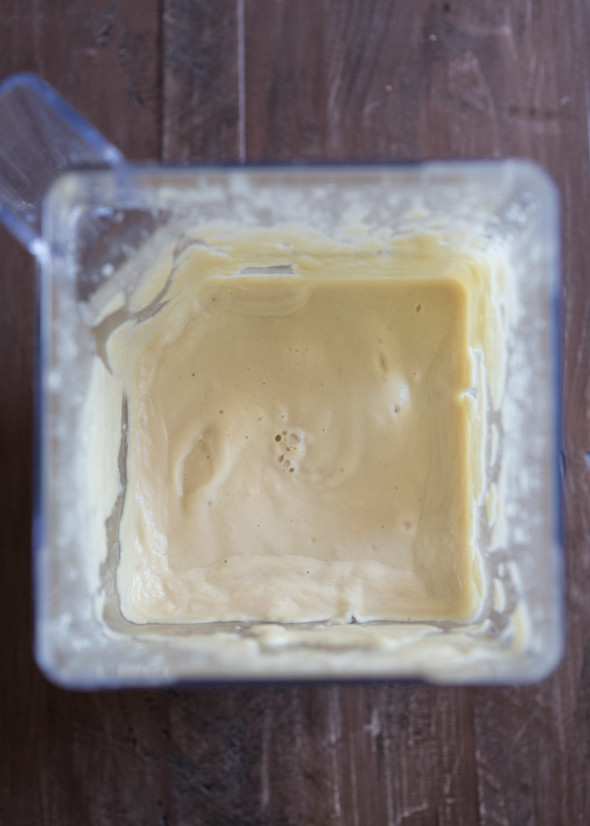 Adding the broccoli in at the end of the boiling pasta, just adds another boost of nutrition and gives you some extra fiber, calcium and a little protein, on top of the folic acid and B vitamins in the pasta (and bonus for using whole wheat).
Sometimes you don't mind splurging, but other times you really need a lightened up version of an an old classic and that's when you need a recipe like this one. You will not feel guilty about eating this dish!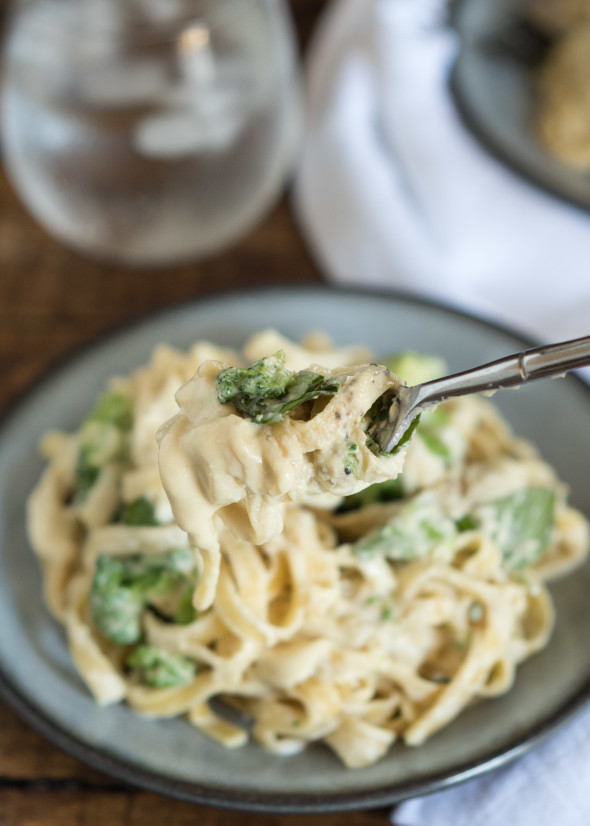 For more great pasta dishes, check out the Pasta Fits website. 
Vegan Pasta Alfredo With Broccoli
Author:
Melanie F. | Nutritious Eats
Ingredients
8 ounce uncooked fettuccine or other pasta
4 cups broccoli florets
1 Tablespoon vegan butter
2 cloves garlic, minced
3 cups chopped cauliflower
1½ cups unsweetened plain almond milk (or any unsweetened plain nondairy milk)
3 Tablespoons nutritional yeast
½ cup cashews soaked for 30 min in hot water
2 teaspoons lemon juice
¾ teaspoon salt
black pepper and fresh basil for garnish
Instructions
Cook pasta according to package directions, during the last 3 minutes add broccoli florets. Drain. Meanwhile, add vegan butter to medium sauce pan. Add garlic, then cauliflower. Pour in milk and simmer for 5-7 minutes or until cauliflower is tender. Transfer to a high speed blender, add nutritional yeast, cashews, salt and lemon juice. Process until smooth. Taste and adjust for seasonings. Pour back into pan to keep warm or toss immediately with hot pasta and broccoli. Serve with fresh cracked black pepper and fresh basil leaves.
Notes
If you do not have a high speed blender like a Vitamix or Blendec, make sure to soak your cashews overnight so they are creamy smooth and not gritty. You may also sub a little vegetable broth for the nondairy milk but the texture won't be quite as creamy. If you do use the broth, decrease the salt added.