Easy vegan pesto pairs perfectly with a spaghetti squash for a nutritious side dish.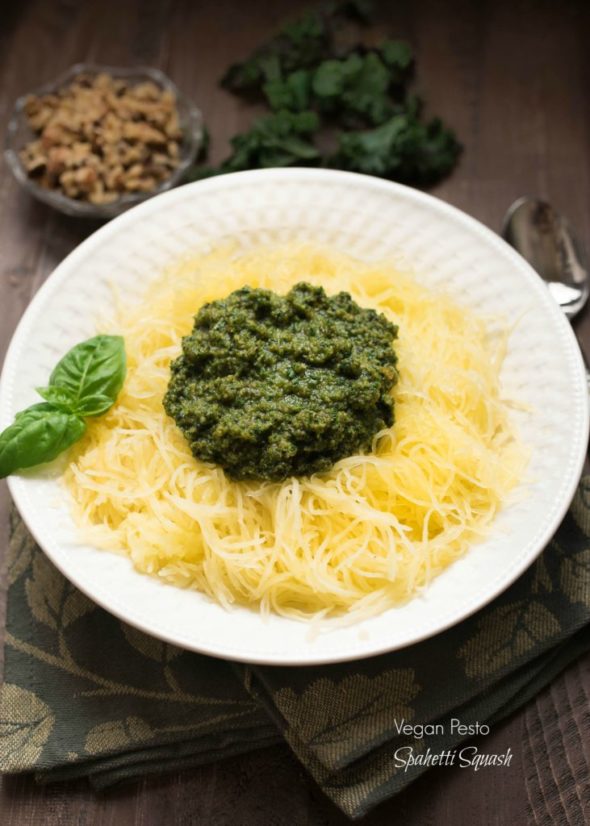 School's out for summer! School's out forever! I've had that song in my head for days.
I have officially hit the I don't feel like cooking meals anymore stage. I think I am preparing myself for lazy summer days, but I am enjoying quick(er) fix meals at the moment, like these Mediterranean Chicken Wraps. I am building up my slow cooker recipes (got a great roundup post coming soon on that) and I think that will help.
I decided to microwave a spaghetti squash for convenience. I actually kind of prefer the texture of it baked as it seemed to be more tender and a bit caramelized around the edges, but this works! Squash is loaded with nourishing compounds and is an antioxidant-rich source of Vitamin C and beta carotene. I also love that the thick flesh protects the flesh inside and allows squash to store-well. Meaning it's not likely to go bad in a week like other veggies.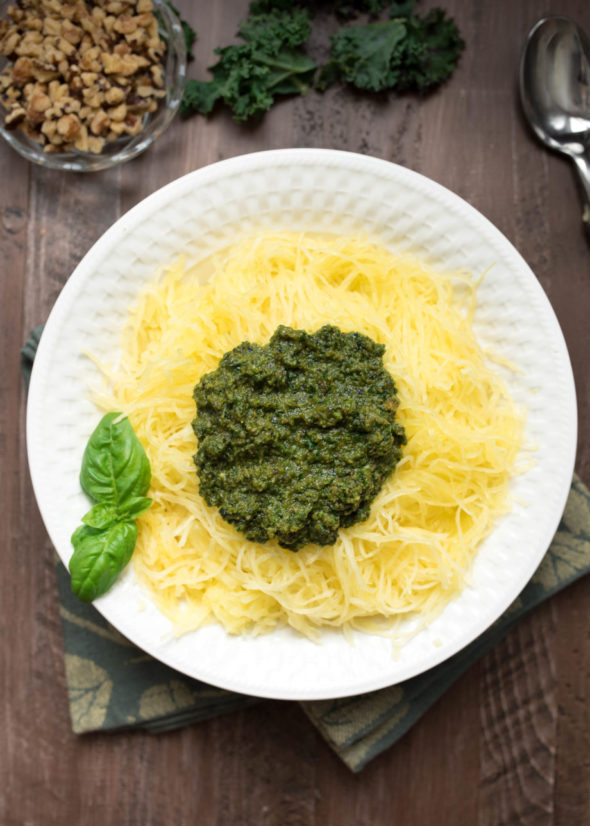 It's a great combo paired with the homemade pesto, one of my favorites! I don't typically make vegan pesto, in fact I stopped making homemade pesto altogether once my black thumb killed every single basil plant I bought. But good news, the one I planted over Mother's Day weekend is doing awesome! The pesto took all of 5 minutes while the squash cooked and we had a nice side to go along our leftover grilled chicken and salad.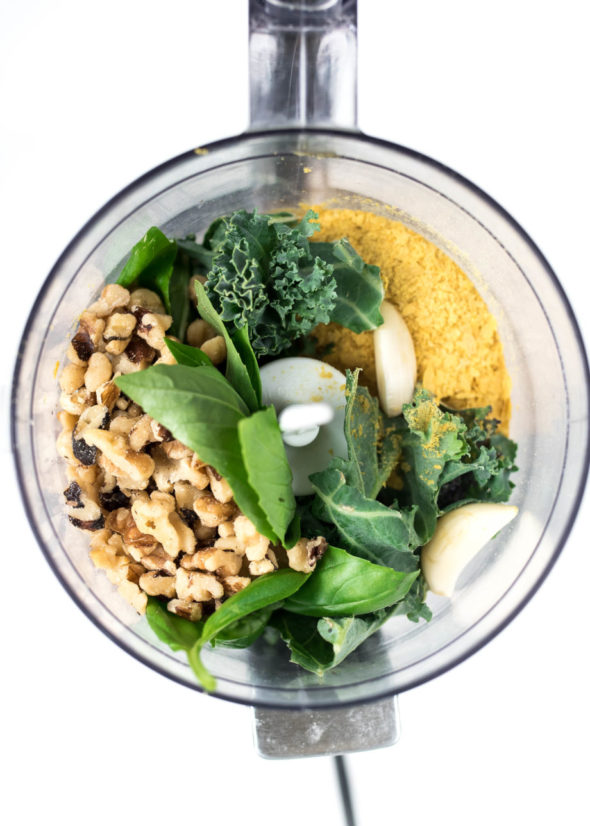 Since I didn't want to use my whole basil plant up on this one pesto, I used a packed 1/2 cup and then added a packed cup of kale. Since I never have pine nuts on hand, I used walnuts and nutritional yeast to give it a little cheesy flavor. It turned out very similar to the original!
I will definitely make this combo again. The spaghetti squash really does make you feel like you are eating spaghetti so it's great for the gluten free folks.
And feel free to use the vegan pesto for any other recipe. It's tasty!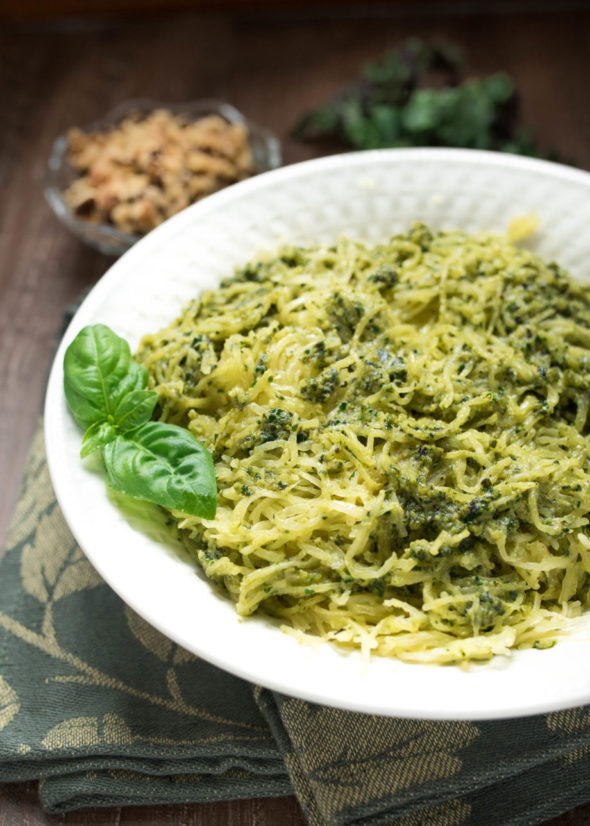 Vegan Pesto Spaghetti Squash
a heart-healthy, antioxidant-rich, vegan pesto spaghetti squash is a great side to any meal.
Author:
Melanie F. | Nutritious Eats
Ingredients
1 medium spaghetti squash
For the pesto:
1 cup packed kale
½ cup packed basil leaves
½ cup walnuts
⅓ cup nutritional yeast
½ cup olive oil
2 cloves garlic
¼ teaspoon salt, more to taste
Instructions
Place spaghetti squash cut side down in a baking dish. Add ~1 inch of water. Poke ~6 slits through the skin of each squash half. Microwave for ~12-15 minutes or until tender.
For the pesto, combine all the ingredients (kale through salt) in a mini food processor. Blend together until pureed. Top spaghetti squash with desired amount of pesto. Season to taste with salt and pepper. Enjoy!