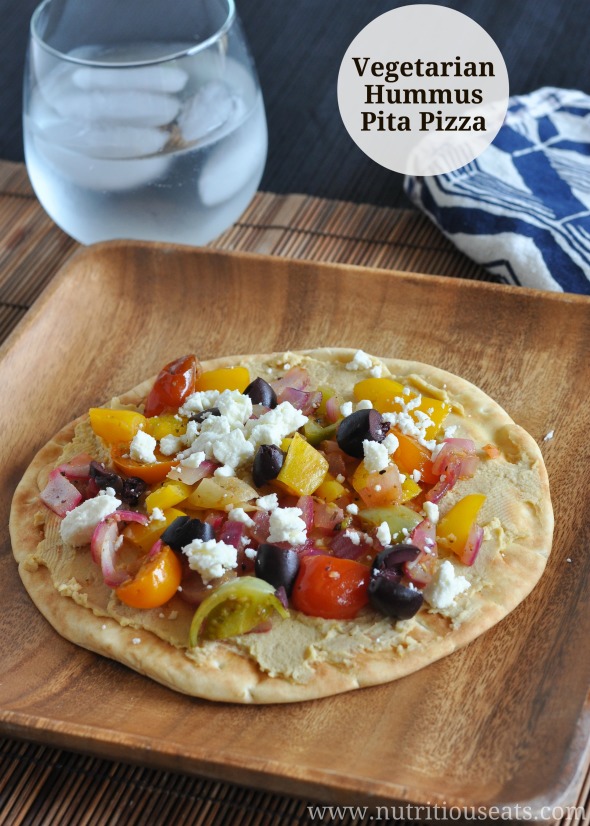 Toasted pita bread and hummus reminds me of my college roommate and friend-turned sister-in-law (how fun is that?). She used to eat it often and it became one of our quick lunches in between classes. The lightly warmed and toasted pita was so good with a smear of hummus on it. I thought this time I would turn it into a more filling meal by adding some sauteed vegetables.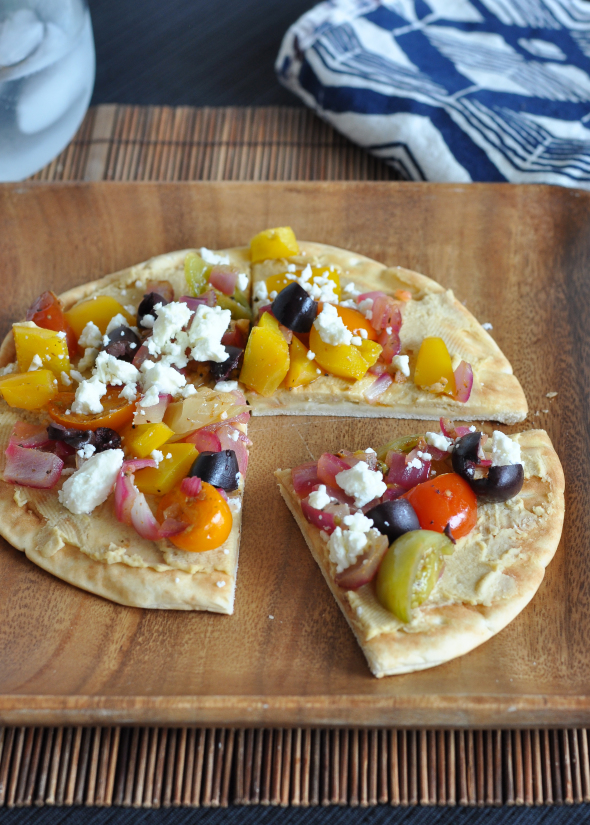 This is a delicious vegetarian meal great for lunch, dinner or as an appetizer! You can easily make it vegan by omitting the feta cheese. You could also saute the veggies ahead of time, mix in the olives and feta and pack it and the hummus in tupperware containers for a healthy, easy-to-assemble work lunch.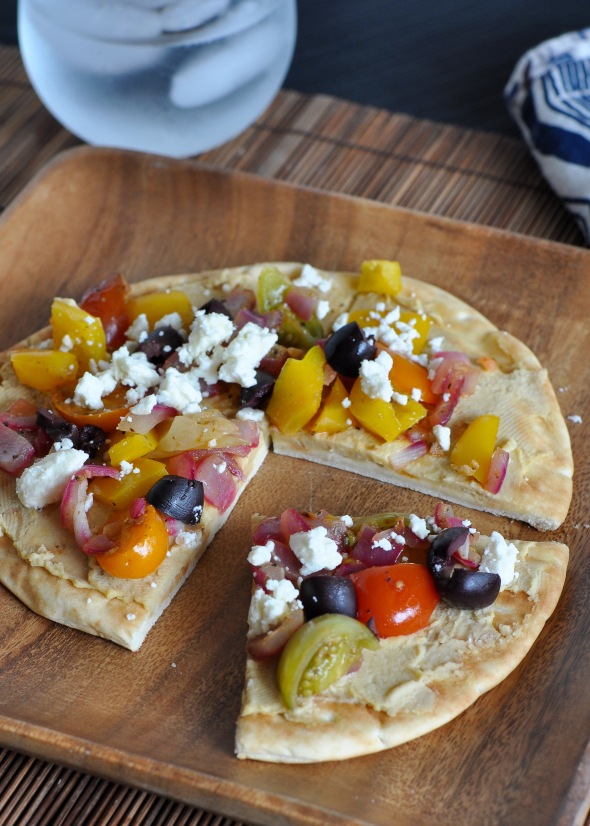 I have one more post planned for this week and then I am off to the IFBC conference (International Food Blogging Conference) organized by Foodista.com and Zephyr Adventures.
I have heard fabulous things about this conference which I almost booked last year when it took place in New Orleans.  I am so lucky that I just have to travel the short drive to Seattle to attend the conference this year.
The conference focus on three things: food, writing and technology. The agenda looks amazing and includes sessions such as: The Elements in Building Traffic, Food Photography & Cooking Demo, Writing and Storytelling and much more. I am already having a hard time deciding which sessions to attend as all the options look great.
My sweet mom is taking charge of the kids so I can attend. So lucky! I will be sure to give you a couple post-conference updates. I am sure the food and sessions will be amazing!


Enjoy this healthy easy pita pizza!
Vegetarian Hummus Pita Pizza

Ingredients

2 pita breads
¼ cup hummus
½ cup chopped tomato
⅓ cup diced red onion
⅓ cup diced bell pepper
1 garlic clove, minced
2 Tablespoons chopped kalamata olives
2 Tablespoons feta cheese crumbles
⅛ teaspoon dried oregano
¼ teaspoon cumin
juice from ½ lemon
pinch of black pepper
optional: chopped parsley or cilantro

Instructions

Spray cooking spray or a drizzle of olive oil in a non stick skillet over medium heat, saute chopped tomatoes, red onion, bell pepper and garlic for ~5 minutes or until softened. Season with cumin, oregano and black pepper. Squeeze ½ lemon over vegetable mixture. Stir well to combine. Remove from heat.
Meanwhile toast the pita bread in the oven on 350 degrees for ~4 minutes or until lightly toasted but still soft (I sprayed mine first with an olive oil mist).
Spread 2 Tablespoons of hummus on each pita, top each with half of vegetable mixture, 1 Tablespoon of chopped kalamata olives and 1 Tablespoon of feta cheese. Garnish with chopped basil or cilantro (optional).
Question: What was one of your go-to college lunches? Have you been to any blogging conferences?