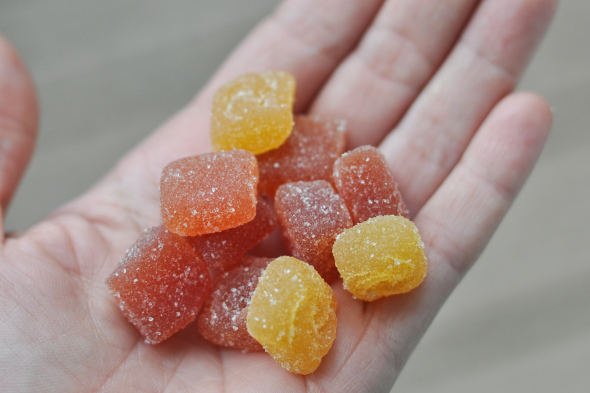 Disclosure: this post is sponsored by Vitafusion through FitFluential LLC. As always, my opinions are my own.
One of the top questions I get asked: should I be taking a multivitamin? Although most Dietitians would like to see those required vitamins and minerals coming from a well balanced healthy diet rather than taking a pill, it is beneficial for many to take one. It's recommended by the American Dietetic Association that women that are pregnant, of childbearing age, strict vegetarians, adults over 60 and those who aren't consuming an optimal diet take a daily multi to boost nutrition levels.
I have taken been taking a prenatal vitamin for the last 6 years (more or less) because I have always been either pregnant or breastfeeding. I can't say I love taking that big ol' pill though so when I was asked to review Vitafusion's gummy vitamins I was excited (before reading any further please note they do make a variety of gummy vitamins: multivitamin, one for over 50, a children's vitamin and several other single vitamin/minerals  in addition to the prenatal vitamins). I will have to admit to sneaking in my kid's gummy vitamins every once in a while. They just go down easy and are fun! Let's be honest they taste like candy so how can that not be easier than taking a huge pill?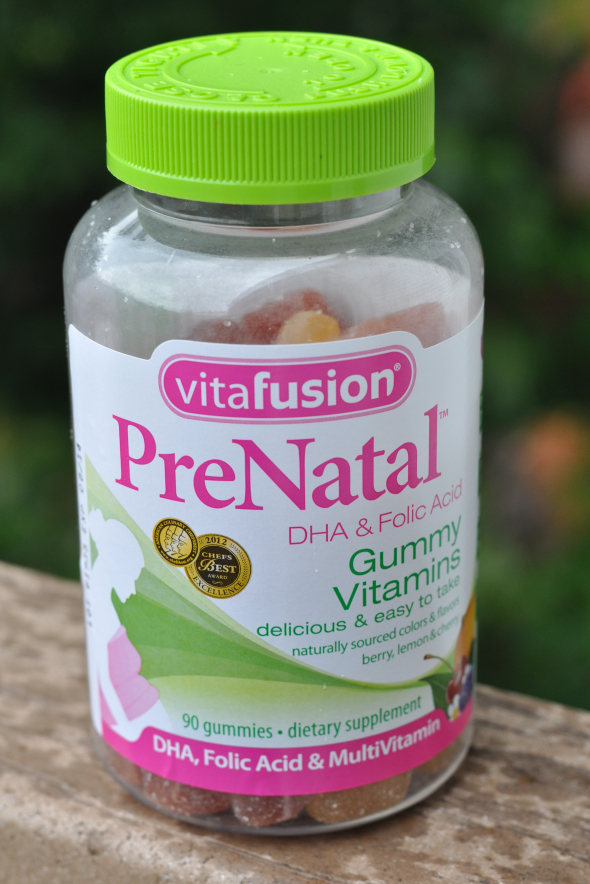 So I eagerly popped in my first two vitamins. Chewy and tart with a little sugar coating. They are GOOD with no aftertaste in my opinion. A treat actually and now I look forward to my daily vitamins. They make nutrition taste good by combining the power of vitamins with a great-tasting gummy! I love that you can take them on the go without any water. So convenient. I also like that they are made in the USA, with natural flavors and are colored with things like purple carrot juice and blueberry concentrate.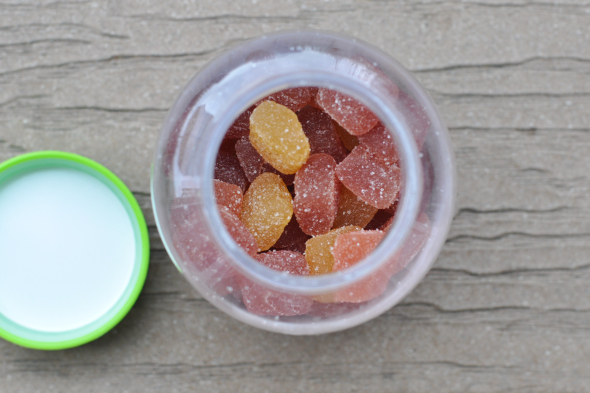 Vitafusion prenatal provides
an excellent source of folic acid

includes omega-3 DHA which is an important nutrient necessary for human health that the body can't make
provides important nutrients for pregnancy including vitamins A, C, D, E and B-6
Most people wonder if taking more than 100% of the daily value a good idea. Since new research is always underway and is often conflicting, it's best to stick to 100% or less of the daily value for the majority of vitamins and minerals (there are a few exceptions). More is not necessarily better. There is a chance of increasing risk of diseases or organ damage due to over-consumption of vitamins so you don't need 500% of something in addition to the actual food you eat. That's another reason why I like these Vitafusion prenatals; they offer 50-100% of the daily value which is perfect.
One thing to note about these prenatals: they do NOT contain iron. This might be a concern for some women who tend to be anemic during pregnancy. I would just make sure to consult with your Doctor and make sure your iron level is normal before choosing a prenatal without iron. The good news for many that don't have problem with this, is that these will not upset your stomach or cause constipation like the prenatals with iron. You can always take a separate iron pill when or if needed.
One more thing you should know is that these do contain some sugar. 3 grams per serving (which is 2 gummy vitamins). Does this concern me? No. I don't eat a high sugar diet and if it gets me to take my prenatal, I am ok with the little extra sugar.
After trying these I immediately thought "what I am going to do when I run out?". Well luckily they can be they can be found at drug stores and grocery stores nationwide: including Costco, Walmart, Target and CVS. More information can be found here.
Questions: So I'd love to know, who takes a daily vitamin? Have you tried a gummy vitamin before?