Hi friends! Happy St. Patty's Day! Hope you all have a lovely weekend.
This weekend I stepped outside of my normal routine and actually did stuff! Woo hoo! I ran a 10 K fun run on Saturday (more on that Wednesday), then after naps I took the kids to Yogurtini, the Dollar store to pick out something (they love that place), then picked up dinner on our way home. Today I took the gang to church and am still recovering from all our activities! Ha!
I thought I'd share some iphone shots of my recent eats to give you some meal ideas and a few pics of baby Evangeline who is 2 1/2 months! I've been eating mostly vegetarian meals over the past 2 months with the inclusion of chicken, turkey or fish ~1-2 meals a week.
Basically today's post is full of pictures. Enjoy!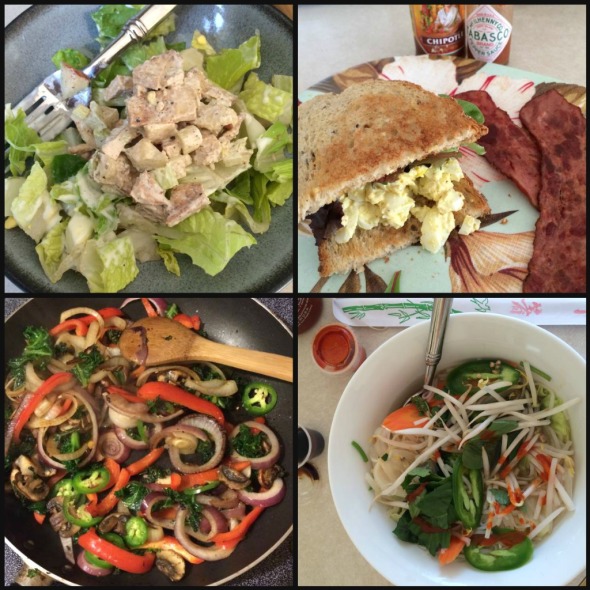 Starting top left going clockwise:
Tofu "chicken" salad– tofu that taste's like chicken salad, quite tasty actually!
Egg salad sandwich with nitrate free turkey bacon– I LOVE egg salad.
Sauteed veggies for Vegetarian Quesadillas– I can't get enough of these.
Vegetarian Pho- from a local restaurant. In love with this meal.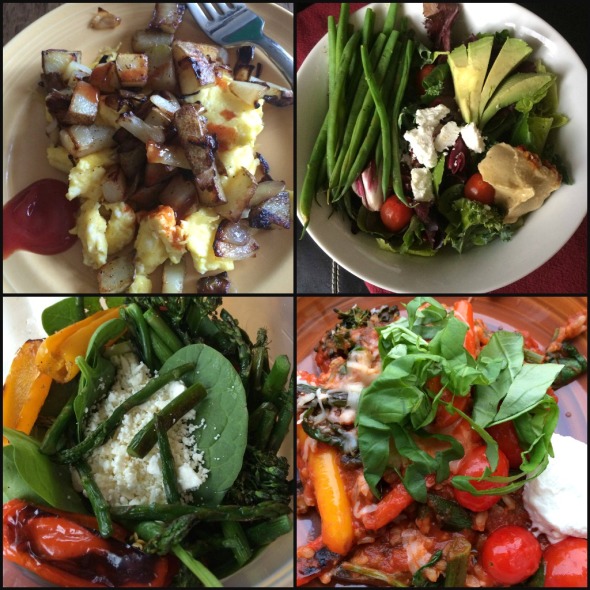 Eggs with sauteed potatoes and onion– seriously so simple and so good.
Kale and green salad with steamed green beans, avocado, hummus, feta and a Meyer lemon garlic vinaigrette- I heart salads in a big way.
Make-ahead salad bowl– these have been working out wonderfully.
Sauteed veggies in marinara with basil and goat cheese– heavenly!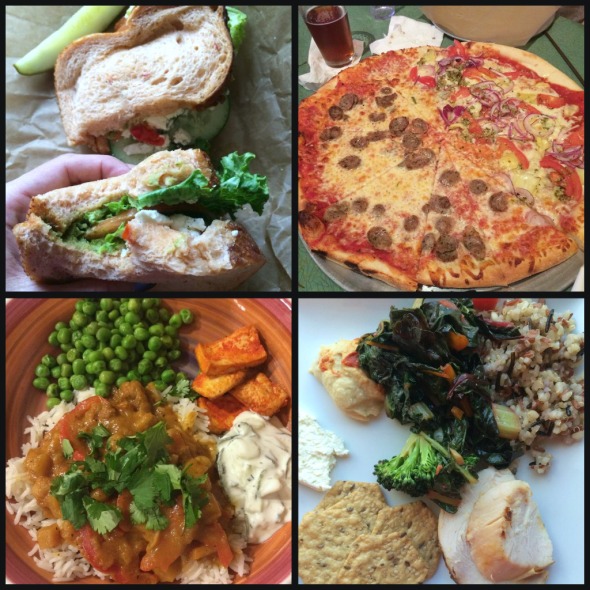 Vegetarian Sandwich from Panera
Pizza from our favorite local joint– veggie and pesto for me!
Indian chickpea curry with basmati rice, tofu, peas– this was SO good (the chickpea vegetarian curry) and I can no longer find it at Costco (sad).
Sauteed collards, broccoli with a rice/quinoa, chicken, rice crackers, hummus and a bit of soft cheese– collards and broccoli from my CSA box, yum!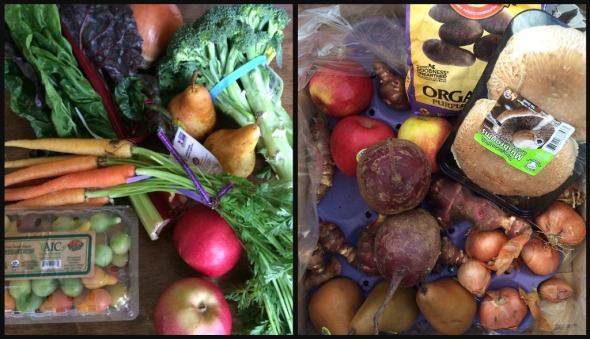 I finally signed up for weekly deliveries of a CSA box- I am loving it so far and it is dropped off to my door once a week. Dream!
Part of the reason why getting new recipes posted is a little challenging- this sweet angel!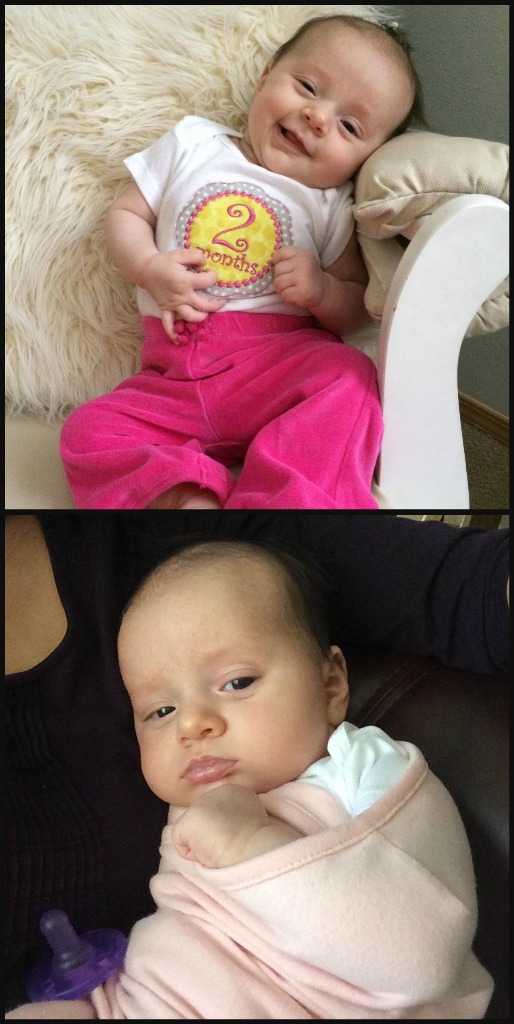 She is definitely more alert throughout the day, but don't get me wrong she still loves to sleep as babies do! Bottom picture is her in my carrier  after a walk outside, hence the blanket over her head. She is pure sweetness and I love watching her grow!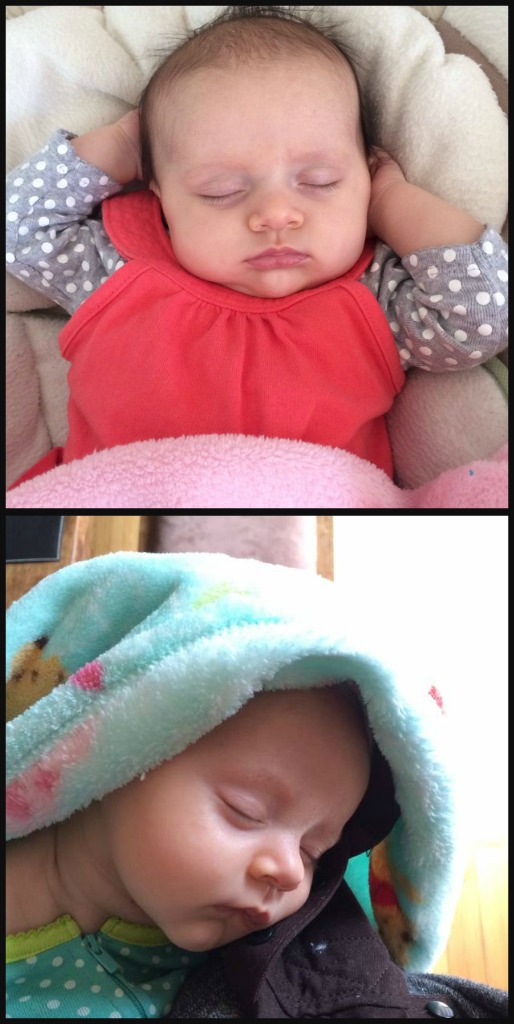 Before I go, I thought I'd share a couple St. Patty's Day recipes in case you want some last minute inspiration…..and no St. Patty's Day food doesn't have to be green! Thanks to Cooking Light for the recipes!
Irish Coffee– leave it to me to pick out the recipe with coffee and booze. Mmmm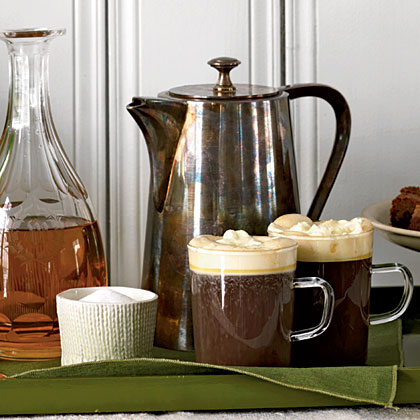 Irish Colcannon and Thyme Leaf Soup – simple ingredients you likely have on hand. Whip up some Irish Soda bread and you're set.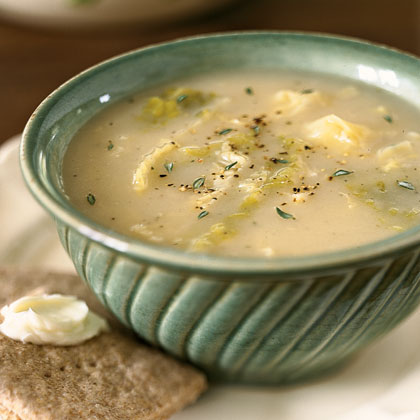 Brown Soda Bread– this got great reviews!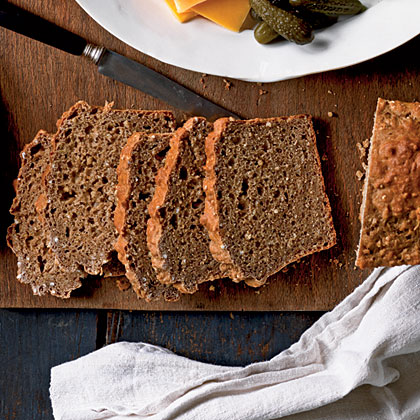 Goodness and now I am craving that Irish coffee!!! Have a great week everyone!
Questions: How was your weekend? Any plans for St. Patty's day? Do you like Irish food?