This White Bean and Olive Dip makes a great vegetarian dip to spread on sandwiches or enjoy as an appetizer. 
Happy Monday! We had a nice, relaxing weekend with a lot of rain and which meant a lot of movies. We rented the Revenant which is excellent. I highly recommend if you haven't seen it!
School starts tomorrow for us and I am super excited to get back to the routine, although I am always a little sad to see summer end. We met the teachers last week and I am thrilled that they are all fabulous, sweet and the kids are happy.
I did a little food prep over the last 2 days so it would take a little stress off of meal prep since we are back to an earlier bedtime, packing lunches, etc.
Some of the things I prepped weren't just for the kids. I like to have something to nosh on too, using flavors I enjoy. I love olives and noticed I had quite a large amount stashed in the fridge.
I finally got my hands on  a new jar of tahini and I wanted to make hummus, but of course I didn't have garbanzo beans. These white beans were a nice substitute.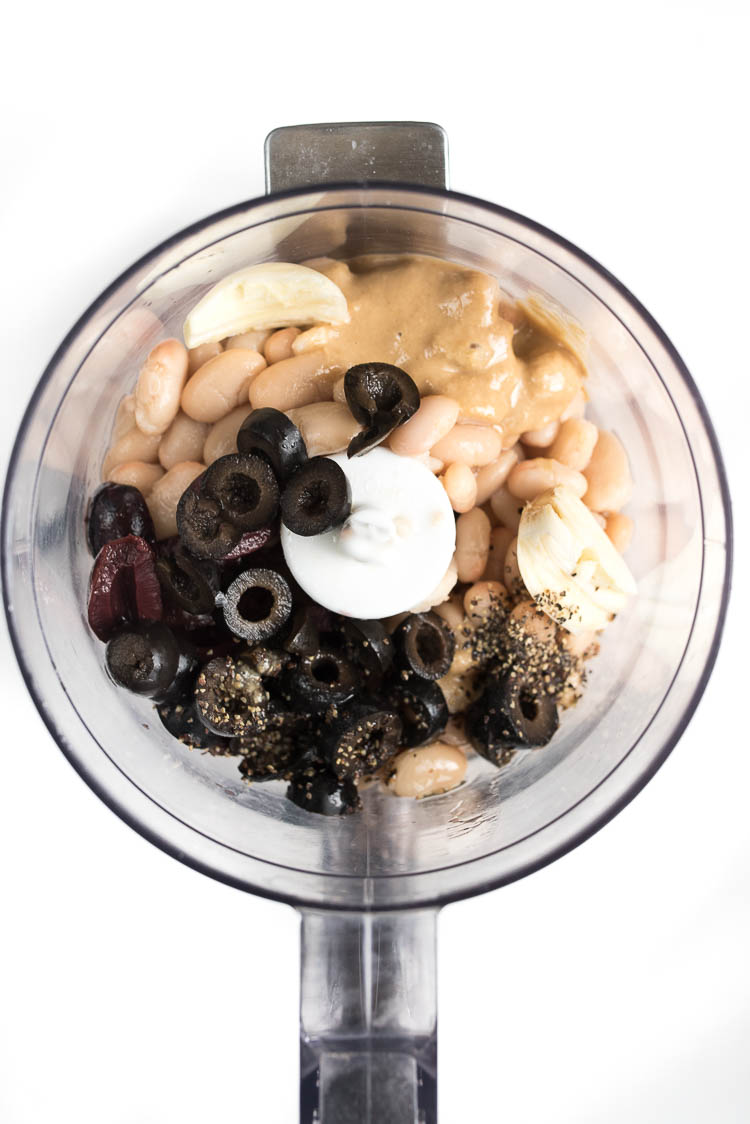 Speaking of prepping? Spending 1-2 hours on the weekend can help tremendously. Pick two or three things you want to make and get it done. This can be as simple as hard boiled eggs or pre-chopping salad ingredients or can be more time intensive like snack bars, muffins or an entree component such as grilled chicken or burger patties. Either way, set a goal and go for it! You will be happy you did.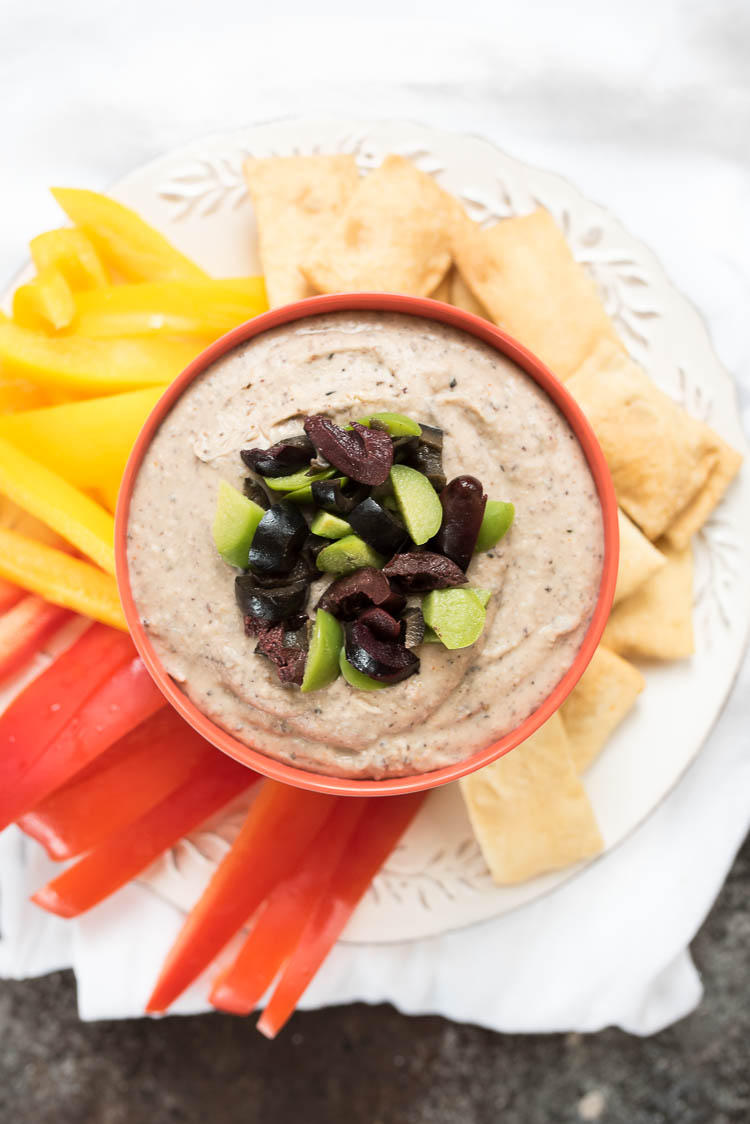 I am going for a vegetarian sandwich using this spread as the base and I can't wait.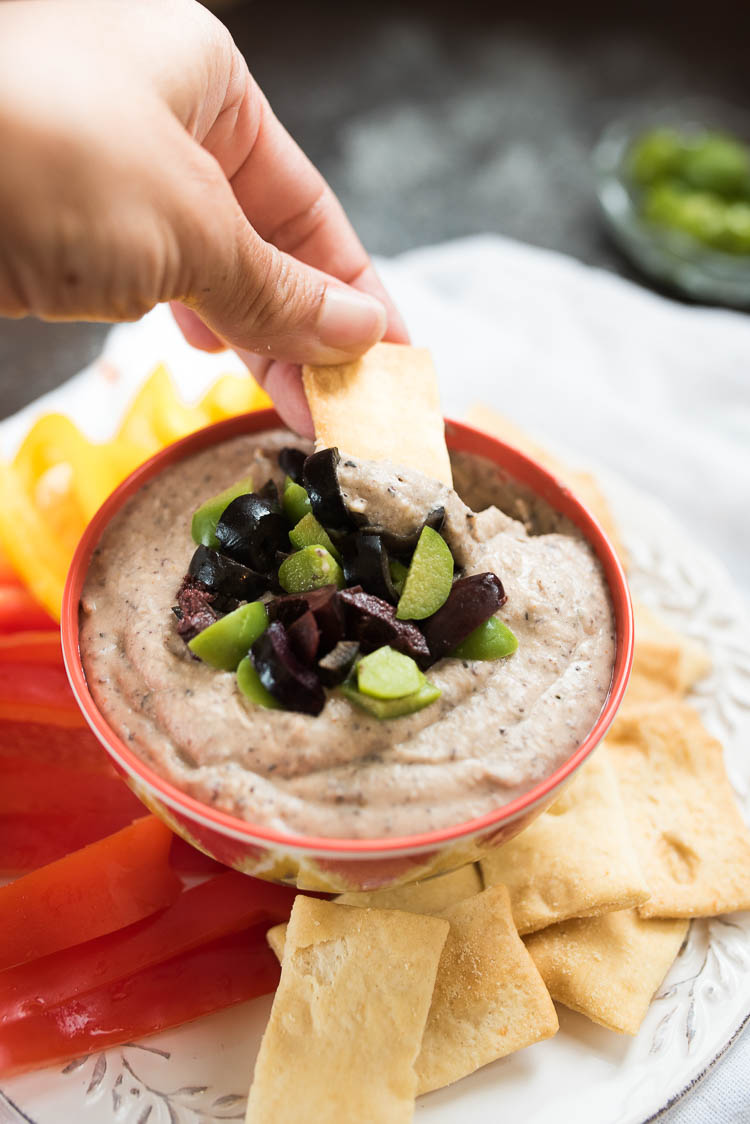 Have a great week!

White Bean and Olive Dip
White Bean and Olive Dip Recipe Type : Appetizer Author: Melanie F. | Nutritious Eats Prep time: 5 mins Cook time: 2 mins Total time: 7 mins Serves: 6 pantry ingredients make up this simple bean dip which is great to use as a base for a vegetarian sandwich.
Author:
Melanie F. | Nutritious Eats
Ingredients
1 can Northern White Beans, rinsed and drained
1 tablespoon tahini
1 tablespoon olive oil
½ teaspoon cumin
2 tablespoons fresh lemon juice
⅓ cup olives (kalamata, green, black, etc. or a combo of all)
pinch of salt and pepper
1 garlic clove, chopped
5-6 shakes of jalapeño hot sauce, such as Tabasco
Instructions
In a small food processor, blend all ingredients together until smooth. Transfer to a small serving bowl and top with chopped olives if serving as a dip, otherwise store it in a tupperware and enjoy as a sandwich spread or dip for crackers and veggies.