Thank you to all who entered the Bob's Red Mill Giveaway. Congratulations to the winner Brittany B.!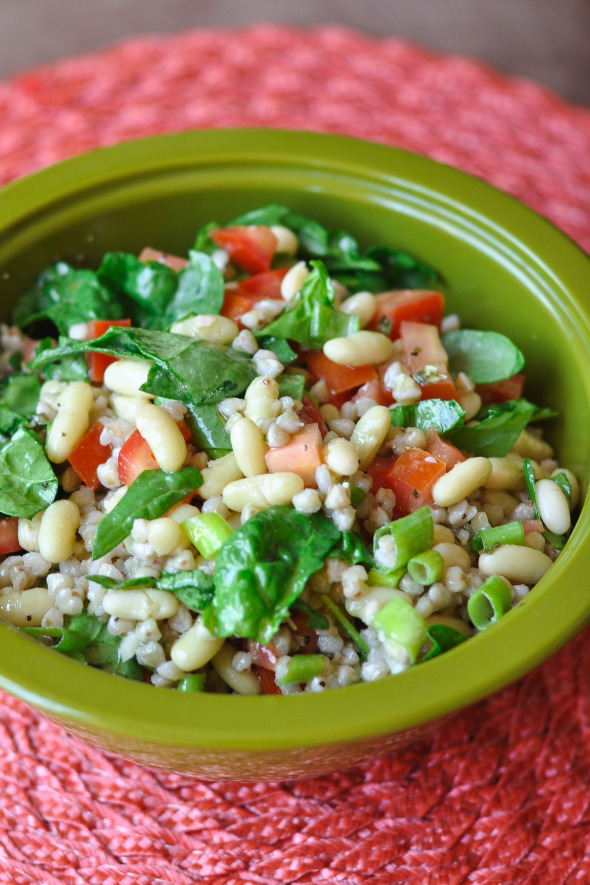 I am sitting here getting caught up on the Olympics, trying my hardest to get this recipe posted. Boy, the gymnastics is killing me! As a former gymnast cheerleader, it is one of my favorite events. I can hardly watch the girls on the balance beam though- so nerve-wracking! So looking down at my computer is actually a good break for me.
I have been on a bean kick lately. Last week I didn't meal plan and as a result I had a bean recipe overload! I made my pinto beans, a corn, avocado and black bean salad and this little gem, a Buckwheat & Flageolet bean salad. See, this is what happens when I don't meal plan!
So even though I can't usually handle that many beans in one week, I am so glad I tried this recipe. If you missed my last two posts, I did a review of some of Bob's Red Mill products and a giveaway. When I browsed the internet for info about the Flageolet beans they were described as "the caviar of beans" which totally intrigued me. They are a small, tender bush-type bean that is very popular in French country cuisine. They are removed from the pod when tender and just maturing and their color varies from pale green to creamy white. What I loved is that they retained their bite even when cooked and I really like their small size.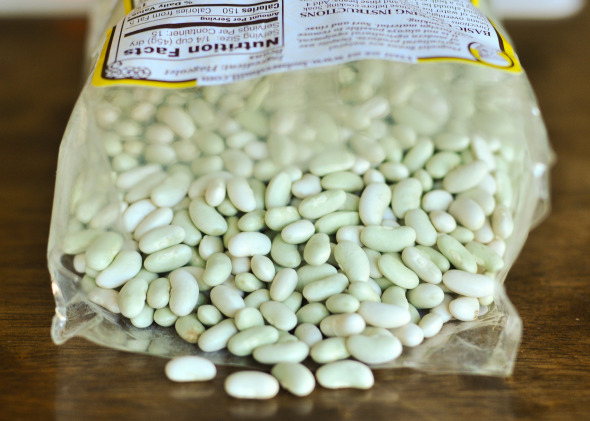 I changed up the recipe based on what I had on hand and since I had the groats decided to use those in place of the kamut berries. It turned out really good. I substituted half of my Wildtree jalapeno grapeseed oil for the regular olive oil which in my opinion really made the dish. Feel free to use a combo of oil/flavored oil if you have any or perhaps use fresh jalapeno for a little heat.
Next time I might cut back a tablespoon or two of the oil as I think it would probably be fine with a little less. Also, the original recipe had shallots in it which I think would be great so maybe I'll try adding next time. I just LOVED this salad though- it is one of my new favorites.

[print_this]
French Bean and Buckwheat Groats Salad
INGREDIENTS:
2 cups cooked Flageolet beans
2 cups cooked Buckwheat groats
3/4 cup chopped green onions
1 cup diced tomatoes
2 1/2 cups chopped spinach
Vinaigrette:
1/4 cup olive oil
1/4 cup jalapeno grapeseed oil
2 Tablespoons apple cider vinegar
2 Tablespoon Dijon mustard
1 teaspoon parsley flakes
1/2 teaspoon dried thyme
1/2 teaspoon salt
1/2 teaspoon black pepper
DIRECTIONS:
1. Mix the cooked beans through the spinach in a large serving bowl.
2. In a separate small bowl, whisk together the ingredients to the vinaigrette. Pour dressing over salad mixture and refrigerate for a few hours or overnight.
To cook beans (per package instructions): soak 1 cup of beans in pot overnight. Drain, rinse and add to pot covered with fresh water. Bring to a boil, then reduce to simmer with lid cracked for 1 hr or until tender.
COOK'S NOTES: You can substitute any whole grain for the buckwheat groats. Original recipe called for kamut berries. If you don't have Flageolet beans, substitute navy beans.
Recipe adapted from Bob's Red Mill 
[/print_this]
Although the giveaway ended, I am so I was able to share some products with you. Per the comments, the majority of the people were unfamiliar with them so I hope I helped inspire you to cook with some whole grains. I know I am even a bigger fan of  Bob's Red Mill now. For more info check out the original giveaway post here.