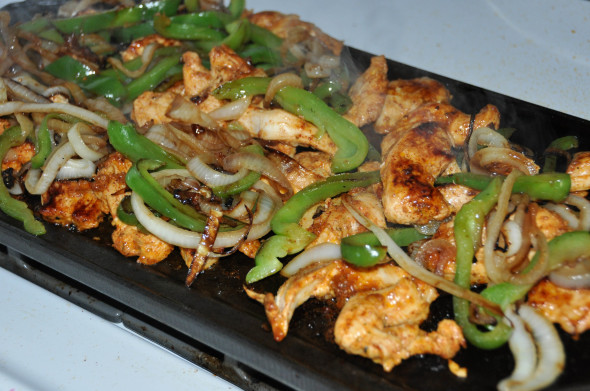 I have to admit something….since growing up in Texas and having access to a plethora of fabulous Mexican restaurants, I almost always ate my chicken fajitas out at a restaurant and if we did make them from home they were the pre-marinated kind from HEB. I rarely, if ever, made them myself. I know, it's just wrong.
Now that we are far away from our dear Mexican food, I've realized that I need to learn how to cook it myself. I can't remember the last time I made fajitas from scratch. Oddly something that we grew up eating so much of, is something I rarely make at home. I am not sure whether it's because we were seriously craving them or because we just don't have access to good fajitas here, but we couldn't believe how good they were. I basically threw everything in the bag to marinate, eye-balling the amounts and then my husband said "you need to write that down" so I made them a couple weeks later paying attention to amounts.
Using a hot grill pan is the way to go- you must get that dark brown caramelized color on at least some of the pieces. It really adds so much flavor. If you don't have a large grill pan, a hot large non-stick skillet will be fine. Then there are the tortillas- ever since I received that large shipment of Tortilla Land tortillas, we can't use anything else. I love that the ingredients are nothing other than: wheat flour, water, oil, sugar & salt. No processed junk like the store-bought kind. Now every time we go to Costco we stock up. So make sure to get some good tortillas for these! I like my fajitas with a little cheese, light sour cream, guacamole and salsa. I am most definitely a condiment/toppings girl.
If you are looking for a healthier option while dining out a Mexican restaurants, chicken fajitas are definitely the way to go. Lean chicken cooked in little fat, topped with veggies are a lot more figure friendly than things like cheesy enchiladas, chimichangas or loaded burritos. Avoid the cheese and sour cream if you are watching your calories. I find fajitas so filling and satisfying too. One or two tacos is plenty for me (although sometimes I really want to eat three or four). Chicken and/or shrimp will cost you less calories than the beef as well.
Make them at home for a tasty Mexican themed dinner!
One more thing off topic, since I am having this baby any day now I've decided to take a little break from Meal Planning Monday. However, since I really look forward to my small group that participates and planning my own meals, I am going to move it over to facebook. I know mine won't be as well planned over the next few weeks but I'd still love to hear from you. That way I don't have to commit to getting the post up by Monday. It will resume as usual on the blog as soon as life becomes a little more stable over here. So see you on facebook Meal Planners! P.S. You have to "like" Nutritious Eats fan page on facebook if you want to follow along. Thanks!
Ok back to fajitas….start with the veggies tossed in a little olive oil on a hot skillet coated with another drizzle of oil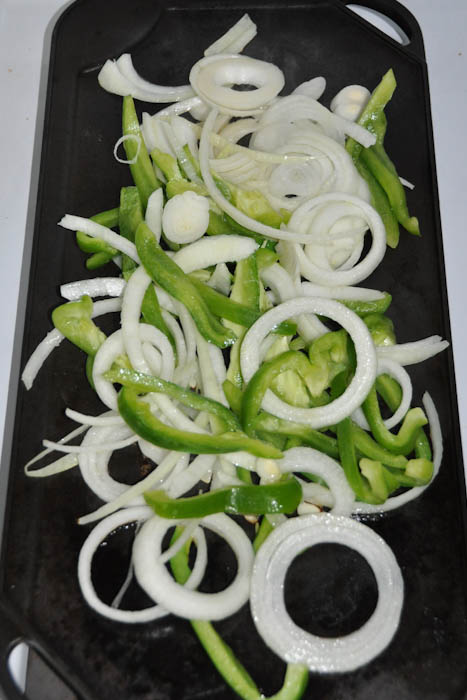 Get some nice color on them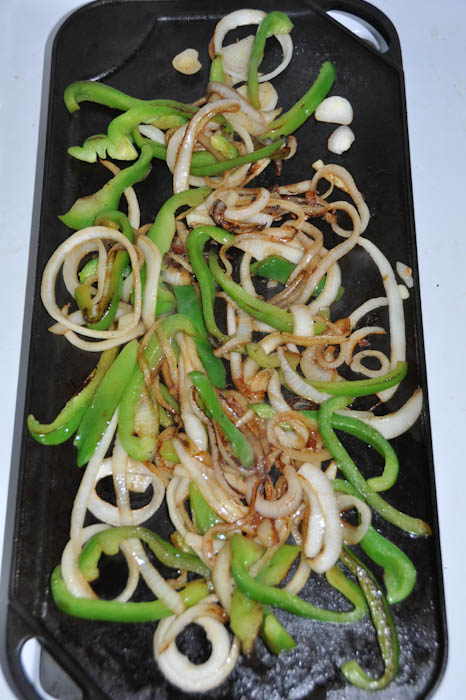 Remove veggies, then cook the chicken. My little secret- a couple splashes of soy sauce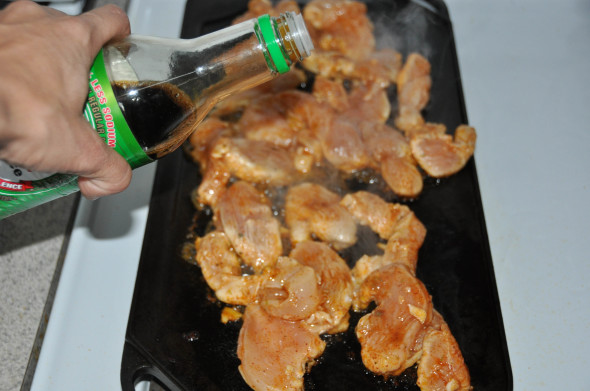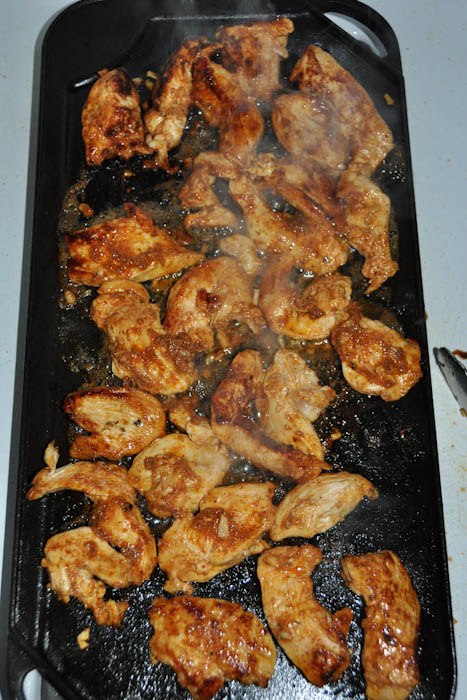 Add those veggies back to the pan and enjoy the sizzle and steam- just like at the restaurant!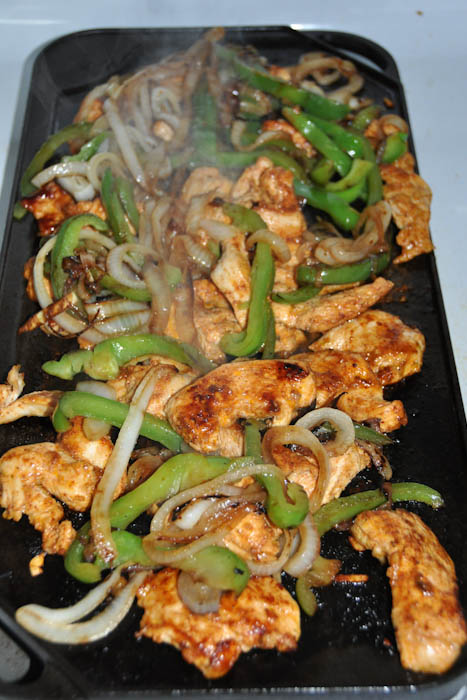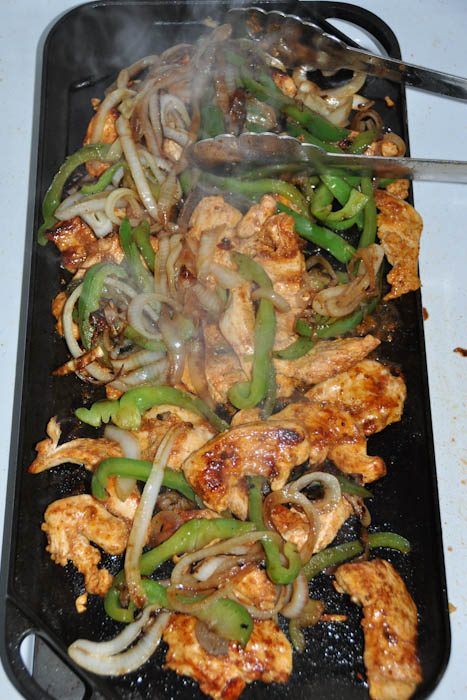 I had zero time to make this picture-perfect because it was late and I had a hungry family waiting to eat. You get the idea. DELICIOUS!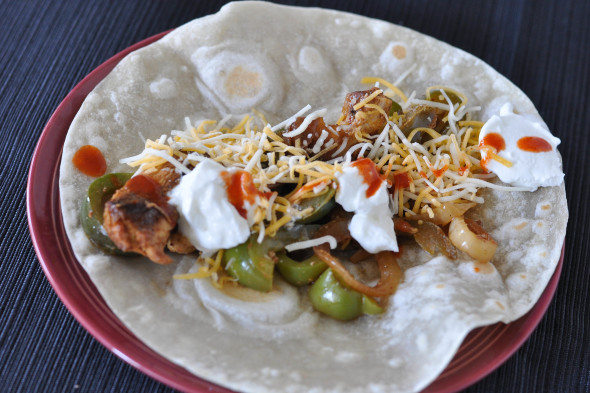 I served these along side some crockpot black beans and a side of guacamole.
Make these soon. You will be very happy.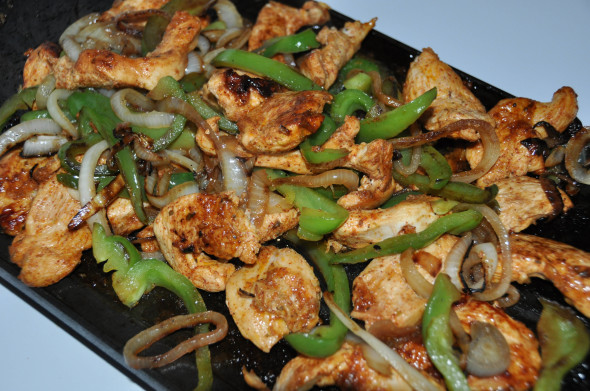 Chicken Fajitas
Ingredients
1¾ to 2 lbs chicken breasts, trimmed of fat and cut into ½ inch strips (or combo of chicken breasts and thighs)
¼ cup orange juice
2 Tablespoons olive oil
2 garlic cloves, minced
2 Tablespoons lime juice
zest of one lime
1 Tablespoon brown sugar
¼ teaspoon oregano
1½ teaspoon chili powder
½ teaspoon salt
couple of splashes of reduced-sodium soy sauce during cooking
1 green bell pepper, sliced into ¼ inch strips
1 red bell pepper, sliced into ¼ inch strips
1 medium onion, sliced into ¼ inch rings
Olive oil for cooking
Fixins of choice: finely shredded cheese, reduced fat sour cream, guacamole, salsa or Tapatio
Instructions
In a large (1-gallon) zip lock bag, combine orange juice, olive oil, lime juice, lime zest, brown sugar, oregano, chili powder, salt and garlic. Add chicken, seal bag and marinate in refrigerator. For maximum flavor, it's recommended that you marinate for 4+ hours.
When ready to cook, heat a large grill pan on medium-high heat. Drizzle ~1 tablespoon olive oil in pan, add bell peppers and onion slices and cook until browned, about 6 minutes. Add a splash or two of reduced-sodium soy sauce during cooking. You want a nice color, but want the bell peppers to still have a bite to them. Remove from pan and keep warm.
Wipe grill with paper towel, add another drizzle of oil and carefully add chicken pieces (not the marinade) in a single layer. As chicken cooks, add two splashes of reduced-sodium soy sauce. Cook chicken 7-8 minutes or until browned and cooked through, turning once. Add onions and bell peppers back to the pan. Serve on warm flour tortillas with all the fixings.
Please stay up to date with posts by becoming a friend via Google Connect, email subscriber or facebook fan. Don't forget to pin any recipes you like to pinterest! Thank you following Nutritious Eats!