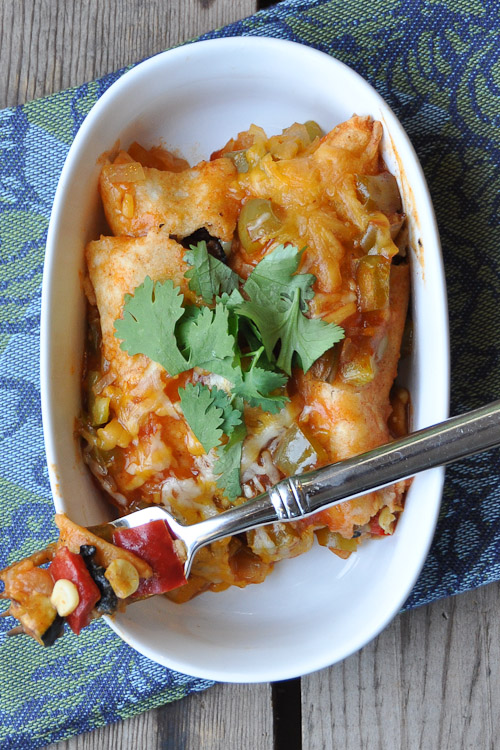 I am so excited for this week because I am having a little remodeling done to Nutritious Eats. It won't be anything drastic; just a little updated and more user friendly, both for you and me. Due to the edits the site will be down Tuesday and Wednesday so don't worry if you come by for a visit and it doesn't load. Make sure to check back sometime Wednesday or possibly even Thursday when it will be back up and running.
Now let's talk about food! Remember when I posted this recipe for easy chicken enchiladas and I said I was going to try out a veggie version? Well I did and I just loved them! If you've never had vegetarian enchiladas I encourage you to try them. You seriously will not miss the meat in this dish! The recipe is similar to the other one in the way the sauce is prepared, but the filling is completely different. It's not quite as quick as just shredding chicken, but it's a great way to enjoy a meatless meal and get vegetables into your diet.
Since enchiladas aren't exactly low calorie and can often be laden with fat due to heavy amounts of cheese, meat sauce and oil, I am I am happy to be able to call this recipe healthy. I used tons of vegetables, little cheese and low fat corn tortillas without dipping them in oil. If you vegans want to give in a try without the cheese, I think it will still be delicious. The chipotle chili powder really makes the dish in my opinion.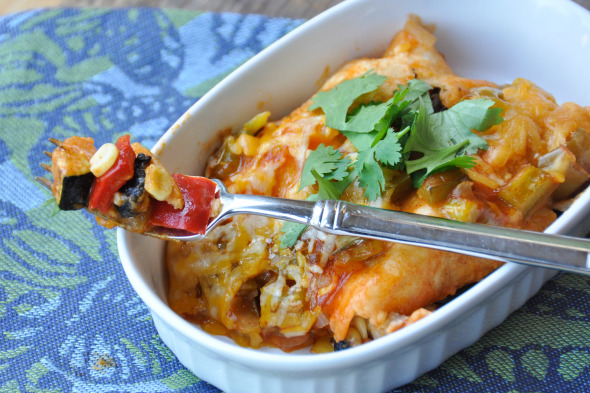 And you know how I am always saying I like to do prep work for dinner ahead of time? Well for this recipe I actually roasted the veggies the day before when I had time. I put them in a bowl in the fridge where they sat until the following evening when it was time to make the enchiladas. All I did was drained the bowl of a little bit of the liquid that had formed from the veggies. Then I proceeded with the recipe. There is ALWAYS something you can do ahead of time to make cooking dinner at home more manageable.
You can use whatever veggies you want- just throw them on a roasting pan and into the oven they go!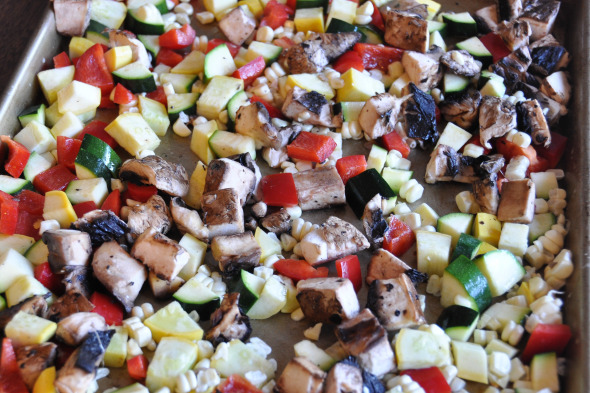 Roasting down- let them get a little color and they are good to go. Then you'll mix in some spices and a little cheese and that's the delicious filling to your enchiladas.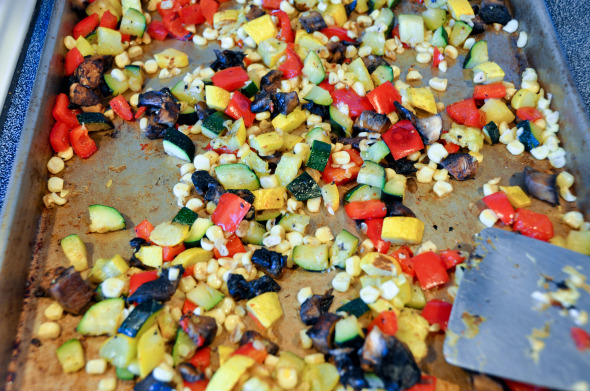 Mmmm….a bite of bell pepper, corn, tortilla, onion, mushroom and zucchini. Full of flavor!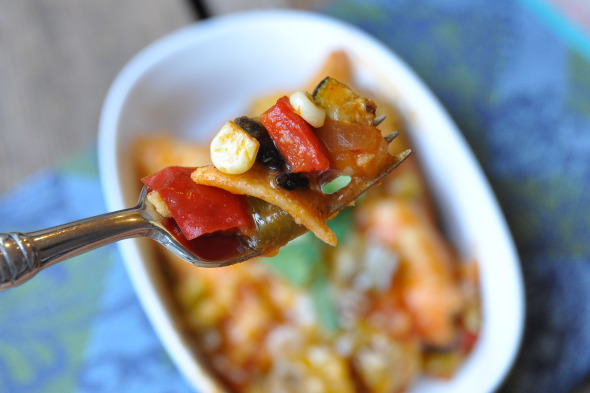 Keep this recipe around for your veggie loving friends and family and remember even Mexican food can be healthy!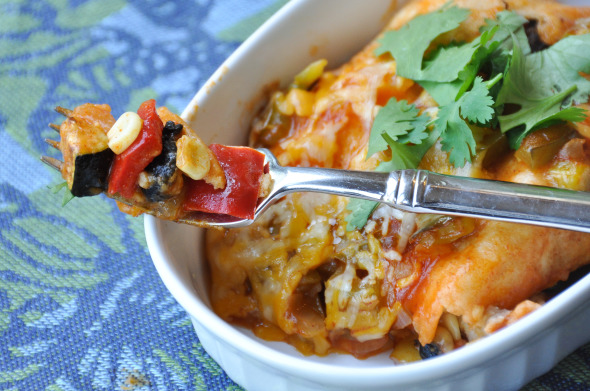 Roasted Vegetable Enchiladas
Ingredients
2 Tablespoons of olive oil
1 red bell pepper, chopped
1 zucchini, chopped
1 squash, chopped
1 corn on the cob, kernels removed from cob
6 ounces portobello mushrooms, cleaned and chopped
1 cup shredded cheddar and jack cheese combo, divided
1 teaspoon cumin
½ teaspoon chipotle chili powder
salt and pepper
9 corn tortillas
For the sauce:
14 ounce red enchilada sauce (such as Old El Paso Original)
1 cup chopped green bell pepper
1 cup chopped onion
Toppings optional: chopped cilantro, reduced fat sour cream
Instructions
Preheat oven to 400 degrees. Combine red bell pepper through portobello mushrooms on a large cookie sheet. Drizzle with 2 Tablespoons of olive oil, season with salt and pepper and roast for 10 to 15 minutes or until lightly browned and tender.
Meanwhile prepare sauce. Heat a nonstick skillet over medium heat. Spray with cooking spray or a drizzle of olive oil. Add chopped green bell pepper and chopped onion and saute for about 5 to 6 minute until tender but still crisp. Stir in enchilada sauce and bring to a boil, then reduce to simmer and simmer for about 5 minutes. Turn heat down to low until enchiladas are assembled.
When roasted vegetables are done, transfer them to a large mixing bowl. Add cumin and chipotle chili powder and stir well to combine. Stir in ½ cup of shredded cheese. Reduce heat to 375 degrees.
To assemble: wrap a few tortillas at a time in a damp paper towel and microwave 10-15 seconds or until softened. Fill them with a ⅓ cup of vegetable mixture. Roll tightly and place seem side down in 2 qt (11x7) casserole dish coating with cooking spray. Pour sauce over enchiladas. Top with remaining ½ cup of shredded cheese or more if you prefer.
Bake at 375 degrees for 15 minutes or until cheese is melted and sauce is bubbly. Top with chopped cilantro and reduced fat sour cream if desired. Yield 9 enchiladas.
Notes
I stuffed these full since they were just vegetables and I didn't want them to be skimpy. I ran out of room in my casserole dish to make anymore enchiladas but I was left with enough filling for at least one more. Instead I just enjoyed big spoonfuls of the veggies.
Question: What's your favorite vegetarian dish?