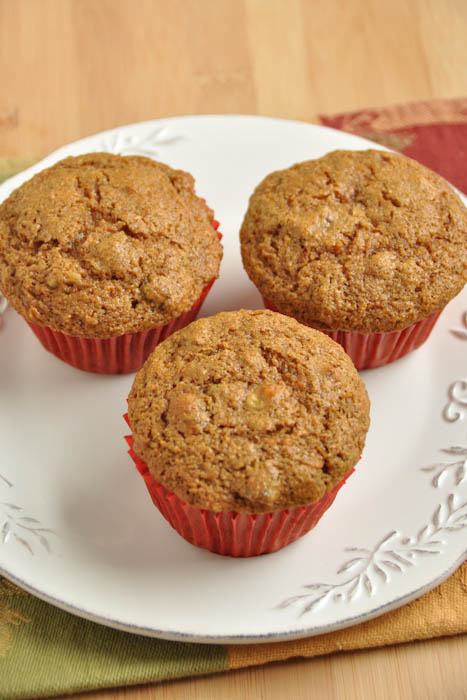 You know how I mentioned packing healthy homemade muffins in your kid's lunches? I love this one and have been making it a lot lately: Carrot Spice Muffins. I had a hankering for warm, freshly baked muffins and I wanted to incorporate a veggie. I was deciding between zucchini and carrot and since I make a lot of zucchini bread I thought I'd try something new. I love that a good amount of carrots go into this muffin mix and the kids don't suspect  a thing. With all the yummy, warm spices, these muffins will get you looking forward to the fall season.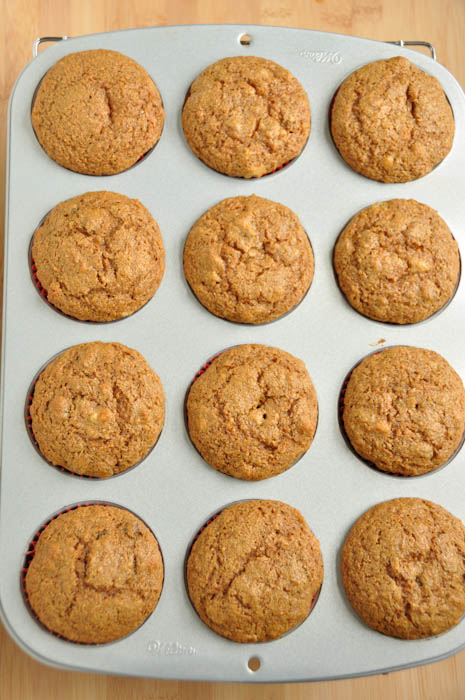 Although they are best eaten fresh out of the oven (after cooling of course), I'd suggest freezing what you don't think you'll eat in the first few days….then they'll be there waiting for you when you need to pull one out for breakfast or school lunches (or work lunches!).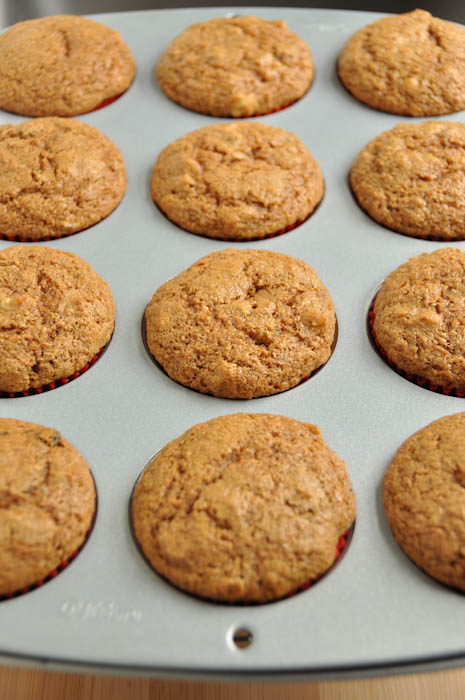 The whole wheat flour, raisins and nuts make these a pretty nutritious muffin!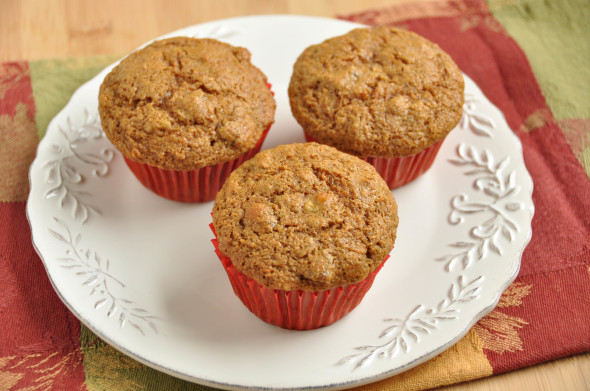 Carrot Spice Muffins
Ingredients
1½ cup whole wheat pastry flour
1 teaspoon baking powder
1 teaspoon baking soda
1 teaspoon cinnamon
½ teaspoon salt
½ teaspoon nutmeg
¼ teaspoon cloves
¼ teaspoon ground ginger
2 eggs
⅔ cup packed brown sugar
1½ cup finely shredded carrots
⅓ cup vegetable oil
4 ounce unsweetened applesauce
⅓ cup orange juice
½ cup golden raisins
½ cup chopped walnuts (or pecans)
Instructions
Preheat oven to 375 degrees. Line a 12 muffin-pan with muffin liners or cooking spray. In a medium sized bowl, mix all dry ingredients together, stir well with a whisk.
In a large bowl, cream together eggs and sugar with whisk or hand mixer. Add shredded carrots, oil, applesauce, orange juice, raisins and nuts and mix well.
Slowly add dry ingredients to wet ingredients and stir until incorporated. Do not over-mix as this will result in a tougher muffin. Bake for 17-18 minutes. Test doneness with a toothpick, comes out clean.
Notes





Recipe adapted from the Joy of Cooking