The world of blogging really jumped on the snack ball bandwagon. I am pretty sure you'd be hard-pressed to find a food blogger without a "ball" recipe on their blog. And for good reason. They're the perfect snack.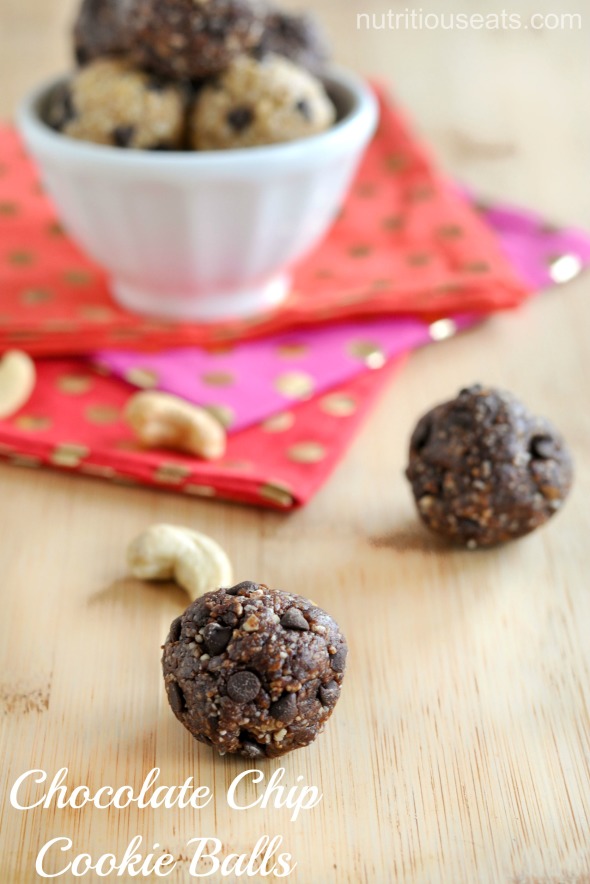 I started making balls over 6 years ago  (sorry if "making balls" sounds weird to you, but I simply can't call them anything else) when we were living in Austin and I wanted snacks to have on hand while I was nursing my firstborn. I made them very simply with peanut butter and oats and dipped them in melted chocolate. To this day they are one of my favorite ones.
The shorter the ingredient list the better in my opinion. My favorites have nuts and oatmeal in them like these!
These make a regular appearance in our homemade snack rotation. The kids always help make them and they are so easy that next time I agreed to let my daughter to do the whole thing herself.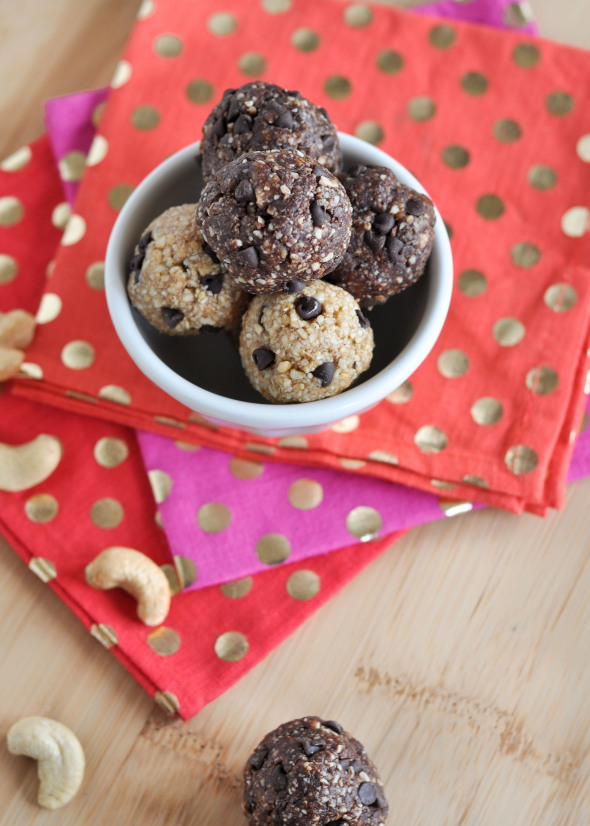 I was hesitant about having her roll them into balls because it is a sticky process but she did great, as you can tell by the picture they're not perfect, but she is five and I was very impressed by her skills! She even managed to press some of those loose chocolate chips back into the balls instead of eating them all herself. I was proud.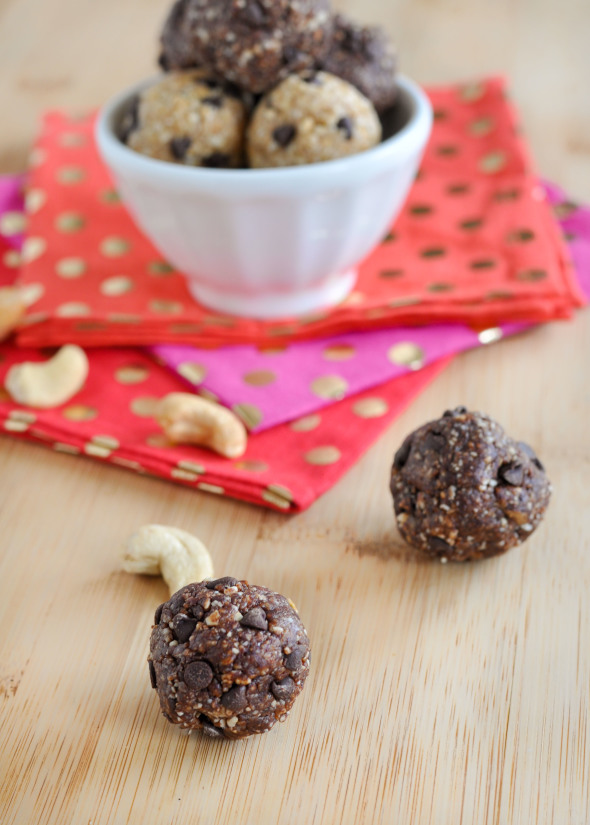 You can freeze these but they keep quite a long time in the fridge so that's where I store mine. Here are some more recipes from other lovely bloggers. You can never have too many ball recipes as they are all slightly different….not to mention all healthy little treats!
You will be addicted to these perfect bite sized snacks!
Chocolate Chip Cookie Balls
Ingredients
2 cups unsalted cashews
1 cup rolled oats (use gluten free if following a gluten free diet)
¼ cup cocoa powder (optional ingredient)
1 teaspooon cinnamon
¼ teaspoon salt
1½ Tablespoons vanilla extract
6 Tablespoons agave syrup
½ cup mini chocolate chips (vegan chocolate chips for vegan option)
Instructions
Add cashews, oats, cocoa powder (if using), cinnamon and salt and pulse until a small crumb forms (do not over process).
Add vanilla and agave and continue to process until a dough ball forms, scraping down the sides often. Scoop mixture into a bowl and stir in chocolate chips (some will be left behind in the bowl and that's okay). Using a small spoon scoop out some dough and using your hands roll into a ball. Store in an airtight container in the refrigerator.
Notes
These can be made with or without the cocoa powder. You could also substitute maple syrup for the agave if needed.
Question: What's your favorite no-bake snack? Do you make snack balls?