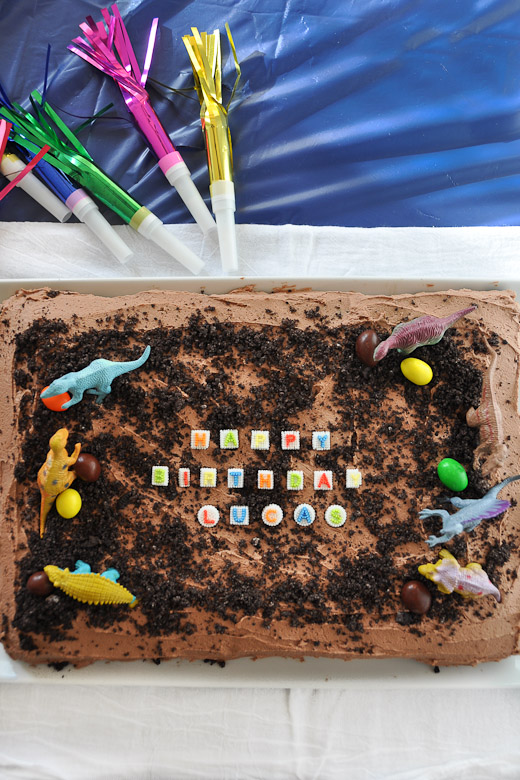 As I mentioned last week,my oldest son turned 6 this past week and we had a low key yet wonderful birthday celebration. We have seemed to make it a tradition to go to the zoo to celebrate L's birthday in October. It is always a fun thing to do that can take place during the day of the birthday if you have the party scheduled on a different day. The thing is this year, there was no party. We did the zoo on his actual birthday and Chuck E Cheese (per request of my son) the following day when my husband could take off work. Instead of a party we just spent the evening opening presents at home and making the birthday boy's requested dinner: deep dish Chicago style pizza! Some day when I take pictures I will have to share our yummy recipe but for now I want to talk about the cake. It's definitely a splurge-worthy recipe.
I was searching online for weeks prior to his birthday and of course visited Pinterest for some creative ideas. Unfortunately all I found were professional looking, out of this world, beautifully decorated birthday cakes. Seriously go do it: go to Pinterest, type in kid's birthday cakes and see what you find. Talk about overwhelming and stressful! I wasn't in the mindset to learn how to make fondant or super cool professional cakes. I just wanted to make a homemade birthday cake, in a simple flavor, with a cute kids theme.
Here is what I did with the mind of my own and no inspiration from Pinterest at all, thank you very much. The cake tasted delicious which is why I am sharing the recipe but I was pretty darn proud of my oh-so-easy and affordable cake decorations. Before I thought of this theme, I had to think about what little figurines we had at home- these mini dinosaurs popped into mind. They came along side a dinosaur book my daughter bought a while ago and they never get played with. Then I thought how cute they would look standing on the cake in some dirt- easy and done.
I started by sterilizing the little toys, threw some Oreo cookies into the food processor and used that as the dirt. My son had one request: that the cake be chocolate and that it have some candy on it so I included the M&M "dinosaur eggs" to meet the criteria. I also couldn't resist picking up those old school candy letters to spell out "happy birthday". Don't you remember those as a kid? I sure do and I thought it looked better than if I were to write with icing myself.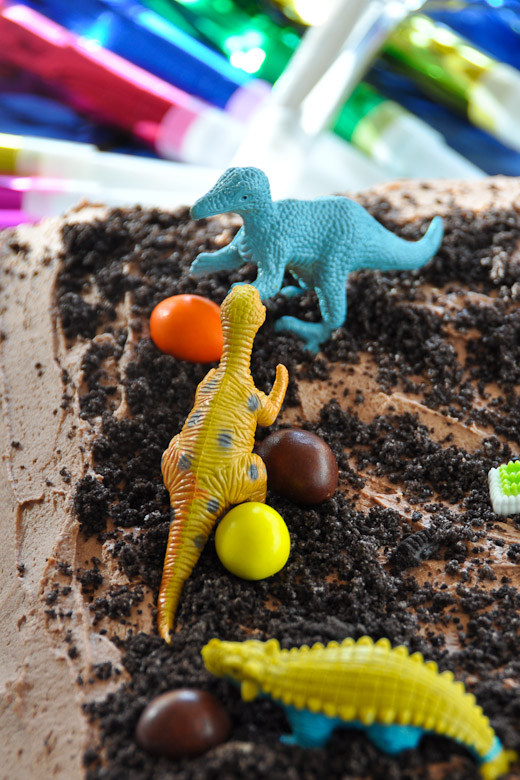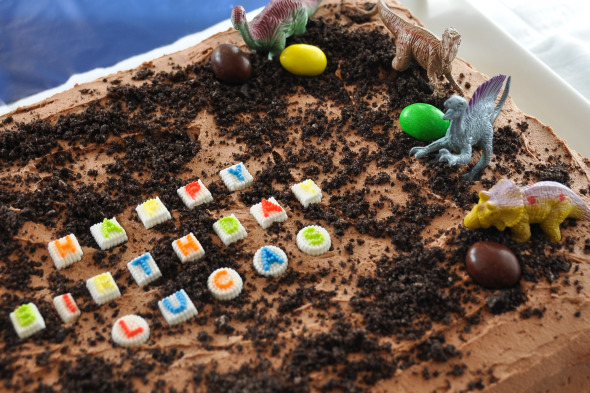 I personally loved how it turned out! Maybe because it was stress free and I didn't have to follow any directions. Maybe because I thought of it by myself and was not sucked into the Pinterest game (don't get me wrong I still love ya Pinterest). Plus the cake itself was DELICIOUS. Dense, chocolatey and moist and the frosting was perfect.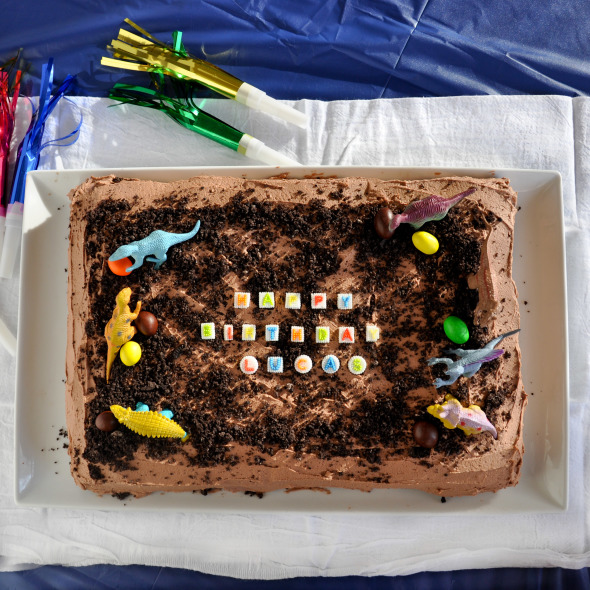 Hope this helps you when you are looking for a fun, easy birthday cake theme that is stress-free! And sure, you can still pin it. 😉
Before I let you go, we have to meal plan! This weekend I did a bad thing. A very bad thing. I went to the store on a whim and tried to meal plan as I shopped. I think it turned out ok, but it took me much longer because since I am on a budget I was no longer able to throw in a bunch of options into the cart. I had to think, plan and add up my costs along the way. Not fun. I only went over budget by $17, but I did get laundry detergent and coffee so those don't count.
Sunday
Chicken Wings (for appetizer), Salmon burgers (using the last of the salmon the hubs caught),  Sweet Potato Bites, Salad
Monday
Southwestern Egg Rolls, Guacamole
Tuesday
Egg and Zucchini Bake, Mixed Green Salad, Rolls
Wednesday
 Vegetarian Chickpea Stew 
Thursday
Lemon Chicken, Roasted Brussels Sprouts, some other side (undecided) 
Friday
Pizza night!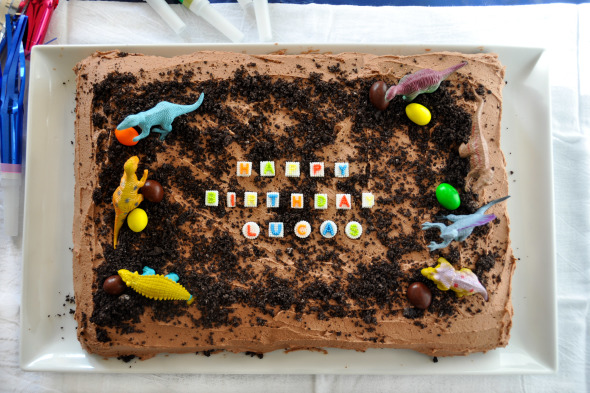 Chocolate Cake with Chocolate Buttercream Frosting
Ingredients
For the Cake:
Butter, for greasing the pans
1¾ cups all-purpose flour, plus more for pan
2 cups sugar
¾ cups cocoa powder
2 teaspoons baking soda
1 teaspoon baking powder
1 teaspoon kosher salt
1 cup buttermilk, shaken
½ cup vegetable oil
2 extra-large eggs, at room temperature
1 teaspoon pure vanilla extract
1 cup freshly brewed hot coffee
For the Chocolate Buttercream Frosting:
1 cup (2 sticks) unsalted butters, softened
2 teaspoons pure vanilla extract
¼ teaspoon salt
One 16-ounce box of confectioners sugar
1 Tablespoon meringue powder
¼ cup cocoa powder
3 to 4 tablespoons milk, as needed
4 ounces unsweetened chocolate, melted and cooled
Optional toppings for dinosaur decorations: toy dinosaurs, crushed oreos (5-6) and peanut M&Ms
Instructions
Preheat oven to 350 degrees F. Butter one 9x13 pan. Line with parchment paper, then butter and flour the pan.
Sift flour, sugar, cocoa powder, baking soda, baking powder and salt into the bowl of an electric mixer fitted with a paddle attachment and mix on low speed until combined.
In another bowl, using a whisk combine the buttermilk, oil, eggs and vanilla.
With the mixer on low, slowly add the wet ingredients to the dry. With the mixer still on low, slowly add the coffee and stir just to combine, scraping the bottom of the bowl with a rubber spatula.
Pour the batter into the prepared pans and bake for 32-35 minutes or until a cake tester comes out clean.
Cool in pan for 30 minutes, then turn it out onto a cooling rack and completely cool before frosting.
Chocolate Buttercream Frosting
Combine butter, vanilla and salt in a large mixing bowl. With an electric mixer on medium-high speed, beat until the butter is fluffy, scraping down the sides as necessary.
Add the confectioners' sugar ½ cup at a time, mixing on low speed after each addition. When all the sugar is mixed in, stir in the meringue power and cocoa powder.
Add the milk and melted chocolate and beat on high speed, scraping down the sides of the bowl once or twice, until the frosting is light and fluffy, about 5 minutes.
Use the frosting immediately or refrigerate it, wrapped in plastic, for up to 1 week. Bring to room temperature and re-whip before using.
Notes
This is a very runny batter but it cooks up beautifully. Even after I took it out of the oven it didn't look too pretty, but once I cut into it it was perfection. Frosting makes enough to frost one 9x13, two 9 inch round or 24 cupcakes.
To make dinosaur decorations: ground 5-6 Oreos in a food processor. Sprinkle desired amount of crumbs on cake to look like dirt, set toy dinosaurs in place and stick on peanut M&Ms as dinosaur eggs.
Cake recipe from
Barefoot Contessa at Home
; frosting recipe adapted from Cookbook: Birthdays and Beyond, Cakes For All Occasions.
 Question: what was the easiest cake you've made? Do you love Pinterest or does it overwhelm you?What are you meal planning this week?