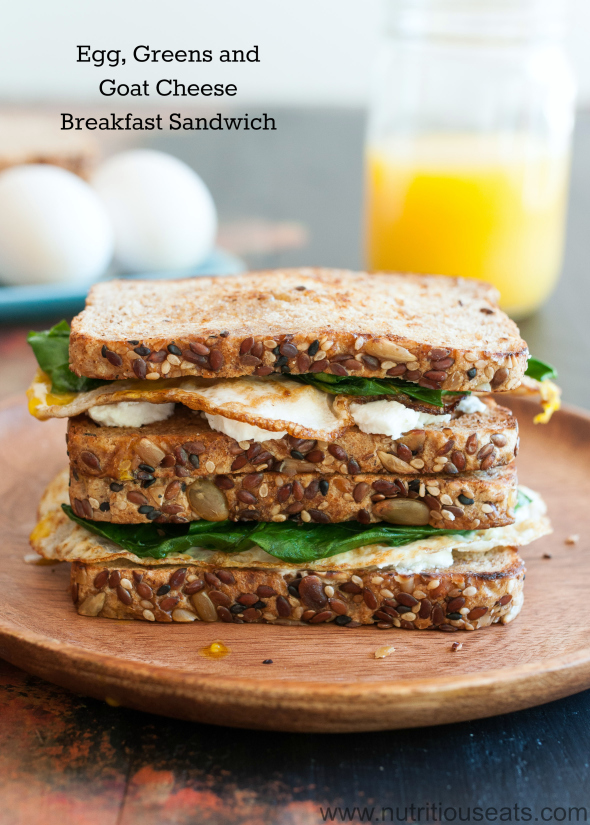 When we took our anniversary trip to Walla Walla a couple weeks ago we decided to grab a quick breakfast on our way out of town. Usually if I am on a road trip I am not into big sit down meals…eating a lot and sitting in the car for half the day doesn't work with me. I told my husband I wanted something like a breakfast sandwich to grab and go and was hoping to find a local bakery that would have one.
But first we decided to go for a quick jog before we left and sure enough within a mile from where we were staying was the perfect little bakery. They had exactly what I was looking for- breakfast sandwiches on freshly made bread that you could customize.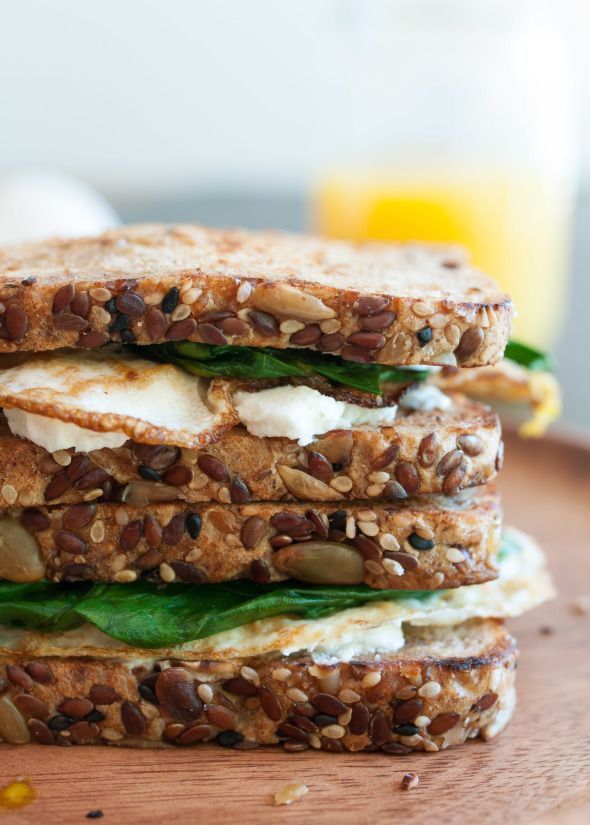 Being indecisive I asked for help from the cashier and she recommended their focaccia with the goat cheese. Whenever I'm on vacation I have to have bacon so I added that to it. For the simple at-home version I just whipped up an egg, sliced up some goat cheese, toasted my seeded bread and sautéed some greens instead of bacon.
For sandwiches I like to cook my eggs somewhere in between over-medium and over-hard, which means a slight runny yolk but also partially cooked through. To achieve this you have to poke the yolk after you flip it so that it starts to cook a bit. You can obviously prepare your egg however you like, but a straight up fried egg or even over-easy is too runny for me.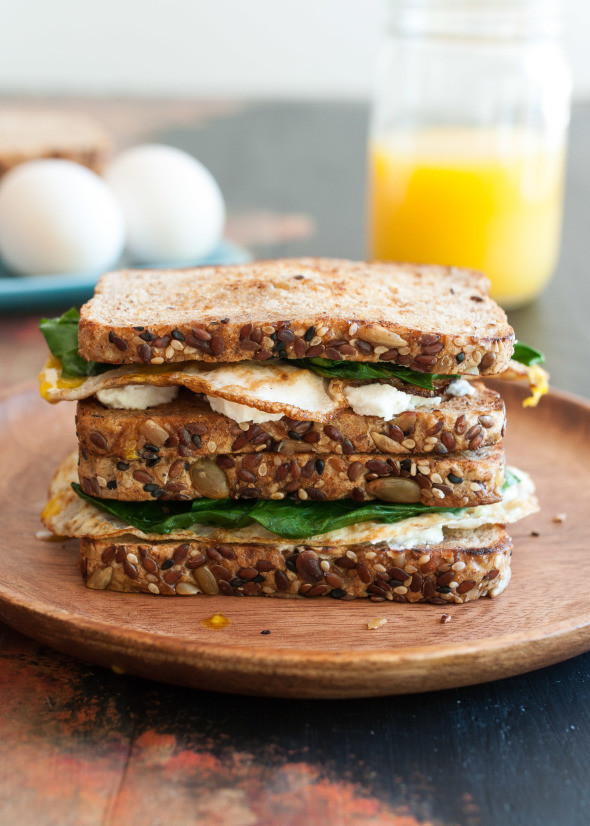 This is a filling breakfast that makes you feel like you are having a little splurge. If you haven't tried to goat cheese with eggs, stop what you're doing and try it. It is so delicious! The hot egg melts the cheese and it's a great match.
Not into this combo? Here's how you can make a breakfast sandwich you will love!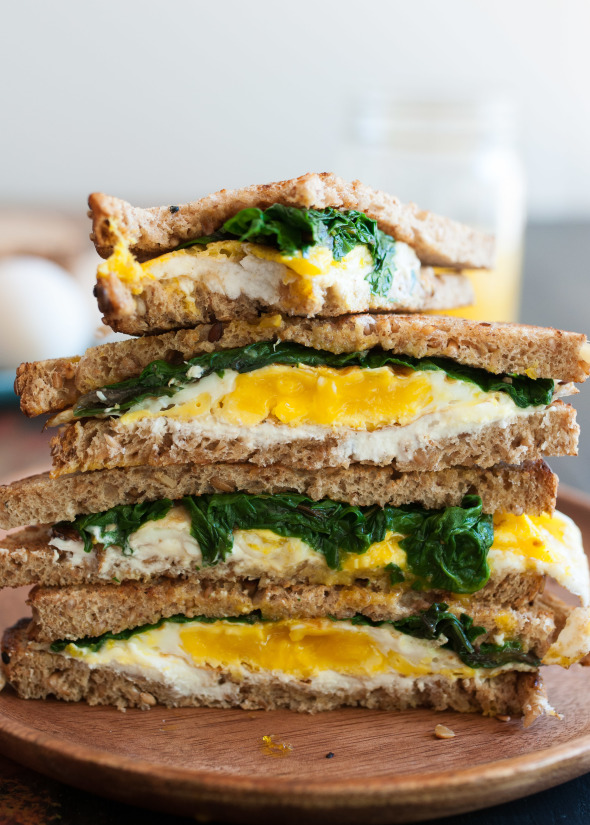 CHOOSE A: 
BREAD
Whole Wheat
Sourdough
Bagel
Ciabatta
Foccacia
English Muffin
Gluten-free
CHEESE
Cheddar Cheese
Goat Cheese
Brie
Swiss
Havarti
MEAT
Bacon
Sausage (turkey or pork)
Ham
Canadian Bacon
Veggie patty
Tofu Patty
AND/OR
VEGETABLE
Rainbow Chard
Kale
Spinach
Onions/Peppers
Mushrooms
EGG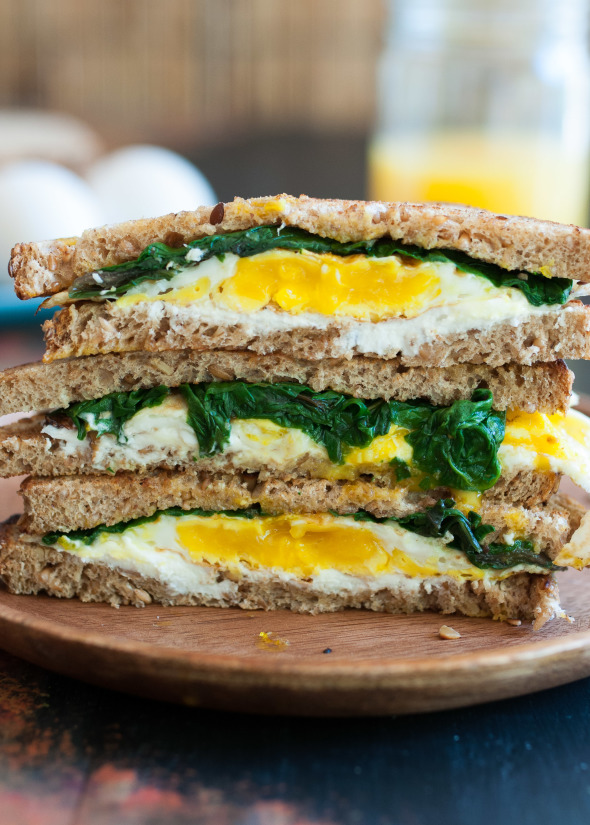 There are obviously other choices but that is just an idea of how you can build your own delicious, filling breakfast sandwich!
Egg, Greens and Goat Cheese Breakfast Sandwich
Author:
Melanie F. | Nutritious Eats
Ingredients
Per sandwich
2 slices of bread of choice (I used a seeded whole wheat organic bread)
1 egg
1-2 rainbow chard leaves. stem removed and cut into large pieces (can sub kale or spinach)
1 ounce goat cheese
1 teaspoon ghee, butter or oil
Instructions
In a medium skillet, heat butter or oil. Add bread and flip occasionally until toasted or lightly browned (you can also use the toaster). Remove bread and top one slice with goat cheese. Wipe skillet and add cooking spray. Cook egg to desired doneness. Season with salt and pepper. Place egg on top of cheese. Add additional cooking spray or oil if needed to skillet. Add rainbow chard (or other greens) and cook for just 1 minute or until starting to wilt. Place greens on top of egg and top with other bread slice. If sandwich needs to be warmed up, place back in skillet for a minute.
What's your favorite breakfast sandwich combo?