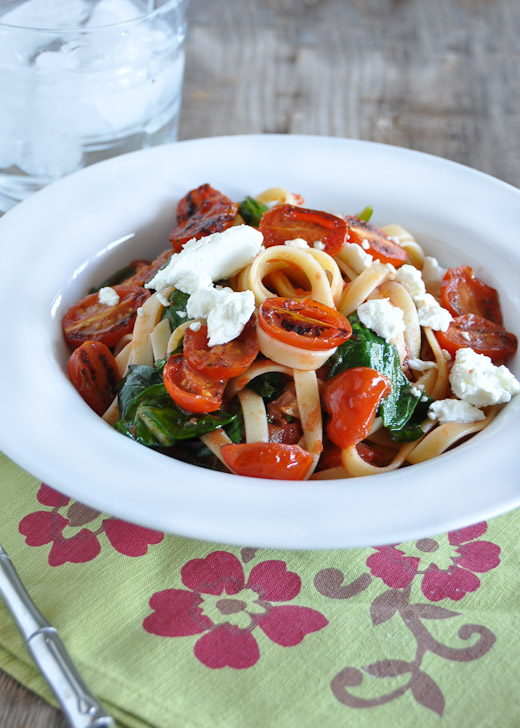 I am a magazine junkie- I subscribe to at least 5 food magazines and love them all! However, the one I have subscribed to the longest, and is still my favorite, is Cooking Light. I can't tell you how many their recipes I have tried- an insane amount and they are all fabulous. Last week for Lenten Friday I decided to do a couple vegetarian pasta dishes and this dish inspired from Cooking Light was delicious and so simple- Fettuccine with Seared Tomatoes, Spinach and Goat Cheese (the original recipe used Burrata).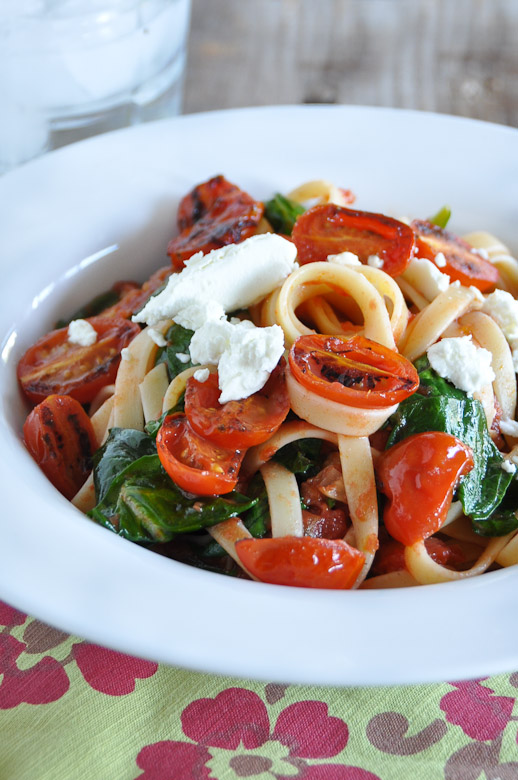 I love a good, easy pasta recipe and since I have been running a lot more lately I felt like I could use the heavy-carb meal. I loved the simplicity of it- lots of garlic, fresh tomatoes and spinach and that it only has 7 ingredients (not including oil, S&P). Delicious and easy!
And just to clear the air, yes I am a Dietitian and I eat pasta. I have no problems with pasta (well except if you were to eat huge quantities of it every day). I believe in all things in moderation and although I really don't eat it very frequently I do LOVE a good pasta dish. Since I didn't get a chance to photograph it the first time, I had to make it again this Friday along with some salmon which was the perfect meal for the night before my 10 mile run.
Speaking of running, my 10 mile run went really well this weekend. I averaged a 9:15 pace which was OK. I felt sluggish at the beginning and the end and it took me awhile to warm up, however throughout the middle I felt strong. It started out around 28 degrees and quickly warmed up to the 40s. It was a perfect cloudless day here in Washington which is hard to come by for this time of year. The best part of this week's run is that I felt great afterwards. I normally feel the need to take a nap by noon after a long run and this time I went straight to 2 hours of soccer games for my kids and had absolutely no leg soreness or aches the day after. I honestly felt like I didn't even exercise. I can definitely tell my training is paying off!
Moving on to meal planning, I am using up some freezer food and am hoping this will help me come up under budget this week. I am only trying 1 new recipe this week which is sort of unusual for me but I am sure I'll be doing some day time lunch/blogging cooking too.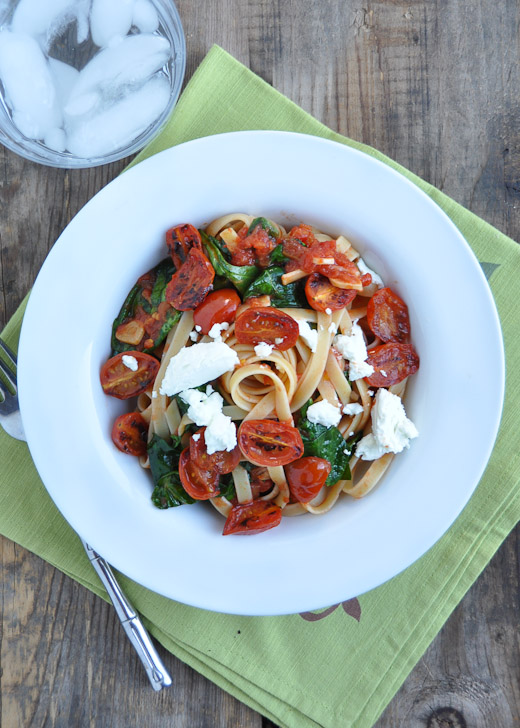 Sunday
Leftover Brisket, ColeSlaw, Crock Pot Black Beans
Monday
Bean and Cheese Tacos, Leftover slaw and veggies
Tuesday
Roasted Vegetable Enchiladas, Green Rice, Leftover Beans
Wednesday
Leftovers
Thursday
Stromboli, Salad Bar Salad
Friday
Mediterranean Veggie Burgers, Turkey Burgers for the kids, Sweet Potato Fries
Whether you are running a lot or just want a good, easy pasta dish, make this!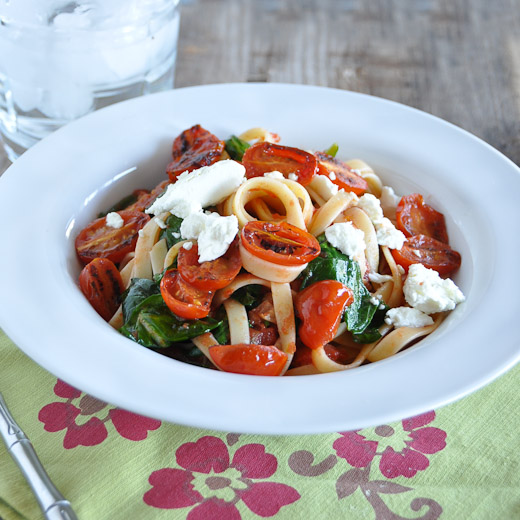 Fettucini with Seared Tomatoes, Spinach and Goat Cheese
Ingredients
8 ounces uncooked fettuccini
¾ cup halved grape tomatoes
3 Tablespoons extra virgin olive oil
¼ teaspoon red pepper flakes
4 garlic cloves, thinly sliced
1 (14.5 oz) can unsalted diced tomatoes, undrained
¾ teaspoon salt
4 ounces goat cheese
4 cups baby spinach (if using regular spinach give it a rough chop)
Instructions
Cook pasta according to package directions; reserve ~1/4 cup of pasta water; drain the rest.
While pasta cooks, heat a large skillet over medium-high heat. Coat with cooking spray, arrange tomatoes, cut side down and cook about 2 minutes or until seared. Stir tomatoes, cook additional 30 seconds. Remove from pan; set aside.
Reduce heat to low, add oil to pan. Add red pepper flakes, garlic and cook 2 minutes, stirring occasionally. Place canned tomatoes in a mini food processor; blend until almost smooth. Add pureed tomatoes and salt to oil mixture; cook 8 minutes, stirring occasionally.
Remove skillet from heat. Add spinach and cooked pasta and 1-2 tablespoons of reserved pasta water. Toss well until spinach wilts slightly.
Arrange 1⅓ cups pasta mixture in each bowl. Divide the seared grape tomatoes evenly among the servings. Dollop about 1 Tablespoons of goat cheese over each serving. Serve with chopped basil if desired.
Notes
Recipe adapted from Cooking Light, March 2013
Questions: Did you meal plan this week? Share what you are having? Did you get any good runs in this week?