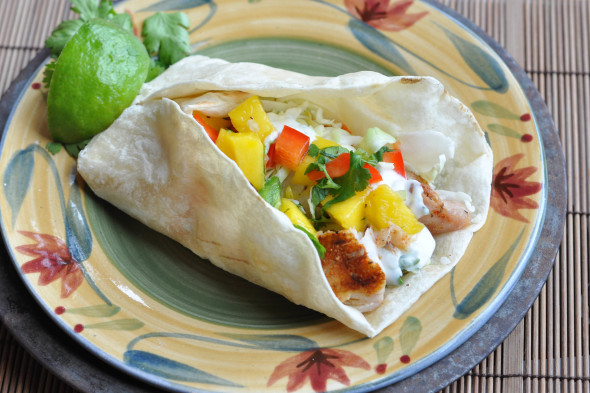 I had such a fabulous time at the BlogHerFood Conference and am still a bit exhausted from the excitement of it all. Leaving for our vacation to Hawaii approximately 24 hours after I returned home hasn't helped the tired factor. I can't complain though- I'm in Hawaii after all (excuse me while I squeal!!!)
I didn't take any real pics of the conference except during my Pike's Place Market tour because I didn't want to be that annoying person who was in everyone's way trying to figure out how to make the gorgeous display of food set in a dimly lit corridor look good. I decided against writing a whole post about it.  So here are the highlights of my experience:
stayed in a gorgeous room at the Fairmont Olympic in downtown Seattle…by MYSELF (still can't get over that I was without kids for 48 hours)
attended some great sessions that will hopefully help me improve my blog and allow it to grow
chatted with some awesome sponsors of the conference like AllRecipes, Chobani, Starbucks, Bobs Red Mill…
ate delicious, fun food- my favorites were the mini pots of Greek yogurt with preserves, the Gazpacho served at lunch and the snack bar of caramel popcorn
Attended a great party hosted by the folks from Silk
Met some amazing food bloggers
Attended a closing party and met Ree from The Pioneer Woman and Jaden from Steamy Kitchen. We are talking celebrity bloggers here!
So back to these fish tacos. The nice folks over at Tortilla Land, who know by now how much I love their tortillas, sent me another few packages to cook with. I immediately thought I wanted to make fish tacos using their flour tortillas instead of my usual corn tortilla.
If you missed my last review of them, they are fresh, just like homemade, uncooked tortillas that you cook yourself at home. My favorite part, the ingredient list: flour, water, canola oil, salt and sugar. LOVE that they are unprocessed and have no preservatives.
I also wanted to test out cooking the tortillas on the BBQ grill since last time I used the indoor grill. The outdoor grill was so easy and required less time then setting up my indoor grill pan. I will definitely use that method from now when possible. One less dish to wash too!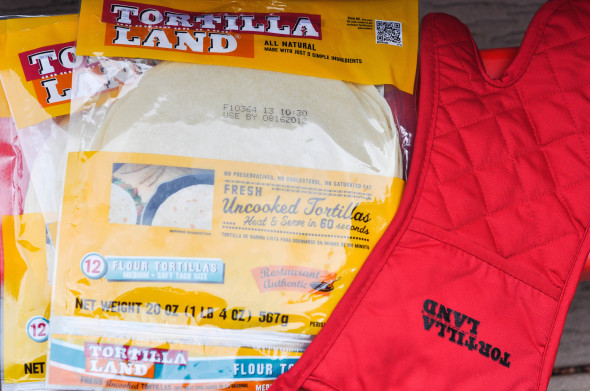 So here is what I did- bought some super fresh fish, then I made a simple rub, an easy mango salsa and cilantro crema sauce. Like I almost always do, I started a few of the items early in the day- i.e. the spice rub and salsa. Then when the kids were resting I made the cilantro cremeand seasoned the fish. By dinner time, everything was ready and I just had to grill the fish and tortillas. Having a 7 month old makes you plan ahead. If I didn't, we might not have dinner on the table. I can't stand to hear him cry especially during my "relaxing" cooking time so I'd much rather do it in stages since Daddy doesn't get home in time to help hold him.
I thought the mango salsa would really liven up the often mild fish. It did! Try these on corn or flour tortillas- a perfect summer meal! Oh and don't forget to serve them with some additional salsa like Tapatio or Cholula!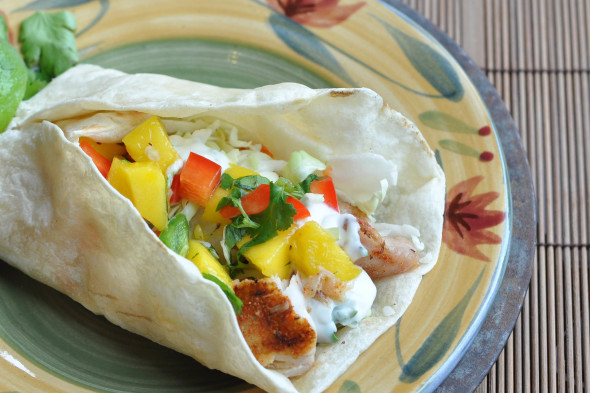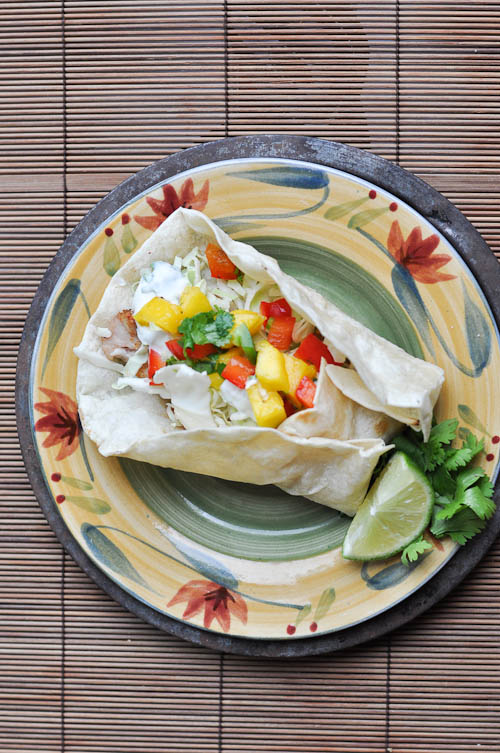 Grilled Fish Tacos with Mango Salsa and Cilantro Crema

Ingredients

1 lb white fish (tilipia, red snapper, halibut)
½ teaspoon cumin
½ teaspoon coriander
½ teaspoon smoked paprika
¼ teaspoon garlic powder
⅛ teaspoon cayenne pepper
salt and pepper to taste
2 cups cabbage slaw
8 corn or flour tortillas (6 inch)

For the Mango Salsa

1 mango, peeled and diced
½ red bell pepper, chopped
½ jalapeno, minced
¼ cup cilantro leaves, chopped
salt and pepper to taste
1 Tablespoon fresh lime juice

For the Cilantro Crema:

¼ cup Greek yogurt
¼ cup light mayonnaise
¼ cup cilantro leaves, chopped
1 clove garlic, grated
⅛ teaspoon salt
squeeze of fresh lime juice

Instructions

Prepare salsa by combining mango through lime juice in a small bowl. Prepare cilantro crema by combining Greek yogurt through lime juice in a small bowl. Set aside both.
Prepare spice rub for fish: in a small bowl combine cumin through cayenne, rub all over fish. Season fish with salt and pepper. Grill on outdoor grill set to medium heat for ~3 to 3½ minutes per side or until opaque and cooked through (depending on thickness of fish). Remove from grill and cut into chunks.
To serve, warm tortillas for a minute on grill or for a few seconds in microwave. Place chunks of fish along center of tortilla and top with slaw, some mango salsa and cilantro crema. Serve with line wedges and hot sauce.
Not sure my posting schedule while in Hawaii so if you don't hear from me in a couple weeks you'll know why! Happy summer!