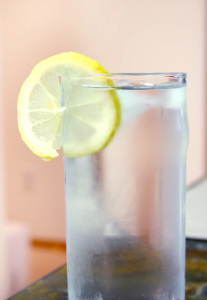 I started my blog with the intention of posting both recipes and nutrition information. Then I found myself falling in love with photographing food so it was hard for me to post a non-recipe, picture post. After blogging for 2 years and learning what is and isn't working, I've come to realize it's pretty tough for me to get in 3 posts a week of great recipes and nice photographs. In the past I would just not post anything at all if I didn't have a good recipe to share. I would try to intertwine my nutrition tips and info within those recipe posts, but have found that doing separate posts on occasion about nutrition or fitness really works for me. I don't have the pressure to crank out recipes all week and I get to share my nutrition knowledge with you. Hopefully this works for you too!
So I want to talk about water because it is so important for good health and weight loss. People always want to know how much they should be drinking.  Here is a little info about requirements and tips on improving your intake.
Why is water so important when it has no vitamins, few minerals and no calories? Water makes up ~60% of the body's total weight and is necessary for carrying out many life-dependent functions such as digestion, absorption, tissue building, lubrication of joints, toxin and waste excretion, blood circulation and transportation of nutrients. If you've ever seen that show "I Shouldn't Be Alive" then you'd see firsthand that a person can survive weeks without food, but only days without water. For those people trying to lose weight, it definitely helps to guzzle a big glass of water before eating. It will help fill you up and let your body figure out whether or not it is truly hungry.
How much water should I drink? The very general guideline is 8 cups a day, but really this can vary quite a bit. For example, people living in hot climates or high altitudes might need up to 6 times this amount, depending on environmental factors and activity level. Another common rule of thumb is to consume one cup or water for every 20 pounds of body weight. Factor in more if you exercise. If running long distances, you can always weigh yourself before and after long runs to make sure you have properly replenished.
How will I know that I haven't had enough? Usually when you are  to the point of mild dehydration you will feel fatigue, hunger and thirst. If your urine is dark yellow rather than clear, you need to drink more water. Remember you want to consume water before you get to that feeling of thirst.
Does tea and coffee count towards my water intake? Yes. Research has shown that tea and coffee count toward your water intake, as well as calorie-free drinks (not including soda) like vitamin water or Crystal Light, however too much caffeine can have a diuretic effect so it's best to get at least half your water from plain water. If you don't like plain water, try adding fresh fruit (lemon, lime or orange slices) or even cucumbers to jazz up the flavor rather than drinking the artificially sweetened ones. Water truly is best- it's free of cost and free of calories!
What are ways I can increase my water intake?
Buy a reusable water bottle to take to work or out on errands.
Measure out 8 cups of water into a pitcher that you can leave out in your kitchen or at your desk.
Every time you pass a water fountain, take 8 big sips.
Add high water content foods to your diet such as fruits, vegetables and soups.
Decrease your caffeine consumption since it results in water loss.
Set a glass of water next to everyone's plate at the dinner table.
Make a water intake chart so that you are more aware of your consumption.
Drink from a larger cup so you don't have to constantly refill your glass.
Drinking water is definitely part of my health routine but not everyone has the same affinity. I used to work with a gentleman who drank nothing but diet soda because he couldn't stand water. Truly it makes me less hungry, more alert and my body just craves it. I can't be found without a water bottle nearby.
If it's a challenge for you to consume an adequate amount of water, I suggest making it a mini-goal to work on. Hopefully it will soon become a new healthy habit!
Questions/comments? I am happy to help! Is it hard for YOU to drink enough water? Do you notice it helps with weight loss? Do you love water as much as I do?